GCM is a Turkish broker with a local license to provide Advisory and brokerage services for financial derivatives. It is authorized by the local authorities in Turkey (Capital Markets Board) and the website is not available in English. For investors that are not residents of Turkey, it means this broker does not have any regulation for international clients. The company is headquartered in Instanbul and transformation from Artı Menkul Değerler A.Ş, which has been operating before and this is a continuation in the form of a brokerage.
The website design has tight margins and organized in a typical way, without modern effects and limited information to keep it beginner-friendly, but, with some effort, a lot of important information for investors is published, with good transparency. GCM states that their specialty is leveraged trading and Futures. They are proud to present their figures, 86k clients, 39 TRY (~7M USD) capital investments, 330 employees, and the ongoing effort to bring more trading assets and technology.
Additionally, there are many awards displayed like: "High Transaction Volume Award" in 2015, "Best Order Transmission" from Forex Report Magazine, "Best Forex Broker" in 2014 and a few more. Of course, these awards are a part of the marketing industry, but this GCM review will reveal the scope and quality of service they provide.
Account Types
GCM does not give you any options when selecting an account type. The page will offer you a Trial Account and a Real Account. The first one is just the usual demo. Real Account is presented to feature low spreads, a personal sales manager, and other "advantages" that are not specified. By applying for a Real Account you will also need to accept the Consent Form that some may see as privacy-invading, you will opt-in for a lot of marketing and private information sharing.
Real Account is available in EUR, USD and TRY currency. The two-step registration procedure will list many worldwide countries, but in the next step, you will be given to select only cities from Turkey and ID registration in Turkey.
VOIP is a designed Account for Futures and Options trading localized on Borsa Istanbul. More than 30 instruments are promoted with leverage, tax advantages, and bi-directional trading. Demo for VOIP is also available. Turkey's big companies are featured as well as Borsa 30 Index that is interesting for local investors.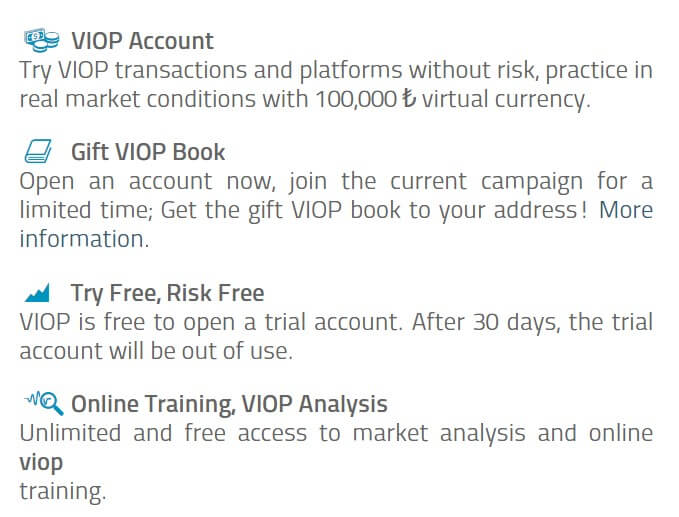 Platforms
GCM offers MetaTrader 4 platform for standard trading and MetaTrader 5 for Options&Futures. Both are available to download for Windows but not for Mac. Webtrader and mobile versions are also offered running on Android and iOS. GCM has an additional web platform, Sirix, a well known, simplistic platform that is easy to adopt by beginners.
The MT4 platform is connected to 4 live servers and one demo. These are distributed in several global locations, in the UK, Netherlands, Singapore, Honk Kong, and Ireland. Our dedicated server from the Netherlands had a ping rate of 58ms. The platform is updated to the latest version and is set to defaults and One-Click trading buttons visible. Four charts with major Forex currency pairs are the default template with MAXD and CCI inserted.
Trading instruments are categorized into too many groups to be considered practical, for example, Forex pairs have 7 groups, EUR/USD USD/JPY, and USD/RUB are separated for no apparent reason. Whatsmore, CFD1, CFD2, etc groups do not represent what class of assets they contain. The instrument specification window presents enough information. Execution times were below 0.2s but sometimes it could go over 500ms. Trade Terminal is showing all the trading costs including swaps.
Sirix platform is available in a web-accessible form and for mobile devices running on Android and iOS. It will not be shown in the English language straight after the loading, so the trader will have to find the language switch in the top right. Sirix is not designed to deliver complex orders or for automated algorithms. It features 50 indicators with basic chart drawing possibilities which are somewhat inconvenient as everything is done with mouse only.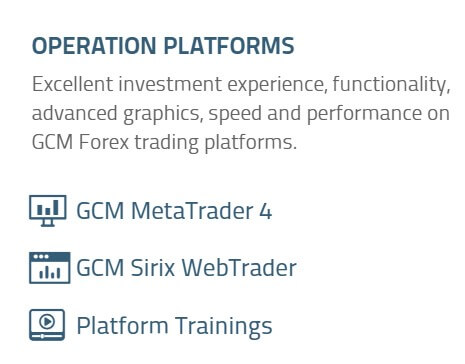 Sometimes Sirix platform has a more advanced variant to switch to, but we could not find that on this GCM version. What is good with Sirix is the nice-looking graphical design and the Social module, unfortunately, we were unable to see it working. Economic Calendar is also integrated, but it was the same case as with the Social module. The execution times are slower and take about 1 second, making this platform just a user-friendly step for inexperienced traders until they understand the basics of trading.
MetaTrader 5 platform for VOIP Accounts needs to have login details specific for VOIP Account. It is set to present the Futures and Options trading with four charts displaying Futures on Gold, Bank Vis Index, USD/TRY, and one future with an exchange specific codename. There are 4 servers, all based in the UK and Netherlands with below 60ms ping. The executions are great with just above 60ms mark. The instruments specification window shows additional information needed for futures trading, like Margins, Ratios, dates, commissions, etc. Note that most markets have gaps and noise typical for low liquidity.
Leverage
Exact leverage is not disclosed when you open the account. The whole instruments list exists in the Trading Conditions section, although you may need a few clicks to get there. For all trading assets, the leverage is 1:10, which is considered too low in the industry. Most of EU brokers will offer 1:30. VOIP Account leverage is up to 1:30.
Trade Sizes
GCM has the usual micro-lot trade sizes or 0.01 lots. For Forex the minimum trade volume is 0.01 lots, also for additional steps. The maximum trade size is 150 lots for EUR/USD but all other currency pairs have 100 lots. Other Instruments also have the same trade sizing, even Stocks and Indexes. Stops levels could be a matter of concern for a good share of traders. For the EUR/USD pair stops level is 40 points, GBP/USD 120 points, EUR/CHF 140 points, and as we go towards minor and exotics, Stops levels get uncomfortably high. Therefore, AUD/NZD has 300 points, GBP/AUD 300, and GBP/TRY no less than 500.
The highest Stops levels are with USD/ZAR at 2398 points, for most, these levels are too much. For those that do not know, the Stops level threshold does not allow limit orders around the current price. Gold/USD has a 100 points Stops level.
Margin Call and Stop Out are not disclosed.
Trading Costs
GCM does not charge commissions for the standard account. The swaps are very low with frequent positive figures on one side. EUR/USD has -11.3 points on the long and 5.3 points on short, tripled on Thursdays. Double-digit swap is not a common sight among the major pairs, the highest swap is with the EUR/AUD, -12.5 points for long and 6.2 for short.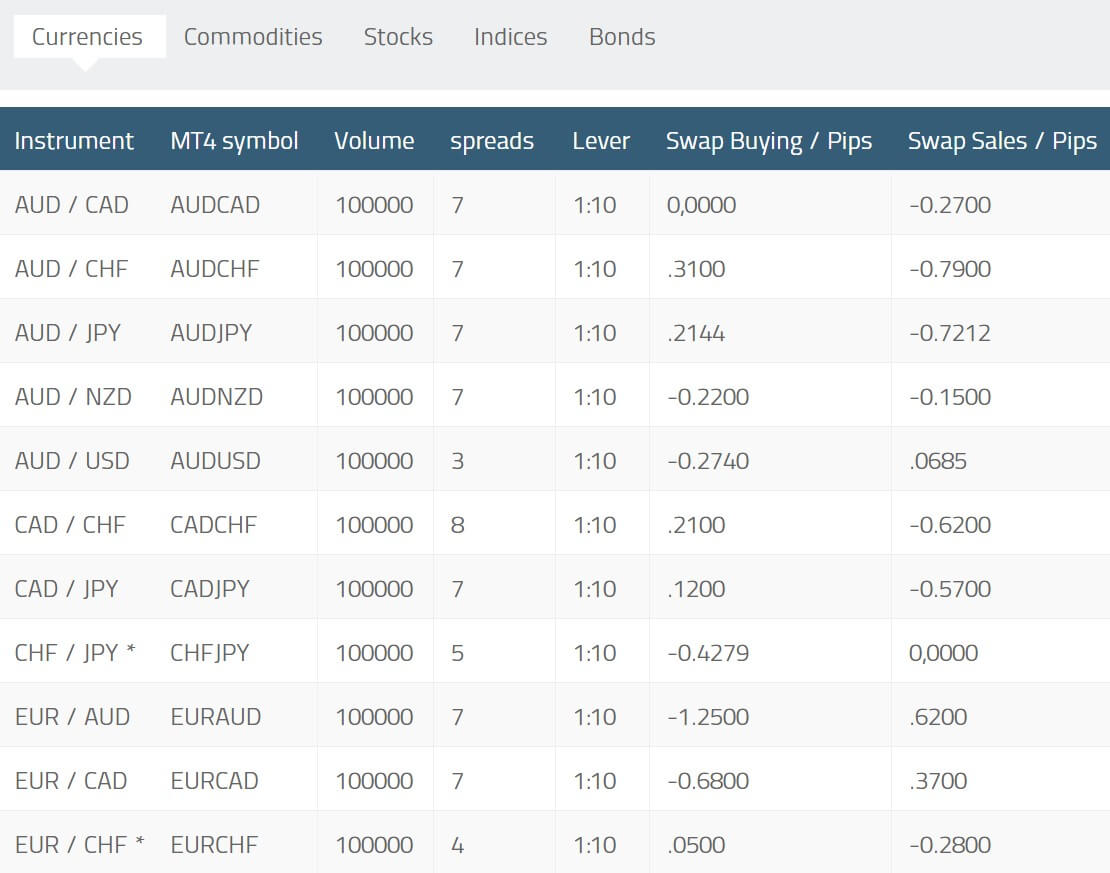 From the exotics, the swaps are expectedly higher so EUR/HUF has -20.2 long and 4.23 short, USD/ILS 0.33 points long and -12.50 short, USD/ZAR -400 long and 90 for short, the same as USD/MXN, and the highest swap values among currency pairs is with USD/RUB at -2120 for long and 500 for short position overnight charge. XAU/USD has -15 long and 4 points short swap while Silver/USD has just -1.5 and 0.5. Crude Oil has -3.8 and -2.4 points.
Inactivity fee exists. If a trader does not have any open positions and did not open any new for 3 months it is considered non-performing and will be charged $3 or 2€ monthly.
Trading Futures and other derivatives on VOIP is subject to banking and insurance transactions tax (BITT) of 0.0005%.
Assets
GCM has a very good asset range across all categories, except for cryptocurrencies which are not offered. Forex features 51 currency pairs with some broker specialties. All majors are present, and minors have variants with EUR, GBP, and USD as a base currency. Therefore you can find EUR/TRY, USD/TRY but also GBP/TRY. This is also true for the Scandinavian currencies, DKK, NOK, and SEK.
Among the exotics, traders will find PLN, ILS, MXN, HUF, SGD, RUB, and ZAR. A GCM specialty is a basket forex asset TRYBASK that comprises of EUR and USD against the Turkish Lyra, so 1 lot contains 50k USD and 50k EUR. Some of the instruments were off quotes like EUR/ILS, or in other words, not available for trading.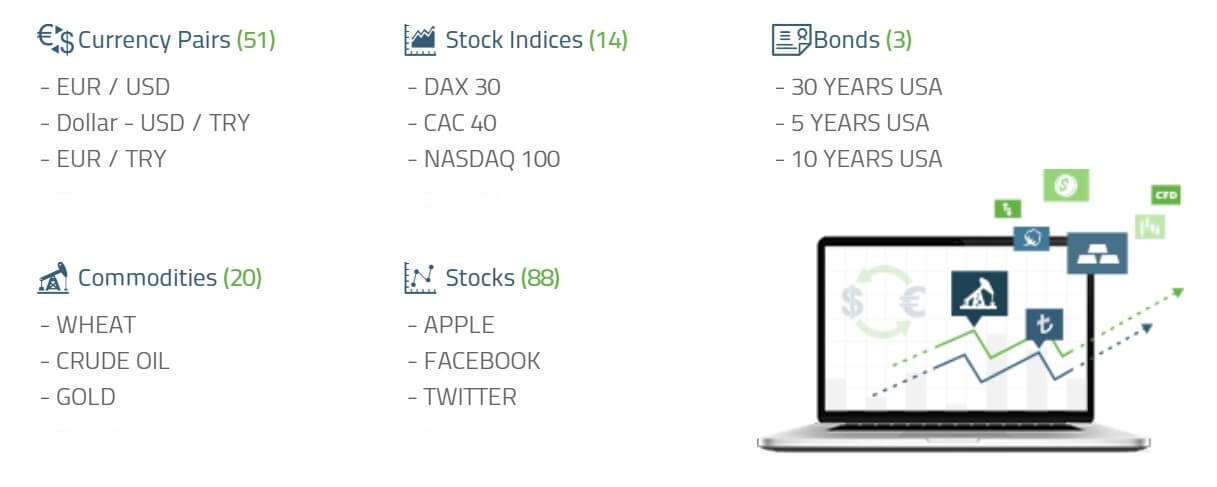 Precious metals have extended range where you can find Gold against USD, TRY, EUR but also Gold Gram variant. Silver is only available against the USD. Platinum and Palladium are under the commodities grouping and they could be hard to find at first. In addition to these Copper is also listed, as a commodity metal.
GCM has a good choice of Index including the Dollar Index that is not just indicative but fully open for trading. A total of 14 are present with major ones and less common like Russel 2000 Mini Index, CAC 40, CNA 40, DJ EUR 50, MIB 40 Italy, Hang Seng Index, and IBEX 35.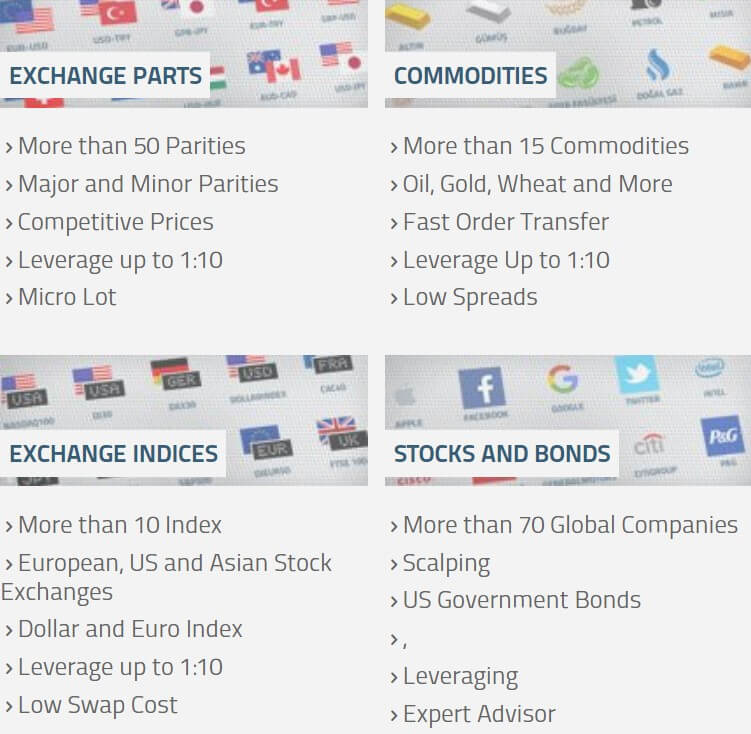 Commodities are present and above the industry average range. Traders can find a total of 8 commodities but nothing exotic. These are both, Brent and Crude Oil types, Natural Gas, Heating Oil, Gasoline, Wheat, Corn, Soybean, Sugar, and Cotton.
We have fount a total of 38 stocks from the EU and 50 from the US, which is the average range. These are major popular companies shares but are very well diversified by industry. GCM also offers bonds. These are all US treasury Bonds with 3,10 and 30-year maturity. 30 year US bond is not common to see among brokers.
Spreads
GCM offers fixed spreads for most trading instruments. This means the broker may not be the best option for fast trading strategies where low trading costs and spreads are essential. Starting with Forex, the most traded pair, EUR/USD has 2 pip spread. Other majors follow GBP/USD 3 pips, USD/JPY 2 pips. In the mid liquidity range, GMC has AUD/NZD with 15 pips spread, EUR/NZD 20 pips, GBP/CAD 15 pips and similar for others.
In the exotic range, the spread is increased, GPB/TRY has 60 pips spread, higher than USD/TRY with just 15 pips. Then we have the USD/SGD which has a floating spread specified, although we did not see it changing from the 80 points level. The highest spreads were for EUR/HUF – 70 pips, USD/MXN – 100 pips, USD/ILS – 160 pips, and USD/RUB – 675 pips. A sharp increase for the exotics means these are maybe attractive only to long term traders.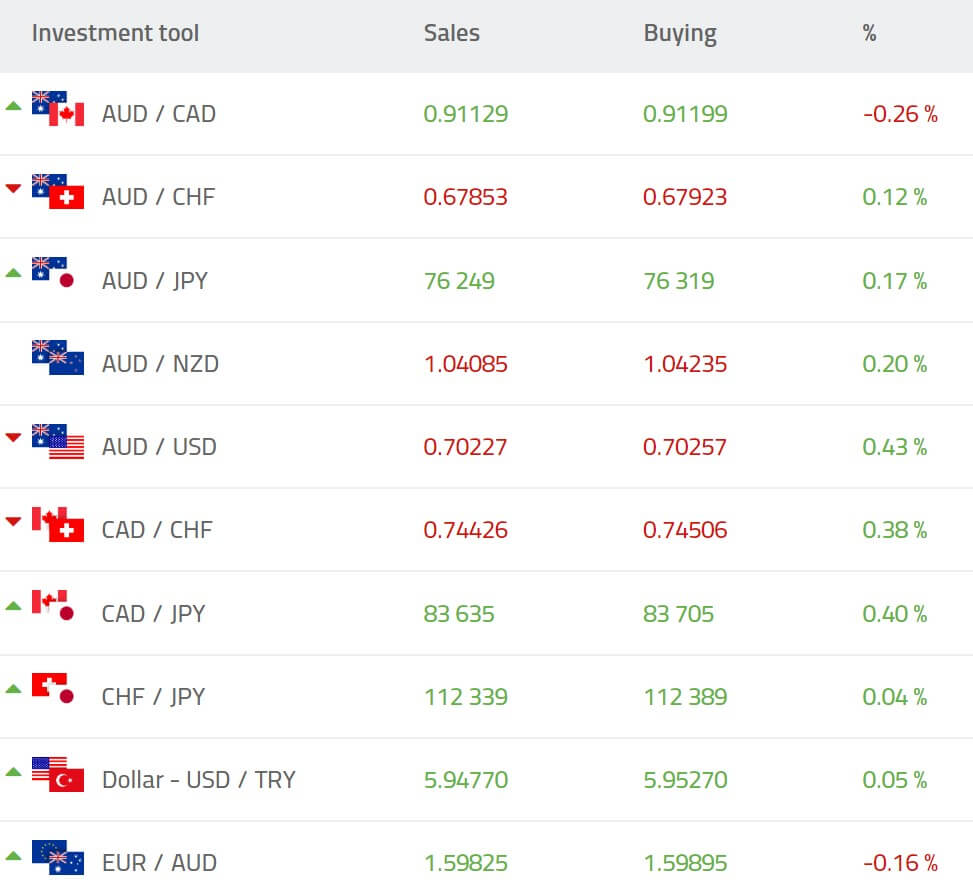 Whatsmore, the fixed spreads can be changed by GCM, as stated, during the volatility periods and also around session closure. Precious metals also have a fixed spread. Gold/USD has 50 pips and Silver 4 pips. Gold denominated in EUR has much wider 100 pips spread, and in TRY 450 pips. Palladium spread is 250 pips and Platinum 12pips, both classified as floating spreads. Copper also has a floating spread at 62 points.
Crude Oil has a 40 points fixed spread while Brent has a 7 point, a lower amount because it is a floating spread. Note that GCM also seems to present ECN accounts with variable spreads but the actual account opening does not offer this option, therefore we will not cover this, probably former account type with variable spreads and commission.
Minimum Deposit
The minimum deposit is not presented on the website until you register for an account. The minimum deposit is 50,000 TRY or around 8500 USD. This is a high barrier for entry for most traders but considering the lower leverage, it may be needed.
Deposit Methods & Costs
What we have seen within the trader's area, only bank transfers are possible. The costs will depend on the bank. Currencies available are USD, EUR and TRY. Credit Card option is displayed but the link opens the same page for bank transfers. Deposits by bank transfer are more complicated for a chargeback than with VISA or MasterCard.
Withdrawal Methods & Costs
Withdrawals are made only by bank transfers. A form will require you to type IBAN and other bank details. No associated costs are mentioned.
Withdrawal Processing & Wait Time
Withdrawal processing takes one business day by the broker, after the transfer may take up to 7 days.
Bonuses & Promotions
There are no promotions or bonuses offered by GCM.
Educational & Trading Tools
GCM shows analysis and tools on different pages across its website. Often you will see the basics about Forex, transactions, where to invest and so on, essentially this is tied to marketing and account opening. Forex training section contains both Fundamental and Technical analysis, Webinars, Videos, and written material. An analysis manual that describes how to interpret the reports and indicators is also added.
Videos are numerous and of great quality. MT4 platform explanations are all in Turkish but are very detailed and professionally edited. Over 30 videos exist just for the platforms. GCM states that there are more than 10,000 minutes of video material for various topics. Other videos showcase the latest market developments and can last for more than 30 minutes.

For example, the latest topics are "Latest Situation in the Oil Market", "Policy Developments of Fed and Large Central Banks", "Inflation, Base Effect, and Central Bank Route", etc. These videos are also of great quality, long, showing different technical applications, fundamental drivers, fact figures and other arguments. There is also a possibility to sign up for a live Youtube stream.
Fundamental and Technical analysis part explains what they are and how to apply them. They are structured and well written. The indicators page is long and tries to cover the most popular indicators and other methods of analysis. Additionally, there is an e-book containing all this material, but it is not available for download.
Articles are fresh but updated monthly and cover interesting topics that are relevant to present political developments. Some of the latest subjects are "What is ECB? Effects of ECB Interest Rate Decisions", "What is Trade War? Effects of Economy of Turkey and the World Trade War" and so on. The articles are of good quality without any marketing.
GCM also has a very developed Market Analysis section.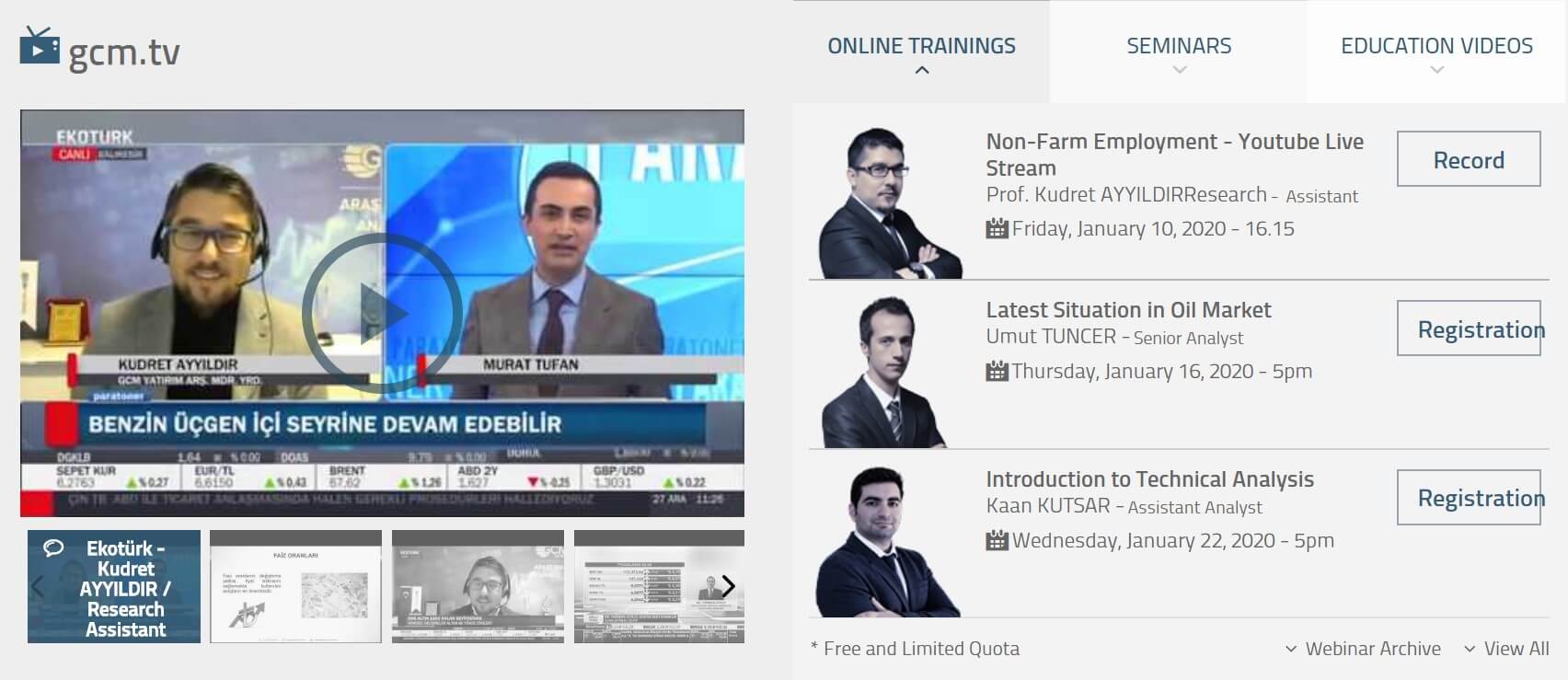 The analysis is published daily and more than once. A timeline graphic will show traders what analysis coming up, be it morning technical analysis, video or special reports. Expert opinions are also published and contain short but quality content, with the addition of how it is relevant to Turkey. Technical analysis is also extensive but does not show anything more than Support and Resistance levels, Pivot lines and price levels.
Market News section is outdated, showing the latest reports from 2017. GCM probably decided to include news along with the reports and analysis they frequently publish.
GCM has a few tools available. Calculators are for Pips, Margin, Swap and s currency converter. These are very basic while the economic calendar has its section but it is not available.
GCM has its Sentiment Indicator for every asset. This indicator is usually seen with larger, market maker brokers. It is refreshed frequently.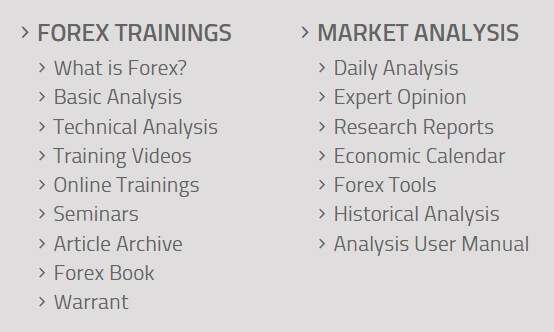 Customer Service
GCM has an email, phone and chat service available. It is not available in English and is not 24/7, just during the working hours in Turkey. The staff requested our phone number and disconnected us without providing us with any answers. Direct audio contact is better for sales hence the reason for the phone number. Note that it is common to see other affiliates contacting you as a part of shared policy marketing.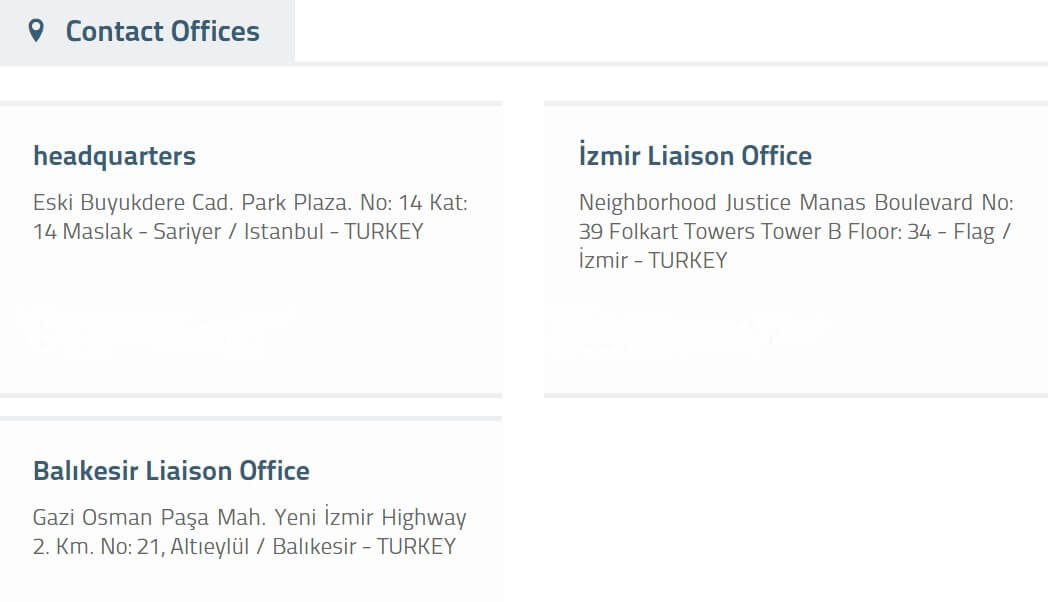 Demo Account
GCM promoted a Trial Account or a demo with 100,000 virtual currency. After 30 days, the trial account will be closed. A new demo could be obtained and within the user account panel, it is possible to open multiple accounts. The Demo account will have all the conditions as with Live, having the same information specs.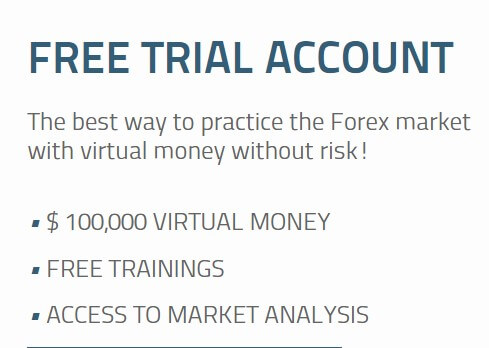 Countries Accepted
No information is available from the GCM website. The registration form has a long country list.

Conclusion
To complete this GCM review we will state a few important info for interested traders. This is a market maker broker that has great range and transparency. We have seen a broker publish statements on profitable/losing traders ratio using their services, but it is uncommon to also see reports on price providers, Ration of rejected orders, Asset price deviation report, and a Ratio of Customer Complaints. This is commendable although it still may not be enough considering trading conditions that are not favorable to fast traders, which are many.
The broker also shows signs of being just an affiliate of Fortrade, that shares the same trading instruments although at higher leverage and a bit higher fixed spread. GCM has some additional values for clints from Turkey as most of their services are adapted to them, including the Futures and Options trading. Additionally, there is a lot of marketing involved and it is in the national culture.
Finally, the minimum deposit is too high for most traders that just want to try live service, especially taking into account that this is a locally licensed broker, not globally popular and that there are not enough positive user reviews.