Formerly known as Merkativa, AGEA is a rebrand that has been online since 2005. This broker is headquartered in Montenegro with a real address location in Podgorica. AGEA is a public company on the Montenegro Stock Exchange and regulated by the local authority, Commission for Capital Markets. This regulation does not officially comply with the EU directives as the country is not in the EU, but AGEA states they are based on the legal framework following the MiFID directive. Client funds are segregated and policies are established for AML, Risk and other categories compliant with the MiFID. There is also a client categorization policy that defines a professional trader. Still, the leverage provided is not limited as with ESMA compliant brokers.


AGEA has improved its services since establishment and differentiated in some fields like the platform offers. The website is well designed and does not follow the classic structure. Content has a good mix of educational and specific information material for advanced users who can understand the industry phrases. Overall transparency is good, the website is providing more details than what we usually see with other brokers, especially for the overview of the platform. User rating for this broker is mediocre, although the most negative come from accounts that used the company promotion funds.
AGEA responds to every negative review and that shows dedication to improve the image. Apart from being transparent, the broker encourages the use of the demo account for at least several weeks for inexperienced traders, giving us the feel of genuine interest to have skilled traders for a longer-term. This notion is further confirmed with good tips guides. This review will give you insight if AGEA has the right offer for your style of trading and the quality of service.
Account Types
AGEA does not have classic account packages with different minimum deposit requirements or similar. Account differentiation is based on the platform. AGEA offers two platforms, MetaTrader 4 and Streamster. MetaTrader also has a Cent Account that enables traders to risk lower amounts of money but experience live trading. The maximum balance for the Cent account is $5-$6000. Each platform has somewhat different trading conditions although not substantial.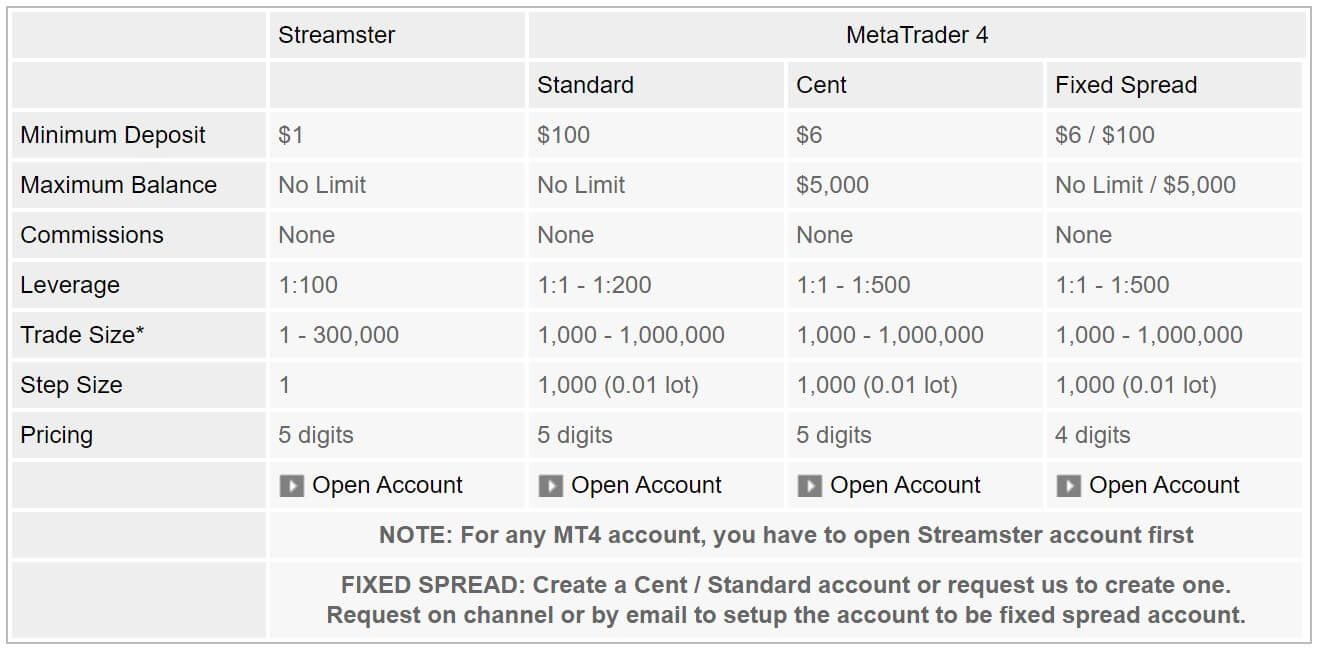 Accounts are available in USD, EUR, GBP, CHF for the MT4, and USD, EUR, JPY, GBP, CHF, CAD, and AUD for the Streamster platform. Accounts have different maximum leverages and the MT4 platform requires at least $100 balance as stated on the website, but the AGEA support told us a lower limit. When trades register for an account with AGEA, the will be rewarded with $5 upon verification but they will not be able to have multiple accounts. Traders will still be able to have accounts under their single master Account with AGEA.
Platforms
AGEA supports two platforms, Streamster and MetaTrader 4. Streamster is available as a desktop version and web which is automatically opened once you register and is regarded as a standard platform. This platform is simplified, easy to use and well designed. There are two color themes to switch to, light and dark, both are good looking and easy on the eyes. Some advanced features like chart drawing, custom indicators or automated trading are missing, as expected with simplified web platforms.
Streamster has its API for algorithmic trading but you will have to be familiar oh how to set it up for automation in PHP or Visual Basic. A guide is prepared on the AGEA website with examples. Streamster will have enough features for basic trading, there are 3 windows by default that can be resized and rearranged by preset layouts. The windows will display the chart, instruments list, and the account/trading terminal with few integrated tools and services not available in the MT4. The chart can be set to classic timeframes like in MT4, and type can be set to line, bar, candle and track, Track style is like a bar with gradient changing colors as the price reaches new lows and highs.

We have spent some time to figure out how to add a new instrument chart as this is integrated with the indicators list that is much larger than the instrument selection dropdown menu at the top. The same list is opened with a gear-like button but without the instruments selection menu. Traders can have up to 3 charts open but cannot have them visible at the same time. The indicators list is similar to the MT4, we have counted a total of 35. Most of the indicators are well known and there are no additional colors or other settings like with the MT4.
Ordering will give you options to set Stop Loss and Take Profit (called Exit Target) levels, volume in Units, Limit, Stop and Market type, GTC, GTD, IOC duration and a custom text that can be added to the trade. The most interesting part is the management module window that is similar to the Termina in MT4. In addition to classic trade management sections like Portfolio, Orders, and Positions, Streamster has Chat, News, Support, Calendar, and Account integrated service sections. Chat will give you the ability to communicate with other traders globally and also with AGEA support. We found this chat to have a lag more than a few seconds for every line sent.
News will display the latest feed from Reuter, CBNC News, South China Morning Post, RT Business and Market Watch, with a filter to disable some of these sources. Clicking on the news line will link you with the published page. Calendar section will list the last 9 events for the current day without any filter options, thus seriously limiting the usability.
Account section will display similar information as from the AGEA website if not the same, making this section just an integrated AGEA webpage where you can open new accounts, read content and so on. The instrument information is obscured, you will not have the spread displayed or anything related to the execution time, but still have the instrument price change, highs and lows, and the time.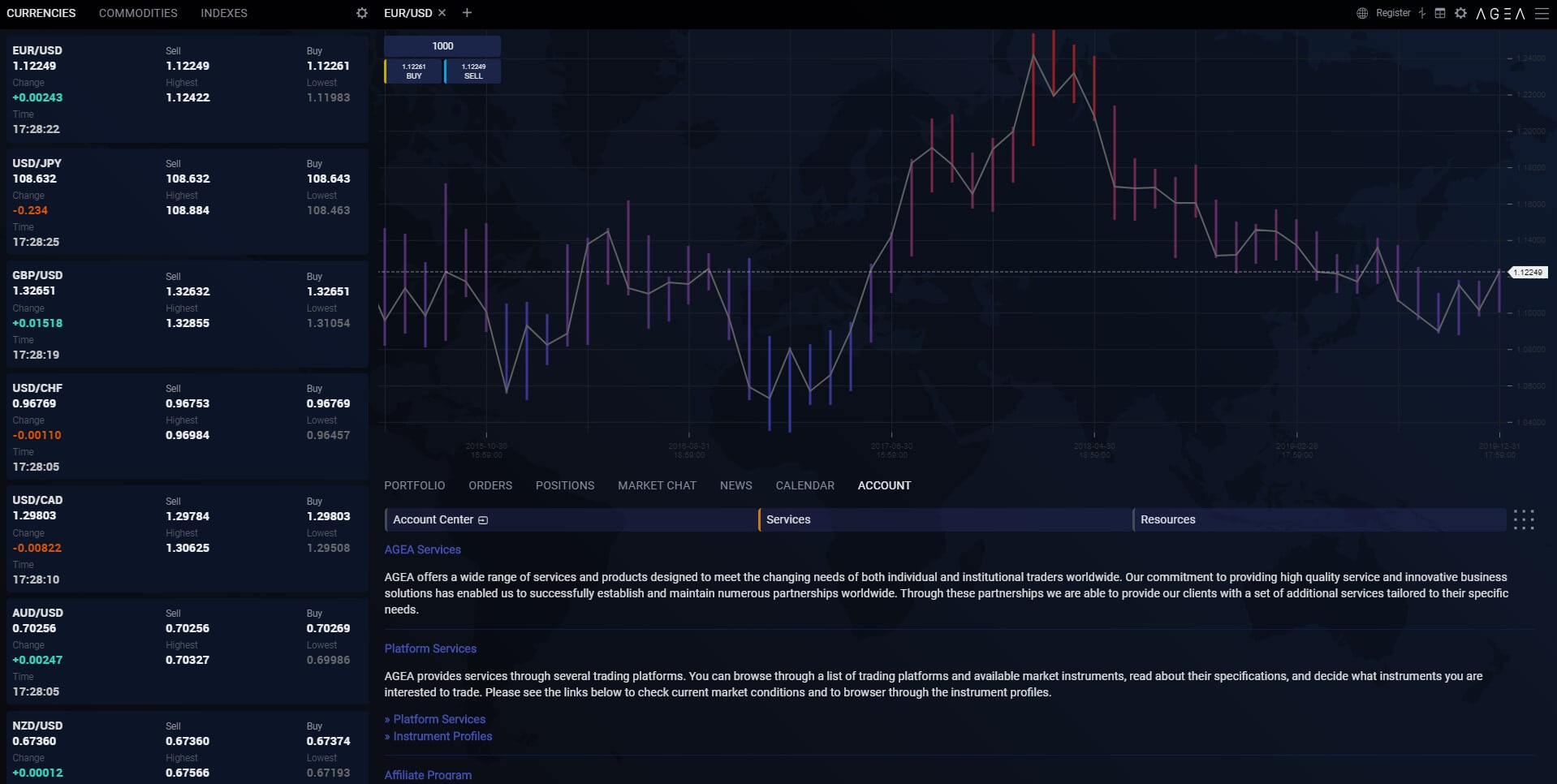 Streamster desktop platform is similar but has more features than its web version. This platform has more indicators with more settings, some chart drawing options, alerts for prices and economic events, and more account management features. "My AGEA" menu hold much more useful information and analysis. Here you can see Portfolio analysis, manage accounts, see trades information, manage funds and more.
MetaTrader 4 is available only as a desktop version. It is described by AGEA as a platform used "by traders who understand how to code", which is not true, traders do not need to understand coding at all. The platform is updated to the latest version and shows two servers upon startup, AGEA Demo and Live. Both are having a ping rate of about 200ms. The instrument symbols are grouped into four groups with clear and full specifications.
The default four forex charts have the One-click trading buttons visible with default indicators applied. No additional indicators or templates are added to the installation. The MT4 Terminal will show all the relevant trading costs for open positions including swaps and commission. Execution times are around 270ms without deviations, the slowest execution being just past 280ms. This latency is average in the industry. We have also noticed a major issue with Oil assets. They were off quotes or took an abnormal time to execute orders. Trading hours for all platforms is Sunday 22:15 to Friday 21:00 GMT.
Leverage
The leverage is initially by default 1:100 for the MT4 Account and fixed to 1:100 for the Streamster platform. MetaTrader 4 has the leverage set from 1:1 to 1:200 for the standard size and up to 1:500 for the Cent account. This leverage is available regardless of the client categorization set by MiFID that exists during the registration process. The leverage for precious metals and other assets is the same.
Trade Sizes
Trade sizes in the Streamer platform are measured in units, and the minimum trade size is 1 unit for Forex. This is lower than a micro-lot trade size as 1 lot is 100,000 units. Increments are also not limited. Limits exist for the maximum number of opened positions (50) per desk type (200 in total) but this limit should not be a factor for most traders. The maximum volume limit is 1,000,000 cumulative for all positions. For target orders, there is a 3 pip distance limit that may be too big for some fast trading strategies.
MetaTrader 4 platform has a different trading size policy. The minimum trade size we have observed is 0.1 lots. This is too big for small deposits even though the minimum requirement is very low. The 0.1 lot minimum trade size is not applied to precious metals, so XAU/USD has 0.01 lots minimum trade size and the same for additional trading steps. The maximum allowed per trade is 10 lots. For Oil assets, there is another interesting limit, the maximum trade size is 1 lot while the minimum is 0.01. The contract size for these CFD Oil futures is not standard and is 10 units.
The stop out level is the same as with the Streamster – 3 pips. The Cent account has the same trading volumes and conditions. Margin Call and Stop Out levels are not defined and are limited only to the equity needed to sustain the margin.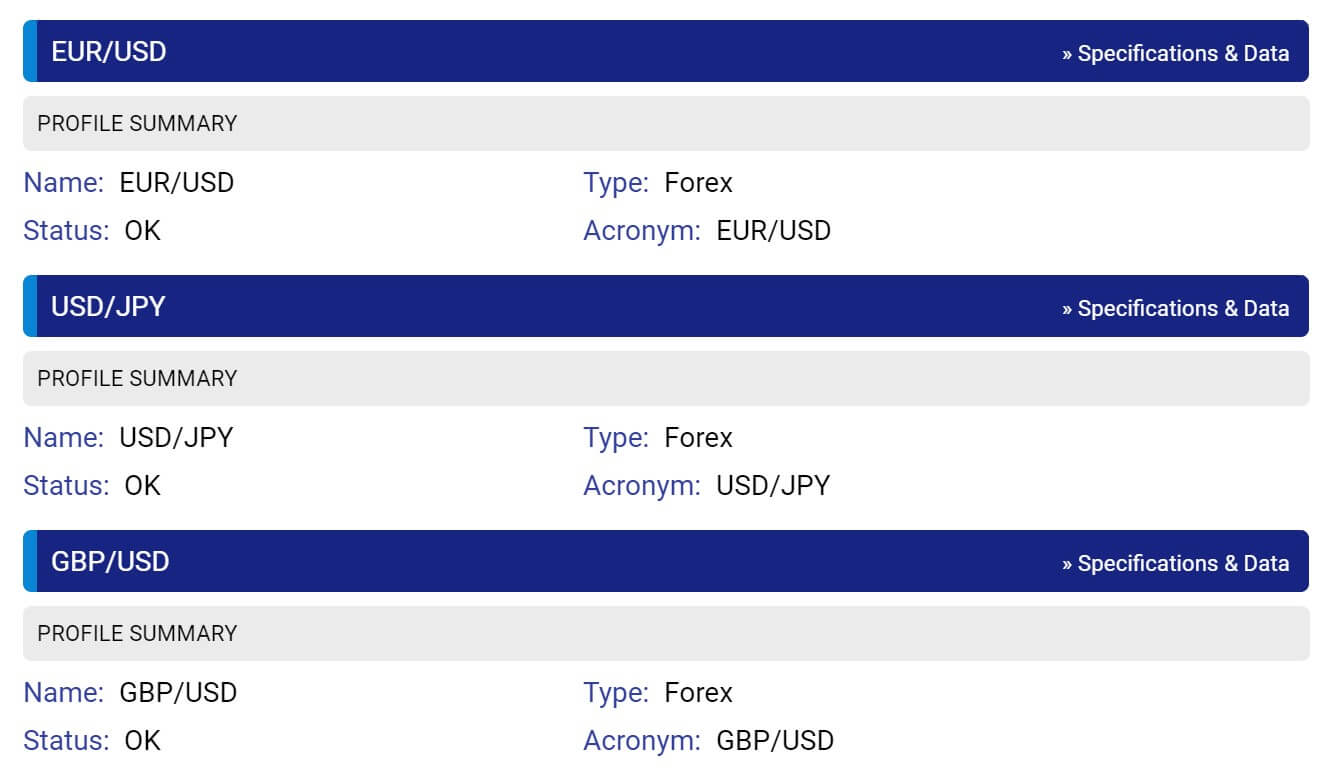 Trading Costs
AGEA is a commission-free broker for all platforms and also swap-free for the Streamster platform. This means the only non-spread trading costs are the negative swaps if you are using the MT4 platform. The swap rates are disclosed in the MT4 instrument specification window only. The website listing will display some information about the spreads but not swaps. Swaps are calculated in currencies and tripled on Wednesdays. Positive swaps are not uncommon.
For the most traded pair, EUR/USD the swap is -7.32 EUR for long position and 2.57 EUR for short. USD/JPY also has a positive swap on the long side, 1.45 USD and -5.55 USD on short. GBP/USD has -4.66 GBP for long and 0.02 GBP for a short position swap. NZD and AUD swaps are also wit positives, NZD/JPY has 2.56 NZD positive for long and -8.46 NZD for short while AUD/CHF has 3.51 AUD for long and -9.41 AUD for short position swap.
As we go into exotics the swaps are not going higher to a large degree, some remain single-digit. For example, USD/CNH has -3.25 USD for long position and -0.85 USD for short, USD/HUF has -0.65 USD long and -5.35 USD short. The highest swap is for the EUR/TRY with -42.48 EUR for long and 0.10 EUR for a short position swap. Swaps for XAU/USD is low with -0.056 USD for long and -0.047 USD for short.
AGEA has an Inactivity Fee of $20 per year for accounts dormant for 12 months.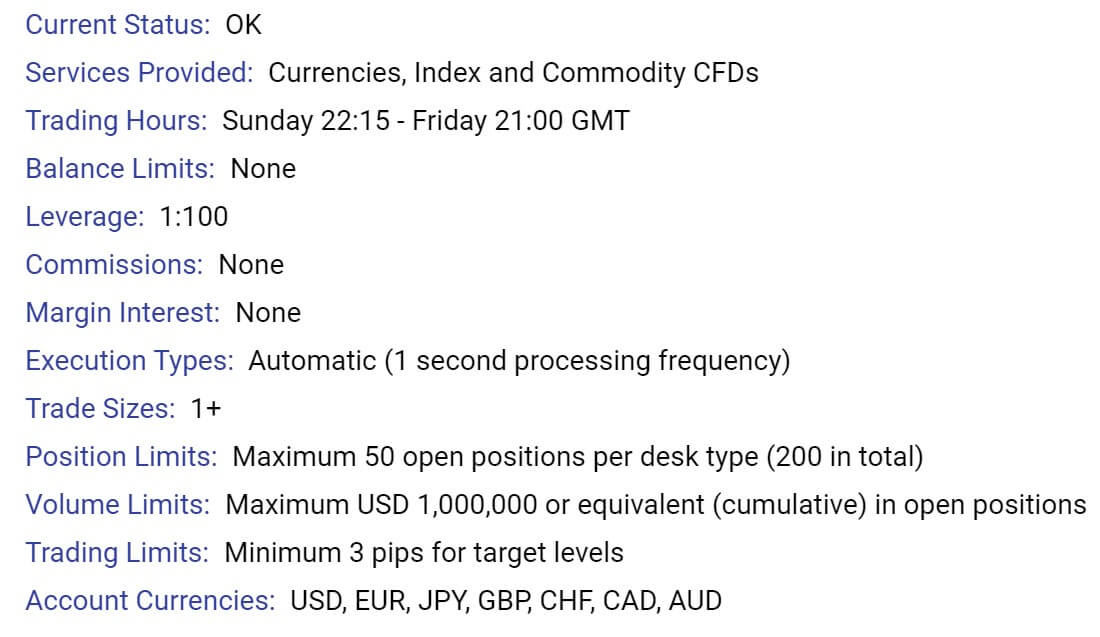 Assets
The asset range offer is different for the Streamster and the MT4 platform. Both have the same categories but MT4 has an extended Forex instrument range. A total of 44 currency pairs is present in MT4 while Streamster desktop and web version have 17 total and none of them are exotic pairs. In the MT4 forex traders will also find uncommon pairs like USD/MXN, USD/CNH, USD/HKD, EUR/PLN, EUR/TRY, SGD/JPY, EUR/HUF, and Scandinavian currencies.
These and more variants with the USD are not present in the Streamster platforms. Desktop Streamster platform has some of the forex and other assets invisible, traders will have to "subscribe" to all available by clicking on the search button under the Subscriptions tab.
Precious metals are limited to spot Gold and Silver. These are present on both platforms.
Indexes are present on all platforms in equal numbers. There are a total of 6 future Index CFDs and the asset names are not what we see usually. You will find XDE30 (German DAX), XFR40 (CAC 40), XUK100 (FTSE 100), XUS100 (NASDAQ), XUS30 (Dow Jones e-mini) and XUS500 (S&P 500).
Commodities are limited to Oil futures CFDs. UK Brent and US Crude Oil are present in MT4 but not on Streamster platforms. AGEA had some technical issues with the execution. We are not informed is the problem is with the liquidity provider or server related.
AGEA Instruments Profiles page also has Bonds, ETFs, and Stocks in the dropdown menu, but these assets are not yet introduced.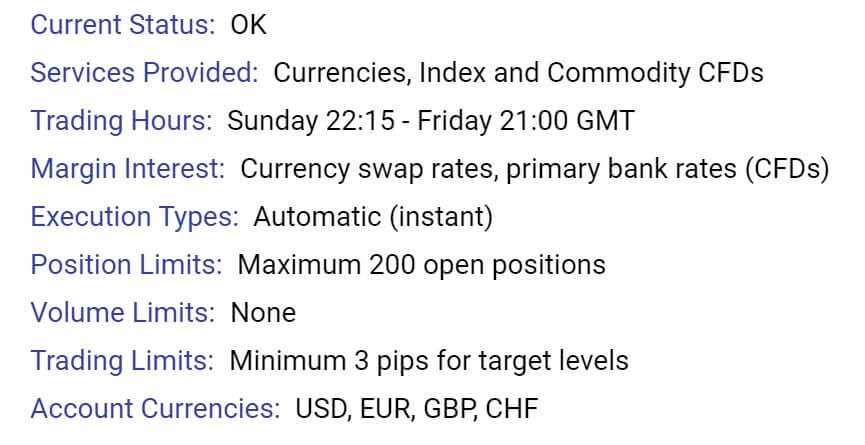 Spreads
AGEA has floating spreads that are specific for each platform they offer. The spreads are generally competitive but not good enough for fast trading strategies. Forex spreads are disclosed on the website but the minimums are never achieved, even during night sessions. For example, EUR/USD minimum spread is 5 points but it is almost always in 10 points range, USD/JPY has 12 points while the minimum stated is just 1 point. AUD/USD has 11 points, NZD/USD 12 points, and USD/CHF has the highest with 18 points in the majors.
Other pairs have higher spreads, so AUD/NZD has 29 points, CHF/JPY 31 points, EUR/NZD 37 points, GBP/AUD 44 points, and GBP/NZD with the highest spread of 83 points in the minors. Exotics spreads are like fixed for some pairs like for USD/TRY at 6000 points, 3000 points for USD/ZAR, and 6000 points for EUR/TRY. These are also the highest spreads. For other exotics, the spread is much tighter, so USD/MXN has 665 points, USD/PLN 166 points, ZAR/JPY just 13 points, USD/CNH 107 points, and USD/HUF 218 points.
Spot Gold has competitive spread at 37 pips and Silver with 12. Oil assets have 13 points spread.
Streamster platform has tighter spreads but is not displayed on the platforms. Traders will have to manually calculate from the Bid/Ask price. For comparison, EUR/USD has 5 points spread, USD/JPY 4 points, GBP/USD 5 points, and the rest of the forex currency pairs have the same 4 or 5 points spread. These spreads are much more comfortable for fast trading but traders will have to put some effort into API to connect their algorithms. Spot Gold has 15 pips spread and Silver is at 4 pips in the Streamster platform.
Minimum Deposit
The minimum deposit stated on the website is $100 for the MT4 platform and no requirement for the Streamster. In the FAQ there are no minimum requirements as stated while the support staff told us the minimum for the MT4 is $6 and $1 for the Streamster. Note that the trading sizes for MT4 may require you to have more on balance. Cent MT4 account has a $5 minimum balance. AGEA will reward new traders with $5 upon verification so traders can start with Cent account.
Deposit Methods & Costs
AGEA has a comprehensive list of deposit costs by different payment processors. AGEA does not charge any fees for deposits. Deposit methods are numerous but without any crypto methods. You can deposit via Bank Wire, VISA, MasterCard, Local China Banks / UnionPay, DixiPay, FasaPay, Local Bank Transfers, Neteller, PerfectMoney, Qiwi, Skrill, WebMoney, Payza, RBK Money, E-Dinar, Epay, and AliPay.
Fees charged by these payments providers are:
Local Banks in Malaysia, Indonesia, Thailand, and Vietnam: 2.8% (deposits); 1.6% (withdrawals).
Credit Cards: 3.5% + USD 0.50 or 3.5% + EUR 0.35 (deposits); 2.5% + USD 7.50 or 2.5% + EUR 6.50 (withdrawals).
Local China Banks / UnionPay: 1.20% (deposits); RMB10 per transaction (withdrawals).
Fasapay: 0.50% (deposits); 0% (withdrawals).
Skrill: 2.5% + USD 0.37 + 0.5% or 2.5% + EUR 0.35 or 2.5% + GBP 0.3 (deposits); 1% (withdrawals).
Neteller: 1.9% + USD 0.29 (Minimum USD 1.29) or 1.9% + USD 0.29 + 0.5% (Minimum USD 1.29 + 0.5%) or 1.4% + 0.29 equivalent of USD for other currencie (deposits); 0% (withdrawals).
PerfectMoney: 0.50% (deposits); 0.50% (withdrawals).
WebMoney: 2.50% (deposits); 1.50% (withdrawals).
QIWI: 5% (deposits); 1% (withdrawals).
Payza: 3.9% + USD 0.59 (deposits); 0% (withdrawals).
RBK Money: 3.50% (deposits); 3.50% (withdrawals).
DixiPay: 0.50% (deposits); 0.50% (withdrawals).
E-Dinar: 1% (deposits); 1% (withdrawals).
Epay: 0% (deposits); 0% (withdrawals).
AliPay: 2.2% (deposits); 0% (withdrawals)
Some of these options are not available in all countries.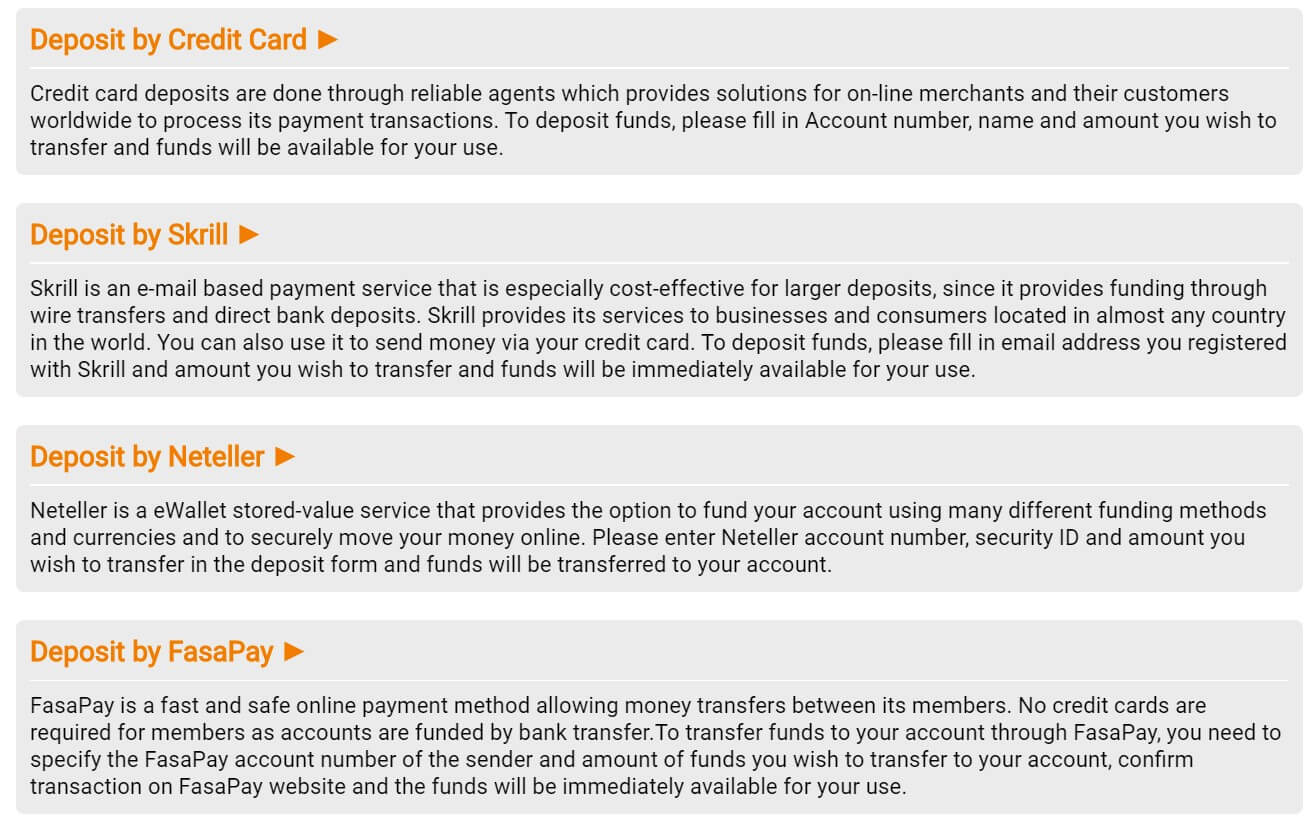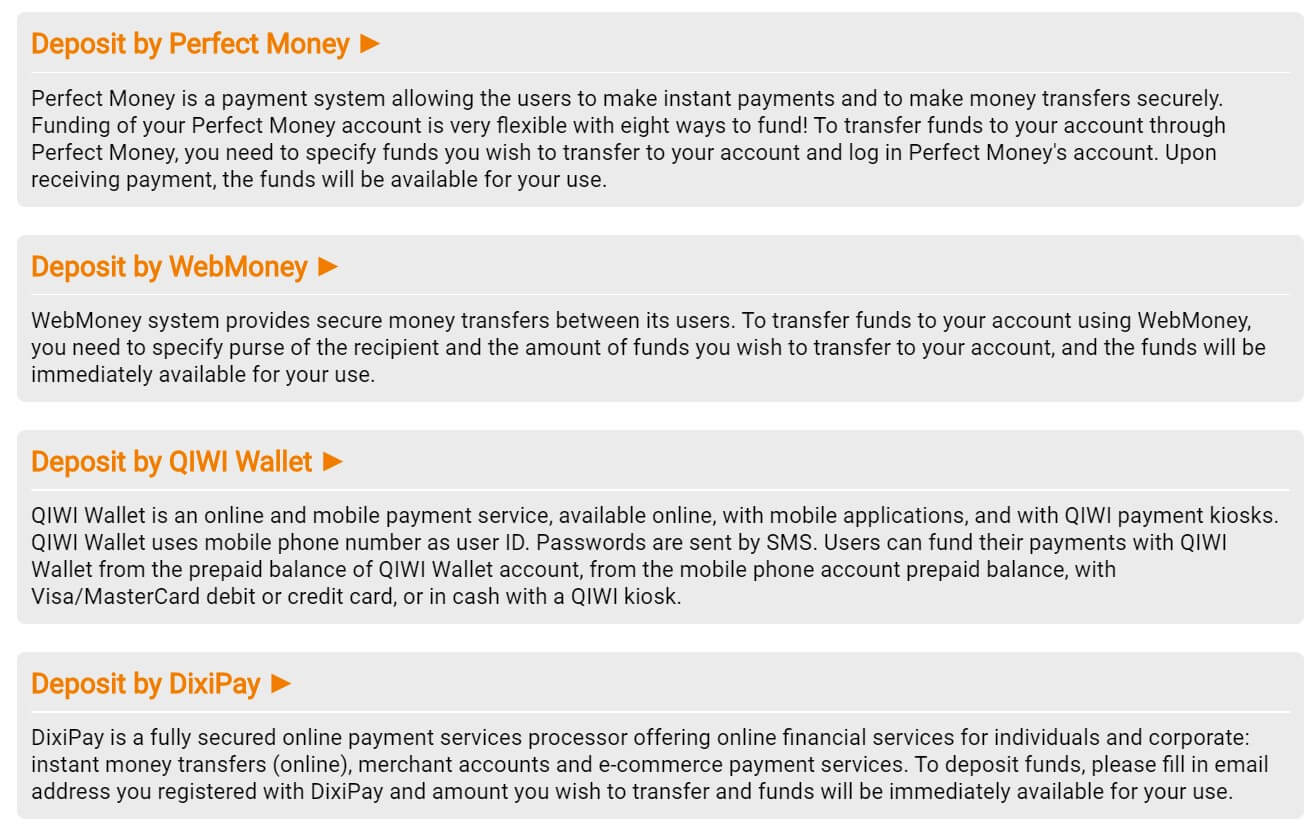 Withdrawal Methods & Costs
In addition to withdrawal fees charged by payment processors stated above, AGEA also has its fees. Bank Wire fee is $10 and $7 one-time fee for other, non-wire processors. This means the reward of $5 will not be available for withdrawal.
Withdrawal Processing & Wait Time
Withdrawal processing is not automated and will take up to 24 hours to process. This is also valid for e-wallets. After clearance, bank transfers may take up to 7 days and e-wallets are usually instant.

Bonuses & Promotions
AGEA has a kind of a bonus upon account verification but since there is a fee for withdrawals this bonus may be regarded as a pure marketing gimmick.
AGEA has a tournament called "AGEA Masters – Monthly Tournament". This tournament is based on the highest pips performance for the current month and available only for the Streamster platform. The rewards are not disclosed.
Educational & Trading Tools
AGEA does not have a dedicated section for education. The closest thing is the Resources section with Introduction to Markets, various FAQs, Specifics and Facts, and Trading Techniques. Introduction to Markets is a very short explanation of the basics like ordering and profit calculation. This is not very useful for beginners. Trading Techniques contains useful tips about Technical, Fundamental analysis, and Risk Control.
The content is short for any serious study but points out important facts for successful trading. Specifics and Facts part is just some common phrases and topics in the forex industry. It is a kind of glossary with examples and explanations. AGEA FAQs are well structured and cover the majority of common trading questions. Transparency is good enough, the only drawback is the lack of the search tool.
AGEA does not have the Economic Calendar or any tools available on the website. Most of the tools are integrated into the Streaster platform. More on this is in the Platforms section.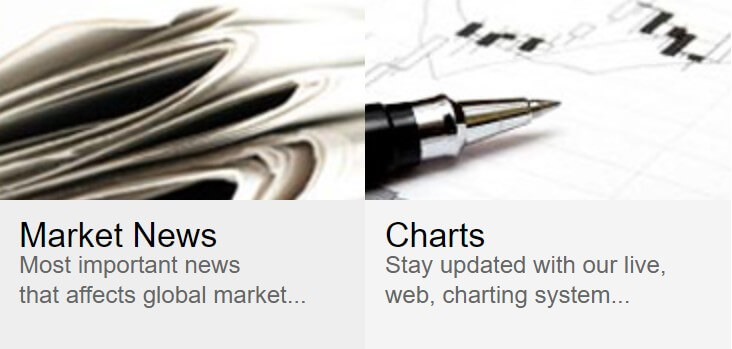 Customer Service
AGEA customer service is very good. The support is available by email. phone, and chat. The chat service is well designed and integrated into the Streamster platform. This chat has a small lag for every line sending but it is tolerable. The staff will respond within a minute and has a good knowledge of trading and understanding of your needs. Some answers may not be in full, especially if it is hard to answer without a negative context. In our case, after asking about the Oil trade execution problem, we were put on hold for a few minutes until we had to ask again. Only then we have received a reply that they have technical issues. Still, the support service is 24/5 and answers promptly.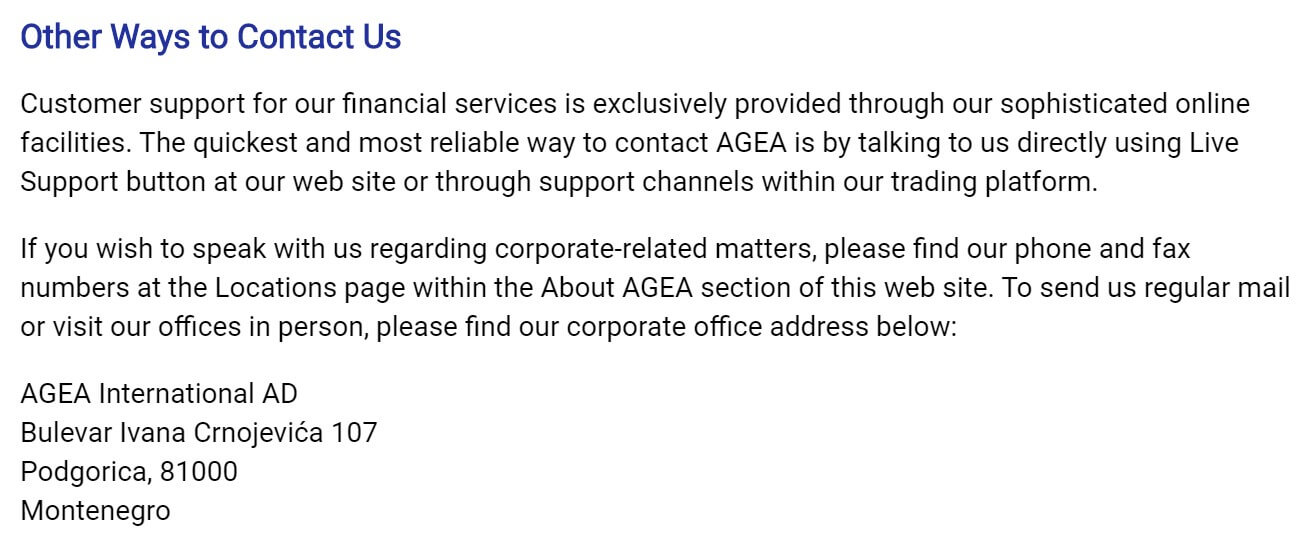 Demo Account
AGEA is one of few brokers that will encourage traders to spend on a demo for a few weeks before going live. The demo account for the Streamster platform will provide traders with $10,000 virtual funds and the MT4 demo account can be opened within the platform. The leverage and the number of virtual funds can be selected. There is no time limit and the demo will reflect live trading conditions accurately. All platform versions have a demo available.
Countries Accepted
Countries not supported are the United States, Cuba, North Korea, Sudan, and Syria.
Conclusion
This section of the AGEA review will sum key information about this broker. AGEA has some advantages that are not good enough to attract new-age traders and not good enough for classical, mid and long term traders. Their Streamster platform is easy to use but lacks features and assets while the MT4 has a good Forex range, it does not have the best trading conditions. This is further complicated by low liquidity or overloaded servers.
Whatsmore, the regulation is not known for being robust and is not quite adhering to the MiFID EU directive. On the other hand, the company has solid grounds for beginner traders that like simplicity, good trading tips, chat, social aspect, and almost no deposit entry barrier. To complement this focus to beginners, AGEA has introduced the Cent account and the monthly tournament.
The broker also needs affiliates and additional staff they recruit through the AGEA Assistant program. The main selling point of this broker is the beginner-friendly Streamster platform, enough leverage, and the low deposit requirement. For other traders that prioritize great execution times, more assets including cryptocurrencies, better spreads and liquidity may look elsewhere.