FXLatam is an online foreign exchange broker that is based out of Saint Vincent and the Grenadines, they don't actually provide a lot of information about themselves, so a few of their main selling points include instant withdrawals, live chat, an industry-leading platform, forex and crypto in one account. We will be using this review to see if they really do offer those services and to find out any additional information about them that we can.
Account Types
There are 5 different account types available to use, they do not seem to have any different trading conditions, and the account comparison page doesn't actually indicate any differences within the accounts, just the required amounts and trading volume needed. We outlined the requirements below.
Gold Account: This account requires a minimum deposit of $500 and a minimum trading volume of $2,500.
Platinum Account: This account requires a minimum deposit of $1,000 and a minimum trading volume of $10,000.
Diamond Account: This account requires a minimum deposit of $5,000 and a minimum trading volume of $50,000.
Emerald Account: This account requires a minimum deposit of $10,000 and a minimum trading volume of $100,000.
Crown Account: This account requires a minimum deposit of $50,000, the minimum trading volume is not known and simply states to call them for more information.

Platforms
FXLatam uses its own trading platform rather than one of the more established platforms like MetaTrader 4. The platform is relatively basic, it doesn't have many of the features that many traders will not be used to.
Leverage
The maximum leverage available from FXLatam is 1:200, this is applicable for all account types, this leverage can be selected when first opop[enign up an account. We are not sure if you are able to change it once an account is set up, if you need to change it we would suggest sending a change request to the customer service department. You can buy and sell and select the size of your trades, there is very limited graph information and functions available. The platform looks more like it would be at home at a Binary Options broker rather than this forex broker.

Trade Sizes
Trade sizes start from 1,000 units which are the same as 0.01 lots. Trades then go up in increments of 100 units which is 0.001 lots, so the second available trade is 0.011 lots and then 0.012 lots. We do not know what the maximum trade size is, or how many open trades and orders you can have at any one time.
Trading Costs
There is no mention of any commissions, and when using the demo platform there was no indication of any commissions, and this is good due to the spreads being so high (we look at these in a later section of the review). There is also no information about potential swap charges, the majority of brokers have them so we expect that FXLatam will as well, but we cannot say for sure.
Assets
The assets have been broken down into a number of different categories, there wasn't a list available on the site which is a shame as many potential clients won't want to open up a demo account just to see what is available, but that is exactly what we did, we have outlined the available instruments below.
Forex: AUDUSD, EURCHF, EURGBP, EURJPY, EURUSD, GBPCHF, GBPJPY, GBPUSD, USDCAD, USDCHF, USDJPY, AUDCAD, AUDCHF, AUDHKD, AUDFJPY, AUDNZD, CADCHF, CADJPY, CHFJPY, CHFNOK, DKKSEK, EURAUD, EURCAD, EURDKK, ERUHUF, EURILS,. EURMXN, EURNOK, EURNZD, EURPLN, EURRUB, EURSEK, GBPAUD, GBPCAD, GBPCNH, GBPNZD, NZDCAD, NZDCHF, NZDJPY, NZDUSD, USDDKK, USDHKD, USDILS, USDMXN, USDNOK, USDLN, USDRUB, USDSEK, USDSGD, USDTRY, USDZAR.
Indices: AEX25, Australia 200, CAC 40, China A50, CNX Nifty, DAX 30, Dow Jones, Euro Stoxx 50, FTSE 100, Hang Seng, IBEX 35, Nasdaq 100, Nikkei 225, Russell 2000, Swiss Market, S&P 500, US Dollar Index.
Crypto: ADA, BTC, BTG, DASH, EOS, ETC, ETH, IOT, LTC, NEO, QTUM, TRX, XLM, XMR, XRP, ZEC.
Commodities: Coca, Coffee, Corn, Cotton #2, Orange Juice, Soybean, Sugar #11, Wheat, Brent Crude Oil, Gas Oil, Heating Oil, Natural Gas, RBOB Gasoline, WTI Crude Oil, Copper, Gold, Palladium, Platinum, Silver.
Stocks: There are stocks from countries such as Australia, Canada, France, Germany, Italy, Russia, Spain, Switzerland, United Kingdom, and the dUnite States.
There are also plenty of EFTs and Bonds available to trade.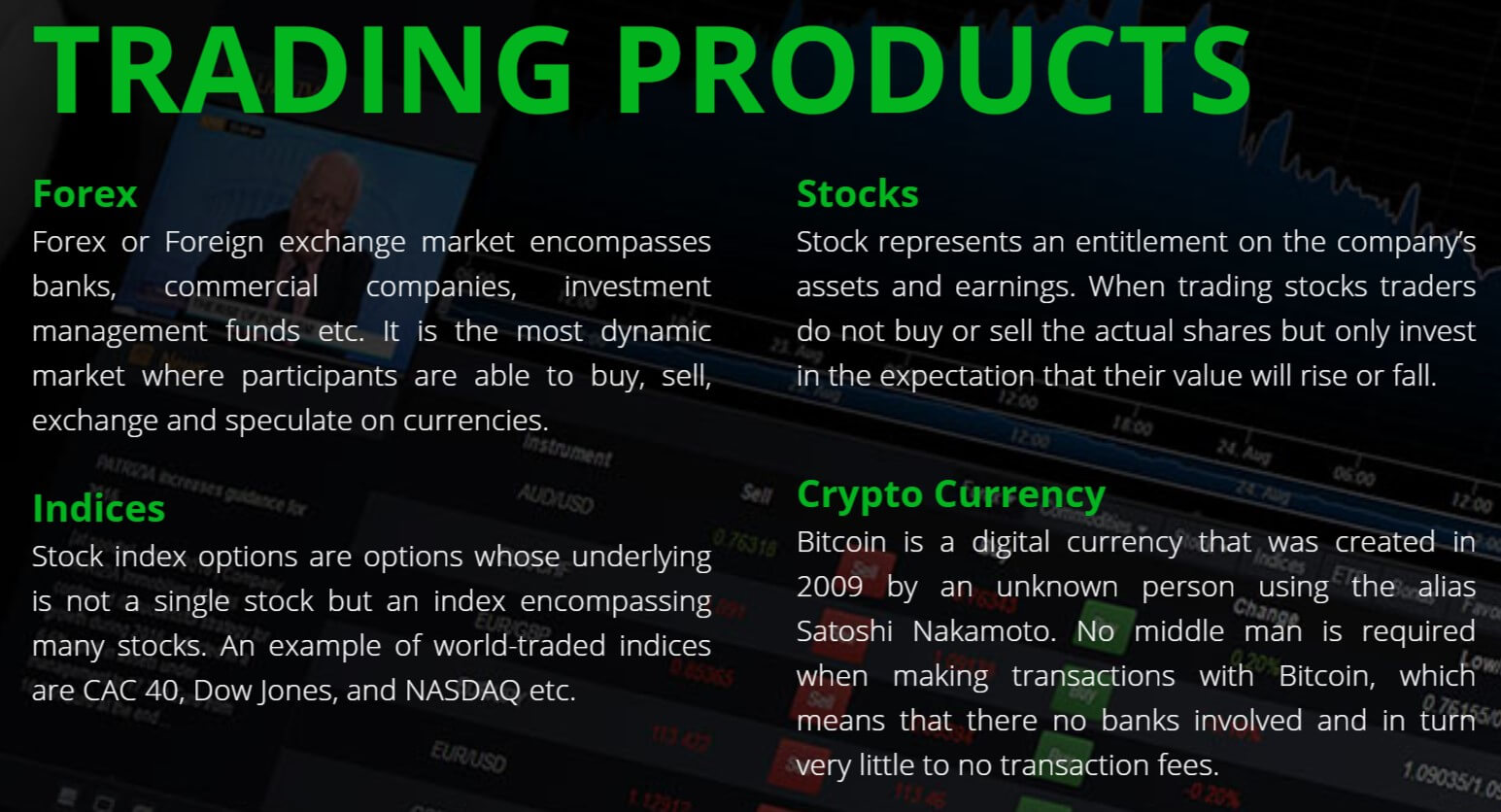 Spreads
There isn't a list or set of examples of the spreads available on the site, instead, we had to scour the internet, for example, a few different sites seem to indicate the same starting spreads which lead us to believe they should be accurate. The spreads for EUR/USD seem to be around 3,.5 pips and are fixed, this means that they do not move no matter what is going on within the markets. 3.5 pips are very high and indicate that the trading is quite expensive here, different instruments will also have different spreads, so 3.5 pips will be the lowest, higher spreads will also be present.
Minimum Deposit
There is some contradictory information on the site regarding the minimum deposits. The accounts page indicates that the minimum amount required to open up an account is $500, while the FAQm states that it is $250, so we believe that the figure has changed at some point, but we are not clear on which one is the actual amount, just to be safe, we will say that it is $500 as this covers both scenarios.
Deposit Methods & Costs
There are a lot of images displayed at the bottom of the site, however very little information to go with them, there are in fact so many pictures it can make it a little hard to work out which are payment methods and which are assets or banks. So the ones that we can work out are QIWI Wallet, WebMoney, Visa, MasterCard, Yandex, WebPay, and Bitcoin.
There isn't any information surrounding any possible fees, this does not mean that there aren't any, it just means they aren't stated on the site, we would also suggest contacting the payment provider that you will be using to see if they will add any fees of their own.
Withdrawal Methods & Costs
Once again, there isn't any information on the site regarding withdrawal methods, we only have the same pictures at the bottom of the screen which are QIWI Wallet, WebMoney, Visa, MasterCard, Yandex, WebPay, and Bitcoin. There is only some information stating about Card and Bank withdrawals within the funding terms and conditions.
Similarly to the deposits, there isn't any information surrounding any fees when withdrawing, again, this does mean that there won't be any, it just means they aren't stated on the site, we would also suggest contacting the payment provider that you will be using to see if they will add any fees of their own.
Withdrawal Processing & Wait Time
Withdrawal times are not stated on the site which is a shame, due to this we would expect any withdrawals to be fully processed between 1 to 7 days from the request it is made, this will depend on the processing times of FXLatam and the processing times of the method that you have used to withdraw with.
Bonuses & Promotions
There is the usual affiliate scheme, refer people to the broker and earn, there is also an initial deposit bonus. You can receive up to a 100% bonus, this sounds good in principle, but it is buried in so many terms that it really isn't worth it. As we went through the bonus conditions it became more and more apparent that this is something to avoid, some of the terms state that in order to withdraw, you would need to make further deposits, you would also need to trade 25 times the value of your deposits (all deposits) and the bonus funds, any withdrawals will remove the bonus completely so your funds will be locked in. This is a bonus that you should probably avoid.
Educational & Trading Tools

There isn't much when it comes to education being provided by FXLatam. The only things that are available seem to be on the homepage, which is a news section consisting of a list of top trades, popular trends and financial news (however that is currently giving an error). There isn't anything that will actually educate you or to help your analysis, which is a shame as a lot of modern brokers are trying to help their clients improve on their trading technique and knowledge, so it would be nice to see FXLatam do something similar.
Customer Service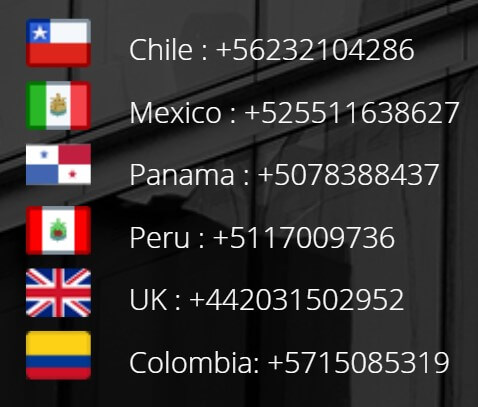 FXLatam is offering a number of different ways to get in contact with them, they do not state what their opening times are though. You are able to use the online submission form, fill it in and you should then get a reply via email, you can also use one of the many phone numbers which are available in countries such as Chile, Mexico, Panama, Peru, UK, and Colombia. There is also a postal address available and an email address, so plenty of ways to contact them.
Address: Get Financial LTD Suite 305, Griffith Corporate Center P.O Box 1510 Beachmont, Kingstown, St. Vincent and the Grenadines.
UK Phone: +442031502952
Email: Support@fxlatam.com
Demo Account
A demo account is available to use, the account uses the same trading conditions that we have stated throughout this review. The demo account allows you to test out the platform without having to risk any of your own capital.
Countries Accepted
This information does not seem to be available on the site, so we would recommend contacting the customer service team to check whether you are eligible for an account or not, prior to signing up for one.
Conclusion
FXLatam offers plenty of account types but they don't seem to have any differences, at least not any differences that are noted on the site. The actual trading conditions are a little expensive, the leverage available is 1:200 which is fine, but the spreads are starting from 3.5 pips which can make things very expensive to trade, the good news is that there are plenty of assets to trade. There is also a bit of confusion with the funding, mainly just images at the bottom of the screen and no real information on the methods or costs. Due to these things, at this point in time, we would recommend looking elsewhere for a broker to use.