eToro platform review – part 2/3
This part of the platform review will take a look at the fees eToro charges to its customers. It will also take a closer look at the crypto security of the platform.
eToro fees
Compared to the 'standard' crypto platforms (such as Coinbase or Binance), eToro's fee structure differs a bit.
As eToro is a brokerage service rather than an exchange, it doesn't charge trading fees the same way regular crypto exchanges do. eToro users will have to pay something called 'spread fees' when selling crypto, and when buying cryptocurrencies using leverage. To sum it up, if you want to sell (or margin trade) a cryptocurrency, you will have to pay a percentage of the sale price. This percentage fee derives from the 'spread' of the asset itself, which constitutes the difference between its 'buy' and 'sell' price.
As an example, selling one Bitcoin at a market price of $10,000, you'll also have to pay 0.75% of the Bitcoin's value (0.75% being the current BTC spread value). Assuming that 1 BTC equals $10,000, you'll have to pay $75.
Also, traders that are taking out a leveraged position on a cryptocurrency will have to pay 'overnight fees,' which are also referred to as 'rollover fees.' As the trader is borrowing money from the company to hold a trading position, eToro charges them interest.
eToro Spread/overnight fees
The table below will show the spread and overnight fees of the platform:
Cryptocurrency
eToro Spread Fee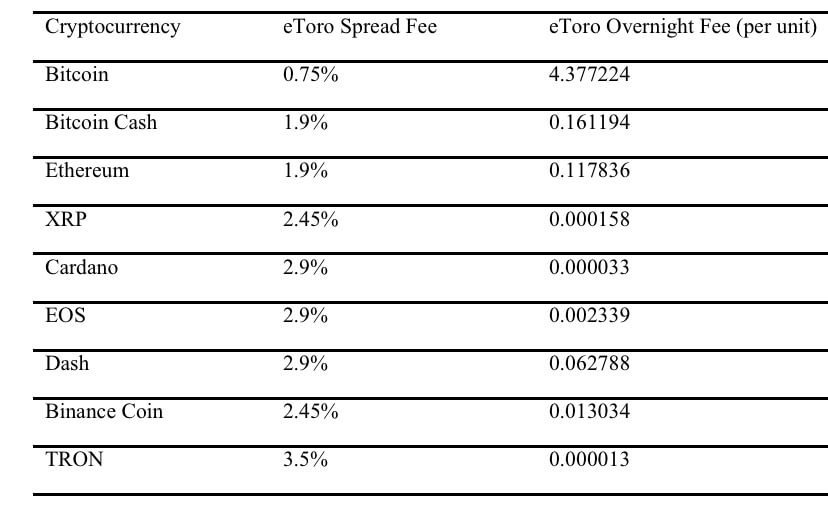 As shown above, the overnight fees for Bitcoin are pretty steep. As a comparison, traditional crypto platforms are much cheaper. Kraken charges 0.01% every four hours of holding a leveraged BTC/EUR or BTC/USD position. So, if someone would hold a position of 1 BTC for 24 hours, they would have to pay around 0.00056 BTC on Kraken, while eToro users would pay $0.0075 BTC.
Similarly, the spread fees on eToro make it more expensive than trading on traditional exchanges and platforms. Binance and Bitstamp each charge only 0.1% for every trade a user makes. On the other hand, eToro's spread fee of 0.75% for BTC is noticeably more expensive.
On top of all this, eToro also charges withdrawal fees as well as inactivity fees. The withdrawal fee is a flat $25, with users being allowed to withdraw amounts of $50 or more. The inactivity fee is $10 per month and is charged to users whose account hasn't been used for 4 or 12 months, depending on whether they have deposited any funds.
Security of the platform

Unlike many centralized, traditional exchanges, eToro has experienced no significant scandals in the past. However, security isn't eToro's major selling point. Up until 2017 and 2018, cryptocurrencies weren't directly traded using eToro. Instead, users held and traded a contract for difference (CFD), which allowed eToro to hold no crypto whatsoever.
There was no need for any additional security measures which competing crypto platforms had to have.
Today, when it does offer direct cryptocurrency trading, the additional security layers are unknown to the public. The website doesn't specify the crypto security measures it uses to protect customers' assets.
One thing to note is that the eToro wallet, just like other major exchanges, keeps your private key. This means that you have to trust the platform to protect your funds. That being said, eToro is one of the most secure platforms when it comes to general compliance with financial regulation. The platform is being regulated by CySEC in Europe, FinCEN in the US, and the FCA in the UK.
Make sure to check out the third part of our eToro platform review, where we will talk about the platform usability, social trading as well as withdrawal and deposit methods.