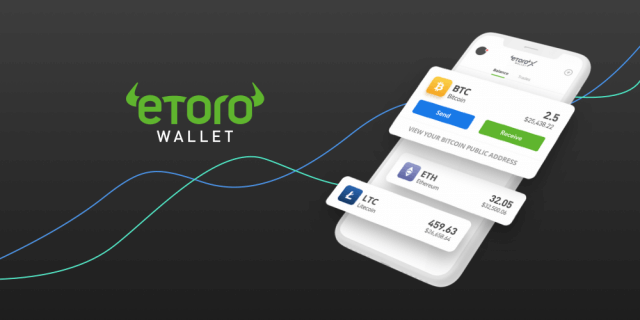 eToro is one of the safest and most popular cryptocurrency wallets. It is availed freely to all eToro trading account holders and is specially designed to hold several crypto coins. It also facilitates the transfer or redemption of crypto coins on different crypto trading platforms and exchanges. Some of the key factors contributing to its rich reputation include its exceptional security, sophisticated design that supports multiple cryptocurrencies, its highly competitive charges, and the fact that that it has the backing of the most reputable online trading platform.
In this eToro wallet review, we will be detailing these factors and highlighting more that make this wallet unique. We will explore the security measures that the online crypto wallet has put in place, provide you with a step-by-step guide on how to interact with the wallet, and compare its efficiency with that of leading hardware and software wallets.
Here is everything you need to know about the eToro crypto wallet:
Key Features
OS compatibility: eToro mobile wallet is highly versatile and compatible with multiple operating systems including Android and iOS.
Multicurrency support: The eToro online wallet supports 100+ cryptocurrencies and tokens. These include the all-popular crypto coins like Bitcoin (BTC), Ethereum (ETH), Bitcoin Cash (BTCH), Litecoin (LTC), and the ERC-20 Tokens.
Multi-lingual support: eToro is a global brand and both their trading platforms and crypto wallets are available to individuals in 100+ countries across the world. Both the website and wallet are also available in over 20 international languages.
Inbuilt exchange: While the eToro wallet doesn't let you send cryptocurrencies to the eToro trading platform, it features an inbuilt-exchange. This Allows any eToro wallet user to convert one crypto for another without going through the eToro trading platform. It also makes it possible for you to easily receive or send cryptocurrencies to other wallets and crypto exchanges.
Payment cards integration: You can also link the eToro wallet with either your debit or credit cards. This means that you can buy cryptos or withdraw earnings directly to your debit/credit card.
Easy to use wallet: eToro mobile is also easy to use. For instance, the wallet has a relatively straightforward onboarding process. The process of sending and receiving coins into the wallet is also easy.
A large number of trading pairs: In addition to the more than 120 cryptocurrencies and tokens supported by the eToro and its inbuilt exchange, the mobile wallet users are exposed to more than 500 crypto trading pairs.
eToro Security Features
Password: Like most crypto wallets, the eToro wallet app has a password as its primary security measure. You set this unique multi-character password when installing the mobile app.
Two-factor authentication: This security feature provides an added layer of safety by tying your crypto wallet to your phone number, effectively eliminating the possibility of remote hackers gaining access to your digital assets. The two-step verification becomes necessary when logging into the wallet and when transferring crypto to other wallets or exchanges.
High-grade encryption: eToro has introduced the high-grade encryption used on its trading platform to the eToro mobile wallets. Here, the crypto wallet employs different levels of encryption that cover every aspect of the mobile wallet, from the storage of private keys to the wallet's communications with third parties service providers including payment processing platforms like debit card and credit card companies.
No access to your private keys: eToro doesn't give you access to your private keys. Rather, it stores them in an encrypted format within the wallet addresses. This further minimizes the chances of unauthorized persona gaining access to your digital assets.
Password recovery: When installing and activating your eToro wallet, you will be provided with a unique and private recovery key. You will need it to recover your private keys should you forget your wallet password or lose the mobile device holding your wallet.
On-Chain address: In addition to keeping the private keys on your behalf, the eToro crypto wallet creates a unique and private on-chain address for you. This is unique, and allows you to send, receive, and store your digital assets anywhere on the blockchain.
Setup and Configuration
Setting up your eToro wallet account is easy and straightforward. And it starts with downloading the free mobile wallet app and registering a new account. We have broken down this registration process. Here's a step-by-step guide on how to go about it:
Step 1: Download and install the mobile wallet app
You can download the eToro mobile app for free from the official eToro website, Google Play Store (Android version), or App Store (iOS version).
Step 2: Create an account
Creating an account is quite easy. You only need to click on "join" at the top left-hand corner of the page and follow the prompts. Here, you will be required to enter a valid email address, password, and country of residence. Ensure you tick that you have read the terms and conditions before proceeding to the next step.
Step 3: Account verification
eToro clients are subjected to the standard KYC and AML protocols. First, the eToro Wallet team will send you a confirmation email where you need to verify your email. Next, you will be required to verify identity. It starts with an extended registration form that captures such personal details as your name, date of birth, physical address, and mobile phone number.
You then have to verify these details by providing the team with a photo of a government-issued identification document (ID/passport/driving license).
According to eToro, these are verified manually to ensure that only legitimate crypto traders have access to trading wallets, which goes a long way in curbing fraudulent crypto activities as well as eliminating cases of scams.
Step 4: Activate the app and start trading
Once verified, the app directs you to the user dashboard. Start depositing cash, buying, and selling crypto.
How to send cryptocurrencies to another wallet 
Step 1: Log into your eToro wallet via iOS or Android mobile application.
Step 2: Click on balance and select the cryptocurrency you wish to send.
Step 3: Select "Send" and enter the amount you would like to send as well as the recipient's public address. Here, you have the option of keying in the wallet address or scanning their QR code.
Step 4: Confirm that the recipient's address is correct and click "send."
Step 5: You should receive an SMS with a verification code. Copy the code and click on "verify" to complete your transaction.
Step 6: You can check the status of your transaction by clicking on the "transactions" screen.
How to receive currencies from another wallet
Step 1: Start by logging into your eToro mobile wallet
Step 2: Head over to the "Balance" section and click on the digital currency you wish to receive.
Step 3: The app displays the wallet address corresponding to that coin. Copy and forward it to the parties from whom you wish to receive the cryptos.
Supported currencies
eToro operates in over 100 countries and supports over 120 different currencies and tokens. Some of the most popular ones include:
Litecoin (LTC)
Ethereum (ETH)
Bitcoin (BTC)
Stellar (XLM)
Tether (USDT)
Ox (ZRX)
Bitcoin Cash (BCH)
You can interact with the above currencies in crypto casinos such as Zet, True Flip, and CasinoFair.
eToro mobile wallet fees
eToro doesn't charge you for downloading and installing their crypto mobile app. Neither do they charge subscription fees for using it. You will, however, be charged transaction fees every time you transfer cryptocurrencies out to other wallets and crypto exchanges.
This transaction fee varies based on such factors as the crypto coin involved and the amount of crypto transferred. Note that these blockchain fees aren't imposed by eToro but by the individual cryptocurrency networks in which they are transfered, and collected by the blockchain miners responsible for verifying the different crypto transactions.
Your credit and debit card providers will also charge payment processing fees every time you buy crypto directly using a debit or credit card.
Additionally, eToro maintains Fiat-to-crypto conversion limits whereby a single transaction must have a minimum value of $125 and not exceeding $10,000. Further, verified retail crypto traders can only convert a maximum of $20,000 per day and a maximum of $50,000 per month. The crypto-to-crypto exchange limits, on the other hand, are set at $50,000 (crypto equivalent) per transaction and $200,000 (crypto equivalent) per day.
eToro wallet will also charge a 0.1% fee for in-app crypto-to-crypto conversions with the conversion rates set based on the market rates. Note also that the direct crypto purchase via debit/credit cards is yet to roll out worldwide and you might, therefore, (based on your country of residence) be forced to use third-party platforms like Simplex for your fiat-to-crypto conversions that charge a standard fee of 4% of the transaction amounts.
How does eToro compare with other wallets?
eToro wallet vs CoolWallet S
Besides the fact that both are mobile cryptocurrency wallets, CoolWallet S is a bit expensive. It retails at around $99. However, its high price might be because it is a mobile hardware wallet. And while they both are considered relatively safe, CoolWallet S boasts several premium security features – including the recovery seed. eToro on the other hand upbeats CoolWallet S in the number of supported currencies. eToro gives its wallet holders access to over 120 cryptocurrencies while CoolWallet Swallet only features 22 crypto coins.
eToro wallet vs. Ledger Nano S
Ledger Nano S is one of the most popular and one of the safest crypto hardware wallets. It can hold 1,000+ cryptocurrencies and tokens compared to the eToro wallet's 120. It also features more security features including the storage of private keys in an offline environment. But while eToro mobile wallet is free, Ledger Nano S currently retails at $59 (exclusive of tax and shipping fees). Ledger Nano S also gives you absolute control over your coins. eToro's inbuilt exchange and support for direct crypto purchases via debit and credit cards, however, make the crypto mobile app more versatile.
Customer Support
eToro mobile wallet's customer supports start with their highly elaborative FAQs page on their website. It highlights and provides solutions to all the common challenges faced by different users when interacting with the crypto wallet app.
There are also several avenues through which eToro wallet users can request and access customer support. You can start by raising a support ticket on the website's Help Center. Additionally, you may raise your queries by messaging eToro wallet support through such social media pages as Twitter, Facebook, and Telegram.
Pros and Cons of eToro Wallet
Pros
Easy-to-use and is suitable for new and expert traders
Has a trusted reputation for security and reliability
Supports fiat currencies and fiat-to-crypto conversions
Popular currencies include Ethereum, Bitcoin, and Litecoin
No need to memorize public and private keys
Cons
Can only be used on mobile devices
One may consider the number of cryptocurrencies and crypto pairs supported by eToro mobile wallet limited
eToro crypto wallet app is not available to US residents
Final Verdict: Is eToro Wallet safe?
eToro crypto wallet app has taken adequate security measures aimed at keeping their client's digital assets safe. These include an optional 2-factor verification protocol, high-grade encryption of all the app's communications with other wallets and third-party service providers as well as control over access to the private keys.
Other factors that may endear it to most users include the fact that it is free, allows for direct crypto purchases via credit/debit cards, and its ease of use. The only downside to the mobile crypto wallet is that the mobile wallet app has no desktop app alternatives.