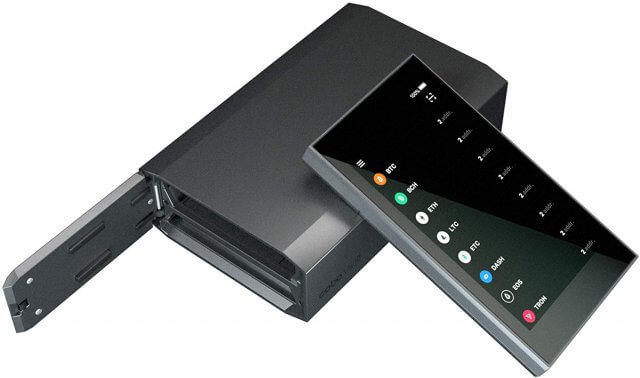 Cobo Vault is arguably one of the most secure hardware wallets currently available. Created by blockchain expert Lixin Liu, Cobo Vault features a host of premium security features that give it an edge over the competition. These include open sourcing its software, disabling wireless connections to the wallet, and enclosing it in a military-grade casing that's both water and shock-proof. According to Liu, the device that's dedicated to the Western Markets was designed with the aim of providing the safest, yet easy to use, hardware wallet.
It is one of the most transparent hardware wallets ever introduced to the public. Virtually, all its aspects are open-sourced. In this guide, we explore this in detail. We'll highlight its key features, explaining its security features, providing you with a step by step on how it works, and going over its pros and cons.
Cobo Vault Key Features:
i) 4-inch touchscreen with a fingerprint sensor: Cobo Vault hardware wallet is relatively bulky and features one of the widest screens ever fitted on a hardware wallet. The wallet's interactive interface is a 4-inch touchscreen with a fingerprint sensor and capable of fitting a full keyboard. The Cobo vault wallet also features a button and a camera that facilitate the wallet's communications.
ii) Water and shock resistant: Both the metallic and glass casings of the Cobo Vault hardware wallet are made of aerospace aluminum. The military-grade casing is waterproof, impact-resistant, and fulfills the MLD-STD-810G standards set by the US Military.
iii) Rechargeable and removable battery: Cobo Vault hardware wallet features a rechargeable and removable battery. Additionally, instead of relying on the more expensive Li-Ion batteries, the wallet uses the readily available and inexpensive AAA batteries. Most importantly, these batteries have to be detached and charged on a charging dock as a further safety guide.
iv) Multi-coin and tokens support: The Cobo Vault hardware wallet currently supports up to 10 cryptocurrencies and the ERC-20 tokens. Its providers have, nevertheless, hinted on the possibility of expanding this number of supported cryptos during the upcoming firmware updates.
Cobo Vault security features:
Multi-character password:
Like any other hardware or software wallet, Cobo vault has a password as its first protection measure. You get to set this password during wallet installation and activation. Unlike most other crypto wallets, however, Cobo Vault allows you to set up a 30-character long password. Plus, you also have the option of using a pattern password.
Communication via QR Codes:
Unlike most other hardware wallets that use both wired and wireless connections like Bluetooth or Wi-Fi to connect to their crypto apps, Cobo vault uses QR codes. It does not have a USB port, and neither does it support Bluetooth nor Wi-Fi connections. To send/receive cryptos in/out of the wallet, you have to use its camera on the wallet device to scan the receiver's QR code.
Open-sourced software:
Like most other hardware and software crypto wallets, Cobo vault has outsourced the technology used in coming up with the wallet. This has exposed it to scrutiny and auditing by crypto and blockchain industry experts who affirm its security.
Cobo vault has gone ahead and open-sourced its wallets secure element – often considered the most opaque part of the hardware – making it the first hardware wallet to expose this sensitive aspect of its wallet's operations.
Firmware Upgrade through SD Card:
In light of the fact that the Cobo vault hardware wallet doesn't have a USB port and doesn't support wireless connections, it can only be updated via an SD card.
12-24 word recovery seed:
When installing the Cobo vault hardware wallet, you will also be furnished with a 24-word recovery seed that you can use to recover your private keys if you ever forget your password or lose the device. The Cobo Vault package will also feature a Cobo tablet – a stainless metallic wallet that you will use to store this recovery seed.
Increasing lockout period:
Cobo Vault further protects your wallet against brute force attacks by incrementally pushing up the lockout time between two subsequent password input attempts.
Self-destruct security feature:
In addition to the increased lockout period for failed password input, the Cobo vault hardware wallet has a self destruct feature. The wallet will delete any form of data stored within the wallet's secure element should anyone try to open the body of the device.
Hidden vaults:
You get to create a vault/ wallet address for every crypto stored in your Cobo vault. But you also have the option of creating multiple hidden wallet addresses with individual passcodes for these cryptocurrencies and tokens.
No physical attack points:
The Cobo Vault Hardware wallet is completely air-gapped with no physical points of attack, safe for the SD card used during the firmware update. By disabling Wi-Fi, USB cable, and Bluetooth connections, Cobo Vault effectively eliminates the possibility of a man-in-the-middle attack.
Encryption chip:
The device features an encrypted chip that integrates BIP32, 39, and 44 security protocols. The Chip is proprietary and bank-grade, and it works by auto-generating truly random numbers for your private keys.
Setting up Cobo Vault hardware wallet
Step 1: Power on your device
Press and hold the power button for 3 seconds to boot the Cobo Vault wallet and proceed to choose your desired language.
Step 2: Visit Cobo official website
Using your desktop, laptop, or mobile phone, open Cobo Vault's official website and click on start to display the web authentication QR code. The size of this code can be adjusted inwards or outwards.
Step 3: Scan the QR code using your Cobo Vault device
Use the camera on your Cobo vault device to scan the QR code displayed on the Cobo vault.
Step 4: Input the 8-digit code shown on your device
For the Cobo vault device verification, scan the 8-digit code on the website. If it succeeds, the website will display the "Authenticated" message while the device displays a "Success" note. But if your hardware and the website don't pair, and the authentication process fails, it is possible that the device might have been tampered with.
Step 5: Set a strong password
Proceed to set a strong, memorable, and highly unique password. An ideal password is ten characters long. But, the Cobo Vault wallet makes it possible for you to create a 30-character password with a mix of symbols, numbers, and letters. Plus, you have the option of choosing to set up a pattern as your password.
Step 6: Create your vault
Proceed to create a new vault for storing your digital assets. To get started, tap on the 'Create vault' icon, click 'Next,' and then "Understand" to complete the process.
Step 7: Back up or record the recovery phrase
After creating the first vault, the device will display a set of 24-words known as the seed that is used in recovering your private keys should you forget the password for the device. Record these on the indestructible metal tablet shipped alongside the device. The device will ask you to confirm that you correctly recorded the seed.
Step 8: Start loading cryptocurrencies and tokens
Your wallet is now active and ready for use. You can start moving your cryptocurrencies from exchanges and other wallets into the Cobo Vault Wallet.
Step 9: Synchronize with Cobo Vault Mobile App
Accessing your vault from your mobile phone is quite easy. All you are required to do is synchronize your Cobo vault mobile app with your device. Start by downloading the app from Google Play or iOS. Open the app and click on "Bind" from the "Add wallet" option. Agree to their terms and conditions and click "confirm" to begin scanning the QR code.
If the code doesn't scan currently on the first trial, click on "difficulty scanning" and retry.
Supported Crypto Assets and countries
Unlike most other hardware crypto wallets that support hundreds – sometimes thousands – of cryptocurrencies and tokens, you can only store a maximum of 11 cryptocurrencies and ERC-20 tokens on the Cobo Vault hardware wallet. These include:
Ethereum (ETH)
Dash
Bitcoin (BTC)
BitcoinCash (BCH)
Ethereum Classic (ETC)
EOS
XRP
Litecoin (LTC)
Zcoin (XZC)
Tron (TRX)
Decred (DCR)
ERC- 20 tokens
The Cobo wallet developers argue that there is no limit to the number of cryptos you can store within your Cobo crypto wallet. They are also regularly releasing firmware updates for the wallet that involves increasing the number of supported cryptocurrencies.
Virtually any crypto trader/investor looking for a safe storage unit for their digital assets can purchase the Cobo Vault hardware wallet form their official website and have it shipped to any part of the world.
Cobo Vault hardware wallet ease of use:
The fact that the Cobo Vault wallet will only use the QR code scanner for communications with the company's website and mobile apps complicate its use – especially the initial activation and verification process. The processes of sending and receiving coins into the wallet are, however, quite straightforward as the wallet eliminates the need to type in the lengthy wallet addresses. You only need to scan the other party's QR code.
Thanks to its relatively large touch screen and fingerprint sensor, interacting with the wallet when checking crypto balances, creating additional vaults, or setting passwords for hidden vaults is relatively simple.
Cobo Vault hardware wallet customer support:
Cobo vault's website is multilingual and available in both English and Mandarin. Its developers have also availed both written and video tutorials on their website aimed at helping address some of the most common challenges faced by Cobo Vault users.
You can also contact the Cobo Vault customer support team by raising a ticket on their website, via email, or reaching out through the official Cobo Vault social media pages (Facebook, Weibo, Twitter, or LinkedIn).
Cobo wallet fees and charges:
The unlimited number of premium security features integrated into the Cobo Vault hardware wallet explains the relatively high price of the different Cobo Vault wallet models. Ideally, there are three models of the Cobo Vault Wallet: Cobo Vault Essential costs $99, Cobo Vault Pro costs $149, while Cobo Vault Ultimate costs $479.
You, however, won't be charged to download and install the Cobo Vault mobile app or for the continued use of the Cobo wallet. The blockchain network operators will nevertheless institute transaction fees that vary based on the amounts transferred and type of coin. These fees go to blockchain miners and not Cobo Vault.
Pros and Cons of Cobo Vault hardware wallet
Pros 
The contactless nature of the hardware wallet goes a long way in eliminating the man-in-the-middle hacks.
It's the first truly open-sourced hardware wallet – given that this open-sourced nature extends to its secure element.
Its large display allows users to use a full keyboard and eases interactions with the wallet.
The increased lockout period and self-destruct features pay a critical role in preventing such physical intrusions as the brute force attack.
Cobo Vault wallet employs a combination of several security features, all aimed at keeping your private keys private.
Cons
One may consider the wallet too complicated and not user-friendly.
The different models of the Cobo Vault wallet are a bit expensive.
The wallet supports less than a dozen cryptocurrencies.
How Does Combo Vault wallet Compare to other Wallets in the Market? 
Cobo Vault differs significantly, with some of the most common hardware wallets available today. For instance, in addition to the common security features employed by such hardware wallets as Trezor and Ledger Nano, Cobo Vault introduces the self-destruct mode. It also limits the device's wireless connectivity and embraces a military-grade casing. That is, fire, water, and impact-proof. The likes of Trezor and Ledger Nano may, however, be considered more user-friendly, support a wide range of crypto assets, and are also less costly.
Final Verdict: Is Cobo Vault the safest hardware wallet?
Thanks to its tamper-proof design, open-sourced secure element, self-destruct feature, and limited connectivity, Cobo Vault makes it on the list of the most secure hardware wallets available today. We consider it ideal for long-time crypto investors specializing in popular cryptos. Its security and cool design notwithstanding, we take offense with its steep cost $479 cost, especially considering that it only supports 11 cryptocoins.