eToro platform review – part 3/3
The last part of the eToro platform review will cover the social aspect of the platform as well as deposit and withdrawal methods.
eToro usability
eToro offers some essential features that make life much easier for novice traders. The platform provides a Virtual Portfolio, which basically is a 'demo mode' that lets users play a game of trading without actually trading and without staking any real money. This mode allows you to buy as much 'virtual' Bitcoin or any other crypto as you like and watch how each cryptocurrency performs. This is also a great way to test trading strategies.
eToro also provides a feature called copy trading. This feature is excellent for traders that aren't confident in their ability to select winning trades consistently. This feature allows you to copy the best-performing traders in any asset market. You choose the trade amount, and the platform will mirror every single action the trader takes. Users, however, can make adjustments such as copying only new trades and not all currently open positions.
The layout of eToro's platform is user-friendly, easy to navigate, and suited for casual investors. The control panel is located on the left-hand side of the screen, while the right-hand side shows charts, data, as well as profiles you'll need to trade properly. eToro's also has a mobile application mobile that allows you to do everything you can do on your desktop. The platform app is available for both Android and iOS devices.
eToro social trading
eToro's copy trading, as mentioned before, enables you to copy the actions of profitable traders of your choosing. This feature makes you trade like any seasoned trader you want. You can follow specific traders, monitor their actions as they happen, and opt-in to copy everything they do if you want.
This feature makes eToro the social media platform that bridges the gap between new and seasoned traders and their favorite markets.
eToro deposit and withdrawal methods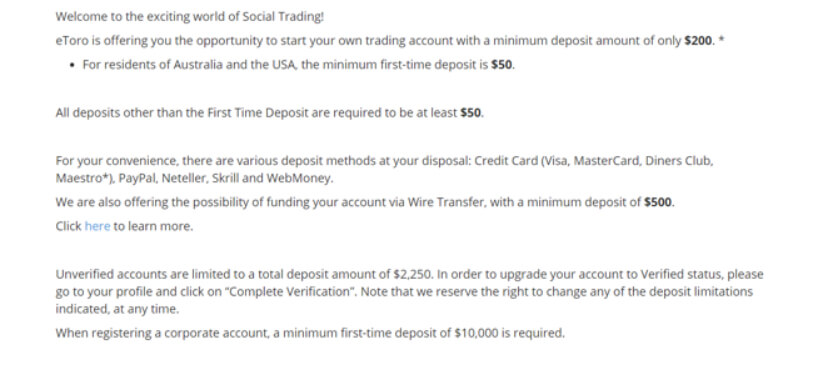 Users can deposit funds on eToro by transferring fiat currency into their eToro account. You can use your credit or debit cards as well as a variety of other options, such as wire transfer and PayPal. However, one thing to note is that all fiat funds held by eToro are held in US dollars. If you deposit funds in EUR or GBP, eToro will convert it to USD, which will incur a conversion fee. If we are speaking about crypto, getting funds on the platform is much simpler. eToro wallet has the option to store cryptos that will be traded on the platform, so all you need to do is send the cryptos to that wallet.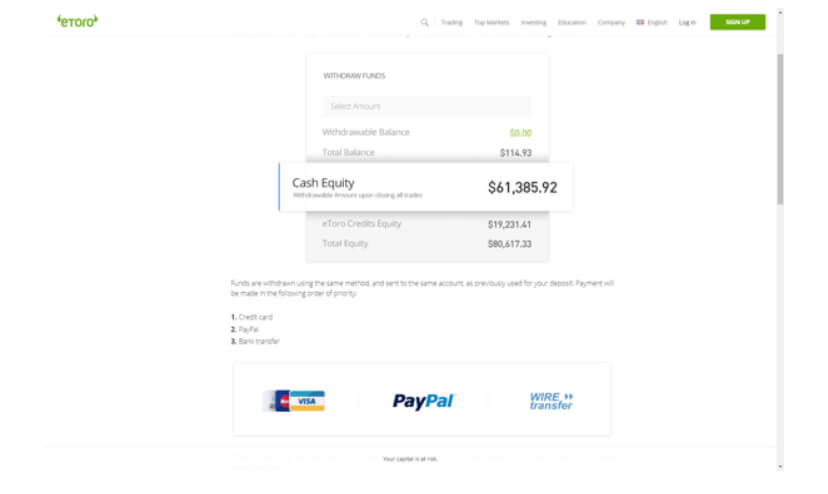 Withdrawals work almost exactly the same as deposits. To withdraw fiat currencies, you can use credit and debit cards, bank transfer, and PayPal. However, there is a flat withdrawal fee of $25 for every withdrawal. As this is a pretty steep fee, make sure to plan your withdrawals to avoid extra costs. Withdrawing cryptocurrencies is as simple as transferring them out of the eToro wallet and onto another wallet.
Final thoughts
eToro is quite a unique social investment platform that offers a diverse variety of investment products to people that want to trade on the go. Although it does have much higher fees compared to regular crypto trading services, the benefits may justify the costs. All in all, eToro is an excellent place to get used to trading and learn the basics.