Cryptocurrency market's attempt to stabilize its price after the new highs last week has failed, and bears have started taking over. Slowly but steadily, most cryptocurrencies lost their gains and then some. The past 24 hours came with an increase in volume as bear presence increased.  Almost every single cryptocurrency ended up in the red today. Bitcoin fell down 2.13%, while Ethereum lost 2.91% of its value. XRP held on a bit better and lost only 1.99%, which would put it at the spot of the cryptocurrency that lost the least in the past 24 hours out of the top10 (excluding Tether).
Bitcoin's dominance has increased slightly when compared to the previous day. It now sits at 66.4%, which represents a 0.02% increase from yesterday.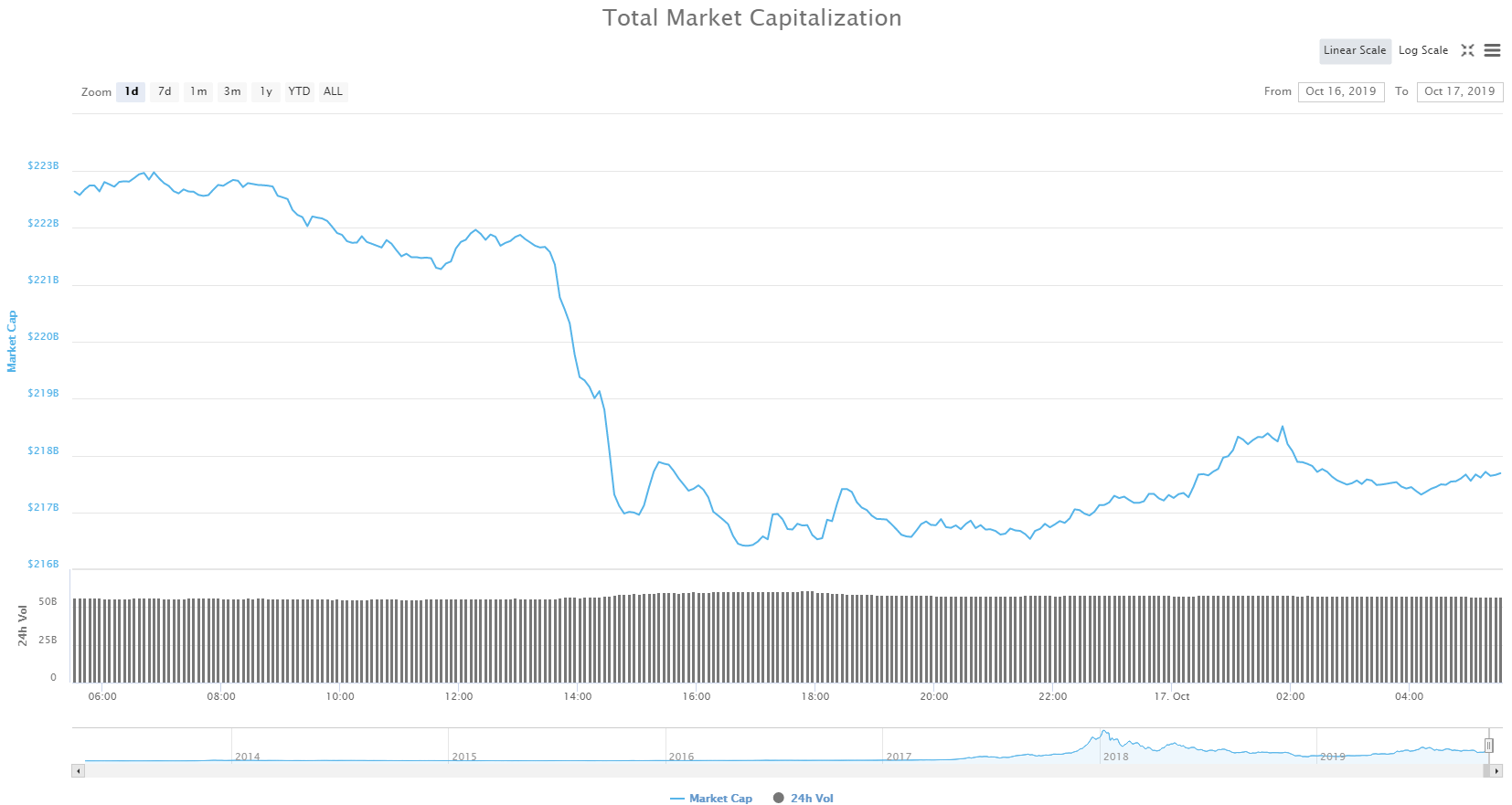 Most cryptocurrencies ended up being in the red in the past 24 hours, which reflected on the market cap of the cryptocurrency industry as a whole. The industry now has a market capitalization of $217.73 billion.
What happened in the past 24 hours
As volume increased steadily for a couple of days now, people were expecting a move upwards. However, they were greeted with a surprise as the market started dropping in price. As suspected yesterday, we can now say with certainty that the volume is coming from the bears instead of bulls, at least in the past couple of days. Most cryptocurrencies tested their immediate support lines and broke them downwards, trying to reach a point of consolidation. Only a handful of cryptocurrencies managed to stay out of the red today, while most of the cryptocurrencies lost several percents of their value.
Technical analysis
Bitcoin
Bitcoin's short-term chart looks pretty grim at the moment. The bulls have seemingly left the building, and the bears are running the place. With volume increasing dramatically (and not just for one quick spike), Bitcoin seems to be dropping down slowly all throughout the day. The price seems to drop quickly and then consolidate at the next support line, which then gets rejected, and the price gets lower. That's exactly what happened three times since the last green day Bitcoin has had. Bitcoin's immediate support is currently at $7,912, and it is holding up well for now.
Bitcoin's RSI has just left the oversold territory while the price remained on the same level. As for volume increases, it looks like that the big downward-facing price spikes require less and less volume, while volume during consolidation periods is increasing.
Ethereum
As stated in yesterday's article, Ethereum started mirroring Bitcoin's movements due to a lack of identity at the moment (mostly volume). Ethereum started falling in price slowly, dropping from $181 to $179, which is when the big drop happened. The spike dropped Ethereum from $179 all the way down to $172 in just over one hour. This price level became support as Ethereum rejected lower price points. The price is now in between the $172 support line and the $176.3 resistance line.
While its volume seems to be elevated, it does not seem enough to break from the major influence that Bitcoin has become.
XRP
Unlike Bitcoin and Ethereum, XRP did not have such a bad day. Even though it lost some value, it did not break any support lines. One the other hand, it did fail to break a resistance line as it tried to push past $0.2855 on one occasion. After the attempt of breaking the resistance failed, XRP dropped down to its support line, which is sitting at $0.282 and bounced from it to the middle of the "range." If other cryptocurrencies keep dropping in value slightly every day, XRP might follow, but there is also a high probability of it just staying where it is price-wise as the bear volume avoided coming into it (at least for now).
XRP has not seen the same volume increase as with Bitcoin and Ethereum, which further proves that bear money has entered the market (it just avoided XRP for some reason).