The cryptocurrency market has been trying to recover and find a point of consolidation in the past 24 hours. Most of the cryptocurrencies ended up slightly in the green, while some even went up by quite a bit. While Bitcoin gained only 0.86%, Ethereum went up by 2.57% and XRP by 5.75%. Stellar was the biggest gainer of the day out of the top10 cryptocurrencies by market cap, gaining 7.08%.
Bitcoin has remained a dominant force in the industry as it always was, but it has dropped a few fractions of a percent today. Its dominance now sits at 66.25%.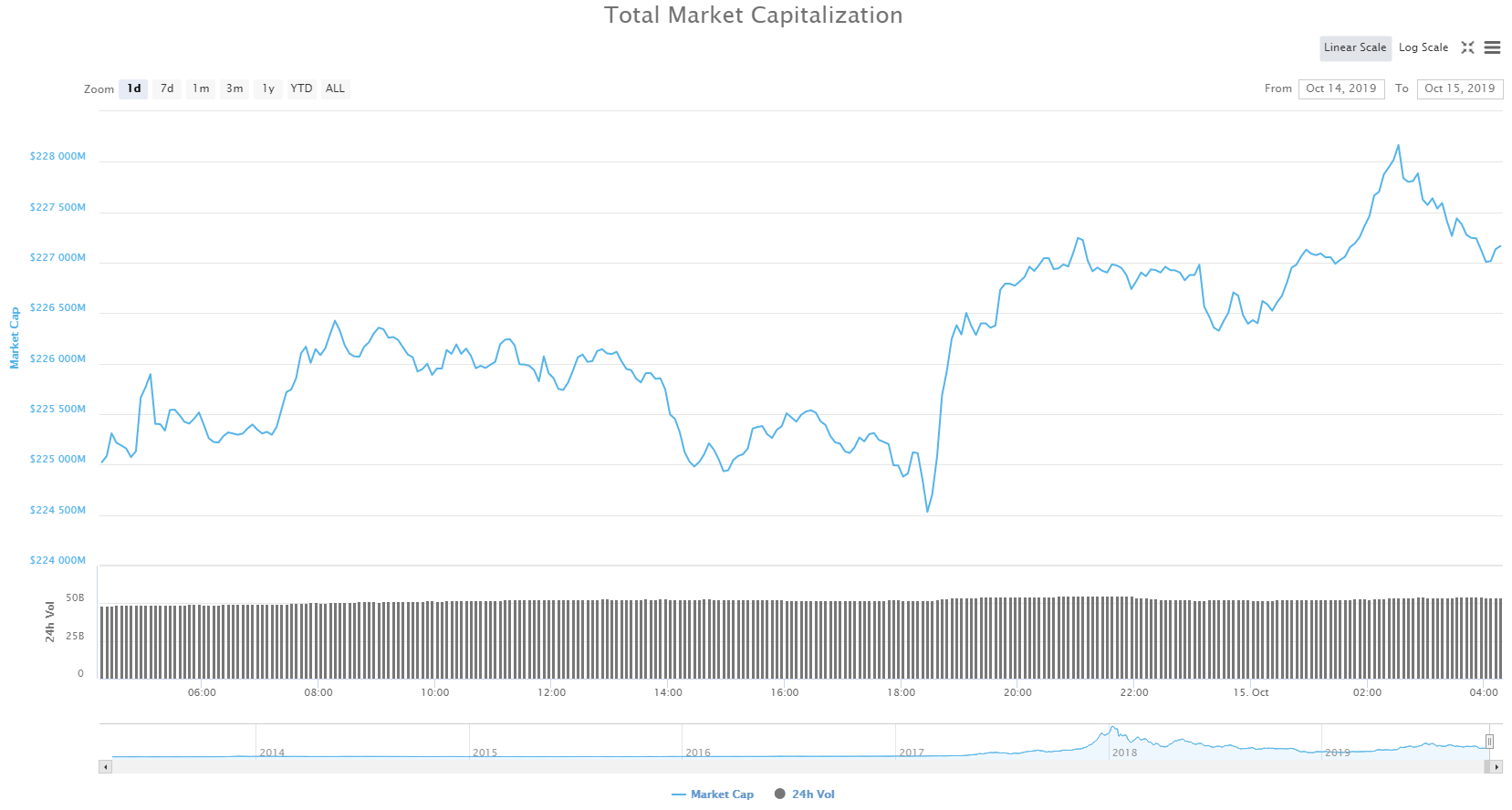 As mentioned above, most cryptocurrencies kept their price levels or went up in the past 24 hours. This could translate to the overall market cap of the cryptocurrency market in a positive way. The industry now has a market capitalization of $227.11 billion.
What happened in the past 24 hours
After a red weekend, cryptocurrencies are trying to recover and settle at their respective price levels. Most of them had a slight increase in volume and a few attempts to break immediate resistances. Some made it through, and some didn't. Even so, almost all of the top cryptocurrencies maintained their price levels or went above their most recent lows, which could only indicate a return of the bulls. This time, Bitcoin is not the main player, as many altcoins managed to outperform it.
---
Technical analysis
---
Bitcoin
Once the low of $8,133 got rejected, Bitcoin tried to find a price to settle at. It was unsure whether that price will be above or below the 23.6% Fib retracement line, which is now at the price of just below $8,300. However, as volume gradually increased during the day, Bitcoin went above the line and contested the next resistance twice. The $8395 line was not so kind to Bitcoin as it could not pass through it either time. Both attempts were rejected, and Bitcoin is now settling in between the Fib retracement line 23.6%, which now acts as support and Fib retracement 38.2% line, which is the immediate resistance.
As Bitcoin is now in a limbo between the two lines, RSI shows us that it's not oversold or overbought. One thing that is different this time is that, unlike over the weekend, the volume increase was not sudden and a one-time thing. Bitcoin's volume in the past 24 hours has been elevated, rather than it being one big spike of volume and then back to normal.
---
Ethereum
Ethereum has, similar to Bitcoin, denied its low of $178 and tried to find a price to consolidate at. With new money seemingly coming in, Ethereum slowly moved above the 23.6% resistance line now turning support, but quickly lost its momentum and headed straight back down. However, the bulls rallied, creating a sudden spike in price, skyrocketing Ethereum past two resistance lines ($182 and $185.5). The bullish sentiment toned down at that point, making the upward-facing move unable to reach another milestone and pass $188. Ethereum kept its daily gains and is now consolidating at $187.
---
XRP
XRP has had a great day. Unlike Bitcoin, which managed to consolidate or Ethereum, which made a slight move upwards, XRP skyrocketed and breezed through its resistance lines. The move completely nullified the whole weekend of price losses and then some. Its price went up from $0.273 all the way up to $0.3, which is its significant resistance. XRP is currently making moves towards reaching above this price, and only time will tell if it will be broken soon or not. However, the volume seems to be gradually tapering off, which might not be a good sign for the XRP bulls.