We can see a mix of green and red in the crypto market in the past 24 hours. Bulls rallied and attempted a price surge with Bitcoin, which most cryptocurrencies followed. However, bears prevailed, and cryptos stayed in the same place they were a day ago. If we take a look at the past 24 hours, Bitcoin went up 1.83% and is now trading at the price of $7,334. Ethereum managed to gain 0.03% of its value on the day. XRP gained 1.06%.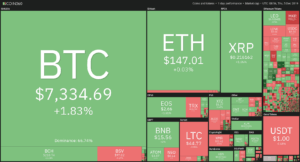 Of the top100 cryptocurrencies by market cap, the biggest gainer is Enjin Coin, which managed to gain 30.79% on the day. The biggest loser of the day was MINDOL, which lost 33.29% of its value.
Bitcoin's dominance has increased slightly, as its price increase was that occurred in the market was bigger for Bitcoin. On top of that, Bitcoin kept more of the move than the other cryptos did. Its dominance is currently 66.74%, which represents an increase of 0.31% from yesterday's value.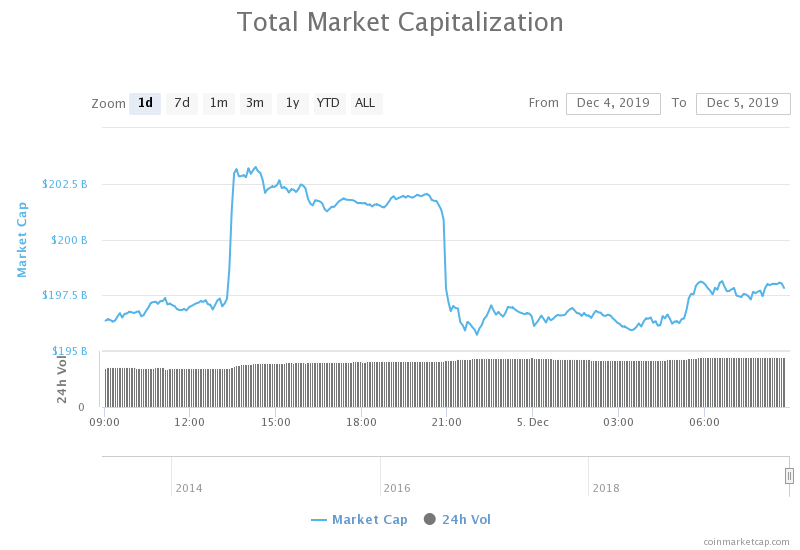 The cryptocurrency market managed to increase in total market capitalization due to the overall slight price increase. Its market cap is sitting at $197.92 billion at the moment of writing. This value represents an increase of around $2.9 billion when compared to the value it had yesterday.
What happened in the past 24 hours
More and more countries are getting officially interested in cryptocurrency and the concept of digitalization. Even though most of them are talking about digital currencies rather than cryptocurrencies (and the distinction should be made), this is a good sign of crypto acceptance.
A blockchain startup called LIFELabs, along with the British Virgin Islands, is developing a cryptocurrency that will act as a digital currency that will be sovereignly used on the island territory. This digital currency will be a stablecoin that is pegged to the value of the US dollar on a 1:1 ratio.
On top of that, The central bank of France will pilot a central bank digital currency for its financial institutions. This digital Euro pilot would happen in 2020. This news was announced by the governor of the Bank of France.
_______________________________________________________________________
Technical analysis
_______________________________________________________________________
Bitcoin
Bitcoin had bulls rallying and attempting to break its immediate resistance whole day. At one point, its price moved past the $7,415 resistance and reached $7,780. However, that move did not last long as the bull pressure wasn't as strong. Bitcoin's price remains under the key resistance level for the time being. There were a couple of other attempts of breaking the line, but they were far weaker and far less significant.
Bitcoin's volume increased significantly during the big spike, which brought Bitcoin to $7,780. However, even though we can say that the volume is elevated when compared with yesterday's volume, it is still on the decline when we look at it in the past 24 hours.
Key levels to the upside                    Key levels to the downside
1: $7,415                                           1: $7,240
2: $8,000                                           2: $7,120
3: $8,425                                           3: $6,620
---
Ethereum
Ethereum suffers the same fate as Bitcoin does. It managed to fall below its $147 zone, but this bull rally wanted to put the price above it. The price shot to $155 at one point, but could not hold up. This move ended quickly, and Ethereum moved back below the key resistance. Its price is now at the very $147 line, and bulls seem to be quite strong, so we might see another solid attempt of moving upward.
Ethereum's price is currently in limbo, and its short-term support lines are unknown, but this information might not be as important as the bulls are currently in play.
Key levels to the upside                    Key levels to the downside
1: $167.8                                             1: $144.5
2: $178.6                                            2: $127
3: $185
---
Ripple
XRP spent the day rallying its bulls, which resulted in a major attempt to the upside. XRP's price reached $0.227 but, as with most cryptocurrencies today, fell as the bull pressure wasn't as strong as it needed to be. Some of the value was preserved, and XRP is currently trading in a range between the 50% and 61.8% Fib retracement green line.
XRP's volume is elevated when compared to the previous days. Its RSI is slowly gaining momentum to the upside.
Key levels to the upside                    Key levels to the downside
1: $0.2185                                          1: $0.214
2: $0.222                                            2: 0.209
3: $0.2267                                          3: $0.202