It looks like the cryptocurrency market stopped growing and started consolidating. The past 24 hours were not very turbulent. Bitcoin's price went down 1.51% on the day. It is currently trading for $8,617. Meanwhile, Ethereum lost 2.78% on the day, while XRP went down 4.38%.
The past 24 did not have as many big gainers as the day before had. However, Augur made some incredible uptick, gaining 52.02%. On the other side, Bitcoin SV bounced back 19.13% on the day, which makes it the biggest daily loser.
Out of the top50 cryptocurrencies by market cap, only the aforementioned Augur managed to rise significantly. Bitcoin Diamond also made some gains today.
Bitcoin's dominance stayed at virtually the same place in the past 24 hours. It is now at 66.37%, which represents an increase of 0.03% when compared to the value it had yesterday.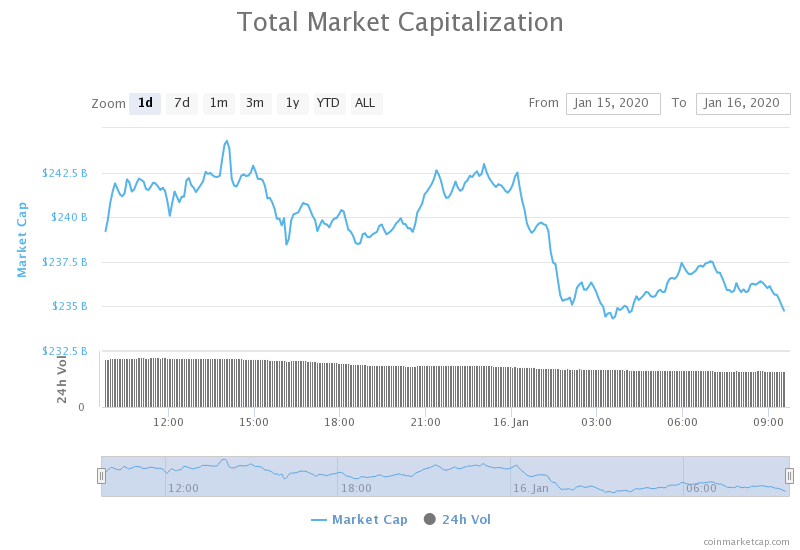 The cryptocurrency market capitalization decreased slightly to yesterday's value. It is currently valued at $234.94 billion, which represents a decrease of $3.88 billion compared to yesterday.
What happened in the past 24 hours
Following the US SEC's alert to investors against Initial Exchange Offerings and their safety, Malaysia's regulator published a regulatory guide that requires token offerings in the country to be attached to exchanges.
Malaysia's Securities Commission report makes it clear that digital tokens are only supposed to be used for goods and services and within strict guidelines. These guidelines will take effect late 2020.
_______________________________________________________________________
Technical analysis
_______________________________________________________________________
Bitcoin
After a few days of explosive gains, Bitcoin bulls stopped pushing the price upwards and Bitcoin started consolidating today. The largest cryptocurrency could not break the $8,815 mark neither of two times, which made the price go slightly down. Bitcoin is now consolidating at around $8,600.
Bitcoin's volume is still elevated, but it has reduced when compared to yesterday. Its RSI level dropped below overbought and is currently falling even further.
Key levels to the upside                    Key levels to the downside
1: $8,640                                           1: $8,425
2: $8,815                                           2: $8,125
3: $8,905                                          3: $7995
---
Ethereum
Ethereum, after it could not reliably break its $167.8 resistance, started to consolidate. Its price is now hovering just above the $160 support level.
Ethereum's volume drop, in conjunction with a descending value of the RSI indicator, may show that the consolidating will last a little while longer.
Key levels to the upside                    Key levels to the downside
1: $167.8                                             1: $160
2: $178.5                                            2: $154.2
3: $185                                               3: $148.5
---
Ripple
XRP performed the worst out of the top3 cryptos on the day. It lost the most value as it managed to break a key support level of $0.227. Its price is currently right below this level, which could prove to be quite a resistance.
XRP's volume is lower than yesterday and higher than its average, while its RSI is descending to the middle of the value range.
Key levels to the upside                    Key levels to the downside
1: $0.227                                            1: $0.221
2: $0.2332                                          2: $0.211
3: $0.24545                                        3: $0.205