BitMEX in-depth guide (part 2/5) – contracts and fees
Part 2 of our in-depth guide will focus on explaining what BitMEX offers in terms of contracts, leverage, and how they structure their fees.
Futures and Swaps
A futures contract is, in a nutshell, an agreement to buy or sell an asset in the future. The price of this contract is predetermined. BitMEX allows users to leverage their funds up to 100x on certain futures contracts.
Perpetual swaps are very similar to futures contracts. The difference is that there is no expiry date, and therefore no settlement.
BitMEX also offers Binary series contracts. They are prediction-based contracts that can settle at either 0 or 100. These contracts are a much more complicated way of betting on a given event.

Bitmex Leverage


BitMEX allows its traders to use leverage in their positions. Leverage is the ability to virtually borrow money from the platform to place orders that exceed the users' existing balance. This gives users bigger profits in comparison to placing an order that uses only their wallet balance. Trading, while using leverage, is called "Margin Trading."
There are two types of Margin Trading:
Isolated – allows the user to select how much of their wallet balance should be used to hold their position when they place an order.
Cross-Margin – all of the users' wallet balance can be used to hold their position. This type of margin trading should be treated with extreme caution.
The BitMEX platform allows its users to set their leverage by using a simple leverage slider. The platform offers maximum leverage of 1:100 on some assets, while others have lower maximum leverage.
BitMEX Fees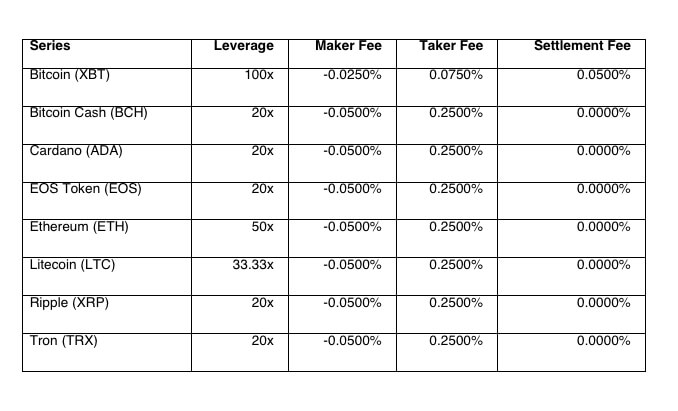 Traditional futures trading has a straightforward fee schedule on BitMEX. As previously noted, BitMEX offers up to 100x leverage, with the amount of leverage that varies from asset to asset.
There are, however, additional fees for hidden orders. A hidden order has to pay the taker fee up until the entire hidden quantity is fully executed. Only after that, the order will become regular, and the user will receive the rebate for the amount.
Deposits and Withdrawals
BitMEX deposits or withdrawals are free. However, the withdrawal fee is based on blockchain load, and the user has to pay only the network fee. The only costs of withdrawal are those of the banks and the cryptocurrency networks.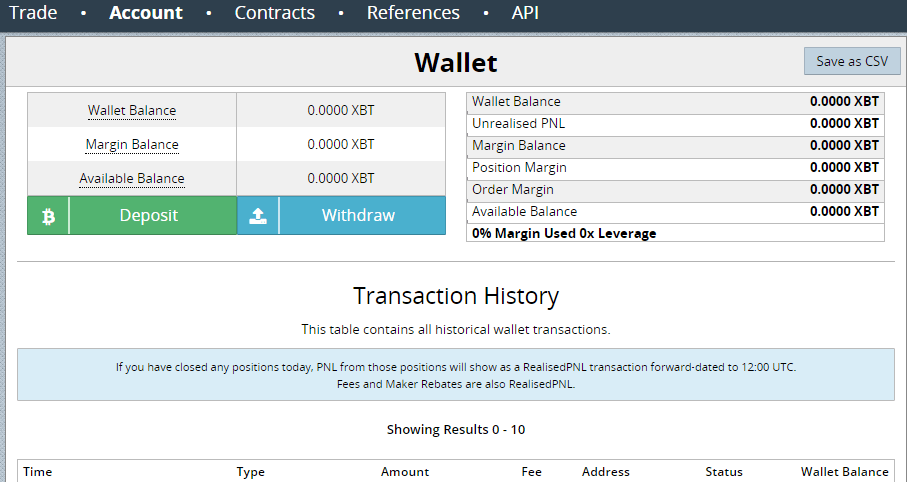 BitMEX accepts deposits only in Bitcoin. Bitcoin, therefore, serves as collateral on all trading contracts, regardless of whether the trade involves Bitcoin or not.
The minimum deposit on BitMEX is 0.001 BTC. There are no limits to the withdrawal size.
Deposits can be made at any time of the day and will be processed as fast as the network processes the payment. On the other hand, the withdrawals are processed manually once per day. The hand processed withdrawals are there to increase the security level of its users' funds.
Supported Currencies
BitMEX can be defined as a crypto-to-crypto exchange that makes use of a Bitcoin-in and Bitcoin-out structure. The platform users are currently not able to use fiat currencies as any form of payment.
BitMEX currently supports the following cryptocurrencies:
Bitcoin;
Bitcoin Cash;
Cardano;
Ethereum;
EOS;
Litecoin;
Tron;
Ripple.
Make sure to watch the third part of our BitMEX in-depth guide, where we will look into BitMEX's TT international partnership as well as its insurance fund.