The cryptocurrency spent most of its day consolidating and being in the slight green. However, Bitcoin continued moving higher and higher as the US attacks Iraqi bases. As far as daily price changes go, Bitcoin's price went up 5.58%. It is currently trading for $8,317. Meanwhile, Ethereum gained 1.08%, while XRP lost 1.42% on the day.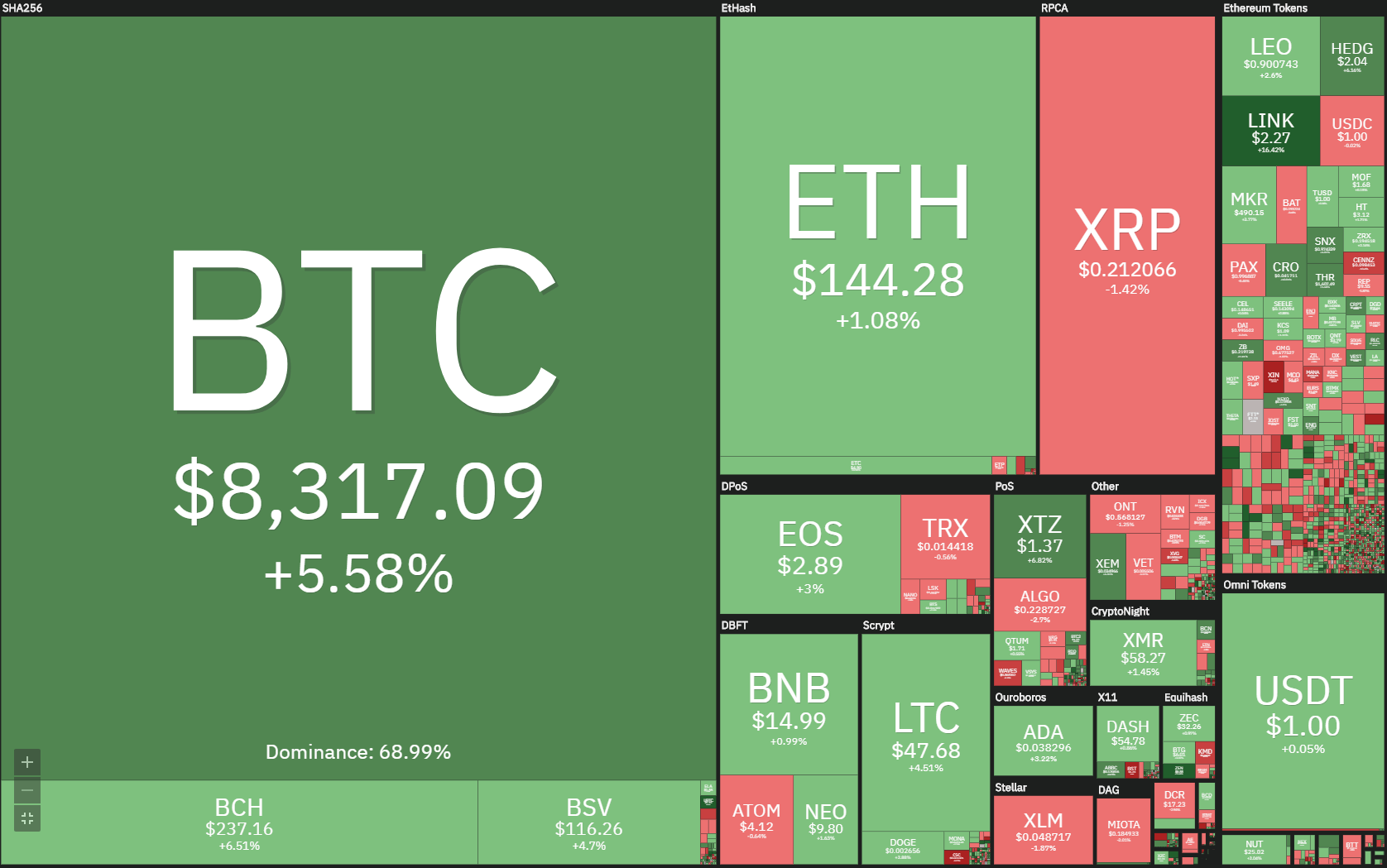 Quant gained 17.68% on the day, making it the most prominent daily gainer. On the other side, MaidSafeCoin lost 7.93% of its value when compared to yesterday, making it the biggest daily loser.
Bitcoin's dominance increased massively in the past 24 hours. Its dominance is now at 68.99, which represents an increase of 1.01% from yesterday's value.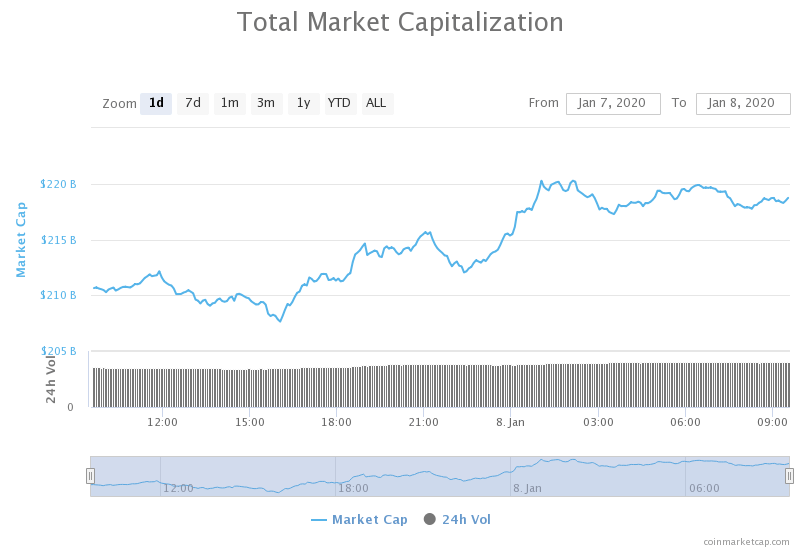 The cryptocurrency market capitalization increased by almost $10 billion just in the past 24 hours. It is currently valued at $218.48 billion. This value represents an increase of $7.56 billion when compared to yesterday's value.
What happened in the past 24 hours
Coinbase has expanded on its Coinbase Pro trading platform compatibility. The Coinbase Pro mobile app can be downloaded off the Android's application store. This news got announced by Coinbase a Jan. 7 blog post. The exchange also unveiled its Pro app for iOS users in October 2019.
_______________________________________________________________________
Technical analysis
_______________________________________________________________________
Bitcoin
Bitcoin is currently at a level of great importance for the long-term movement of its price as well as the price of the entire crypto industry. Taking a look at the 1-day chart shows us that Bitcoin just passed the 200-day moving average which it was under since November. On the shorter time-frames, the move to the upside looks overextended as its RSI is in the overbought territory. Its price broke the $7,990 and $8,165 resistances from when we last reported.
From a technical standpoint, this move looks like a continuation of the inverted head and shoulders pattern (which still requires a pullback to be confirmed). However, from a fundamental standpoint, this move is explained by many as people moving to gold and crypto as tensions between the US and Iran rise. The majority of the most recent push actually happened soon after the news of the US attacking two military bases in Iraq got released.
Key levels to the upside                    Key levels to the downside
1: $8,640                                           1: $8,165
2: $8,820                                           2: $7,990
3: $9,125                                           3: $7,780
---
Ethereum
Unlike Bitcoin, Ethereum did not skyrocket to the upside. It continued its consolidation above the $141.15 support line, which it conquered the day before. Its price looks quite stable above this support and has a bigger chance to move upwards than downwards when it gets ready for a move.
Ethereum's RSI is moving away from the overbought territory, while its volume is still above average.
Key levels to the upside                    Key levels to the downside
1: $148.5                                             1: $141.15
2: $154.2                                            2: $130
3: $178                                              3: 128.1
---
Ripple
XRP did not have as good a day as some other cryptocurrencies did. Its price fell down slightly and managed to breach the $0.221 support level. However, it remained above the $0.211 support line. Even though it did lose a bit of value and broke one support line, XRP did not cause any move that could cause a further selloff. This pullback can only be a healthy thing after such explosive rise in price.
XRP's volume is quickly dwindling down, while its RSI moved out of the overbought territory and is currently above the middle of the value range.
Key levels to the upside                    Key levels to the downside
1: $0.221                                            1: $0.211
2: $0.227                                            2: $0.205
3: $0.233                                            3: 0.1978