The cryptocurrency market had another lousy weekend price-wise. Most cryptocurrencies spent the weekend being in the red. However, though many people call for another bear market, it might be too soon to tell. Bitcoin decreased in price by 0.21% in the past 24 hours. Its price is currently $7,054. Meanwhile, Ethereum lost 0.52%, while XRP fell 1.47%.
The cryptocurrency that gained the most was Aurora, with daily gains of 50.82%. On the other hand, the crypto dropping in price the most is EDUCare, which lost 17.07% of its value on the day.
Bitcoin's dominance fell during the weekend. Its dominance in percentage is currently 66.09%, which represents a decrease of 0.31% when compared to the value it had on Friday.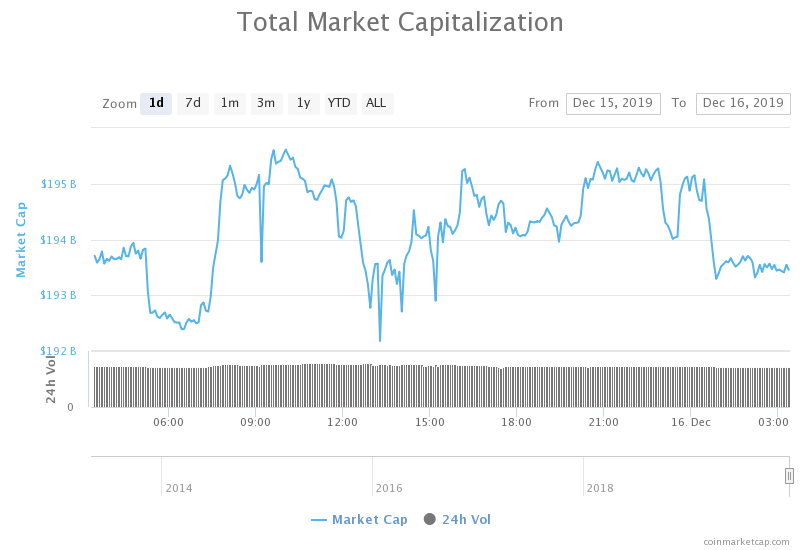 The cryptocurrency market capitalization decreased over the weekend as cryptocurrencies dropped in price. Its total value is currently $193.54 billion. This value represents a decrease of $2.74 when compared to the value it had on Friday.
What happened in the past 24 hours
China's courts are continually applying more and more innovative technologies to improve effectiveness. This includes implementing blockchain and artificial intelligence technologies to decide on millions of legal cases.
China's official Xinhua news agency reported that over 3.1 million Chinese court activities that happened from March to October of 2019 were settled by using the blockchain and AI-powered smart internet courts.
_______________________________________________________________________
Technical analysis
_______________________________________________________________________
Bitcoin
Bitcoin did not have an especially fruitful weekend. If we take a look at the price chart, we can see two big red candles that occured on Dec 14. Even its price dropped slightly, Bitcoin did not break any key support levels. Its price is still trading between the 38.2% Fib retracement of $7,314 and 23.6% Fib retracement of $7,000, as it did on Friday.
Bitcoin's volume tends to decrease over time until a volume spike, which propels the price up or down occurs. This is the case today as well, as Bitcoin's volume is on lower levels than during the past week.
Key levels to the upside                    Key levels to the downside
1: $7,314                                           1: $7,000
2: $7,415                                           2: $6,640
3: $7,565                                           3: $6,505
---
Ethereum
Unlike Bitcoin, Ethereum did not manage to stay above its key support level. The price rose above the key level of $144.1 and stayed there for about 48 hours. However, Dec 14th brought a price drop for Ethereum as well, which brought its price below this key level. Retesting this level as resistance was successful, and the price remained below it.
Ethereum's volume is lower than what it was during the past week, while its RSI value is in the bottom half of the register. The $144.1 key level returns to the "upside" key levels.
Key levels to the upside                    Key levels to the downside
1: $144.1                                             1: $133.5
2: $150.5                                            2: $128.9
3: $155.8
---
Ripple
Even though the whole crypto market had a bad weekend, XRP got hit the hardest. Its price fell and broke, not one but two support key levels. The Fib retracement 50% and 61.8% lines were broken as XRP descends. However, it is still unsure whether XRP's price will end up above or below the 61.8% Fib retracement line because its RSI level is very near to being in the oversold territory with volume levels on the lower side.
Key levels to the upside                    Key levels to the downside
1: $0.2145                                          1: $0.2094
2: $0.2182                                          2: $0.2025
3: $0.222