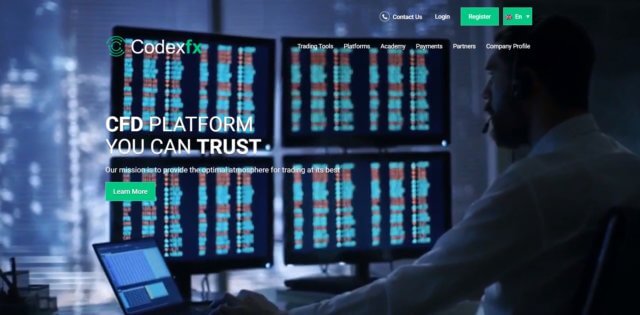 CodexFX is an FX and CFD broker that is owned by CodexFX Ltd and FM Marketing Ltd, located in the Marshall Islands. The broker offers a 100% execution rate with no rejection of orders, no re-quotes, and 99.35% of all orders are executed in less than 1 second. One of their primary objectives seems to be offering easy and convenient deposit and withdrawal options, with a guarantee that funds are held in secure accounts. This is certainly something we would demand from our broker, although there's a lot more to consider when it comes to trading costs, leverage options, and other features. Keep reading to find out all those details.

Account Types
CodexFX offers five different account types: Mini, Standard, Gold, Platinum, and ECN. As for affordability, the Mini, Gold, and ECN accounts share the same $500 deposit requirement, while the other accounts require deposits of $10,000 or more. Accounts also share the same leverage caps of up to 1:50. All accounts, aside from ECN accounts, share spreads from 1-3 pips on FX majors, minimum and maximum trade sizes, and stop-loss levels. The broker also offers a commission-free experience on those account types, with commissions charged in exchange for better spreads on the ECN accounts.
With so many shared similarities, it seems that the only real difference for most of the account types would be the minimum deposit requirements and the balance that each account can hold. For example, one can only deposit between $500 and $5,000 on Mini accounts, so this may force those that would like to make larger deposits to choose an account type that can hold the larger balance. A quick overview can be viewed for each account type below.
Mini Account
Minimum Deposit: $500 – $5,000
Leverage: Up to 1:50
Spread: 1-3 pips on majors
Commission: None
Standard Account
Minimum Deposit: $5,001 – $10,000
Leverage: Up to 1:50
Spread: 1-3 pips on majors
Commission: None
Gold Account
Minimum Deposit: $500 – $5,000
Leverage: Up to 1:50
Spread: 1-3 pips on majors
Commission: None
Platinum Account
Minimum Deposit: $10,001 – unlimited
Leverage: Up to 1:50
Spread: 1-3 pips on majors
Commission: None
ECN Account
Minimum Deposit: $500 – unlimited
Leverage: Up to 1:50
Spread: From 0.6 pips
Commission: $7 per Standard Lot
The broker requires one to submit compliance documents within 4 days of the account being opened, otherwise, the account may be closed. Documents must consist of proof of identity and proof of address document, in addition to proof of card ownership (photo of the credit card) and Declaration of Deposit form, which can be downloaded on the website. Documents can be submitted by emailing [email protected] or through the broker's mobile app.
Platform
Regardless of which trading account you've chosen, you'll be trading from the impressive MetaTrader 4 trading platform if you decide to make CodexFX your broker. MT4 is the most commonly offered trading platform among forex brokers, due in part to its user-friendly interface, customizable charts, and a vast array of features – including Expert Advisors, custom indicators, four pending order types, support of micro lot trading, analytical tools, trading signals, market news, and more.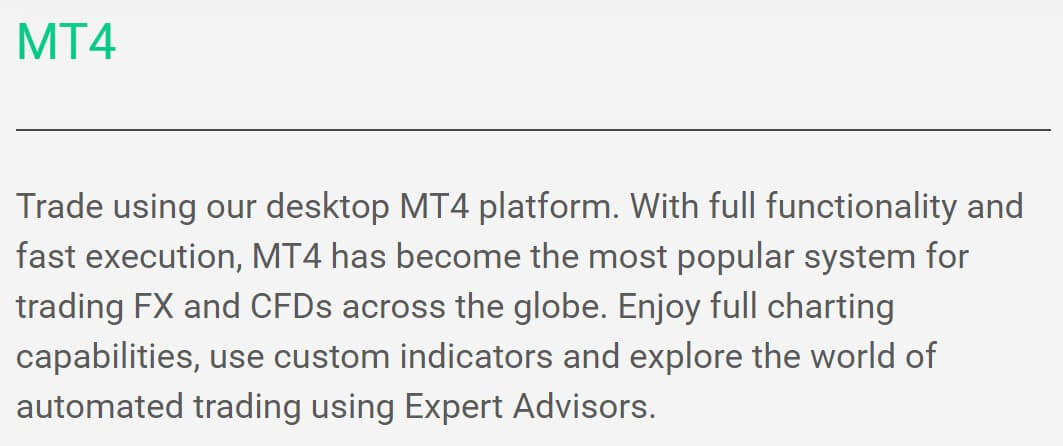 Even with newer platforms being released, MT4 has stood the test of time and remains the most preferred option available. The platform is available for download on PC, or through Android, and iOS devices, including phones, tablets, etc. This allows for the optimal experience trading on the go so that clients can monitor their trading account from anywhere at any time.

Leverage
One will not find the outrageous leverage caps that go into the hundreds range that we often find with other forex brokers available through CodexFX, and will instead have to settle with the 1:50 leverage cap on FX options. The cap drops to 1:25 on Commodities, 1:12.5 on Indices, and 1:5 on Equities. The maximum cap isn't absolutely the lowest option you'll find – some regulatory authorities do require brokers to set their cap at 1:30.
This may not be such a downside for novice traders since we wouldn't really recommend choosing high options if you don't have the capital to risk or the experience. Still, we do wish that this broker would offer higher options on at least one account type so that those professional traders could make their own decision about what leverage to use.
Trade Sizes
All accounts allow for the trading of micro-lots and there is a maximum trade size limitation of 10 lots on all instruments. Required margin levels are 2% on currency pairs, 4% on Commodities, 8% on Indices, and 20% on Equities. The margin call level is 200% on ECN accounts. The stop-out level is set at 100% on all instruments on all five account types. Hedging is allowed on all accounts and ECN accounts also support scalping, news trading, automated HFT, and Expert Advisors. The broker will allow one to hold up to 200 positions simultaneously.

Trading Costs
This broker profits through spreads, commissions, overnight interest, otherwise known as swaps, and inactivity fees. Spreads range from 1-3 pips on FX majors on the majority of the accounts. CodexFX does not charge commissions or other fees beyond the minimum spreads for each currency pair on the Mini, Standard, Gold, or Premium account types. Commissions on the ECN account start from 7 USD per Standard Lot, in exchange for better starting spreads from 0.6 pips.

Daily swap charges are posted by financial institutions and are subject to change based on market conditions. The latest swap rates can be viewed within the MT4 trading platform by selecting "View" > "Market Watch", right-clicking and selecting "Symbols", choosing a currency pair, and then selecting "Properties". Inactivity fees seem to be exclusively charged on ECN accounts, with a $10 maintenance fee for every month that there is no trading activity and a $50 reactivation fee once an account has been deemed inactive.
Assets
CodexFX offers leveraged trading of up to 1:50 on FX, Commodities, Indices, and Equities. FX options and made up of majors, minors, and exotics. There are 50 total currency pairs and the most popular options EUR/USD, GBP/USD, and USD/JPY are available, in addition to some more exotic options like the USD/TRY and the USD/SEK, etc. Available Commodities include Aluminum, Cocoa, Copper, Cotton, FCATT, HOIL, LCATT, lead, nickel, and pallidum. In total, there are 39 entries under the Indice category, including BTC/USD, Brent, sugar, and more. Equities bring the grand total of available instruments to more than 270 options, making for a significant number of investment opportunities.

Spreads
Typically, brokers offer different spreads on certain account types, with higher deposit requirements resulting in accounts that offer significantly tighter spreads. CodexFX does not seem to market spreads based on account type for the majority of their accounts, aside from ECN accounts. Instead, the broker offers floating spreads that average 1 and 3 pips on major currency pairs on the Mini, Standard, Gold, and Premium Account types.
Although the broker doesn't list an estimate for the spreads one would see on other instruments, it isn't difficult to pull up the asset page in order to view those average spreads. On FX options, we did see the advertised spread of 1 pip on AUD/USD and even 0.6 pips on EUR/USD but spreads also climbed to 3.9 and 4 pips on other options.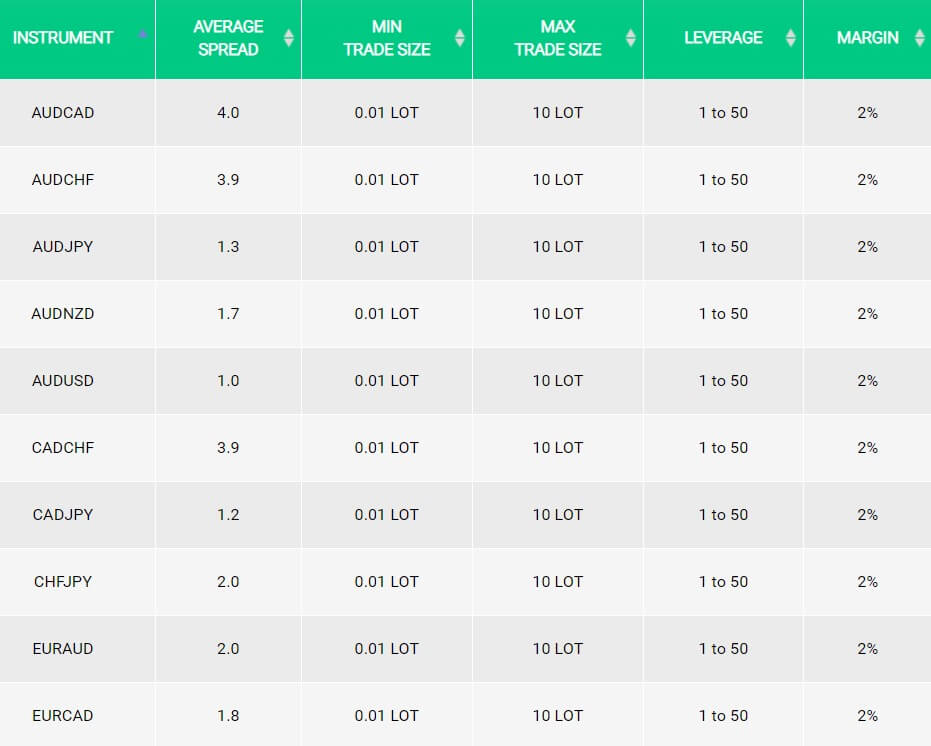 On Commodities, spreads fluctuate much more significantly, with the lowest option listed at 1.2 pips. Spreads on Indices range from 0.9 to 7.2 pips or higher, depending on the specific instrument. On ECN accounts, spreads start as low as 0.6 pips and it seems that one should expect those options to be lower than those seen for the other accounts.
Minimum Deposit
Each account has a separate deposit requirement and there are also limitations on the maximum account balance. For the Mini account, traders will need to deposit at least $500, but no more than $5,000. An ECN account can also be opened with a deposit of $500 and there is no limit on the account balance.

The Standard account holds between $5,001 and $10,000. Surprisingly, the Gold account type can also be opened with a $500 minimum deposit and tops out at $5,000, the same as the Mini account. The Platinum account would be the most expensive, with a deposit requirement of at least $15,001.
Sadly, affordability is not one of this broker's strong suits and accounts can be opened elsewhere with as little as $5. Requirements are especially high for the Mini and Standard account types compared to the same options elsewhere.
Deposit Methods & Costs
Accounts can be funded by card, Wire Transfer, or through several online payment methods. Card options include Visa, MasterCard, and Diner's Club, while the list of electronic payment methods includes: Abaqoo, eKonto, ePay, eps, Euteller, Giropay, Halcash, iDeal, Multibanco, Neosurf, Przelewy24, Sofort, Sporopay, Teleingreso, Ticket Surf, Trust Pay, and Poli internet banking.

There is a maximum limit of $3,000 EUR/GBP per month through credit cards. Accounts can only be funded through EUR, HUF, CZK, BGN, PLN, LVL, LTL, AUD, NZD, depending on the deposit method. All deposits are credited instantly. Unfortunately, the broker is less than transparent about any potential fees that may be incurred on deposits, so traders will want to watch out for any surprise costs.
Withdrawal Methods & Costs
Clients will be required to withdraw funds back to the originating payment method in the same currency that was used to make the deposit. Withdrawals are subject to processing and handling fees and although the broker mentions that these fees are available on their website, there is no explanation of any such fees. The broker does mention potential intermediary bank fees and suggests clients reach out to their bank regarding those fees, as they are not responsible for those charges. There is a steep $3,000 requirement for withdrawals via Wire Transfer, so be sure to keep this in mind before depositing through this method. Accounts must be fully verified before the client can submit a withdrawal request.
Withdrawal Processing & Wait Time
On their website, the broker lists processing times as instant for all withdrawal methods. Unfortunately, checking their withdrawal policy reveals some conflicting information. The broker can actually take up to 5 business days to process withdrawals and then there can be an additional 10-day wait to receive funds back to card or bank accounts. This can result in a waiting period of around 20 days once weekends are taken into consideration.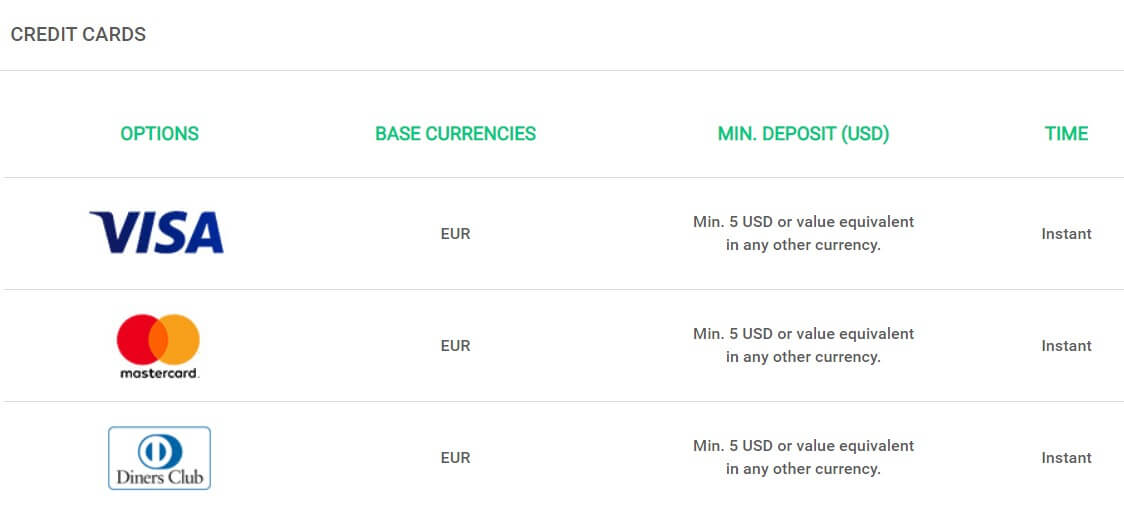 Bonuses & Promotions
We couldn't find any ongoing bonus opportunities listed on the website, but this doesn't mean that one shouldn't expect to see opportunities offered by CodexFX. Under one of their PDF files, the broker goes into detail about conditions on deposits and mentions that these offers will be available from time to time. Be sure to keep an eye out for any updates if you decide to open an account.
Educational & Trading Tools
At first glance, the section of the website titled "Academy" seems promising; however, this section is limited to technical analysis, forex basics, and an FAQ. The technical analysis page and the forex basics page only offer brief explanations and do not go into very much detail. This isn't what we would expect from an academy training session – instead, we'd like to see video tutorials, e-books, a glossary, and other mediums. Under the FAQ, the company answers a few trading questions and provides some information about their own terms. The website is also lacking any helpful tools, like calculators, an economic calendar, etc. Fortunately, there are multiple trading tools that can be found within the MT4 platform.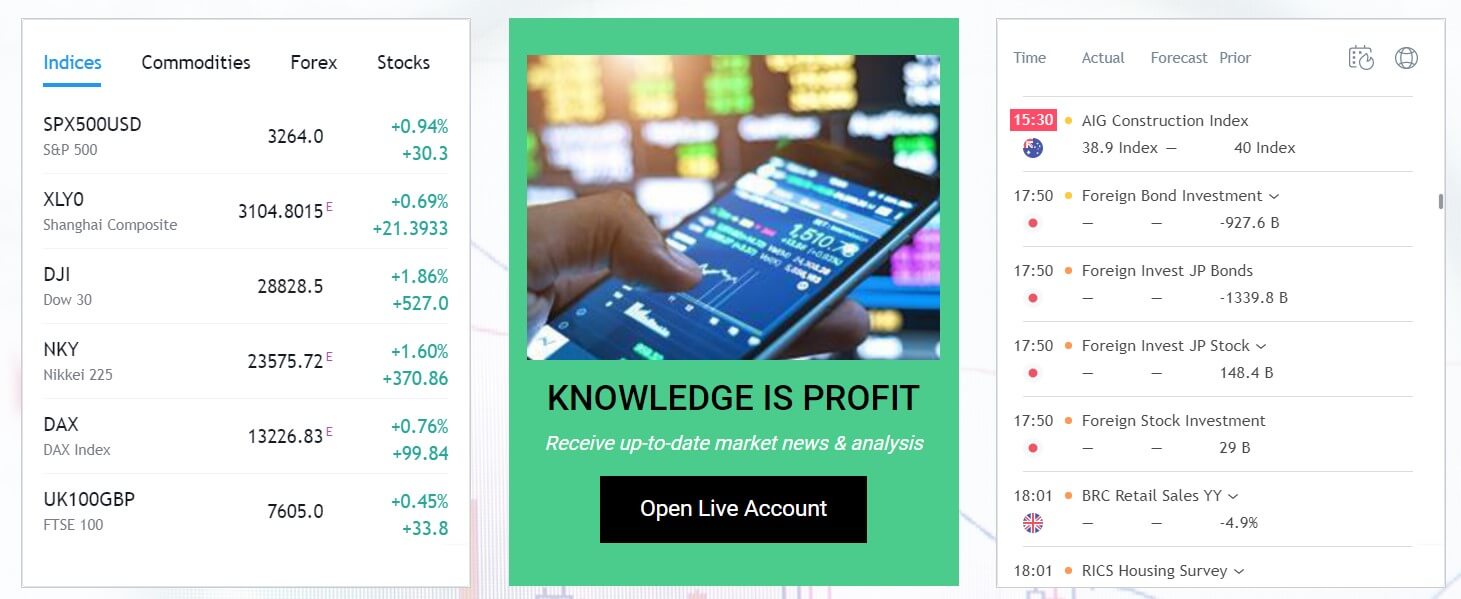 Demo Account
While the website doesn't offer many educational resources, we are happy to report that demo accounts are available. Those that have never traded from a demo before should know that these free accounts offer a super realistic trading experience and allows one to practice using the MT4 platform, use different trading strategies, test the conditions offered by the broker, etc. A demo can be opened quickly by selecting "Register" on the homepage and then clicking over to the demo tab and then filling in the name and email.
Customer Service
One can reach out to support through email, phone, or by filling out a form on the website. The broker is also active on Twitter, Facebook, and Skype, although the links on the website are dead. Sadly, there is no instant contact option and wait times for email responses are generally around 24 hours or longer. Support is active 24 hours a day, Monday through Friday. Contact information has been provided below.
Email: [email protected]
Phone: +44 2080898543
Address: Codexfx Ltd. Trust Company Complex, Ajeltake Road, Ajeltake Island, Majuro, Marshall Islands MH 96960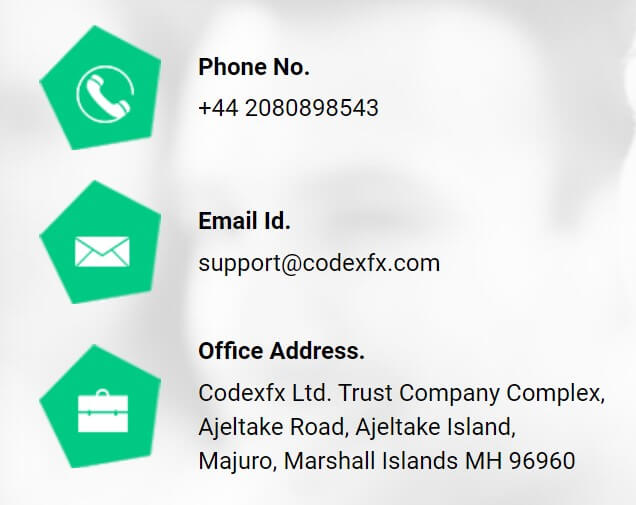 Countries Accepted
This broker does not list any specific restrictions and claims that it is up to clients to know the regulatory rules for their countries. This simply means that the broker wants to offer service to anyone, regardless of legal limitations. To be sure, we checked out the registration page to see if any obvious options were missing from the sign-up list. The United States, Iran, Japan, and many other options are in fact available, so this could be a plus if you're located in a country that is often restricted from opening a trading account.
Conclusion
CodexFX has an investment portfolio that is made up of 270+ options, including FX, Commodities, Indices, and Equities. The broker offers 4 separate account types with a maximum leverage limitation of up to 1:50. Spreads are floating from 0.6 pips on ECN accounts and are from 1 to 3 pips on major currency pairs on the remaining account types. Commissions of $7 per Standard Lot are charged on ECN accounts and there are no commissions on the Mini, Standard, Gold, and Platinum accounts.

Accounts can be funded through card or via several electronic payment methods, although many of these options are lesser-known payment providers. Deposits and withdrawals are processed instantly, but the lack of information about fees is not a good sign. Demo accounts are available but other educational resources are limited and trading tools are nonexistent. The broker also appears to offer bonuses from time to time, although there doesn't seem to be any ongoing bonus at this time.
Customer support is available 24/5 via phone, email, or through a contact form on the broker's website. The company is willing to accept clients from all locations, which is a positive advantage for those that often find themselves in a blacklisted country. After considering the advantages and disadvantages, it would be up to one to decide if this broker personally suits their trading style.