AMP Global is an online foreign exchange broker that is registered and regulated by the Cyprus Securities and Exchange Commission (CySEC). AMP was originally a US-based broker but has now expanded into the European market which is what AMP Global is all about. AMP Global points out that their insurance for each client of 20,000 EUR is one of their stand out points. Apart from that, they don't really say a lot about themselves and so we will be using this review to look into the services that are being offered to their clients and so you can decide if AMP Global is the right broker for you.
Account Types
There are two main account types, the trading account, and an Islamic account. There is also a Corporate account but we won't be looking at that one in this review, as the average Forex trader will not require this account type. We have outlined some of the features of the two main accounts below. In fact, the trading specification of both accounts are exactly the same, so we have outlined them below as if it is just the one account.
Trading Account:
The account requires a minimum deposit of at least 100 USD/EUR/GBP or 6,500 RUB. The account uses MetaTrader 5 as a trading platform and has an STP execution method. There are no requotes or rejections, the account comes with a variable spread starting from 1 pip. There are commissions charged on the account (depends on the market traded) and Islamic swap-free versions are available. The account can be leveraged up to 1:100, with a minimum trade size of 0.01 lots and a maximum trade size of 100 lots, you can also have an unlimited number of trades open at any one time. A lot size is equal to 100,000 base units and the margin call level is set at 100% while the stop out level is set at 50%. There is also negative balance protection, scalping, expert advisors and news trading is all allowed on this account.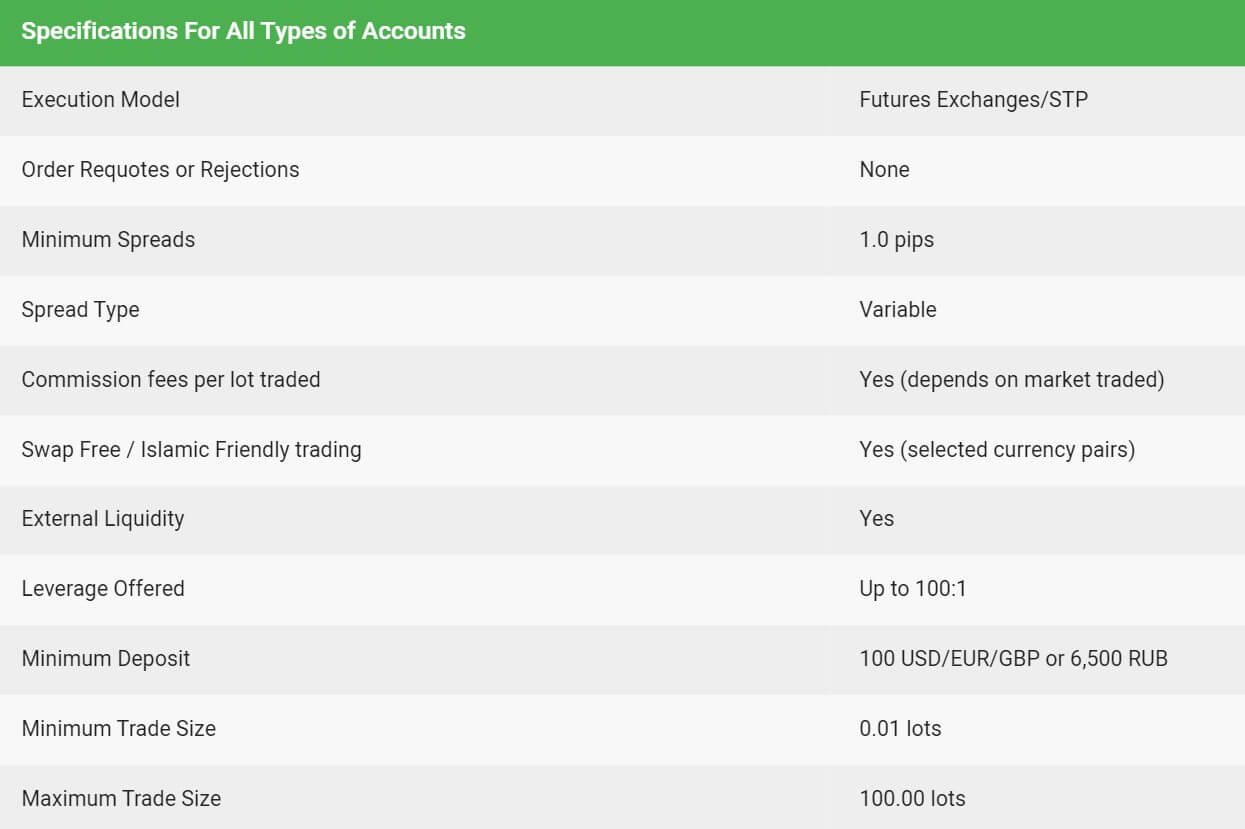 Platforms
There are two different platforms available to sue, both from the MetaQuotes company, even though the accounts state that they use MT5, MT4 also seems to be available to use.
MetaTrader 4 (MT4):
MetaTrader 4 s one of the worlds most traded and most loved trading platforms, released back in 2005 it has been improving on every update, some of its features include:
Access to tight pricing on our full trade offering
Expert Advisors supported
Highly customizable charting
Ticket based trading and more
Full charting library
The web platform operates without any additional software or browser extensions
Execute your trade ideas anytime, anywhere
Check your positions whenever you want
Full charting library
30 indicators
Execute your trade ideas anytime, anywhere
Analyze financial markets through charts & technical indicators
Check your positions whenever you want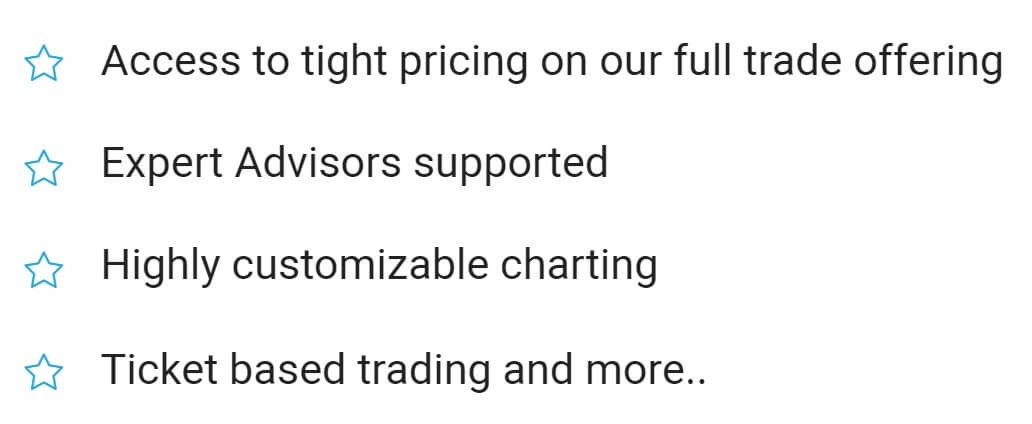 MetaTrader 5 (MT5):
This is the younger brother to MetaTrader 4, it was designed to improve on what MT4 had already built, it is a multi-asset platform that offers superior tools for comprehensive price analysis, use of algorithmic trading applications (trading robots, Expert Advisor) and copy trading. Available on all sorts of devices such as desktop, mobile and as a web trader, it can be used anywhere in the world. A few of its other features include:
Built-in market analysis tools
A system with Market Depth and executions
Netting and hedging accounting systems
Trade orders, pending and stop-orders
3 chart types and 9 timeframes
Built-in chat, news, alerts and push notifications
Leverage
The account can be leveraged up to 1:100, this is a little lower than what a lot of brokers are aiming for as a lot are now offering up to 1:500. The leverage can be selected when opening up a new account. However, when looking through the FAQ, it states that they are also following the guidelines of the ESMA, this would mean that the following terms are being met:
Leverage limits on the opening of a position by a retail client from 30:1 to 2:1, which vary according to the volatility of the underlying:
30:1 for major currency pairs
20:1 for non-major currency pairs, gold, and major indices
10:1 for commodities other than gold and non-major equity indices
5:1 for individual equities and other reference values
2:1 for cryptocurrencies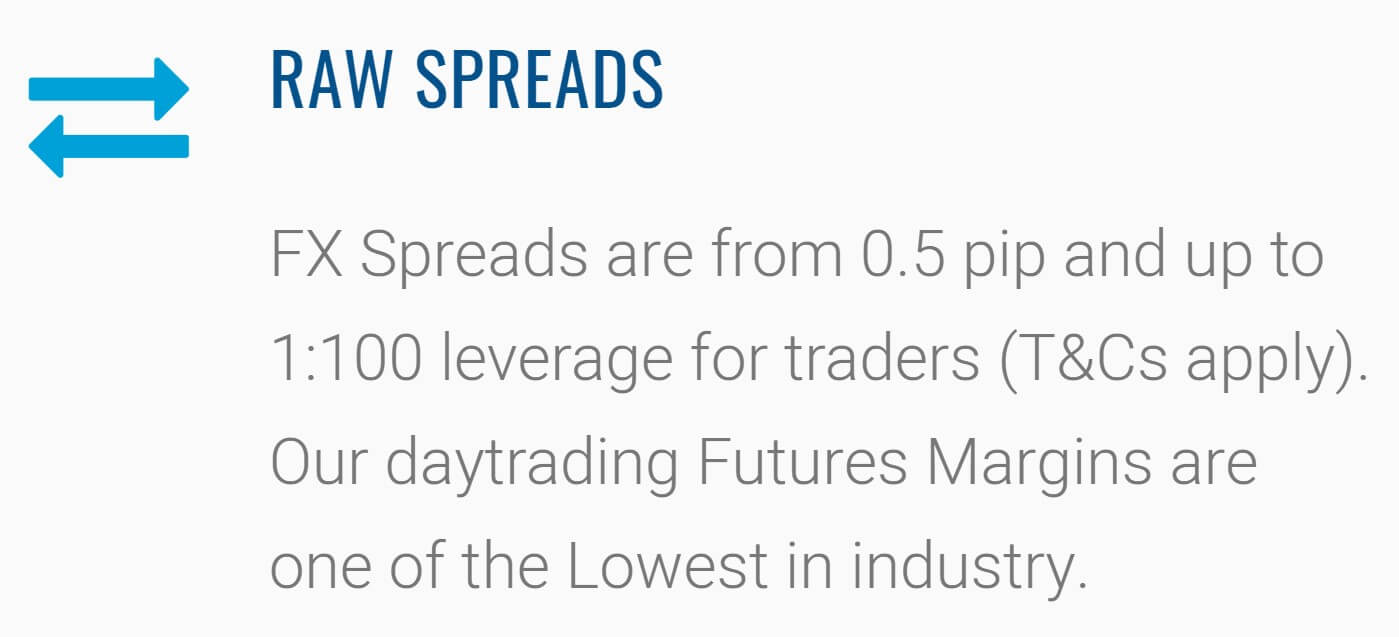 So it is not actually clear to use what the maximum leverage will be as both numbers contradict each other. Looking at the product specification it seems like the ESMA leverages are the correct ones.
Trade Sizes
The trade sizes that you get depends on the assets that you are trading. When looking at Forex pairs the minimum trade size seems to be 0.1 lots. This is known as a mini-lot and is worth 10,000 base currency units. The maximum trade size is 100 lots and there is no limit to the number of trades you are able to have open at any one time. Different instruments will have different stating trade sizes, be sure to check the specification for the specific instruments that you wish to trade.
Trading Costs
Multiple places around the site indicate that there will be commissions. However, nowhere does it actually state what they are (that we can see) so we do not know what the actual trading costs of trading with AMP Global are. There is a section of the site that states that they will beat any written commission quote. Whether this means we can find a low quote and they will match it, we don't know as we could always find an incredibly low figure somewhere.
Assets
The assets have been broken down into various categories. We have outlined them below so you can get an understanding of what sort of assets and instruments are available to trade.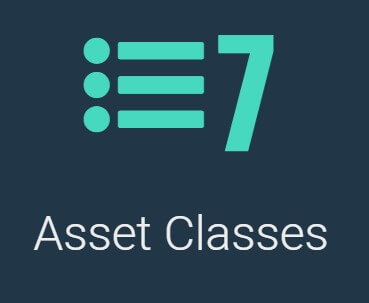 Forex:
AUDCAD, AUDCHF, AUDJPY, AUDNZD, AUDUSD, CADCHF, CADJPY, CHFJPY, EURAUD, EURCAD, EURCHF, EURCZK, EURDKK, EURGBP, EURHKD, EURHUF, EURJPY, EURMXN, EURNOK, EURNZD, EURPLN, EURRON, EURRUB, EURSEK, EURSGD, EURTRY, EURUSD, EURZAR, GBPAUD, GBPCAD, GBPCHF, GBPCZK, GBPDKK, GBPHKD, GBPHUF, GBPJPY, GBPMXN, GBPNOK, GBPNZD, GBPPLN, GBPSEK, GBPSGD, GBPTRY, GBPUSD, GBPZAR, NOKSEK, NZDCAD, NZDCHF, NZDJPY, NZDSGD, NZDUSD, USDCAD, USDCHF, USDCNH, USDCZK, USDDKK, USDHKD, USDHUF, USDILS, USDJPY, USDMXN, USDNOK, USDPLN, USDRON, USDRUB, USDSEK, USDSGD, USDTRY, USDZAR.
Crypto:
Bitcoin Cash, Bitcoin, Ethereum, Litecoin, Ripple.
Indices:
AUS200, EUR50, FCHI, GER30, HSI, J225, SPN35, UK100, SPX, NDX, WS30.
Energies:
UK Brent Oil, US Crude Oil, US Natural Gas.
Metals:
Gold (tradable available USD, EUR, AUD), Silver (tradable against USD and AUD).
Shares:
Apple, Amazon, Alibaba, Bank of America, Daidu, Facebook, Alphabet, Netflix, Tesla, Twitter.
Spreads
Spreads when trading forex pairs can start from as low as 0.5 pips according to the front page. However, the account specification states that they start from 1 pip, so to be safe would say to take note of the higher figure of 1 pip. The spreads are variable which means they will be influenced by the markets, different instruments will also have different starting spreads. So while some may be as low as 1 pip, others may be higher at 2 pips or more.
Minimum Deposit
The minimum amount required to open up an account is $100. This is the minimum amount for the initial deposit and it also looks like it is the same for any top-up payments.
Deposit Methods & Costs
The following methods are available to deposit along with the available deposit currencies.
Credit/Debit Card – USD, EUR, GBP
UnionPay – USD
Neteller – EUR, GBP
Skrill – USD, EUR, GBP
Bank Wire – USD, EUR, GBP, RUB
Internal Transfer – USD, EUR, GBP, RUB
There aren't any added fees from AMP Global themselves. However, you will be liable to pay any transaction fees added by your own bank or payment processor.
Withdrawal Methods & Costs
The same methods seem to be available to withdraw with. For clarification, they are Credit/Debit Card, UnionPay, Neteller, Skrill, Bank Wire, and Internal Transfers. There is also a number of other images for additional methods, but they are not mentioned within the fees time section of the page. In terms of withdrawal fees, there isn't anything mentioned so it looks like there are none added by AMP Global. However, you will be liable to pay any fees that are added or charged by your own payment method.

Withdrawal Processing & Wait Time
There is a processing time for each method, however we believe that these are only for deposits. We do not know how long it will take AMP Global to process your withdrawal request but would hope that any requests would be fully processed between 1 to 5 working days from the request being made. This will depend on the processing times of the method you have used to withdraw your funds.
Bonuses & Promotions
Looking through the site and its FAQ we did not see anything that would relate to promotions or bonuses so we do not believe that there are any active promotions at this point in time. If you are after bonuses then you could always contact the customer service team to see if there are any coming up that you could take part in.
Educational & Trading Tools
There is quite a lot when it comes to the educational side of the site. The first section is about futures, this has a lot of information talking about history and what futures are. There is also a glossary about futures as well as some technical and fundamental analysis, this is information about analysis rather than actual analysis done for you. There is a forex section, which has some basics and a forex related glossary.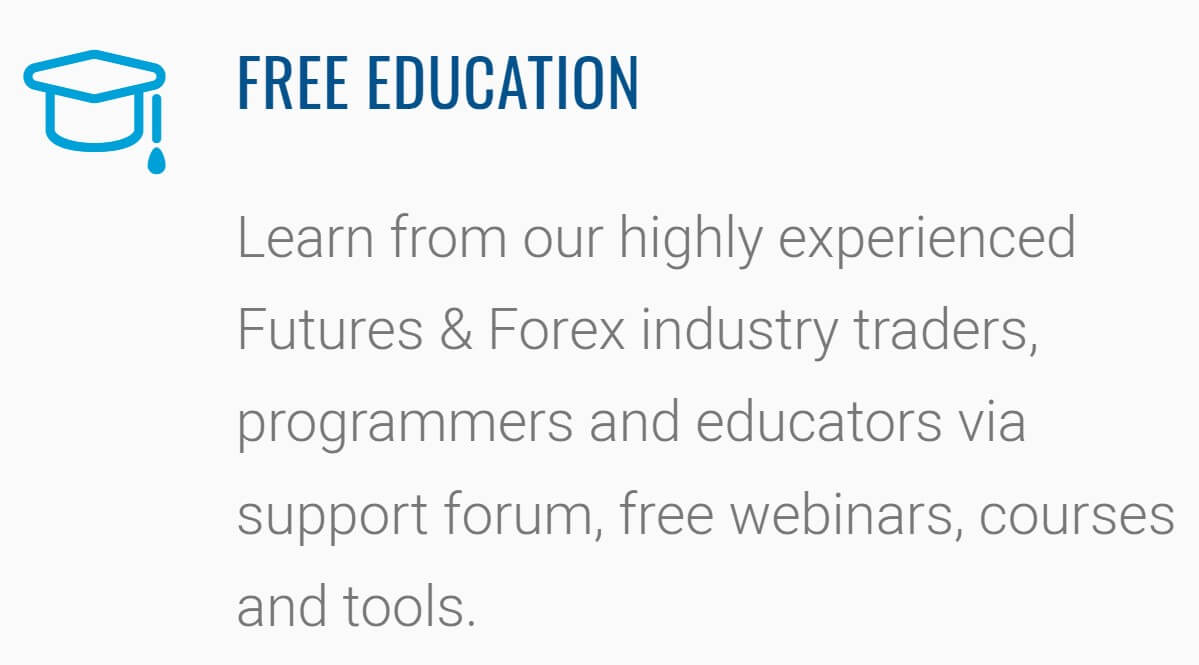 The next section is similar but about CFDs, again going over basics and also details on how to trade CFDs. There are some webinars available, you can view the past ones too which is great. They cover various aspects of trading. The final section is a video section, which has various videos covering aspects like using the trading platform, or how to trade different trade sizes.
StereoTrader is a scalable interface available for MetaTrader 5, some of its features include:
Exchange-Traded Futures, FX and CFD Trading
Quick access Scalping-Terminal
Volume Profile and DoM in/on the Chart
Advanced Order Types incl. Limit-Pullback-Order
Advanced Day-trading Statistics
Stop-loss and Order Trailing
Algorithmic Grid Trading
Exit automation (based on Time/Equity/growth)
Fully Automated Strategies (StereoMQL)
Customer Service
The customer support team is available 24 hours a day. They do not specify whether they are available over the weekends though. You are able to get in touch in a wide range of ways. There is the usual postal address, email address and various phone numbers available. There is also a remote access system, live chat, and access to a support forum.
Address: Ayiou Athanasiou Avenue, Kaminion Street 1, 2nd floor, Agios Athanasios 4102, Limassol Cyprus
Email: support@ampglobal.com
Phone: +357 22 007182
Demo Account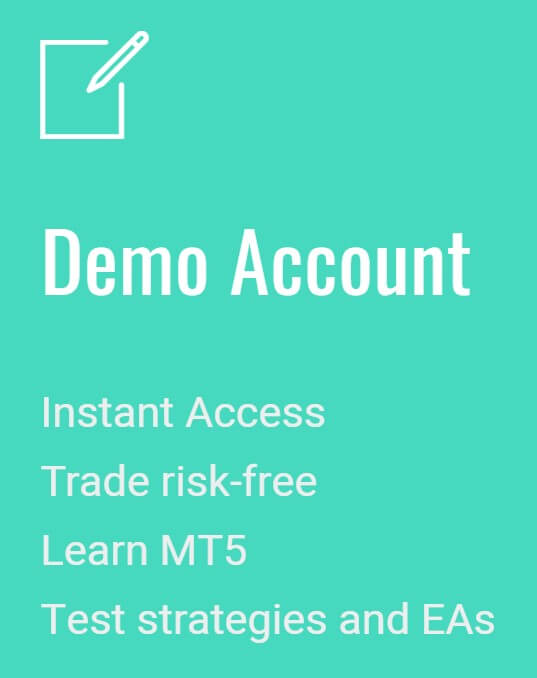 Demo accounts are available and allow you to test out the servers, conditions, platforms, and new strategies without any risk to your own capital. The demo account offers conditions such as spreads starting from 1 pip, this is a variable spread, it is commission-free, swap-free, can be leveraged up to 1:100, can have a minimum balance of 100 USD/EUR/GBP. The trade sizes start from 0.01 lots and go up to 100 lots with a lot being worth 100,000 base currency units.
You are able to have an unlimited number of trades open at any one time, the margin call level is set at 100%, the stop out level is set at 50% and there is negative balance protection (however this isn't really needed on a demo account). The demo account can be used within MetaTrader 5 with scalping, expert advisors, and news trading all being allowed. As far as we can tell, there is no expiration time on the account as long as you regularly use it.
Countries Accepted
The following statement can be found at the bottom of the AMP Global website: "Restricted Regions: AMP Global (Europe) aka AMP Global LTD. does not provide services for citizens of the United States of America and some other regions."
Conclusion
There is a lot on offer from AMP Global. There was a little bit of confusion with the available leverages, but we believe that they are limited to 1:30 which is very low when comparing to the competition. We are also not aware of what the commissions are, we just know that they are there. So, unfortunately, this means we do not know what the overall trading costs are. There are plenty of assets available to trade which is great. In terms of funding, there are plenty of methods available with no added fees from AMP Group. The customer service team is offering plenty of ways to get in contact which is always a positive thing to see. AMP Group seems like they could be a competent broker to use, but of course, the choice to use them is up to you.