HonorFX is a forex broker based in Saint Vincent and the Grenadines, their goal is to provide their clients with the ultimate trading experience. A few reasons why they suggest that you should choose them include their ethical trading conditions, the safety of funds, fast execution and wealth of experience. In this review, we will be diving deep into the website and services being provided to see if they really do deliver on their goals.
Account Types
When looking at the accounts on offer from HonorFX we can see that there are 4 account types each with varying requirements and features, let's take a look at what they are.
Standard Account: The standard account is the entry-level account with HonorFX, it requires a minimum deposit of $100 and this account has spread starting from 1.5 pips, it does not have any added commission. It can have a base currency of USD, AED or GBP and uses the MetaTrader 5 trading platform. Its margin call level is set at 50% and the stop out level is at 30%. It has a minimum trade size of 0.01 lots and a maximum trade size of 20 lots. Leverage can be set between 1:20 and 1:500.
Variable Account: The variable account also has a minimum required a deposit of $100, it can have a bad currency of USD, AED or GBP and has spreads starting from between 1.2 pips and 1.8 pips. Leverage remains the same and can be set between 1:25 and 1:500 while the margin call and stop out levels are 50% and 30% respectively. This account also uses MetaTrader 5 and has a minimum trade size of 0.01 lots and a maximum trade size of 20 lots.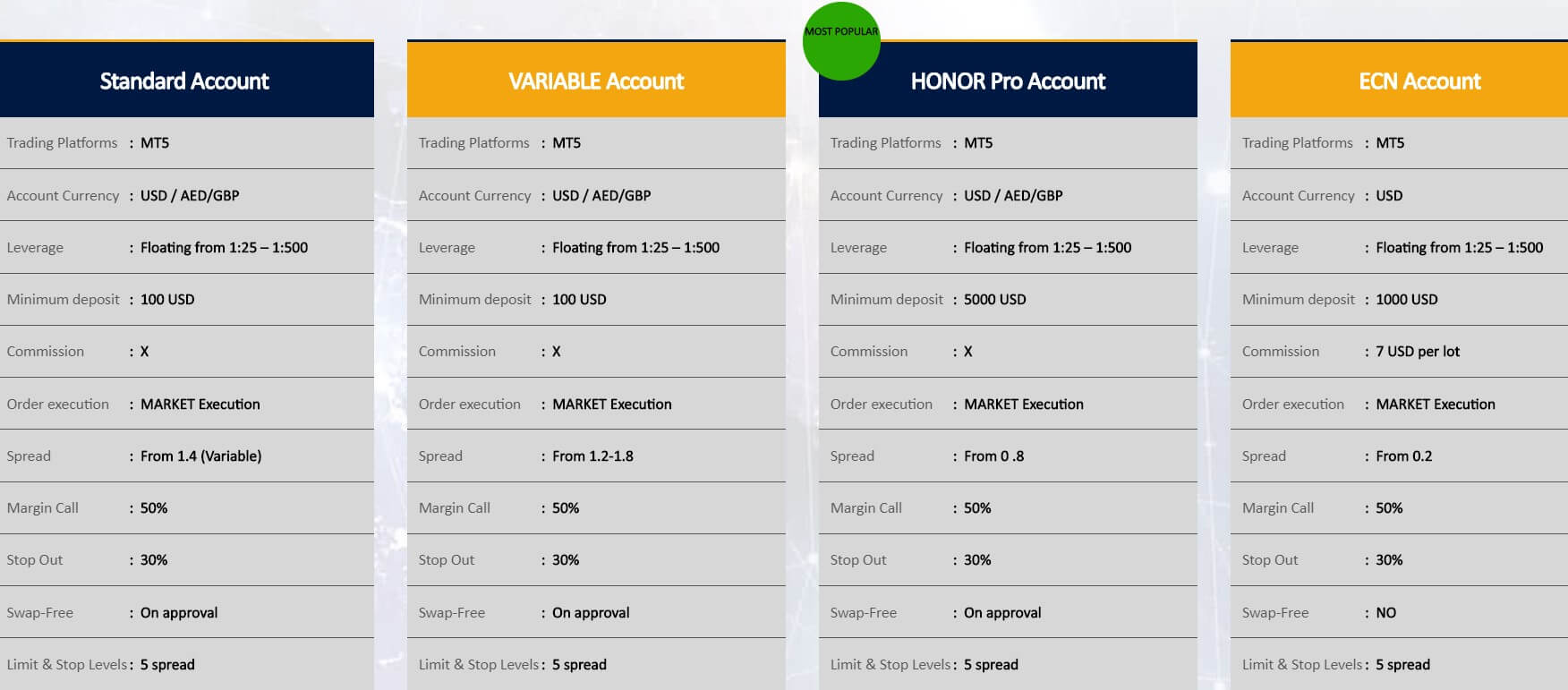 Honor Pro Account: This account increases the minimum required a deposit to $5,000, the account can also be in either USD, AED or GBP, it uses the MetaTrader 5 platform and has a spread between 1:25 and 1:500. This account does not have a commission added to it and the spreads start from 0.8 pips. The Margin call is set at 50% and the stop out level is at 30%. This account has a minimum trade size of 1 lot and a maximum trade size of 20 lots.
ECN Account: The ECN account requires a minimum deposit of $1,000, it can only be in USD and uses the MetaTrader 5 platform as its only trading platform. It can have a leverage of between 1:25 and 1:500 and there is an added commission of $7 per round lot traded. Spreads are lower due to the commission and start as low as 0.2 pips, the margin call and stop out level remain at 50% and 30% respectively. The minimum trade size is 0.01 lots with the maximum trade size being 20 lots.
Swap-free accounts are available on the Standard, ~Variable and Honor Pro account on request, these accounts are intended for people whose beliefs do not allow them to either receive or pay interest.
Platforms
Only one trading platform is on offer that that is MetaTrader 5 so let's see what sort of experience this provides:
MetaTrader 5 (MT5) is the younger brother of MetaTrader 4 (MT4)m developed by MetaQuotes Software and released in 2010, MT5 is used by millions and for good reason. Offering plenty of trading and analysis features to ain in your trading. Additional services expand the functionality of the platform making its capabilities almost limitless. MetaTrader 5 offers the built-in Market of trading robots, the Freelance database of strategy developers, Copy Trading and the Virtual Hosting service (Forex VPS). Use all these services from one place, and access new trading opportunities. MetaTrader 5 is also highly accessible with it being available as a desktop download, application for iOS and Android devices and even as a WebTrader where you can trade from within your internet browser.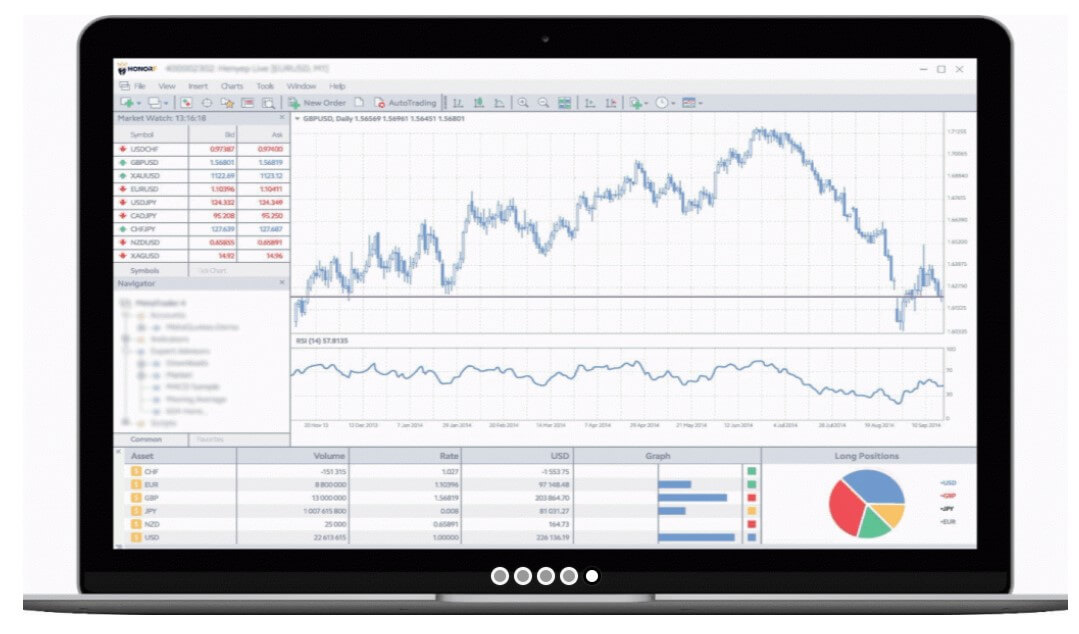 Leverage
Leverage on all accounts start at 1:25 and can go as high as 1:500, leverage is selected when opening an account and once an account is open, if you wish to change the leverage you will need to ensure that there are no open trades and then get in contact with the customer service team to make the request.
Trade Sizes
Trade sizes when using the standard, variable or ECN account start at 0.01 lots (also known as a micro lot) trades then go up in intervals of 0.01 lots so the next trade would be 0.02 lots and then 0.03 lots.
If using the Honor Pro account, the minimum trade size is 1 lot, trades the go up in intervals of 0.01 lots so the next trade size would be 1.01 lots and then 1.02 lots.
All 4 accounts have a maximum trade size of 20 lots which is appropriate as we always recommend trading under 50 lots per trade to make it easier for the liquidity providers and markets to execute the trades quickly without any slippage.
Trading Costs
The standard, variable and Honor Pro accounts all have a spread based payment structure that we will look at late in this review. The ECN account has an added commission of $7 per round lot traded which is just above the standard $6 per round lot traded seen on a large number of competitors.
There are also swap charges for all accounts (except swap-free versions) which are interest charges for holding trades overnight, these can be either negative or positive and the current rates can be viewed from within the MetaTrader 5 trading platform.
Assets
Assets on HonorFX are broken down into a number of different categories, there are forex currency pairs and the website states that there are over 330 different spots and forward forex pairs, these include the likes of EUR/USD, GBP/USD and AUD/USD. Cryptocurrencies make an appearance which is great to see as they are quickly becoming a major trading asset for both new and experienced traders, coins such as Bitcoin, Ripple, Litecoin, Dash and Monero all feature plus others which can be traded against the US Dollar. As expected metals are also present, the usual Gold and Silver are present as well as Platinum, gold, and silver can be traded against both USD and EUR.

Energies are also available through Crude Oil, Brent Oil, and Natural Gas. Next up are commodities and these feature Coffee, Wheat, Sugar and many more with tight spreads. Shares are available and there are thousands from all over the world including the US, UK, Belgium, and France. Finally, there are indices, these include the UK 100, Germany 30, US 30 and Australia 200.
Spreads
The spreads that you receive will depend on a number of factors when the standard account will have spreads starting at 1.5 pips, the variable account will have spreads starting at 1.2 pips to 1.8 pips, the Honor Pro account will have spreads starting at 0.8 pips and the ECN account will have spreads starting at 0.2 pips.
These amounts are the starting pips, so it is actually quite rare that they are seen this low, all spreads are variable spreads (also known as floating) which means they move with the markets. The more volatile the markets are the higher the spreads are so they will often be seen higher.
It is also worth noting that different instruments and currencies have different natural spreads, while AUD/GBP may have a starting spread of 0.9 pips, a pair like AUD/NZDwill have a starting spread of 2.5 pips.
Minimum Deposit
The minimum amount required to open up a standard or variable account is $100, if you want an ECN account you will need $1,000 and for an Honor Pro account, you will need a minimum deposit of $5,000. Usually for the largest deposit accounts, once an account has been opened the minimum deposit for any future top-ups reduces to a smaller amount but there is no indication of this on the website.
Deposit Methods & Costs
There isn't any real information when it comes to deposits, there are some images of some payment processors such as Bitpay, FasaPay, Neteller, Skrill, UPayCard and Paypal but no further information, when clicking on one of these images it simply reloads the page.

Withdrawal Methods & Costs
Similarly to the deposit methods, there is no clear indication of what methods are available for withdrawal or any terms surrounding them, this is a little concerning as when money is involved, the more information the better and this leaves a certain air of uncertainty around the broker and their financial capabilities.
Withdrawal Processing & Wait Time
The lack of information regarding withdrawals continues in this aspect too, as there is no information available we can not comment on the processing times or how long it can take for you to have access to your funds.
Bonuses & Promotions
We could not locate any information on the website or within the terms and conditions in regards to bonuses and promotions so it does not appear that there are any at the time of writing this review.
Educational & Trading Tools
Not too much to shout about when it comes to education or trading tools, there is a basic news section which details both upcoming and past news events and what effect they may have or have on the markets, the information isn't massively in-depth but could help for basic analysis.

The tools section has a simple economic calendar which shows any upcoming news events and which pairs they may have an effect of, there are also live charts and prices for different instruments and assets. Finally, there is a section called Forex Basic which gives very basic outlines of what different things within the forex world mean such as what forex actually is and what a pip is.
Customer Service
Should you wish to get in contact with HonorFX with your query or concern you can do so through a number of different channels. You can use everyone's favorite online submission for when you fill in your question and then should get a reply via email. You can also email the support directly or use the available phone number to speak to someone directly. The support section did not indicate what times they are open or when they are closed.

Demo Account
It's nice and simple to open up a demo account, just fill in the demo account for and off you go. The form allows you to indicate how much of a deposit you want to use, what leverage you wish to use and what base currency, it is nice to have these kinds of customizations. The main bit of information that is missing is how long the accounts last, some brokers limit the accounts to a certain timeframe such as 30 days while others allow them to last indefinitely so it would have been nice to know how long the demo accounts at HonorFX last for. It is also unclear which account they mimic in regards to spreads.
Countries Accepted
The following statement is present on the HonorFX website: "Regional restrictions: HonorFX brand does not provide services to residents of the USA, Japan, British Columbia, Quebec, and FATF blacklisted countries. If you are unsure whether you are eligible for an account or not you should get in contact with the customer support team to find out.
Conclusion
There are plenty of positives when looking at HonorFX, the information provided about the accounts is detailed enough to fully understand what is provided and every asset/instrument is listed so you know exactly what there is to trade. There are also some downsides, the major one being the fact that there is no information about deposits and withdrawals, when a company is handling your money you would expect there to be plenty of information about how you can get it in and how you can get it out, without this information being available it makes HonorFX very hard to recommend.
We hope you like this Honor FX review. If you did, please be sure to check out some of the other reviews to help find the broker that is right for you.