While the broker was founded only 5 years ago, Flag FX excels at catering to international clients and providing technology-based approaches. As far as trading is concerned, Flag FX gives you several account options and each of them comes with access to a large selection of currency pairs. One of the unique things about the broker is that all account types have the same balance requirements. In other words, traders have plenty of flexibility and can choose the type that best suits their strategy. 
Similarly, account holders enjoy a great degree of comfort when it comes to other features, such as deposits, the portfolio's default currency, and more. There are, however, several important aspects that the broker leaves out of the website. Because of this, those who are interested in Flag FX should contact customer service and ask about their available features, especially if they are important to a trader's strategy or approach. Beforehand, read this article to find out about what Flag FX offers, its unique tools, and other relevant information.
Account Types
You can open one of three account types, including an Islamic Account. What makes Flag FX unique is that its accounts have the same minimum deposit, support features, and platforms. Instead, they vary based on the methodologies and preferences of each trader.
Standard Account:
Minimum Deposit: $100

Spreads: From 1 pip

Commission: $0

True ECN Account:

Minimum Deposit: $100

Spreads: From 0 pips

Commission: $7 per lot
Islamic Account:
Minimum Deposit: $100

Spreads: From 1 pip

Commission: $0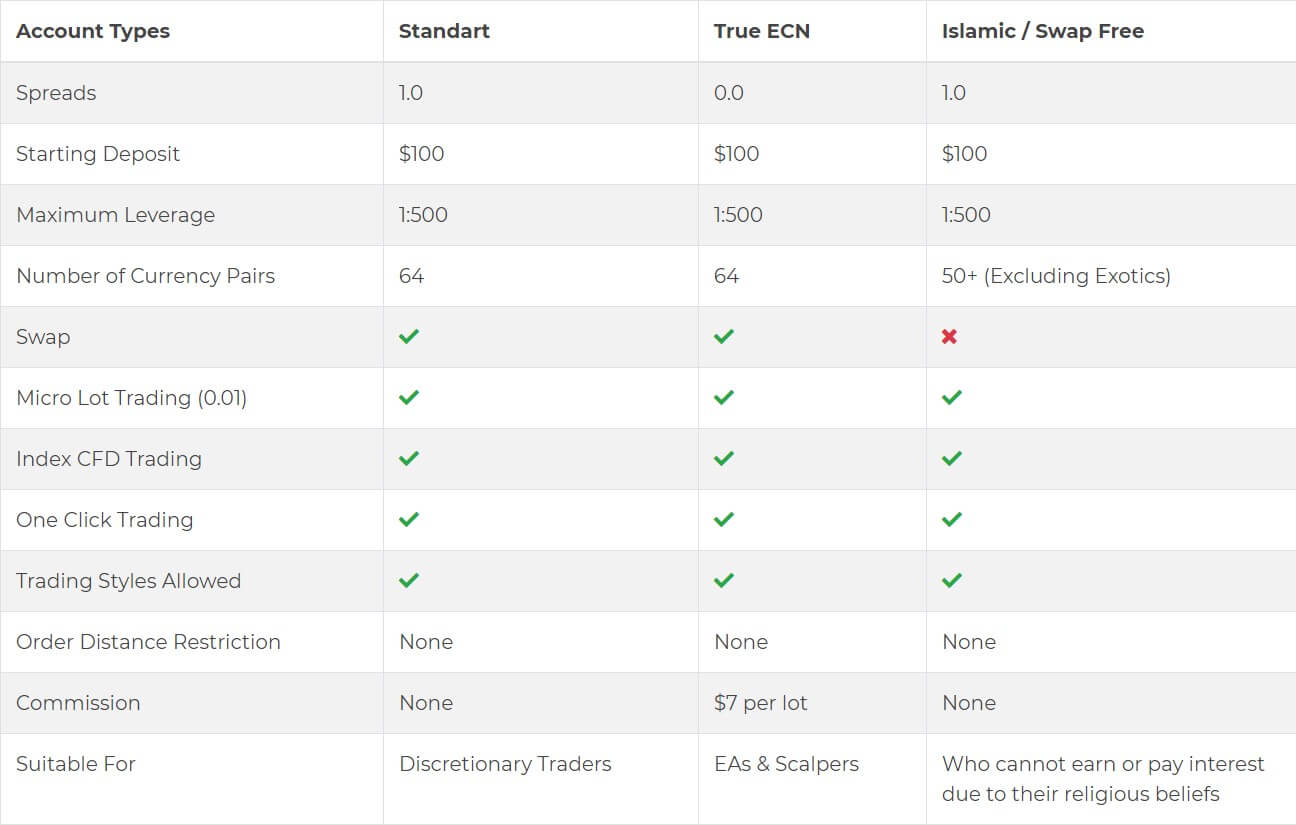 As Flag FX's website notes, the True ECN Account is suitable for day trading, scalping, and automated algorithms. This is mainly due to its nonexistent spread. However, its leverage (a key part of intra-day and scalping strategies) is the same as the other two accounts. Standard and Islamic each have no commissions and the same one-pip spreads. The Islamic Account doesn't incur interest fees on overnight positions, but it has access to less currencies than the True ECN and Standard types.
Platforms
Flag FX utilizes the comprehensive and resource-rich MetaTrader 5 (MT5) platform. It provides you with highly detailed charts and graphs, alongside a variety of technical indicators. You can install it on desktop devices and smartphones. Equally as important, traders can build their own algorithms through MT5's tools and features.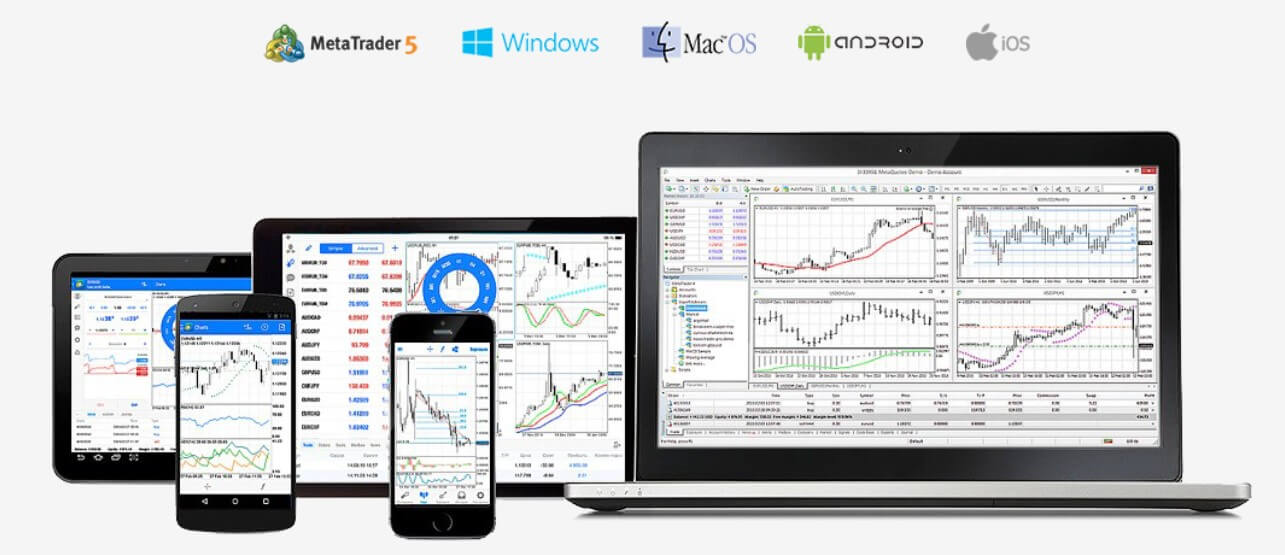 Leverage
All three accounts give you 1:500 in buying power. This is a relatively large number when compared to the greater brokerage industry. Yet, Flag FX advises traders that they should carefully study their decisions and manage their risk when they use a lot of leverage. Otherwise, their funds could rapidly increase and decrease during volatile conditions. Similarly, traders could incur significant losses if they don't effectively manage their risks.
Trade Sizes
Positions may be as small as 0.01 lots (or a micro-lot), which is 1,000 of the base currency. Flag FX has a calculator that shows you how much the micro, macro (10,000), and regular (100,000) lots are worth for each currency pair. It also highlights the value of 1 pip after you input the trade size and specify the base currency of your account.
Margin Call: No information is available
Stop-Out: No information is available

Trading Costs
True ECN is the only account that incurs commissions, which is at $7 per lot. However, both True ECN and Standard pay an interest fee on trades that are kept open overnight. The Islamic Account isn't charged this swap rate. Some traders can't engage in interest rate-related transactions due to their religion. 
Generally speaking, when brokerage platforms don't charge you the interest, which is set by each country's central bank, they incur that fee. Instead, they charge a fixed overnight commission to make up for it and potentially profit. While Flag FX's website makes no mention of this, most brokers who offer Islamic accounts will charge a fixed fee on overnight positions instead of the swap interest rate.
Assets
Because certain developing countries may have volatile or abnormally high interest rates on their currency, the Islamic Account's holders can't exchange exotic pairs on Flag FX. True ECN and Standard, on the other hand, allow you to trade both major and exotic currencies, regardless of how unstable or underperforming the underlying economy is.
True ECN and Standard access 64 forex pairs. The Islamic account has over 50. The broker's website includes market indexes and futures under its main assets list, but the pages are more educational than informative about the offered instruments. Interested traders who want to buy/sell CFDs, indices, and commodities may want to contact customer support and inquire about this.
Spreads
As mentioned earlier, only the True ECN Account has 0 spreads. Islamic and Standard have 1 pip, which is relatively low. Keep in mind that this can vary from one currency pair to another. In many cases, exotic and volatile forex pairs have a much larger gap between the bid/ask prices. Major currencies also have their own spreads, as opposed to a standard rate across the board. This is another key point that interest traders could ask about when contacting Flag FX's customer support team.
Minimum Deposit
All three accounts only have a $100 minimum deposit requirement. The website makes no mention of what the options are when it comes to the account's base currency. However, their currency and trade calculator allows you to choose between seven options; the USD, Australian Dollar, British Pound, Canadian Dollar, Euro, Japanese Yen, and New Zealand Dollar. If this is truly the case, Flag FX's variety would be much more flexible and diversified that what many other brokers can offer.
Deposit Methods & Costs
Debit or credit cards and bank transfers can be made in each of the seven currencies above, apart from the New Zealand Dollar. Additionally, the Russian Ruble is an option. You can also deposit money via Bitcoin's platform and in one of the six cryptos that Flag FX accepts (such as Tether, Ethereum, and Bitcoin). The broker will take Visa, MasterCard, and American Express. All debit/credit card transfers are processed instantly on all days of the week, as are deposits made via Bitcoin. Bank wires are only available on weekdays and may take anywhere between 1 minute and up to 48 hours. Flag FX's website doesn't mention anything about deposit fees.
Withdrawal Methods & Costs
The broker doesn't charge you for withdrawing money. Because of this, we can assume that deposits are also free. After all, most brokers don't even charge account holders for depositing funds, to begin with. Flag FX also offers the same options for both incoming and outgoing transfers. However, you can only withdraw money through the methods you use for deposits.
Withdrawal Processing & Wait Time
Flag FX says nothing about processing times when it comes to withdrawals.
Bonuses & Promotions
There are no ongoing promotions. Similarly, there isn't any information about previous bonuses or promotional campaigns that Flag FX offered.
Educational & Trading Tools
This broker seems to prioritize education, especially since its website is rich with content that benefits beginner and experienced traders alike. For example, they have a thorough list of major trading terms that are commonly used by trading professionals, analysts, writers, and news outlets. It is somewhat of a dictionary that those who are new to the market can use when they first get started.
There are also guides on how to install and run MT5 on your Mac, Windows, Android, or iPhone. For each device, Flag FX highlights a link that takes traders to MT5's website. From there, users can follow the step-by-step instructions and access their accounts on the platform.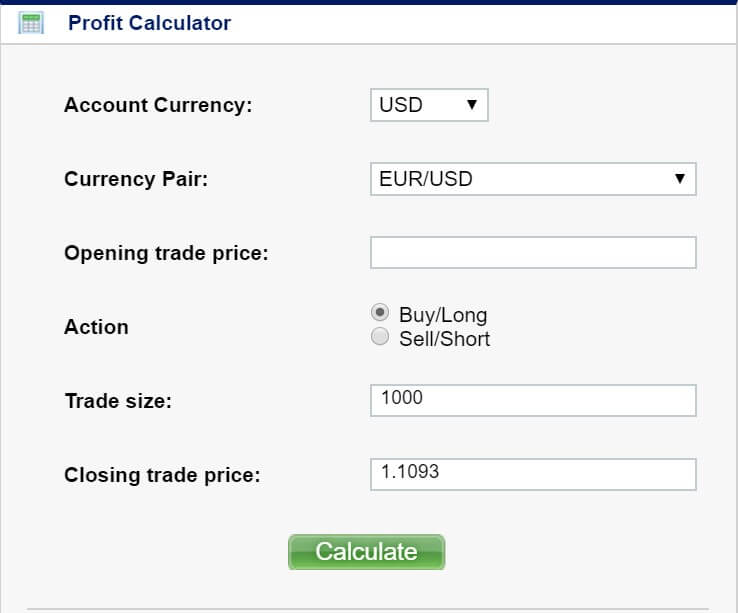 Moreover, we found the calculators on the website to be incredibly resourceful. Flag FX has four of them: Currency Converter, Price Calculator, Margin Calculator, Risk Calculator. To use the Profit Calculator, you would first input your account's base currency, the traded forex pair, the entry and exit prices, the position's size (in lots), and whether you are long or short. After that, the tool reveals your exact profit or loss from the trade. The Currency Converter, on the other hand, gives you the current price of your specific forex pair.
It is important to note that Flag FX's website seems to have mixed up the Profit Calculator and Currency Converter. Keep that in mind when you use these tools. Meanwhile, users can utilize the Pip Calculator to identify the size of one-pip in price movements for different instruments. Beforehand, they must specify their account's base currency and the number of lots traded. Lastly, the Margin Calculator requires you to enter the price that a forex pair was bought or sold at, how leverage was used, and the position's size. Subsequently, it tells you how much buying power was allocated to that trade.
Customer Service
Since Flag FX's website is lagging in information, traders who are considering the broker should contact the customer service department to get information about spreads, withdrawal processing times, promotions, and any other area that they are interested in.
Phone: 0850 898 0 888 and 0850 305 35 24
Email: [email protected]

The broker can also be reached by filling out an online form. Their hours aren't posted either. However, they are headquartered in Montenegro and their main office likely operates based on the country's timezone.
Demo Account
Demos are managed through MT5, which gives those who are new to the platform (or the forex market, in general) a chance to test their strategy with paper money, as opposed to real funds. You can also pick your demo account's balance or change it by contacting customer support. The demo has access to the same price quotes and market data as the live account.
Countries Accepted
Flag FX works with traders in over 20 countries. Their main office is in Montenegro, but they also have a physical presence across multiple locations in Cyprus. There isn't a list of country or geographic restrictions. However, the broker allows you to engage in hedging strategies, which is restricted in the United States. In light of this, US-based traders should make sure that Flag FX is available in their country. So should those who live in an area that regulates or prohibits hedging and/or financial instruments that this broker offers.
Conclusion
One of the best features that Flag FX offers is educational material. Its calculators are integrated with actual forex prices, giving traders a way to accurately measure their risks, buying power, and potential profits. Moreover, beginner and expert traders, alike, will appreciate the MT5 guides. Anyone who never used the platform can directly learn from the MetaTrader website about different tools and resources, including ones that they weren't previously aware of. However, when it comes to spreads, margin requirements, available assets, and transaction times, the information on Flag FX's website is limited. 

In short, traders who buy/sell commodities or indices should inquire about the available assets and traders who use a lot of leverage should ask customer service about the spreads. Nonetheless, deposits are instant and the broker accepts many ways to fund your portfolio. Just as importantly, their leverage is generous and the account types are rich with a variety of tools. Flag FX is available all over the world, making it easy for traders to access the markets in a convenient and well-informed manner. The broker's demo account gives you a prolonged period of trial and error, which further prepares beginners before they risk their actual funds. Even the deposit is minimal and more than affordable for many people.