70Trades is an online foreign exchange and CFD broker based out of Cyprus. They do not give a lot of information about their history, however, they have provided a list of what they feel are their main selling points:
Customer service 24 hours a day, 5 days a week
User-friendly platforms
Multilingual support: English, Arabic, and Spanish
Easy withdrawal process
Online trading courses
Markets news and updates
Professional analysis
Training sessions for each level
Webinars with investors from all around the world
We will be going through the website to find out exactly what services are on offer and to see how they compare to the competition.
Account Types
There seems to be three different account types available, and the trading conditions within them all seem to be the same. So as we go through the review any trading conditions will be relevant to all three account types. Below we have outlined some of the additional features that you get from the accounts: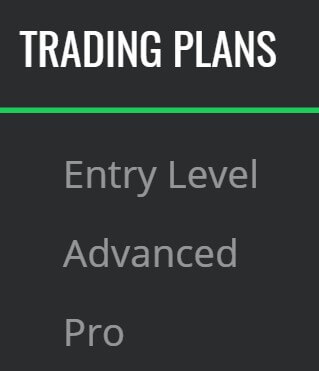 Entry Account:
A deposit is required between $200 and $1,000
Introduction lesson with an expert
1-on-1 trading session
Personal account manager
Trading tutorials
Beginners eBook
Super-low Fixed spreads
Service and support 24/5
In addition to this stater account, there are two additional accounts for more seasoned traders…
Advanced Account:
A deposit is required between $1,000 and $4,000
Advanced trading tools
Access to Daily Updates
Personal account manager
24/5 Support
1:200 Leverage
Advanced trading course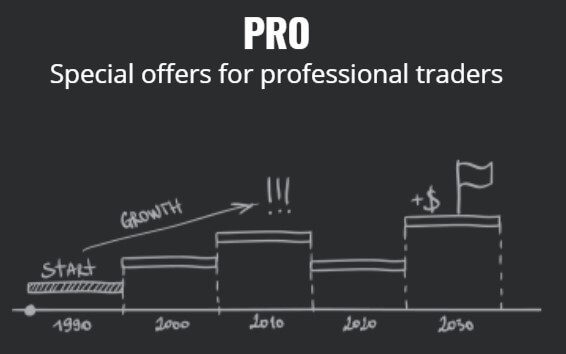 Pro Account:
This account requires a deposit of at least $4,000
Fast trade execution
Advanced trading tools
1:200 Leverage
Technical Analysis
Access to Daily Updates
24/5 Support
Currency charts
Platforms
The platform on offer is called PROfit. It is available as a web trader and as a mobile application. They aren't providing a lot of inflation on the platforms, but some of the few features mentioned are that the web trader offers one-click trading, no re-quotes, instant trade execution, and advanced charting system. The web application allows you to trade anywhere, it's a user-friendly mobile app, and allows you to access market analysis and is suitable for both Apple and Android.
Leverage
The leverage that you are able to get depends on the assets and instruments that you are trading, they are as follows: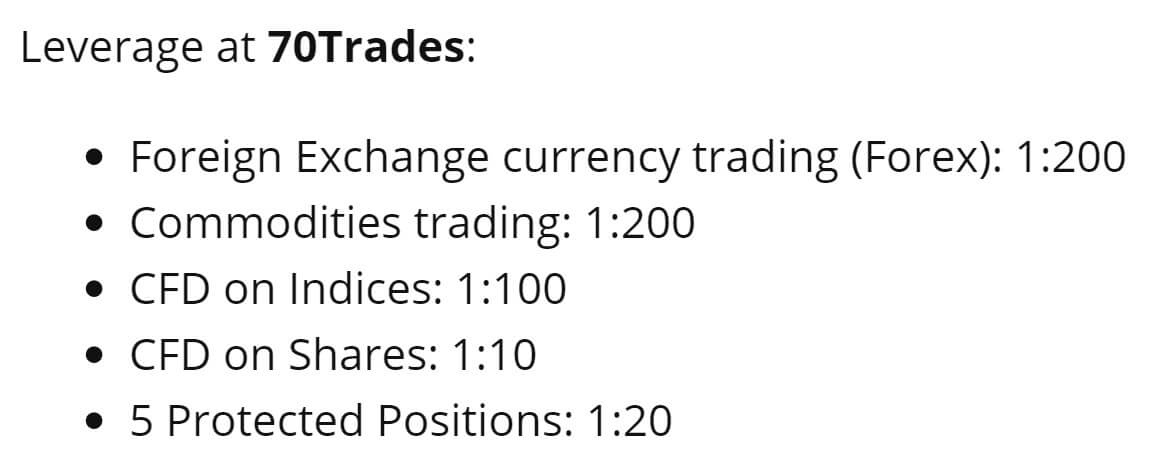 So 1:200 is the maximum leverage which is a little below the 1:500 that a lot of brokers now aim for, but still offers a good risk and reward ratio.
Trade Sizes
While most of the information on trading conditions is present we do not have much in regards to the trade sizes. While the minimum deposit if $200, we suspect that this will mean that trade sizes of 0.01 lots. We do not, however, have any idea of what the maximum trade size is or how many open trades and orders you can have at any one time.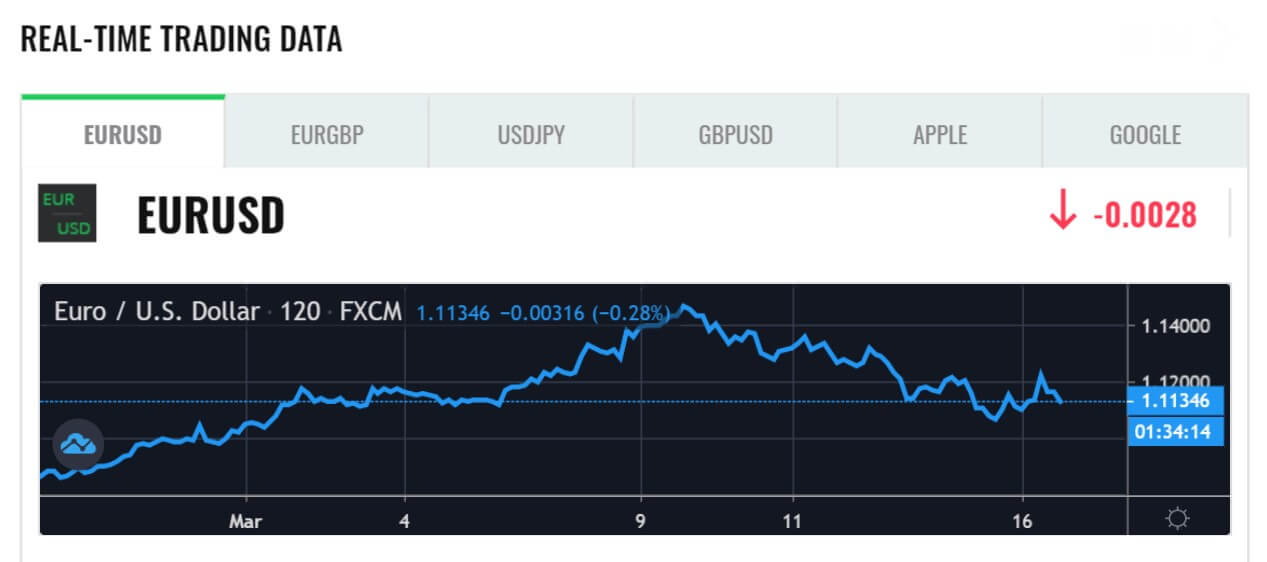 Trading Costs
There are no added commissions or fees when trading, 70 Trades have stated that multiple times throughout the site. There will be swap charges though, and these are fees that will be either charged or received when you hold trades overnight. These costs can often be viewed within the trading platform that you are using.

Assets
It is unfortunate that there isn't a full breakdown of the available instruments and assets. Instead, we have just a few examples of each, and have outlined the examples that we know below.
Forex:
EURUSD, GBPEUR, CADCHF, GBPSEK, USDPLN, NZDJPY.
Commodities:
Gold, Silver, Oil, Corn, Coffee, Copper, Natural Gas, and others.
Indices:
CAC 40, S&P 500, FTSE 100, IBEX 35, Nikkei 225, Dow Jones, and others.
Stocks:
Apple, Facebook, Walk Disney, Citigroup, General Electric, and Google are just a few out of the available stocks.
Spreads
The spreads seem to start from around 3 pips. They are fixed spreads which means they will not move with the markets and will not be influenced by them. It is also worth mentioning that different instruments will have different spreads, so while EUR/USD may have a spread of 3 pips, other instruments will be higher.
Minimum Deposit
The minimum amount that you are able to use to open up an account is $200. This is a reasonable amount and will allow newer traders to join up, and allows for some risk management on the account. We do not know if this amount reduces for any further top-up deposits.

Deposit Methods & Costs
There are a few different methods available to deposit with, these are Credit/Debit Card, Skrill, Neteller, WebMoney, and Bank Wire transfer. In terms of any fees, there isn't anything mentioned dso we are not able to comment on whether they are present or not. What we will do though, is recommend that you contact your own bank or payment provider to see if they will charge any outgoing transfer fees.

Withdrawal Methods & Costs
The same methods seem to be available to deposit with. Once again they are Credit/Debit Card, Skrill, Neteller, WebMoney, and Bank Wire transfer. Just like with the deposits, there is no further information provided on any possible fees added by 70Trades. As always we would suggest contacting your payment provider to see if they will charge any processing fees of their own.
Withdrawal Processing & Wait Time
70Trades does not indicate how long it will take for them to process your withdrawal. However, they do state that the process should fully complete within 2 to 6 working days. This time will depend on the method used and the method's own processing times.
Bonuses & Promotions
Looking through the site, we did not notice any information pertaining to bonuses or promotions. So there may not be any active at the time of writing this account. If you are interested in bonuses, then you could always contact the customer support team to see if there are any you are able to take part in.
Educational & Trading Tools
There are various educational courses available which cover, beginner, experienced and professional trading techniques, including commodities trading, gold trading, and oil trading. We weren't able to look into the details of them too much so we cannot comment on the suitability or quality of each.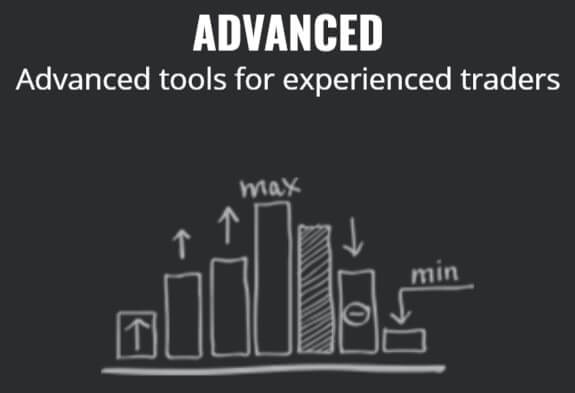 There are a few little tools available. There is a live data center that gives you live prices of various assets, an economic calendar that tells you about upcoming news events and the impact that the events may have on the markets, and finally, there is a news feed available.
Autochartist is a tool that is available to use with 70 Trades. This offers features to help with your trading, it can identify and react to market movements, check the quality and competitiveness of your broker's pricing, manage your cash exposure, optimize your stop loss and take profits, capitalize on known outcomes of news events and identify and react to market movements that are not typical.
Customer Service
You can get in contact with the customer service time from Monday to Friday between the hours of 8:30 and 17:30. You are able to contact them using a postal address, email address, and phone number, so there is a choice of methods available to use.
Address: Wanakena Ltd, 73 Arch. Makarios III Avenue, Office 301, 1070 Nicosia, Cyprus
Phone: +442031290685
Email: customer.service@70trades.com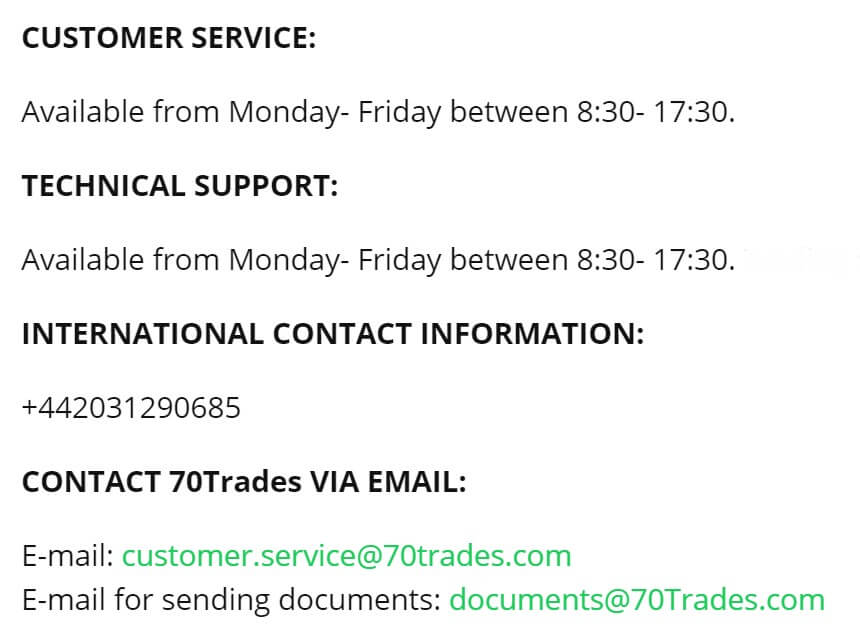 Demo Account
Demo accounts are available once you sign up for a basic account, The demo account allows you to test out the trading conditions as they will mimic those of a real account. It is also a way to test out new strategies without risking any of your own capital. We do not know if there will be an expiration time on these accounts though.
Countries Accepted
The only information available on the site is the following statement "Any information included in this website does not constitute an offer of services for clients residing in any jurisdictions where such offer is not authorized." This doesn't really help so we would suggest contacting the customer service team to check whether you are eligible for an account or not.
Conclusion
We have seen a website that looks very much like the 70Trades website before, so it may possibly be a clone of another broker. In terms of the trading conditions, the leverage is fine at 1:200. However, the platform used isn't as sophisticated as MetaTrader 4. As an example and the spreads are starting very high at around 3 pips, and this can make it quite expensive to trade here. In terms of deposit and withdrawal methods, there are enough available to cater to most needs and there doesn't appear to be any fees. However, we do not know for sure. Due to the costs of trading, we would personally suggest comparing costs among FX brokers before making your final selections.