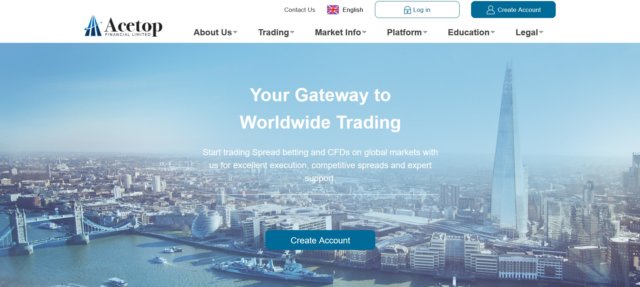 Acetop Financial Limited was formed in 2016 and is authorized and regulated by the Financial Conduct Authority (FCA). They are based in London and offer forex, CFD and spread betting services. Acetop has the vision to be recognized across the industry as the most trusted provider of trading serviced with an unparalleled commitment to offering first-class service. In this review, we will be looking at different aspects of what Acetop provides to see if they can live up to their visions and so you can decide if they are the right broker for you.
Account Types
There are two different accounts on offer from Acetop and both are very different from one another, these are a spread betting account and a CFD trading account.
Spread Betting Account: Spread betting accounts are used within the UK to help avoid paying tax, these accounts are classed by the UK government as gambling and so do not require any capital gains tax being paid. The account can use MetaTrader 4 as a trading platform and has a stop out level of 50% and the margin call level of 100%. The account can be in either EUR or GBP as a currency and there are 50 different products to trade. The minimum deposit is £100 or €150 and swap charges are present for holding trades overnight. The spreads are variable and the minimum trade size is £0.10 or €0.10 and the maximum trade size is £250 or €250. Demo accounts are available for free and as mentioned this account is tax-free.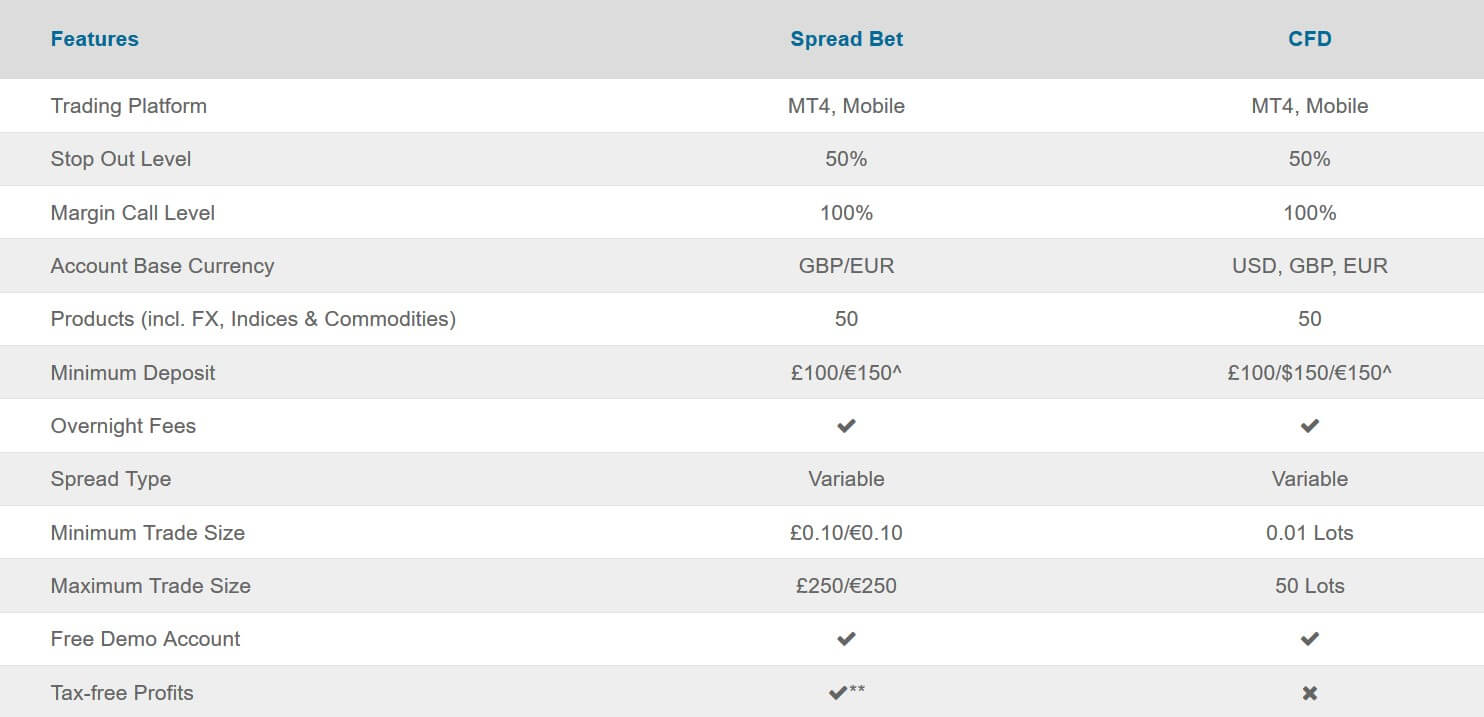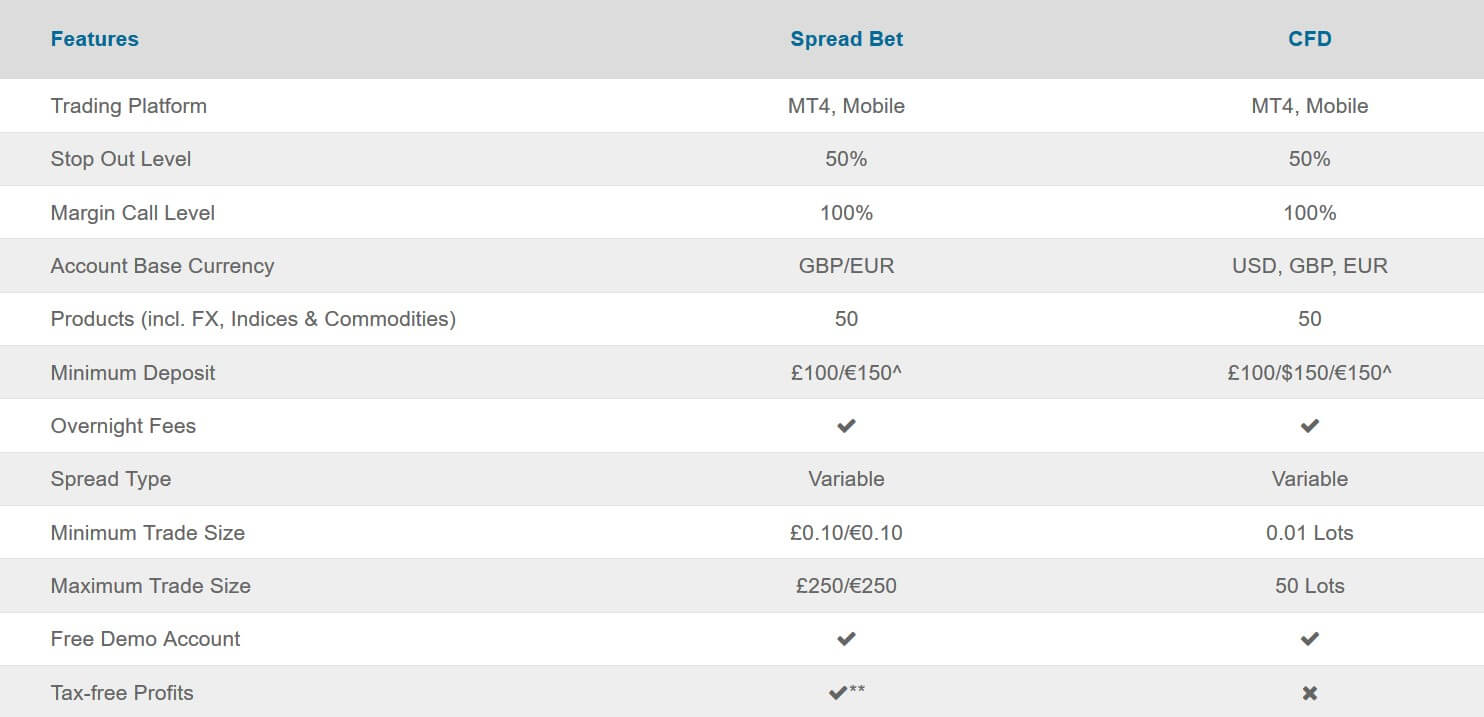 CFD Account: The CFD is account is more like what you will see at many other brokers, this account also uses MetaTrader 4 as its trading platform and has a margin call level at 100% and stop out level of 50%. The base currency of this account can be in EUR, GBP or USD and it has 50 different instruments to trade. The minimum deposit is £100, €150 or $150 and this account has swap charges for holding trades overnight. The spread is variable and the trade sizes start from 0.01 lots which a maximum trade size of 50 lots. The account comes with a free demo and the account is no tax-free so capital gains tax must be paid on any profits (please see your accountant for more information).
Platforms
Both accounts with Acetop use the same trading platform, there is just the one available and that platform is MetaTrader 4.
MetaTrader 4 (MT4): MetaTrader 4 (MT4) is one of the world's most popular trading platforms and for good reason. Released in 2005 by MetaQuotes Software, it has been around a while, it is stable customizable and full of features to help with your trading and analysis. MT4 is compatible with hundreds and thousands of different indicators, expert advisors, signal providers and more. Millions of people use MT4 for its interactive charts, multiple timeframes, one-click trading, trade copying and more. In terms of accessibility, MT4 is second to none, available as a desktop download, an app for Android and iOS devices and as a WebTrader where you can trade from within your internet browser. MetaTrader 4 is a great trading solution to have.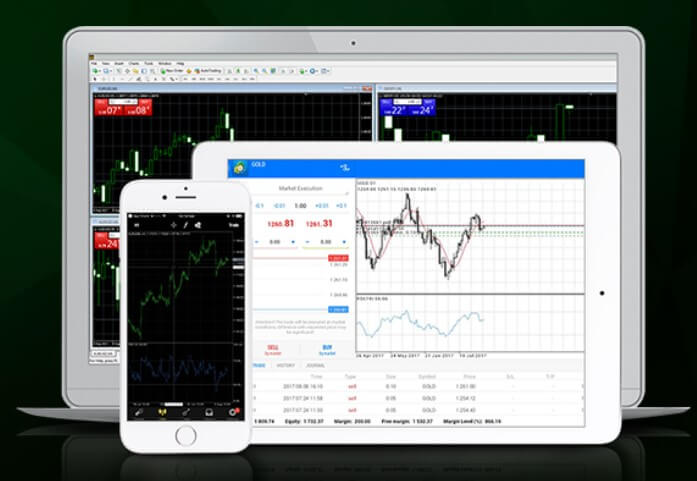 Leverage
Leverage exists with Acetop however there isn't any mention of what the maximum or minimum leverages are, the example given on the website states 1:50 but we can not tell if this is the maximum or if it goes further. The FAQ on the website also states that once leverage on an account is set it can not be changed. This could also be meaning that there is no choice in leverage and you must use what Acetop suggests.
Trade Sizes
Trade sizes for CFD trading start at 0.01 lots and go up in increments of 0.01 lots so the next trade would be 0.02 lots and then 0.03 lots. The maximum trade size is 50 lots which is an appropriate level as you would not want to make trades much higher due to difficulties with executing large trades quickly and without slippage. The spread betting account has trade sizes starting at 0.10 base currency and go up in increments of 0.10 base currency. The maximum trade sizes are 250 base currency.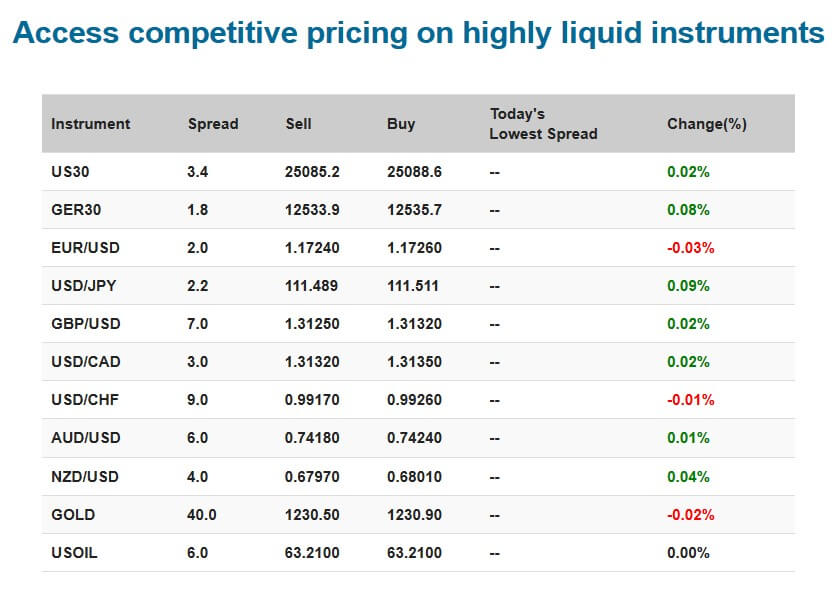 Trading Costs
There is no added commission on either of the accounts, they use a spread based payment structure that we will be looking at later in this review. Swap charges are present though and are charged for holding trades overnight, these can be both positive and negative and can be viewed from within the MetaTrader 4 trading platform.
Assets
Acetop does not provide a massive range of products, they are broken down into three different categories, Forex, Commodities, and Indices. The website states that there are 50+ forex pairs including EUR/USD, EUR/NOK, NZD/JPY, and AUD/USD. There are only four different commodities available in the form of Gold, Silver, US WTI Oil, and UK Brent Oil. Finally, there are 10 indices including UK 100, US Dollar Index, Germany 30 and US Tech 100.
Spreads
The spreads comparison between the two account types make it seem like they are almost identical, the main difference in spreads will be dependant on the instrument that you are trading. For example, AUD/CAD has a starting spread of 2 pips, while AUD/NZD has a starting spread of 3 pips. These spreads are what is known as variable (or floating), this means that they move with the markets, when the markets are being volatile the spreads normally widen and get bigger. The stated numbers are the minimum that they will be and they will often be seen much higher.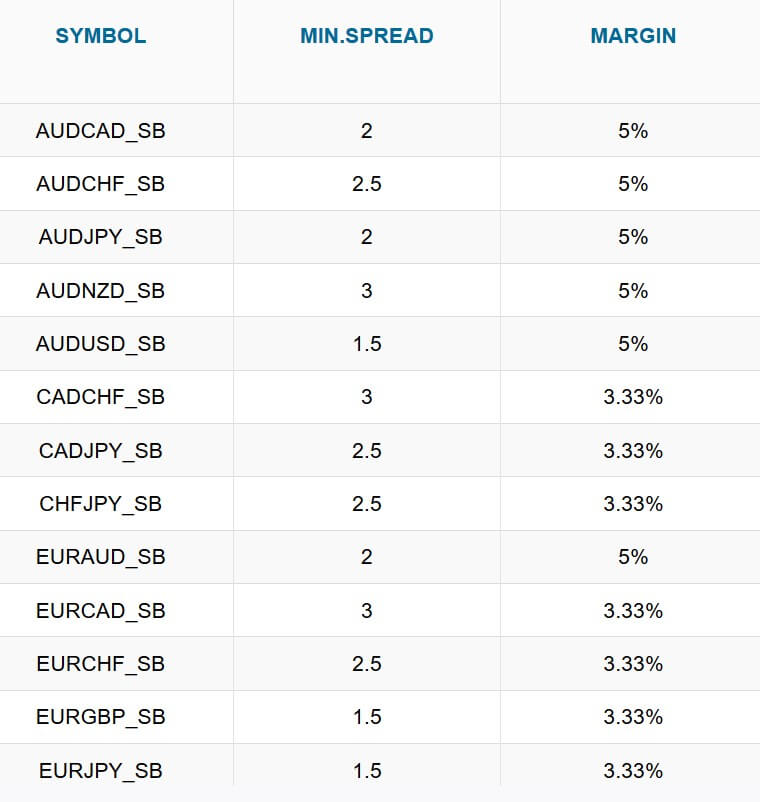 Minimum Deposit
The minimum amount required to open ana account with Acetop is currently set at £100, $150 or €150 depending on the currency you want the account in. Once ana account has been opened, with many brokers the required deposit for future top-ups can fall to a lower amount however there is no indication that this happens with Acetop so we will state that they remain at £100, $150 or €150 just to be safe.
Deposit Methods & Costs
The following methods are available to deposit with Acetop: Bank Wire Transfer, MasterCard Debit / Credit, Visa Debit / Credit, UnionPay, and Skrill. There are no additional fees when it comes to depositing and Acetop will cover any fees that the processors may add.

Withdrawal Methods & Costs
The same methods are available o withdraw as they are to deposit, for clarification these are Bank Wire Transfer, MasterCard Debit / Credit, Visa Debit / Credit, UnionPay, and Skrill. Acetop offers free withdrawals and does not add any fees of their own for withdrawals. It is important to note though, that the processor that you use may add fees of their own so be sure to check with them prior to making any deposits or withdrawals.
Withdrawal Processing & Wait Time
Processing times depend on the processor that you are using and the withdrawal method used. The Acetop Financial website states that all methods of withdrawals will take between 3 to 5 working days for you to receive your finances, however, we can not see Skrill deposits taking the same time as a bank wire transfer, so we would not take the numbers stated on the website as gospel.
Bonuses & Promotions
We could not locate any information on the website in regards to bonuses and promotions so it does not appear that there are any active at the moment, this does not mean that there won't be in the future so be sure to check back regularly if you are looking for bonuses.
Educational & Trading Tools
There are a few very basic things on offer when it comes to educational and trading tools. Ther is a market news section which gives you some news about what is happening in the markets, this also comes with an economic calendar which tells you of any upcoming news events and which markets they may affect.

In terms of education there re some FAQs on CFD trading as well as Spread Betting and Forex trading. There is also a section for seminars and events however at the moment there is a notice stating that there are currently none available, however, you should stay tuned for updates.
Customer Service
The contact us page outlines the different ways that you can get in contact with Acetop, these include phone numbers to the Acetop main platform as well as the client services department. There are email addresses for client services, compliance, marketing & PR and, Human Resources. The support department is open from 7 am to 5 pm (UK Time) Monday to Friday and closes over the weekend at the same time as the markets close.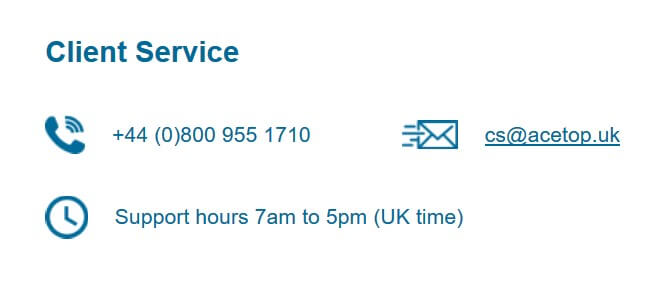 Demo Account
There are demo accounts available to both of the account types, the accounts will mimic the trading conditions of the account that you are using, there isn't any information in regards to how long they last, as some brokers let them go indefinitely while others put a time limit such as 30 days before they expire.
Countries Accepted
The following statement is present on the Acetop website: "The information on this site is not directed at residents of the United States, Belgium, Canada, Singapore, or any particular country outside the UK and is not intended for distribution to, or use by, any person in any country or jurisdiction where such distribution or use would be contrary to local law or regulation." If you are unsure of your eligibility, then be sure to get in contact with the customer service team to find out.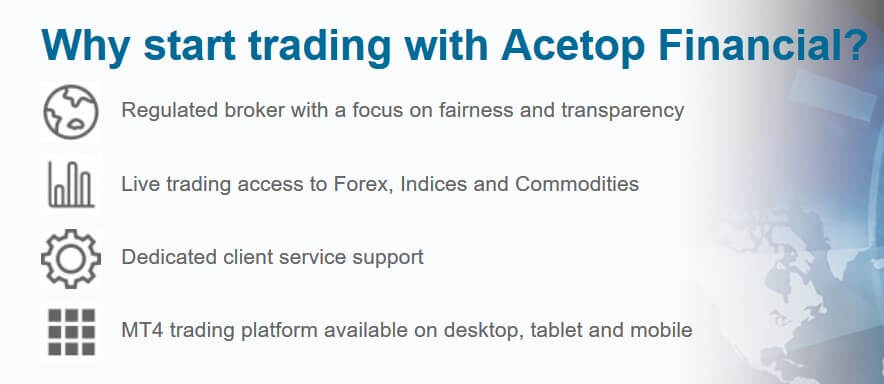 Conclusion
Acetop offers spread betting which is a little different to what you may be used to, if you are not in the UK then we would not recommend using this option and instead go for the CFD account. The trading conditions are ok, they are nothing special and while it states that spreads can be quite low, they are relatively high when comparing to the competition. Initial deposits are low which makes them appealing to newer traders however there isn't a huge selection of assets to trade which could mean there are moments of downtime (no trading) where you could be trading on other brokers.
We hope you like this Acetop Financial review. If you did, please be sure to check out some of the other reviews on Forex Academy to help find the broker that is right for you.