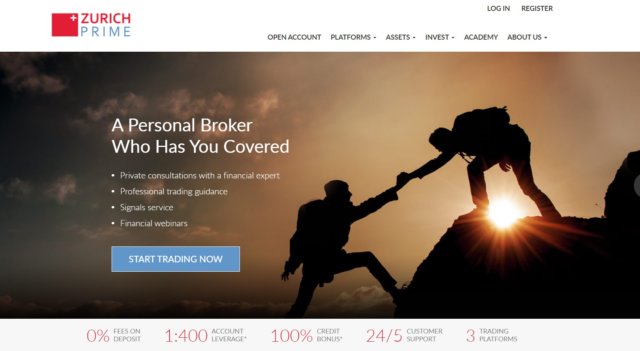 Zurich Prime is an online NDD Forex and CFD broker that was launched in 2017. The company is based in Romania and offers leveraged trading of up to 1:400 on FX options. The broker's asset portfolio consists of several different instrument types, including currency pairs, Precious Metals, Energies, Indices, Stocks, Commodities, Stocks, ETFs, and CFDs. The large variety of tradable options could certainly be enough to attract one to the broker's website, although we were determined to find out whether the trading conditions make this broker a worthy choice.
Account Types
This broker offers five different account types, including Standard, Silver, Gold, Platinum, or Islamic. Leverage options and trade sizes are shared by all accounts and the differences seem to come in the form of deposit requirements and spreads. The Standard and Silver accounts require different deposits, although both accounts share the same spreads. Once one reaches the Gold account level or above, welcome bonuses can be activated and spreads begin to drop lower, with the very best spreads being reserved for the most expensive Platinum and Islamic accounts.
This broker has done away with commission fees entirely, meaning that traders will only pay costs through spreads and swaps. Those that are looking to open a traditional Islamic account may be satisfied to see that the broker has tailored an attractive account for them specifically. We've detailed the aforementioned conditions for each account type below.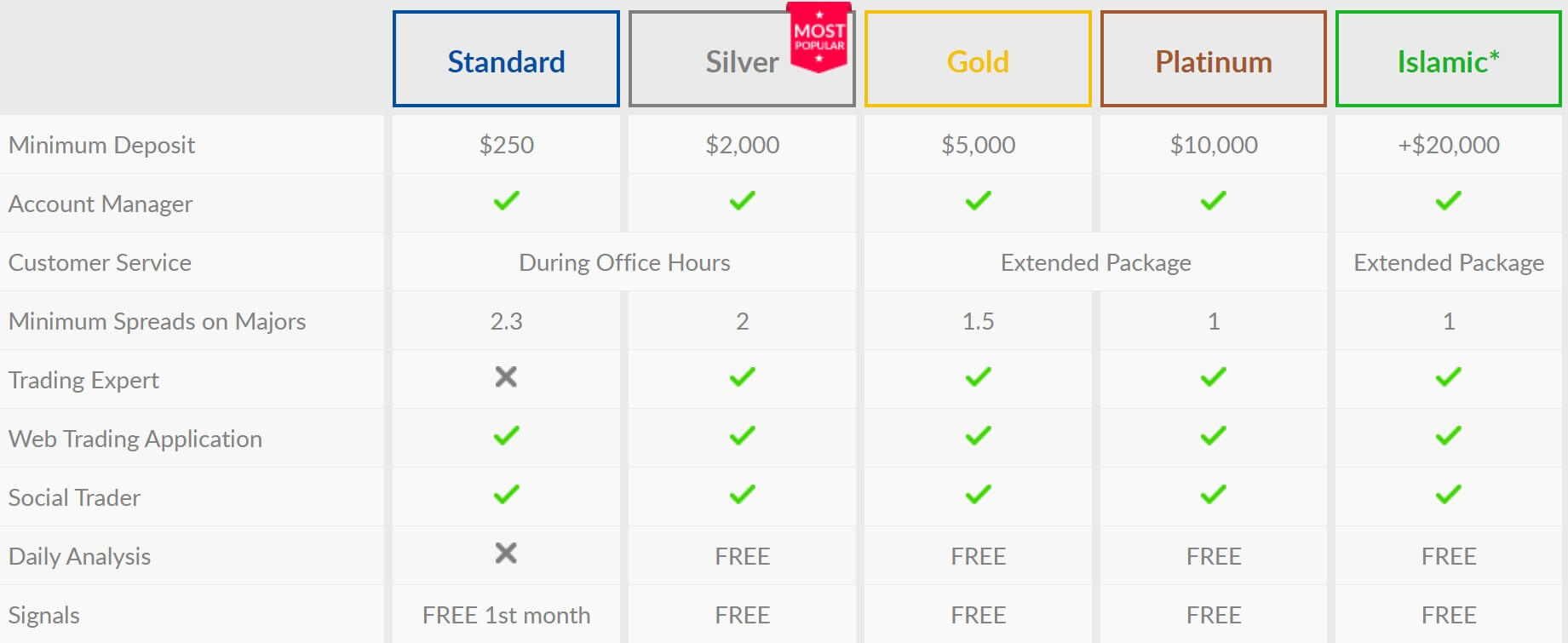 Standard Account
Minimum Deposit: $250
Spreads: 4-5 pips
Leverage: Up to 1:400
Silver Account
Minimum Deposit: $2,000
Spreads: 4-5 pips
Leverage: Up to 1:400
Gold Account
Minimum Deposit: $5,000
Spreads: 3-4 pips
Leverage: Up to 1:400
Platinum Account
Minimum Deposit: $10,000
Spreads: 1-2 pips
Leverage: Up to 1:400
Islamic Account
Minimum Deposit: $20,000+
Spreads: 1-2 pips
Leverage: Up to 1:400
Platform
We don't see the most popular options MetaTrader 4 or 5 available through this broker. Instead, the company supports the SIRIX platform, which is accessible through WebTrader, PC, or on mobile devices, including iOS and Android. The platform advertises advanced functionality that allows traders to make accurate predictions that lead to successful trades.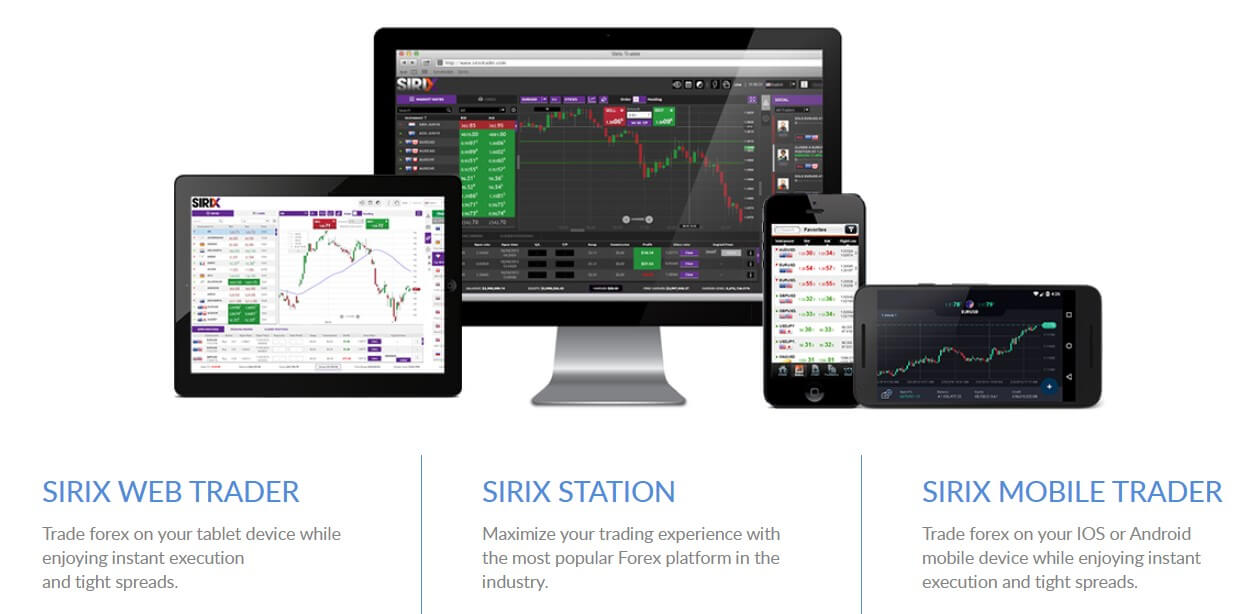 The program is easy-to-use and incorporates advanced charting with built-in indicators, one-click order capabilities with no re-quotes, and comes with fully integrated social trading. Overall, this platform does seem to be an effective option that is simple to navigate. Some traders may be disappointed to see that MT4 or 5 is not available, although this platform is popular and efficient enough to hold up on its own.
Leverage
All accounts share the same leverage caps, with limitations set based on the category of asset that is being traded. On FX options, a generous leverage cap of up to 1:400 is available. This amount should be more than enough for even the most professional traders. On Precious Metals, Commodities, and CFDs, the leverage cap is set at 1:100. On Stocks and Indices, the maximum leverage cap is 1:25. For the holiday season, the broker is currently advertising a leverage option of 1:100 as an advantage on the instruments Dow Jones, NASDAQ, S&P 500, and Gold. One would need to contact their account manager in order to receive this benefit.
Trade Sizes
Micro lots are allowed on Standard, Silver, and Islamic accounts. A minimum trade size of 0.01 lots is required on the Gold and Platinum account types. We don't see any information about maximum trade sizes or stop out levels on the broker's website.
Trading Costs
This broker profits from spreads, swaps, and data fees. Zurich Prime does not charge commissions on any of their account types and incorporates all trading costs into the spread. Spreads can range from 1-5 pips when trading, depending on the account type. All open positions are automatically rolled over at the end of the trading day (5:00 pm ET). The value of the swap is determined based on the movement of the open position and the interest rate difference between the currency pair. The broker will also charge data fees on accounts that are inactive for a period of 90 days, although the fee can be avoided by temporarily deactivating the account. The broker does not list the exact charge in the case that the fee is incurred.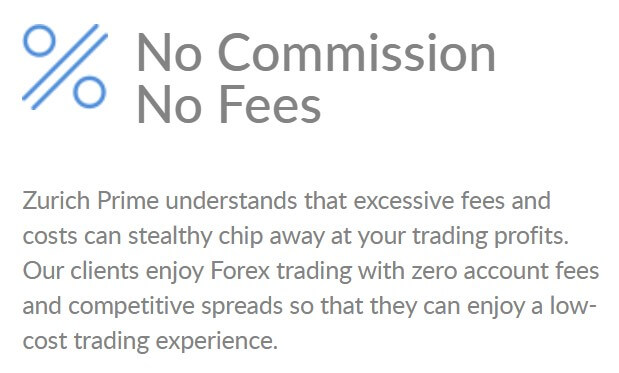 Assets
This broker's investment portfolio includes FX, Precious Metals, Commodities, Energies, Stocks, ETFs, Indices, and CFDs. FX options are made up of majors, minors, and exotics. Precious Metals include Gold, Silver, Platinum, and others. Commodities include Coffee, Wheat, Corn, Sugar, Cotton, and others. Energies are made up of Natural Gas, Oil, and others. Stocks include major options like Apple and Facebook as well as lesser-known options with a leverage of up to 1:25.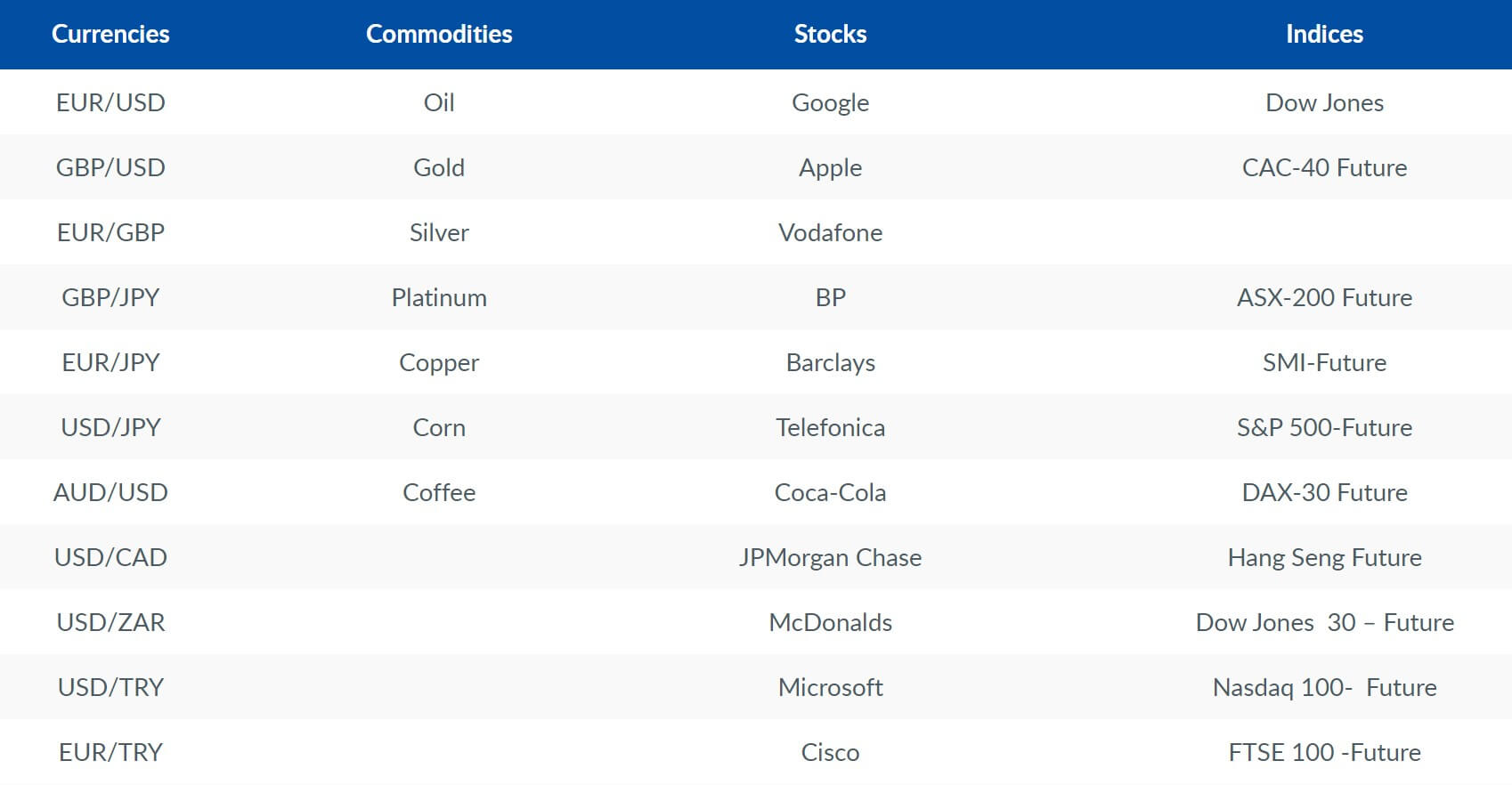 Four ETFs, Indices, such as the Dow Jones and NASDAQ, and CFDs on a large variety of instruments in all major markets are also available. The broker doesn't provide an entire list for each category, so it was impossible for us to count the exact amount that is available for each category. While we would have liked to see more transparency here, there is enough information to determine that the broker is offering a large variety of instruments.
Spreads
The very best spreads are reserved for the most expensive Platinum and Islamic accounts, with starting spreads from 1-2 pips, when trading major currencies. The second-best option of 3-4 pips is exclusively offered on the Gold Account. At the bottom of the list, we see spreads from 4-5 pips on the Standard and Silver level accounts. Since the broker has built all of the trading costs into the spreads, it makes sense to see spreads that are a little higher than the industry average, although the spreads on the Standard and Silver account still seem to be higher than we'd like to see, even with the lack of commission charges.
Minimum Deposit
Deposit minimums range from $250 up to $20,000+, with the cheapest $250 requirement being exclusive to the Standard account. One could argue that this is the industry average, although we typically see lower charges on Standard accounts that gravitate more towards the $100 range. The second most affordable account type would be the Silver option, which accepts deposits of $2,000.
If you're looking at the Gold account, you'll need to deposit at least $5,000, while the Platinum account requires a deposit of at least $10,000. On the higher end of things, the Islamic account requires a minimum deposit of at least $20,000 or more. Many will be happy to see that this broker has created an entire account type for Islamic clients, although the cost may turn away some of the broker's potential clients if they cannot meet the requirement.
Deposit Methods & Costs
Accounts can be funded by card (Visa, MasterCard, Maestro), Wire Transfer, EcoPayz, and Sofort. The broker does not accept third party deposits. The broker does mention that transfers may be subject to currency conversion charges, bank fees, or provider fees that are not reimbursable. Since the broker doesn't list these exact fees, it is impossible to say exactly how much may be debited from the total funded amount. On their homepage, the broker advertises 0 deposit fees from their side.

Withdrawal Methods & Costs
This broker does have a few rules in place to prevent money laundering. Any funds deposited via card must be withdrawn back to the same card and any profits can only be withdrawn via Wire Transfer. Profits can only be withdrawn in amounts that exceed $100 USD. The broker is not transparent about any costs that may be associated with withdrawals and one should expect to see bank charges.
Withdrawal Processing & Wait Time
If there are no active bonuses, the account is verified, and the submitted request is for an amount of the available balance or lower, then the withdrawal will be processed within 2 business days (Monday through Friday). Once processed, it can take 7-10 days for funds withdrawn via Wire Transfer or card to be received. The broker mentions that it can take longer to receive Wire Transfers due to the fact that this payment method must pass between several banks.
Bonuses & Promotions
Standard or Silver account holders will not qualify for any type of bonus opportunity. The Gold level account qualifies for a 10% Welcome Bonus, while the Platinum and Islamic accounts qualify for a 20% Welcome Bonus. The broker doesn't offer much more detail about the terms of the Welcome Bonus, although we can assume that this would be applied to the initial deposit that is made to the trading account. In addition, the broker advertises instant rebates, a 30% Power Bonus, and a 100% Credit Bonus, although terms are not discussed.
Educational & Trading Tools
This broker has dedicated an entire section of their website, titled "Academy", to providing educational resources. This section aims to explain different types of trading instruments, trading strategies, social trading, and economics. Traders can access the vast amount of data through video tutorials, e-books, or articles. Since an entire portion of this section is devoted to a Beginner's Course, one could defiantly say that this broker is doing their part to educate any novice traders that come their way. If you're more interested in tools, you'll be able to find an economic calendar, market news, financial news, summary news, and social trading available on the website as well.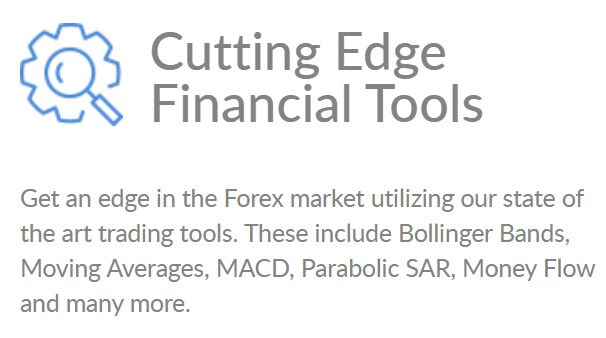 Demo Account
Unlike the majority of other Forex brokers, this broker does not currently offer a demo account. This was a little surprising, especially considering the fact that Zurich Prime seems to be dedicated to providing educational resources. Demo accounts are always an excellent tool for traders of all skill levels, so we did feel disappointed overall to find the option missing. One could always open a demo through another broker, although the conditions wouldn't mimic the exact conditions available through this broker, which would result in a watered-down experience.
Customer Service
Support is only available on weekdays from 9:00 am to 9:00 pm, local time. This broker does not offer instant contact LiveChat, so phone would be the quickest contact method, followed by an email or the alternative contact form that is available on the website; however, the broker does not list a direct phone number. The customer support team is based in Romania and uses the same email address for all five of their departments. All listed contact information has been listed below.
Email: support@biz.direct
Address: U-nex Solutions SRL, Bucharest, Romania

Countries Accepted
Under their terms of service, the company mentions that traders are required to know their own state laws in order to determine if they can legally open a trading account. We weren't certain if the broker would actually make it impossible for clients in certain countries to register, so we did check out their registration page to double-check. We were happy to find that the United States, Canada, Japan, North Kora, and several options that are typically restricted can, in fact, open an account through the broker.
Conclusion
Zurich Prime is an online broker that offers leveraged trading of up to 1:400 on a large variety of instruments, including FX, Precious Metals, Commodities, Energies, Stocks, ETFs, Indices, and CFDs from the SIRIX trading platform. This broker seems to follow a familiar pattern of rewarding clients that are able to make larger deposits with better trading conditions, with the best spreads of 1-2 pips available on the Platinum and Islamic accounts, which require deposits of $10,000 or more. Traders that cannot afford one of the better account types will be subject to spreads from 4-5 pips and would need to deposit at least $250 to open the cheapest account.
Fortunately, the broker has done away with commission fees altogether, which makes it easier to keep up with costs. The broker has a policy that is somewhat of a nuisance, where profits must be withdrawn through Wire Transfer for amounts of at least $100 USD. This could potentially restrict one from withdrawing their profits, even if they were very close to meeting that limit. The broker provides a vast library of educational resources, including videos and e-books, in addition to some trading tools and news. Strangely enough, demo accounts are not available.
Any trader that can afford a Gold level account or better will qualify for a Welcome Bonus through this broker. Support hours are limited to 9:00 am to 9:00 pm on weekdays and the instant contact option LiveChat is not available, meaning traders will need to call or email in order to get in touch with an agent. One would need to determine which account type would be the most advantageous, and whether they could afford it when deciding whether to invest with this broker.