Trade4x is an online forex broker that offers leveraged trading as high as 1:500 on FX, metals, indices, oil & gas, and stocks. The company is fairly vague when it comes to describing themselves and doesn't provide us with any details about who they are, when they were founded, or what missions they have. As for location, we do get the vague information that the company has offices located in Singapore and Dubai. We'd recommend taking a look at our detailed review if you're in the market for a forex broker, although the lack of background information may leave some traders feeling apprehensive about this choice.
Account Types
Trade4x offers three account types; Standard, Premium, and VIP. In addition, Islamic accounts are offered as a fourth account type. Standard accounts offer the same leverage options as the Premium account, with a lower deposit requirement and there is no listed information about the account's spreads. The Premium account offers starting spreads from 2 pips, in exchange for a larger minimum deposit. The VIP account offers the best starting spreads from below 1 pip, with fixed leverage of 1:100 and a $5,000 deposit requirement. The website never notes whether commissions are charged on any of the accounts. All of the listed conditions for each account type have been detailed below.
Standard Account
Minimum Deposit: $250
Leverage: Up to 1:500
Spread: NA
Commission: NA

Premium Account
Minimum Deposit: $2,000
Leverage: Up to 1:500
Spread: From 2 pips
Commission: NA
VIP Account
Minimum Deposit: $5,000
Leverage: From 1:100 fix
Spread: From less than 1 pip
Commission: NA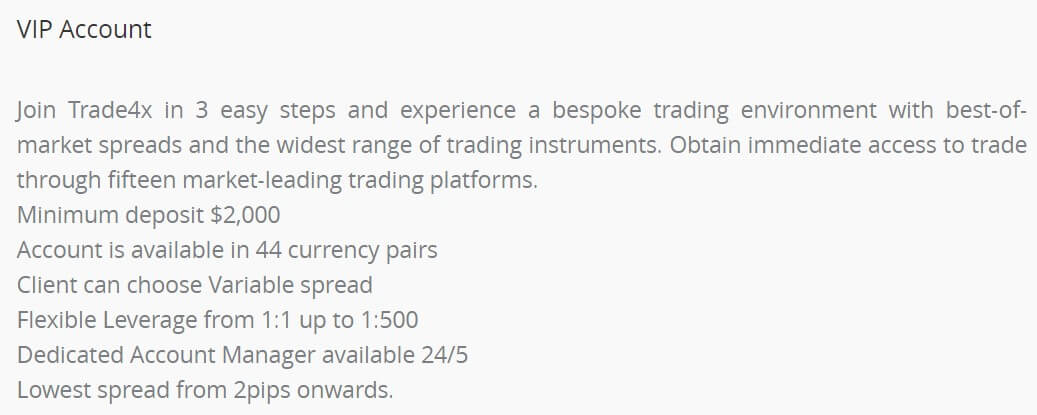 The broker will require documents that prove identity in order to verify the account, for example, a photo ID, passport, utility bill, bank statement, etc. The broker doesn't list how long wait times for verification can last, or whether one would be able to begin trading before fully completing the process.
Platform
This broker supports the MetaTrader 4 platform, which is available on PC, Mac, Iphones, Ipads, and Android devices. MT4 was designed with a customizable and easy to use interface that continues to satisfy the majority of traders today. The platform supports 100+ custom indicators, Expert Advisors, 4 pending timeframes, partial close, and various other built-in features. This is the platform that is most commonly offered by forex brokers and it has not lost any popularity since being released in 2005. MT4 should provide everything a trader could need, from beginner to absolute professional status levels.

Leverage
The Standard and Premium accounts offer a leverage cap of up to 1:500 with no limitations based on the account's equity. This cap is impressively higher than many of the competitor's offers, although beginners will want to keep in mind that trading with leverages this high can be extremely risky. For the VIP account, the broker offers fixed leverage of 1:100. This is the exact leverage that is preferred by a wide range of professional traders across the globe, although some may not like the fixed leverage on this account type.
Trade Sizes
Standard accounts allow for trading of micro-lots, while VIP accounts support the trading of mini lots. The broker doesn't provide an answer for the minimum trade size on Premium accounts, so we would assume these accounts would fall in the middle, either supporting micro or mini lots. The broker doesn't provide any information about maximum trade sizes or stop-loss levels.
Trading Costs
We can confirm that this broker charges swaps, rolling fees, and dormant fees on inactive accounts. Swaps are dependent upon the chosen account type and can start from below 1 pip up to 2 pips or more. One may want to avoid the broker's Standard account type since the exact spreads are not listed. The broker charges rolling fees, aka swaps, for extending a day-trading position until the following day. One potential way to avoid this charge would be to open an Islamic account if one meets the criteria to do so.
Accounts are considered dormant once there have been no transactions for 12 consecutive months. Once an account is considered dormant, the broker will charge a $25 annual maintenance fee or the remainder of what is in the account if the amount is less than $25. Unfortunately, the broker fails to mention commission charges anywhere on their website. It is possible that there are no commissions, although we would expect the broker to list commission-free trading as one of their advantages if this were the case.
Assets
Trade4x has an asset portfolio that consists of FX, metals, indices, oils & gas, and stocks. At first glance, the broker seems to be offering detailed product pages for each category. Unfortunately, clicking on each of these only takes us to a page that explains a description of each instrument type, instead of specific information and spread examples of what this broker has available. Aside from briefly mentioning that there are 44 available currency pairs, the broker doesn't provide an exact number of available instruments.

Spreads
The broker fails to mention what type of spreads are associated with their Standard account type. We're going to assume that those spreads start from more than 2 pips, based on the fact that the Premium account requires a deposit that is $1,500 larger and already offers starting spreads as high as 2 pips itself. This means that the broker would have to be offering a less attractive option on their cheapest account type. The only account that offers below-average starting spreads would be the VIP account, with starting spreads below 1 pip.
Minimum Deposit
The most affordable option offered by this broker would be the Standard account, which requires a $250 deposit. This amount is somewhat standard in the forex world, although it isn't hard to find brokers offering the same type of account for $100 or less. There is also a $2,000 balance limit on the Standard account type. In order to open a Premium account, one would need to deposit at least $2,000, so some may feel limited based on the higher requirement. Fortunately, a VIP account only requires a $5,000 deposit, which isn't unrealistic for that type of account. It would really come down to what the individual is willing to pay in order to access better conditions.

Deposit Methods & Costs
Accounts can be funded through Wire Transfer, credit and debit cards, and e-wallets. The website doesn't offer any further information about potential fees that may be incurred when making a deposit through one of these methods. For Wire Transfers, we would definitely expect to see some charges on the bank's side, although this can be checked by contacting your personal bank. The website doesn't list which e-wallets are accepted so it is hard to speculate for that payment method.
Withdrawal Methods & Costs
This broker sets some limitations that may change the available methods for withdrawals. Withdrawals can be refunded back to cards up to the amount that was funded by that card. In some cases, the broker will allow these refunds to be processed back to a bank account owned by the client. If the account has a currency that differs from the card's currency type, additional conversion fees may apply. The website does not go into further detail about any potential fees that may also be incurred on withdrawals. Unfortunately, this could mean that the broker will tack on high withdrawal fees without the client having any prior knowledge. These fees can really add up in the long run and we do wish that the broker would be more transparent on the subject.
Withdrawal Processing & Wait Time
Once again, Trade4x leaves us without any information about their processing times. We can be certain that it would take at least a few business days to receive funds through cards and Wire Transfer since one would be looking at the broker's processing time on top of the bank's own processing time. As for the e-wallets, we can't say for sure since we aren't provided with an exact list. Usually, withdrawals are credited back to these methods much more quickly.
Bonuses & Promotions
This broker's website is fairly simple and we don't see any extra offers for this category. This doesn't mean that these options won't be offered in the future, although the broker hasn't mentioned anything related to bonuses at any point on their website. If you decide to sign-up, keep an eye out for any updates.
Educational & Trading Tools
The "Education" section of the website is made up of four categories: Introduction to Forex, Technical Analysis, Fundamental Analysis, and Automated Trading. Under the first section, we see some brief but helpful information that explains some of the major concepts of forex trading. The Technical Analysis section is made up of the following: What is Technical Analysis, Technical Indicators, Charts, Support & Resistance, Chart Patterns, Mathematical Indicators, Fibonacci & Elliot Wave. The Fundamental Analysis section also consists of a brief explanation of related concepts. As for trading tools, we see automated trading and other tools built-into the MetaTrader 4 platform, with no additional options on the website.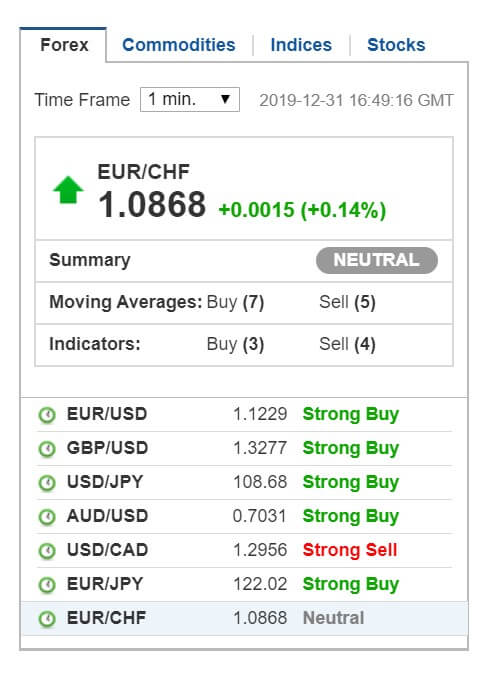 Demo Account
One can open a demo account through the broker by simply clicking "Open Demo" on the website's homepage. You'll then need to fill in a few simple details – name, email address, and phone number, before selecting a username and password. From there, traders will be able to start trading from the risk-free demo account. We don't see any customization options with this broker's demo accounts, so it seems that the account will come with a predetermined amount of virtual currency. It also seems that the demo account is only available in one type, rather than being available in the broker's Standard, Premium, or VIP versions.
Customer Service
Contact methods seem to be limited to email options or call back requests. The broker does mention the phone and fax at one point but never lists any phone numbers anywhere on the website. It is possible to fill out a callback request if one is willing to wait for a support member to reach out. Also, note that there is a live chat menu in the bottom right corner of the screen that doesn't seem to work. At first, we thought that support may not be online, but it seems that the broker has simply abandoned offering this contact option altogether. The broker is also active on Facebook, LinkedIn, and Twitter and it may be possible to contact support through their social media channels. One can fill out a feedback form under the "Support" section of the website. All available contact information has been listed below.
Email: support@trade4x.net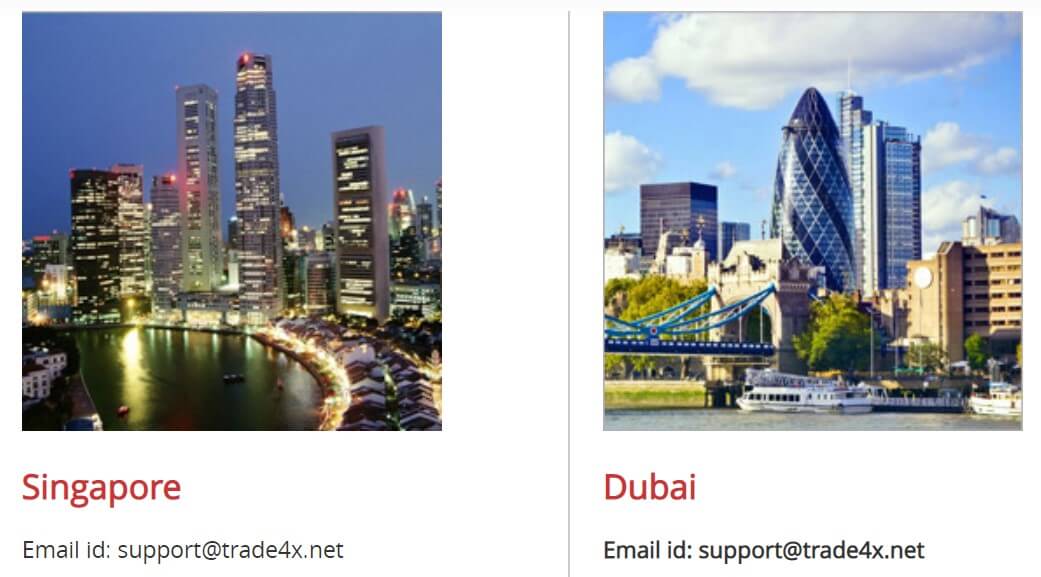 Countries Accepted
Trade4x explicitly states that residents of the United States and Hong Kong may not open accounts with them. We did try to test out the registration page to see if this rule was upheld, but the website seems to block users with certain IP addresses, confirming the statement that residents in the US are blocked. If you cannot access the sign-up page, chances are that the broker has purposely blocked users in your location from creating an account.
Conclusion
Trade4x is an online broker that offers leveraged trading of up to 1:500 on FX, metals, indices, oils & gas and stocks. Traders can choose from 3 main account types, with minimum deposits ranging from $250 up to $5,000. The lowest spreads start from below 1 pip on the most expensive account, with the highest spreads starting from more than 2 pips on the Standard account. The high spreads would be more forgiving if the broker actually mentioned whether or not commissions are charged in addition to the spreads. This leads us to believe that these charges are applicable, meaning that one would need to deposit at least $5k in order to access the only account with spreads that are not above average.

The website is also vague about funding and only mentions the available funding methods, without giving us any indication of how much it may cost to deposit and withdraw funds. Trade4x isn't offering anything extra, like bonuses, extended support hours, or LiveChat, but we do see some educational resources available. The website also fails to provide us with a lot of important information on the broker's background, such as what year the company was established, etc. Altogether, the lack of some information can be a red flag, but there is more information provided for the Premium and VIP account types if one is willing to make the larger deposit.