ProfiForex is an FX and CFD broker that offers market execution on CFDs and Metals and instant execution on forex instruments with 4-digit quotes. The company is located in Belize, owned and managed by TIM GROUP INC. and was founded by a group of traders with the goal to help others become successful. Since 2010, the broker has been attracting more clients and growing in popularity. Stay with us to find out whether the founders have actually managed to provide a competitive environment that their clients will benefit from.
Account Types
ProfiForex provides the choice between two real account types – Micro and Standard. In addition, the broker offers a demo, Islamic, joint, and corporate accounts. Both of the real accounts share several similarities, including minimum trade sizes, lack of minimum deposit requirements, spreads, and commission costs. On Micro accounts, the balance will be shown as USC or US Cents. For example, a deposit of $1 will show as 100 USC. Another difference would be the maximum trade size and the number of simultaneously opened positions that are allowed. Upon registration, the broker does not provide a choice between account types and it seems that the default account is Standard. Details for the two main account types have been listed below.
Micro Account
Minimum Deposit: None
Leverage: Up to 1:500
Spread: variable/fixed (See "Spreads")
Commission: 0.3 pips to 0.6 pips (See "Trading Costs")
Standard Account
Minimum Deposit:
Leverage: Up to 1:500
Spread: variable/fixed (See "Spreads")
Commission: 0.3 pips to 0.6 pips (See "Trading Costs")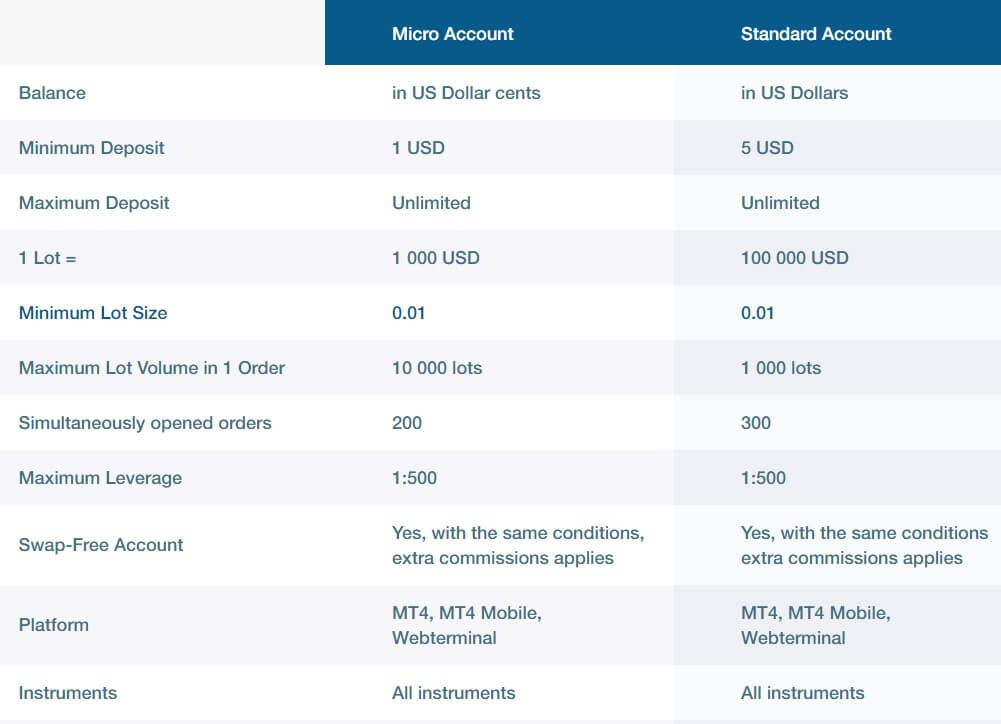 Unlike most of their competitors, this broker does not require verification documents and there are no restrictions placed on accounts that have not been verified, so there is no need to worry about withdrawals or other problems arising. It would still be wise to provide proof of ID and residence documents since the company does reserve the right to request these documents if the need arises. Fortunately, one would be able to begin trading without being delayed by the companies 5 business day waiting period.
Platform
This broker offers the world-famous MetaTrader 4 platform, in addition to the MobiusTrader7 platform. MT4 can be downloaded on PC, iOS, and Android devices, or accessed through the browser-based Webtrader. The website also provides download links for MobiusTrader7 on PC, Mac, Linux, Android, and iOS, and this platform can also be accessed through the browser with no download required. MetaTrader 4 could really serve as a standalone platform choice on its own, with support for one-click trading, Expert Advisors, customizable charts, economic news, reliable execution, analytical objects, multiple technical indicators, and more.
MobiusTrader6 also seems to be a worthy choice that supports trailing-stop and the ability to make multiple orders. The platform has an offline mode, offers access to the full trade history, supports all types of executions for trading operations, and has 3 different types of charts; bars, Japanese candles, and broken lines.
Leverage
The lowest leverage option that can be used is 1:1, which simply means that one is trading with the exact amount of funds that are within the account. The maximum leverage cap is set at 1:500 on FX and Indices and 1:100 on Metals. There is also a condition on EUR/TRY where the leverage is 10 times lower than the currently selected leverage option. The maximum cap offered by this broker is extremely high and should be more than enough to satisfy even the most demanding of traders; however, beginners may want to consider sticking with a lower option, as trading with higher leverages can cause one to lose a significant amount of funds quickly. Leverage settings can be changed at any time from the "Personal Area" once one is logged into their account.
Trade Sizes
Micro accounts allow for the trading of micro-lots and have a maximum trade size of 10,000 lots. Standard accounts also allow for the trading of micro-lots, with a 1,000 lot maximum trade size limit. Up to 200 orders can be opened simultaneously on a Micro account, while Standard accounts will allow for 300 open orders. The company reserves the right to close out the most unprofitable deals when the client's margin level drops to 15%.
For deposits that exceed $1,000, the margin call level is 80%, while the stop loss level is set at 60%. Scalping is allowed; however, orders must last at least 1 minute or they will be canceled on deals with fixed spreads. There is no limitation on deals with variable spreads. Hedging is also allowed, providing that there is a time gap of at least 5 minutes between the opposite deals being opened.
Trading Costs
ProfiForex profits from spreads, commissions, and swaps. The broker does not charge commissions on pairs with no suffix, for example, EUR/USD. A round turn commission of 0.3 pips is charged when trading on instruments with the suffix V and a round turn commission of 0.6 pips is charged when trading on instruments with the suffix ECN. Overnight interest, or swaps, are charged on positions that are held overnight, with a triple charge occurring on Wednesdays. There do not appear to be any inactivity fees charged by this broker.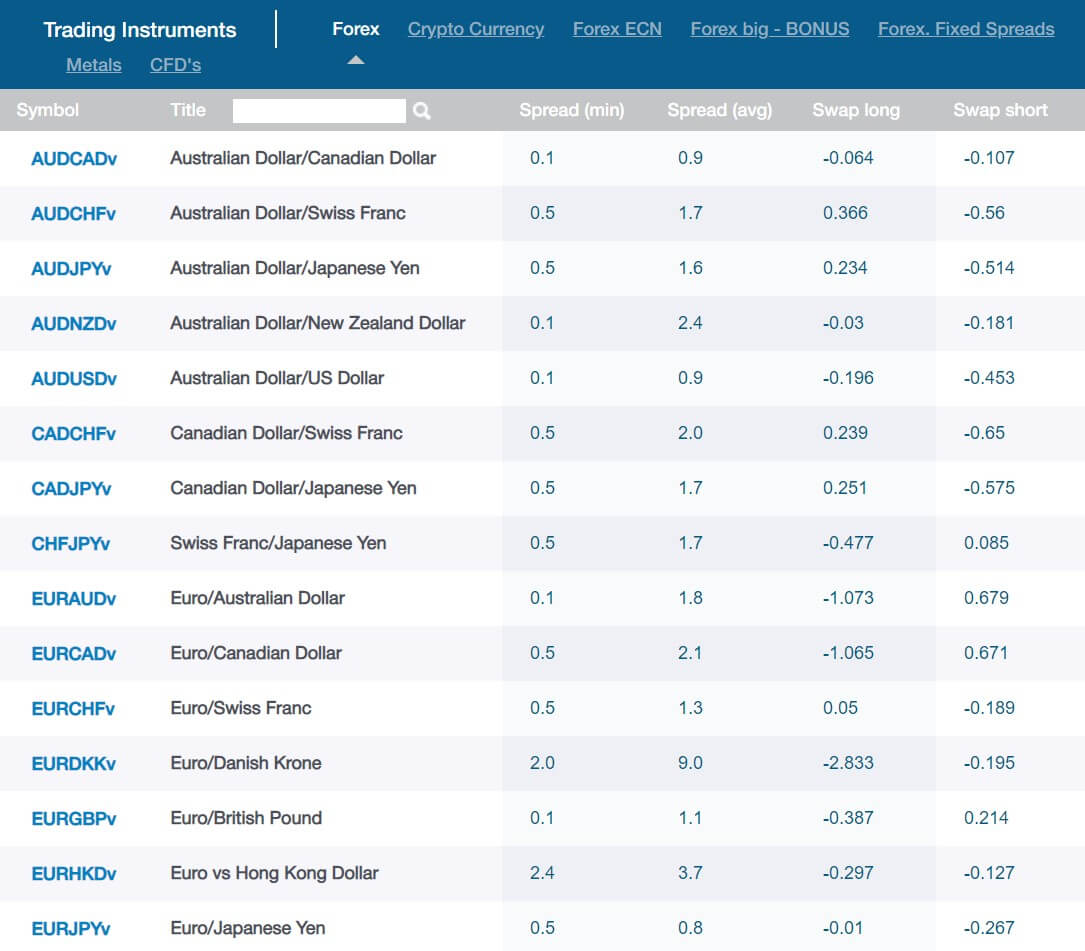 Assets
Trading instruments are limited to currency pairs, Metals, and CFDs. In total, the broker offers 49 currency pairs, including majors, minors, and exotics, like the USDTRY, USKNOK, USDHKD, and more. Metal options include Silver/Euro, Silver/USD Dollar, Gold/Euro, and Gold/US Dollar. There are 11 indices available, including Brent Crude Oil, natural gas, copper, and more. This brings the grand total of available instruments to just under 70 options.
Spreads
This broker offers variable and fixed spreads, and one can determine the spread type by checking the suffix that has been assigned to the instrument. If there is no suffix, then there are no commissions charged on that instrument and the spread is fixed. The suffix V stands for variable spreads, while the suffix ECN stands for lowered spreads. On the "Spreads And Swaps" page, users can view the minimum and average spread on each instrument for both the variable and fixed spreads. We see higher options on the fixed spreads, for example, the fixed spread on EUR/USD is 2 pips, while the minimum variable spread is between 0.1 and 0.5 (average) pips on the same instrument.

Minimum Deposit
The minimum required amount needed for the minimal contact size is only 3 cents, although the broker suggests depositing at least $2-3 for full-scale trading. Compared to the deposit minimums in the hundreds or thousands, this makes this broker one of the most affordable options on the market.
Deposit Methods & Costs
Accounts can be funded through Visa/MasterCard, Skrill, Bitcoin, Okpay, WebMoney, PerfectMoney, Neteller, RBK Money, Liqpay, W1, Yandex Money, QiWi, UnionPay, Boleto, and Mobile. If one decides to deposit via Visa/MasterCard, the broker will require a photo of the card, showing the name and last four digits, with all other information blacked out. All deposits should be credited instantly. The broker does not charge fees from their side but does mention possible fees that may be charged by each specific payment provider.
Withdrawal Methods & Costs
All of the deposit methods are available for withdrawals. The company does have a rule that states withdrawals can only be made back to the originating deposit method. It is unclear if any certain method must be used for profits, so we'll assume that clients can choose a method in those cases.
Exact fees are not listed on the website, although we were able to see the fees for a couple of methods on the withdrawal page after registering for an account. The rest of the payment methods are likely missing because we haven't made a deposit, although the website will display those commission fees for all methods once one does go to make a withdrawal with funds. The associated fees that we could view are listed below.
WebMoney: 0.8%
Visa/MasterCard: 2.9%
Skrill: $5
PerfectMoney: $5
Withdrawal Processing & Wait Time
Amounts less than $5,000 are processed within 24 hours, while amounts for more than $5,000 are processed within 48 hours. Withdrawals back to Visa/MasterCard may incur a longer wait time because of the bank's processing times. Withdrawals are only processed on business days and withdrawals made on Fridays will not be processed until the following Monday.
Bonuses & Promotions
The broker is currently offering a whopping bonus of up to 500% on initial and replenishment deposits. Upon making the deposit, traders will select the amount of the bonus, from 50% to 500%. The chosen amount will increase the account's leverage, for example, a bonus amount of 500% will result in leverage of 1:3000. The bonus is then reflected on the account as a credit and will be canceled out if the stop loss level is reached.
Portions of the bonus will also be subtracted from the account if a withdrawal is made. For each 1 lot that is traded, a separate amount of the bonus can be converted to withdrawable form on the account balance. The exact amount that can be converted varies and those conditions have been listed below.
Forex – 1 USD (per lot)
Forex.ECN – 1 USD (per lot)
Forex (Fixed Spreads) – 3 USD (per lot)
Forex.Big – 80 USD (per lot)
In addition, the broker is preparing to offer a newbie contest on demo accounts that will offer real cash prizes. More on that later.
Educational & Trading Tools
The ProfiForex has an entire section of their website dedicated to education. Within this section, we see tutorials that explain concepts like Bulls & Bears, moving averages, ADX, and more. Those articles contain photos and graphs that can help one to grasp the concepts much more easily. We also see a tutorial that is dedicated to explaining how to use the MetaTrader 4 platform with step-by-step photos. We also see articles that are dedicated more towards professional-level strategies and information based on the graphical analysis. Another section of the website is dedicated to trading tools; however, this section only includes downloads for the trading platforms.
Demo Account
A forex demo account allows traders to practice trading on the financial markets without risking any real funds. All currency is virtual, so traders can gauge their skill level based on their profitability within the program. A demo account can be opened directly from the website, or from within the trading platform. Traders will need to log in at least once every two months in order to keep the demo account active and non-active demo accounts will be archived. Another incentive to open a demo with this broker would be the ability to take part in a free contest that opens on the 22nd of January. The contest is for newbies and a grand prize of $100 will be paid out to the winners, with places 2 through 10 bringing home $5 to $50, depending on ranking.
Customer Service
Customer support can be reached through LiveChat or via email. Note that customer support cannot provide technical assistance over the phone and the broker does not provide any direct phone numbers. As for LiveChat, we are happy to see an instant contact option, although support was not online when we tried to chat later in the day. The exact hours that support is online on chat is not specified, so one would likely have to catch support at a good time. Otherwise, it's possible to reach out through email via the different email addresses that have been listed by the broker. The contact information is listed below.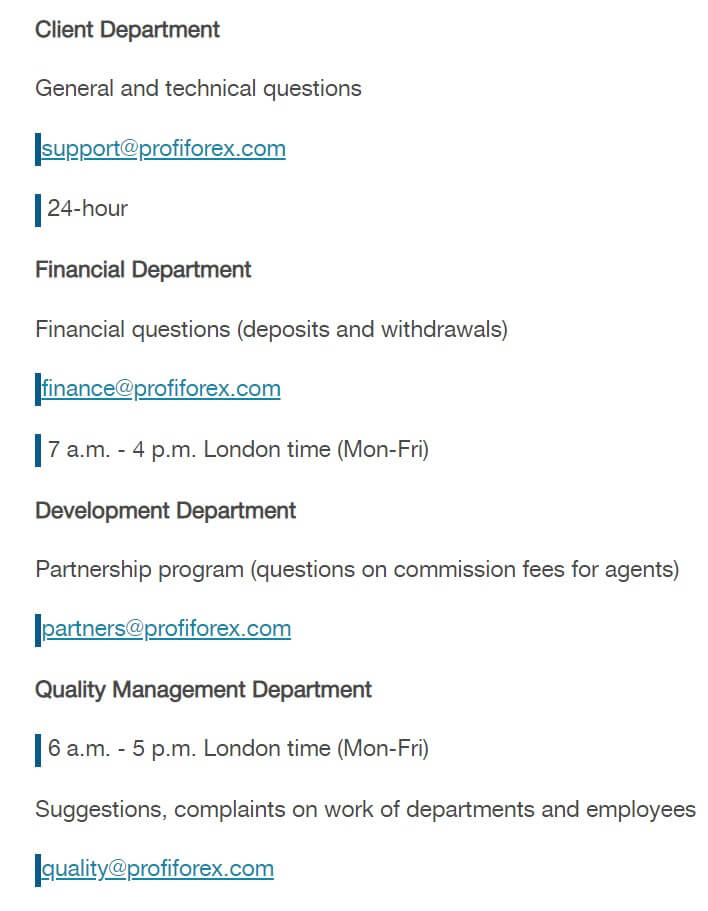 Email:
Client Department (24 hours): support@profiforex.com
Financial Department (7 a.m. – 4 p.m. London time Mon-Fri): finance@profiforex.com
Development Department: partners@profiforex.com
Quality Management Department (6 a.m. – 5 p.m. Mon-Fri): quality@profiforex.com
Management Department (6 a.m. – 5 p.m. Mon-Fri): boss@profiforex.com
Address: Corner Hutson & Eyre Street Suite 302, Blake Building, Belize City, Belize
Countries Accepted
We visited the account registration page to check for any obvious restrictions on the broker's sign-up list. Fortunately, the USA was a selectable option and we were able to register an account from our US-based offices with no problem. There is conflicting information, however, as the FAQ states that United States residents are not accepted. We also see Iran, North and South Korea, Canada, Iraq, Japan, and many other commonly restricted countries on the sign-up list.
Conclusion
ProfiForex offers leveraged trading of up to 1:500 on 64 total instruments, which include FX, Metals, and CFDs. Traders will have the choice between Micro and Standard accounts, both of which share many similarities. The broker does not require a minimum deposit of more than a few dollars. The broker offers variable and fixed spreads and charges commissions of 0.3 – 0.6 pips on certain instruments. Accounts can be funded through a variety of methods with quick processing times on deposits and withdrawals. Exact fees associated with funding for all payment methods are not listed.
Currently, an impressive 500% bonus is being offered and a contest that offers real cash prices for trading on demo accounts starts soon. The website also offers some educational resources, although we don't see any trading tools, like an economic calendar or calculators. Support is limited to LiveChat and email and agents do not always seem to be online during business hours. The broker offers service to clients in all locations and seems to be worth consideration.