WiseBitcoin is a crypto and token focused broker that is currently regulated by the Finance Services Authority (FSA). WiseBitcoin is looking to make crypto and token trading accessible and efficient investment in infrastructure and trading environments. We take a deeper look into what service is really being offered and if it is worth trading with them.
Account Types
WiseBitcoin is keeping things simple as there is only one account type to get, the "Standard Account". This account allows you to use all the features of WiseBitcoin and have the following benefits. The base currency can be EUR, USD, JPY or BTC, leverage ranging from 1:1 up to 1:100. All other features of the account will be looked at throughout this review, so we won't put them here to save repetition.
Platforms
WiseBitcoin continues to keep things simple, they are only offering a single trading platform, MetaTrader 5 (MT5). MetaTrader 5 came out in 2010 and has been adopted as one of the most used trading platforms for retail traders. It is the little brother or MT4 and offers huge amounts of customization, compatibility with hundreds and thousands of expert advisors and indicators and is extremely accessible due to it being available as a desktop download, an app for iOS and Android devices and as a WebTrader to use within your internet browser.
Leverage
The leverage available is based on the coin that you are trading, for instance, Bitcoin and Ethereum have a maximum leverage of 1:100, while Ripple and many others have a maximum leverage of 1:25. There is a handy page on the site that lists all current coins and tokens available and the leverage that is available for them, so be sure to check that out if you are interested in using WiseBitcoin for your crypto trading. 1:100 is quite high for Bitcoin trading when comparing to other brokers, while it can offer huge profit potential, we urge you to use caution as it also offers huge loss potential.
Trade Sizes
Just like leverage, the trade sizes are based on the coin or token being traded, so be sure to check out the product guide page that gives a full overview of the trade sizes allowed. As an example, Bitcoin has a minimum trade size of 0.01 lots (micro lot) and a maximum trade size of 1 lot, while Ethereum has a minimum trade size of 0.02 lots and a maximum trade size of 10 lots.
Trading Costs
There are a few different fee structures with WiseBitcoin, there are spreads, commissions, and swap charges.
Commission: Currently, there are no commissions added to any trading with WiseBitcoin, so you can trade cryptocurrencies and tokens free from any commission.
Spread: Spread is the difference between the buy and sell prices, this is decided by the liquidity of the market, it is constantly changing but with WiseBitcoin it will sit anywhere between $0 and $30 when trading Bitcoin.
Swap: Swap fees are charged for holding trades overnight, these are determined by the market conditions, WiseBitcoin update swap rates daily by 0.2% across their products.
Assets
With WiseBitcoin being a crypto-only broker, you will be expecting a large selection of coins and tokens to trade, and you will not be disappointed. There are 15 different crypto coins including the big hitters like Bitcoin and Ethereum, there are also slightly smaller coins such as Augur and Gnosis available. In terms of tokens, there are 6 available to trade using Ethereum as a base currency. If you trade crypto, you shouldn't be disappointed, however, in the future, we would be expecting more coins and tokens to be added.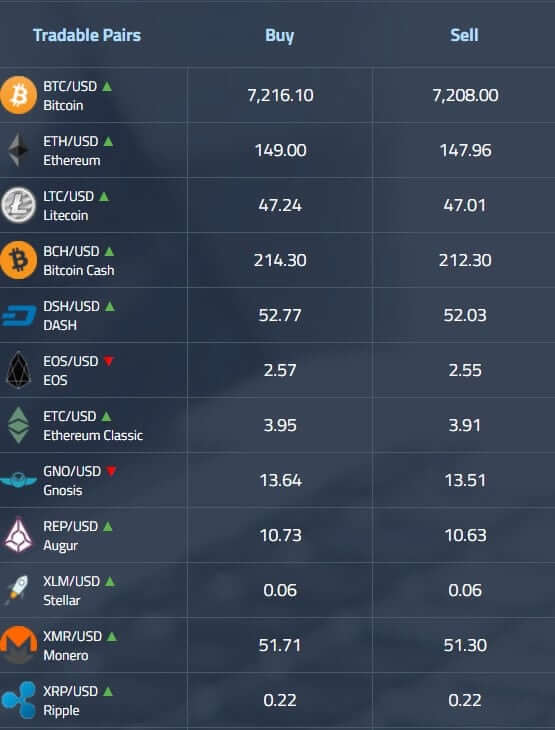 Spreads
We mentioned spreads in the trading costs section of this review, so there isn't too much for us to add. "Spread is the difference between the buy and sell prices, this is decided by the liquidity of the market, it is constantly changing but with WiseBitcoin it will sit anywhere between $0 and $30 when trading Bitcoin."
Minimum Deposit
The minimum deposit will depend on the method that you are using to deposit, we have listed out the methods and minimum amounts down below:
Bitcoin: 0.001 BTC
Ethereum: 0.01 ETH
Visa / Mastercard: $5
Sticpay: $5
Bank Wire: $300
Neteller: $5
Skrill: $5
So the minimum deposit amounts are low, making WiseBitcoin accessible to many people.
Deposit Methods & Costs
Bitcoin, Visa / Mastercard, Sticpay, Bank Wire, Neteller, and Skrill have a 0% deposit fee so there are no added costs. Ethereum has a 0.37% fee for deposits. Please note that when using bank wire as your deposit method, your own bank may add a processing fee of their own, please check with your bank prior to making a deposit.

Withdrawal Methods & Costs
The same methods are available to withdraw as they are to deposit, sadly the free deposit stance does not carry over to the withdrawals and fees are present, please see them below:
Bitcoin: 1%
Ethereum: 0.1%
Visa / Mastercard: Free
Sticpay: 0.3 USD + 2.5%
Bank Wire: Free
Neteller: 2% (min 1 USD, max 30 USD)
Skrill: 1%
It is always a shame when you see brokers charging for withdrawals, something we really want to see stamped out.
Withdrawal Processing & Wait Time
Processing times similarly to deposits and withdrawals are based on the method that you have used, we have made this simple for you with the list below:
Bitcoin: 1 – 2 business days
Ehtereum: 1 – 2 business days
Visa / Mastercard: 4 – 7 business days
Sticpay: 1 – 2 business days
Bank Wire: 2 – 5 business days
Neteller: 1 – 2 business days
Skrill 1 – 2 business days
Having to wait up to 2 days for an e-wallet or crypto withdrawal is quite long, many brokers are now aiming for under 24 hours, however, it is by far not the longest we have ever seen.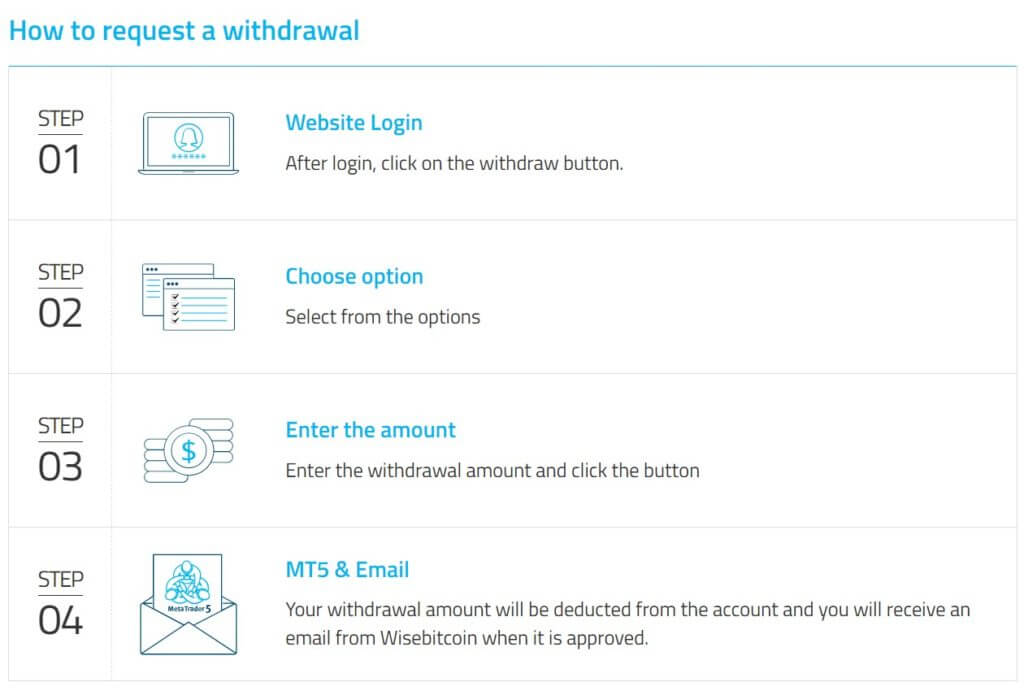 Bonuses & Promotions
Apart from the usual affiliate scheme, we could not locate any information in regards to any bonuses or promotions so it would appear that there are not any active promotions or bonuses at the moment, be sure to check back regularly if you are interested in using WiseBitcoin in case any promotions have popped up.
Educational & Trading Tools
The only education available on the website is tutorials on how to use WiseBitcoins' own products and services, there currently is no information or tools to help with your trading or analysis.
Customer Service
Customer service is available 24/7 which is always nice to see. What is slightly less nice to see is that the only method of contacting WiseBitcoin is through a web form where you can expect a reply via email. It would have been good to be able to talk directly to someone via phone or live chat, but these features are currently not available.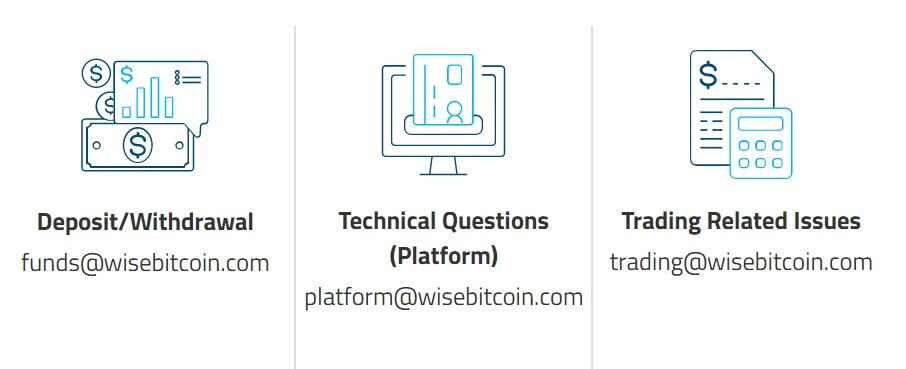 Demo Account
Demo accounts allow you to test out the trading environment and your strategies. Demo accounts are available with WiseBitcoin and mimic market execution, compatibility with expert advisors and mimic the real trading environment. They last indefinitely as long as they are being used if you stop using it and it is left dormant, it will be deleted but a new one can then be opened.
Countries Accepted
Wisebitcoin does not offer its services to residents of certain jurisdictions such as USA, Cuba, Sudan, Syria, and North Korea and listed / relevant parties of Consolidated United Nations Security Council Sanctions Lists.

Conclusion
There is a lot on offer from WiseBitcoin when it comes to crypto and token trading, they offer extremely high leverage when comparing to other crypto brokers and they also offer plenty of deposit methods, it is a real shame to see this tainted by the withdrawal fees. No commission is good and the spreads are in line with a lot of other brokers in the crypto space, there is a small concern regarding the customer services with only the one way to get in contact, we would have liked to of had some options. If you are looking for a crypto-based broker then WiseBitcoin could be ok, there are worse and better ones out there though.
We hope you like this WiseBitcoin review. If you did, be sure to check out some other reviews to help find the broker that is right for you.