UFX is an STP broker, formerly known as UFX Markets, that was founded back in 2007. In 2011, UFX became regulated in the EU, with their global business being regulated by Cyprus Securities (License number 127/10) and subject to CySEC rules. In 2014 the company underwent a rebranding exercise and became UFX. This brand also has an entity regulated in Vanuatu, under the name UFX GLOBAL. This is regulated by the Vanuatu Financial Services Commission (VFSC).
This broker offers fixed spreads on a proprietary state-of-the-art MassInsights Technology platform that is suitable for professional as well as beginner traders. On their website, they state that all UFX processes are encrypted and 100% secure. They ensure their clients that funds are held in segregated accounts at top-tier banking institutions. UFX offers six different account types for clients to choose from, including a Swap-free account, ideal for Islamic clients, with varying minimum deposit requirements.
Account Types
If you're interested in opening an account with UFX, you have a choice of six different accounts available namely; Micro/Mini, Mini, Standard, Gold, Platinum, and Islamic. Minimum deposit requirements vary from $100 for the Micro accounts to $10,000 for the Platinum and the Islamic account. The Gold and Platinum accounts have access to the MT5 platform while all available accounts have access to daily market reviews and recommendations, 24h live support and a video library.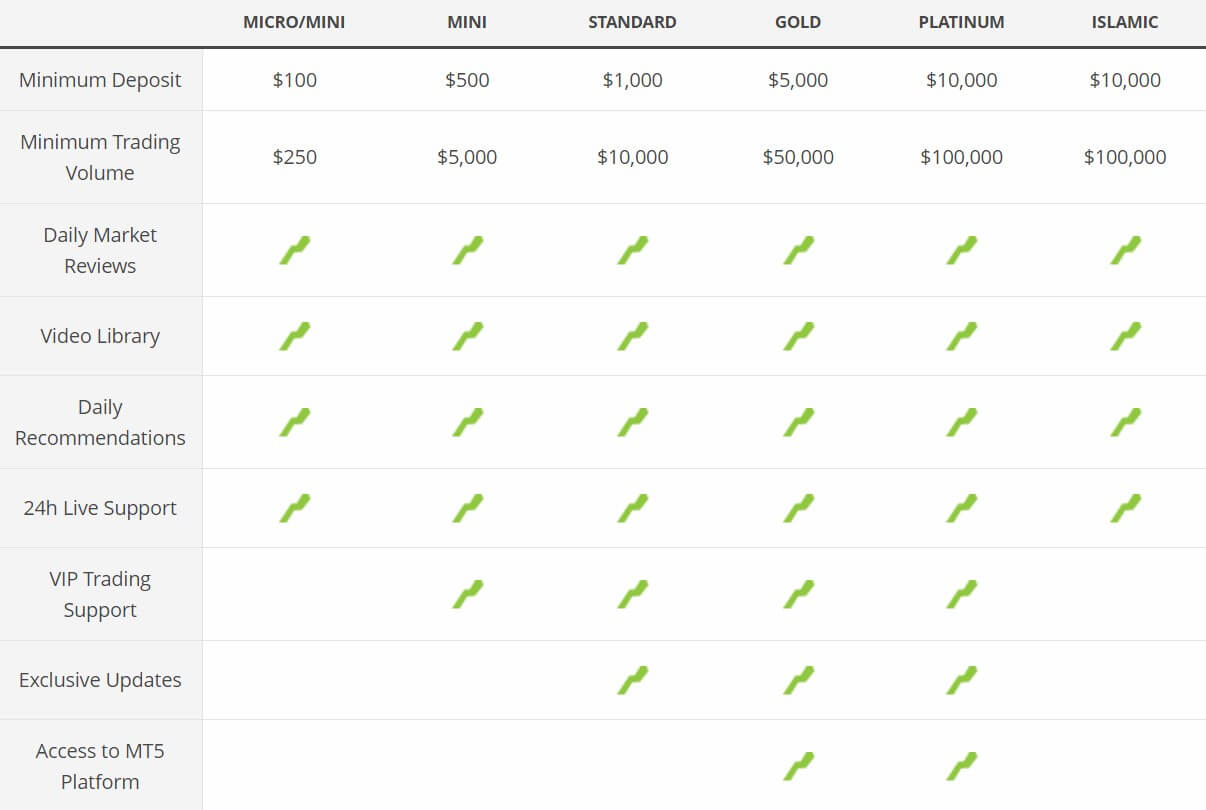 The Mini, Standard, Gold and Platinum accounts receive VIP trading support whilst only the Standard, Gold and Platinum accounts have access to exclusive updates. On their FAQ page regarding their Accounts, this broker states that clients are not allowed to open more than 1 account and they need the following documents to successfully open up an account with UFX; copy of passport, a copy of a bill or statement with current residential address and a copy of both sides of their credit card. Apart from this information, we could not find any useful information regarding their accounts such as; spreads and leverage on their Accounts page.
Platforms
This broker offers two trading platforms, their own UFX MassInsights Technology platform and the well-known MetaTrader 5.
UFX's proprietary platform, which is accessible through any web browser, without the need to download, has a number of popular tools and features amongst clients that can help them make better-informed decisions whilst trading. For example, on this platform, clients can see which specific assets are trending in real-time, which assets have experienced an abrupt change in direction, any rapid buy/sell activity on specific assets, any larger-than-usual growth in overall trading volume on particular assets, Uptrends, Downtrends, financial events calendar as well as up to date market news.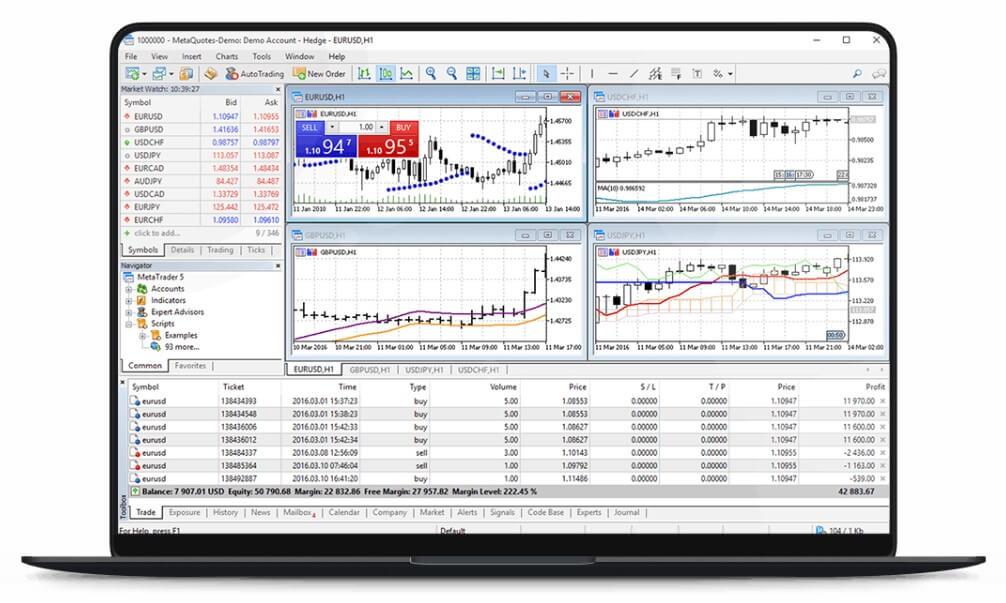 Needless to say, this information is extremely valuable to those experienced brokers that know what to do with it. Although this platform does not require a download, it only supports the latest versions of Google Chrome, Firefox, Safari (version 8+) and Internet Explorer (version 10+). There is also the possibility of downloading a mobile application of this platform. This will enable you to access demo mode, to set Stop Loss, Take Profit & Limit Orders and round the clock support.
Apart from their own platform, UFX also offers its clients the most popular and the most trusted platform out there, the MT5. Although the MassInsights platform does have attractive tools, the MT5 offers a superior range of features on a user-friendly interface. Some of the features that you can find on MT5 are; Flexible trading, Virtual Hosting and fundamental analysis for those weighted financial decisions. You can find a download button for the MT5 platform on UFX's website.
Leverage
With UFX, leverage levels are set by default to a maximum of 50:1 as it is required by the Regulator, the Cyprus Securities and Exchange Commission, but experienced retail clients will be permitted to trade CFDs with full leverage levels (400:1). On the other hand, less experienced clients will be permitted to trade CFDs with a decreased leverage of 30:1. Clients are classified as Experienced once they have completed a total of at least 30 trades or 5 consecutive months of trading with UFX, whichever happens first. Clients are notified by the broker once this has occurred.
Trade Sizes
All six accounts have different minimum trading volumes applied as explained below;
Micro/Mini- $250
Mini- $5,000
Standard- $10,000
Gold- $50,000
Platinum- $100,000
Islamic- $100,000
We could not find any information regarding the maximum trading volumes permitted by this broker, so we decided to contact them via live chat. They redirected us to the Accounts page that does not specify maximum trade sizes, but they did inform us that clients can open as many trades as they wish with the free margin that they have available.
Trading Costs
Potential clients can find some information regarding any fees or commissions they are expected to pay when dealing with UFX on their Terms and Conditions page.
For example, the level of overnight commissions also referred to as swap fees, are calculated once every day from Sunday to Friday and in triple on Wednesday. UFX's spreads are based on market rates received from the execution brokers or liquidity providers and they are pre-determined according to the client's account status. This broker also reserves the right to use floating spreads on any assets for MT5 accounts.
If you decide to join UFX you must also keep in mind that maintenance fees and inactivity fees may be charged. Although UFX does not charge regular maintenance fees, it does reserve the right to charge a $100 fee on an open account every 45 days, and if an account has been inactive for over 45 days, and inactivation fee of $100 will be charged.
Assets
UFX has a vast selection of assets available including over 40 Currencies, including Bitcoin and a variety of Major, minor and exotic pairs, 7 Commodities including Gold, Natural Gas, Oil, and Silver SP, a very large number of stocks including American Express, Amazon, Apple and Coca-Cola amongst many others as well as 7 indices including Dax30, CAC 40 and Dow Jones. You can find the list of all available assets on UFX's website, along with the leverage and spreads for each.
Spreads
As we've just mentioned, potential clients can have a look at UFX's spreads on their Assets page. If you were to compare this company's spreads to other popular brokers of the moment, UFX's are definitely on the high side. For example, the popular currency pair EUR/USD has a spread of 4.0 Pips while GPB/USD has a spread of 5.0 Pips.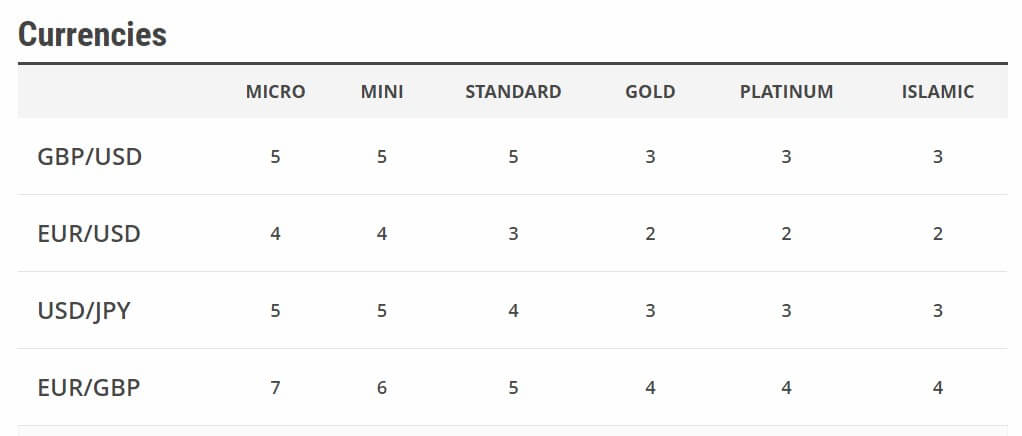 Minimum Deposit
This broker offers 6 available accounts, all with varying minimum deposit requirements. The cheapest account to open is the Micro/Mini which has a minimum deposit of $100, making it affordable for a large number of traders, even those just starting out. The Mini and the Standard accounts have a $500 and $1,000 minimum required respectively. The Gold account can be opened for a minimum of $5,000 whilst both the Platinum as well as the Islamic account have a minimum deposit of $10,000. The last 3 accounts are targeted towards experienced traders rather than beginners.
Deposit Methods & Costs
UFX claims to have fast, easy and secure funding methods available for its clients. We also noticed that they have quite a variety of methods available namely; MasterCard, Visa, Visa Electron, Maestro, Diners Club, Local Bank transfer, Skrill, Neteller, Sofort, ELV Giropay and more. You can find the full list on UFX's Funding page. According to their FAQ page, this broker does not charge any deposit fees. Also, if clients accidentally deposit funds into their account, they can request a withdrawal immediately by clicking on the Withdrawal tab on their trading platform.
Withdrawal Methods & Costs
Clients can withdraw funds by signing into their trading account, clicking on the profile button and choosing Withdraw Funds from the drop-down menu. Like most brokers, withdrawals will only be sent via the method with which the initial deposit was made. It seems like UFX does not charge any withdrawing fees, which is always a plus, but transfer fees may be imposed by banks.
Withdrawal Processing & Wait Time
Withdrawals may take between 3-14 business days to be processed. The broker also mentions that the minimum amount for withdrawal is $25 and any funds exceeding the initial deposit will be transferred via Bank Transfer.
Bonuses & Promotions
UFX does have a promotions page on their website, and although this seemed positive at first, we realized that the last competition took place back in 2014. Their promotions, or competitions as they're called on their website, seem to be quite different from the norm, as they require players to guess closing prices of Commodities as well as holding the longest drive. Although there isn't any mention of a current, ongoing competition at the moment, you might want to check out this page perhaps more competitions will be available for clients in the future.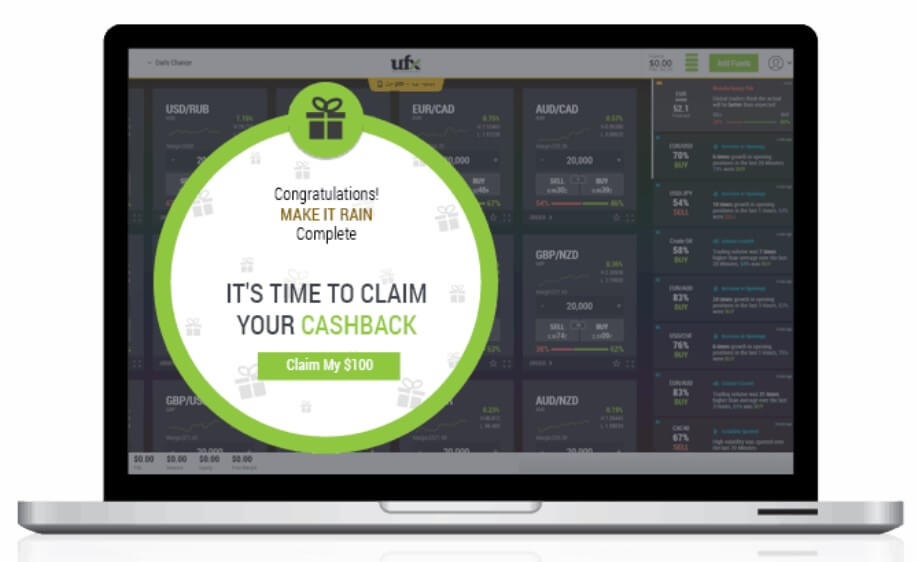 Educational & Trading Tools
At the moment, this broker does not offer any educational content on their website. They do go over some basics on their FAQ page, but there is no up to date information about the trading business. As for trading tools, one can find an economic calendar on UFX's site as well as daily market reviews.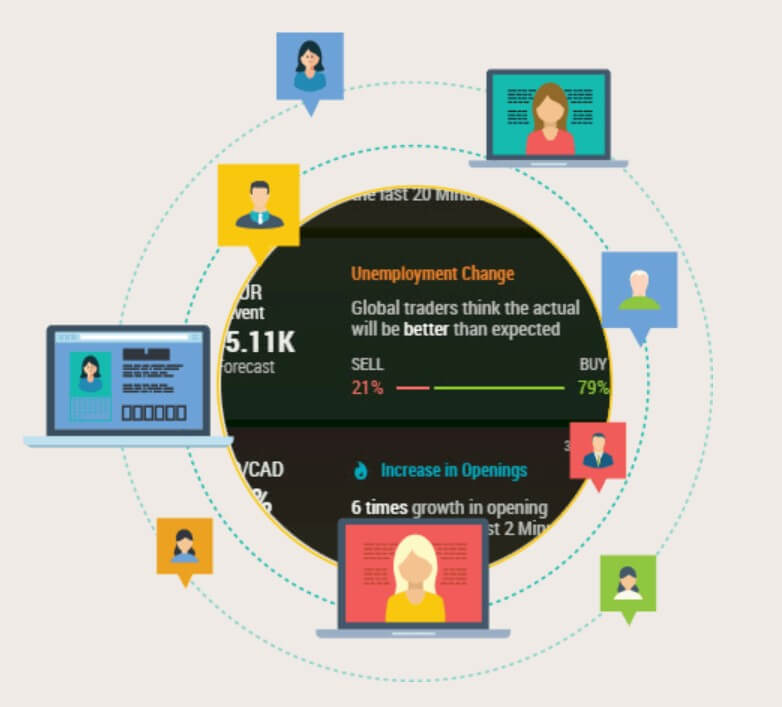 Customer Service
UFX can be reached either by Live chat or by telephone. We did have a pleasant experience when using their live chat options. We were assisted by a UFX worker who was quick and polite when giving us feedback. We did notice, however, that most of her answers were simply stating what was already on the site, so we suspect that the customer support might not be 100% informed about UFX's trading conditions. You can find this broker's contact information below:
UFX HEADQUARTERS – Reliantco Investments Ltd
139 Makarios Avenue, Zavos Business Center
3021 Limassol, Cyprus
Telephone numbers
Cyprus: +357 2503 0314
Germany: +49 303 080 8240
Czech-Republic: +420 22 888 22 70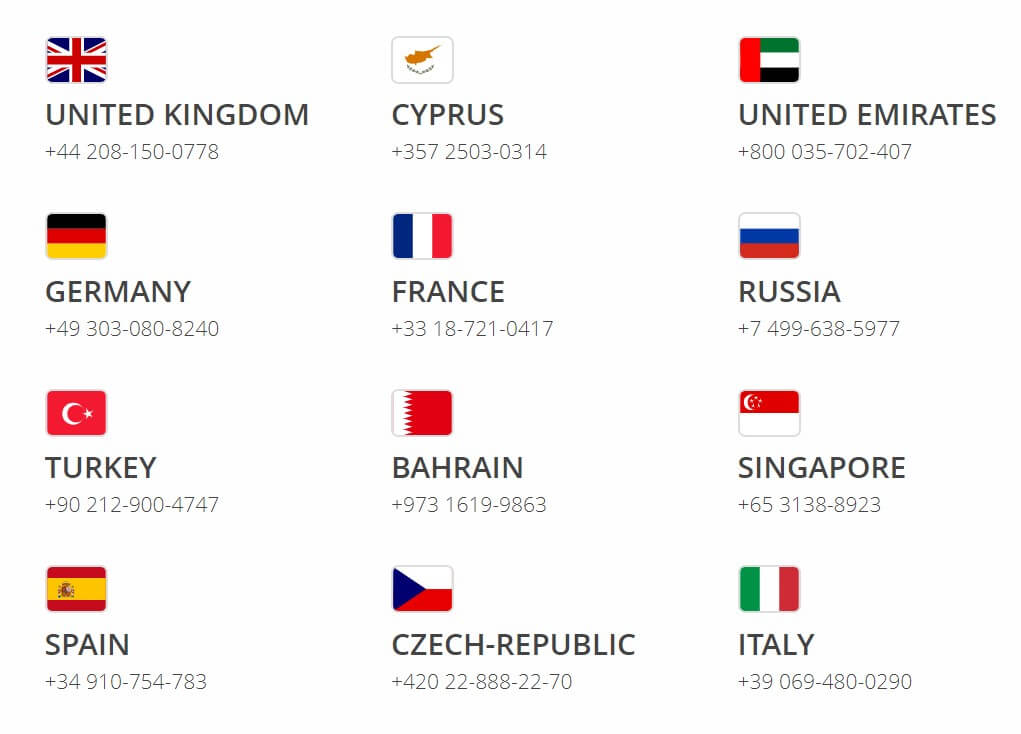 Demo Account
UFX does offer a demo account that is designed to give potential clients the opportunity to learn how to trade within the Forex market without risking their capital in a risk-free environment. When we asked their customer support, we were informed that Demo accounts have $10,000 of virtual money and there is no time-limit on Demo account activity. In order to set up a demo account, clients must first sign in, click on the profile avatar and click on Demo.
Countries Accepted
Unfortunately, clients coming from Australia, New Zealand, Canada, Belgium, Iraq, Turkey, and USA are not accepted to trade using this broker. You can find this information on UFX's FAQ page.
Conclusion
UFX offers a wide range of assets available for trading, including Cryptocurrency CFDs and Single-Stocks. They also have a big choice of accounts to choose from, although the minimum deposit requirements are slightly high. Clients may find that the biggest drawback UFX has is its pricing options, with fixed spreads being quite high.
Their customer support is fast and efficient, and we should mention we were given an answer within minutes even on a Sunday. Educational content is not present on the website, but needless to say, those wanting to learn more about the industry have a never-ending supply of up to date content on Forex.Academy's website as well as multiple other sites.
They do have quite a number of restricted countries, including America and New Zealand which is obviously a major drawback for clients coming from these particular places. This broker offers plenty of options when it comes to depositing and withdrawing and it is good to note that the broker does not charge any fees for these actions.
If you are interested in what UFX has to offer, you can head on to their website to find out more. We also suggest using their Live Chat as feedback is quick and efficient.