ZenTrader is a relatively new binary options broker that offers clients a different experience when trading. The main company, ZT Markets Limited, is registered in St Vincent and the Grenadines under the registration number 25071 IBC2018. This is a popular offshore zone for brokers as it offers easy registration, low taxes and companies don't need to meet any regulatory requirements. Potential clients should always be aware of such information as there is a risk involved in dealing with this kind of broker.
ZenTrader state that this company was founded with the goal of creating the best trading experience for its clients. They claim to have the highest payouts on winning trades, a knowledgeable support team, and fast deposits and withdrawals. Clients can trade Currency pairs, Equity Indices, Commodities, Single stocks and also Crytpo. You won't find a list of accounts available through this broker as they only offer 1 type of account that, in their words, is perfect for beginners as well as experienced traders.
Account Types
This broker only offers 1 single account platform, but with two types of options, Classic and On-Demand. Not much information is given regarding this account, apart from minimum investment requirement and maximum payouts reaching 200%. The payouts are based upon the asset being traded and the particular time frame. When we spoke to their live chat they explained that clients would be able to see the payout before entering the trade. This account seems to be directed towards short-term traders that like flexibility as well the convenience offered by a fixed schedule.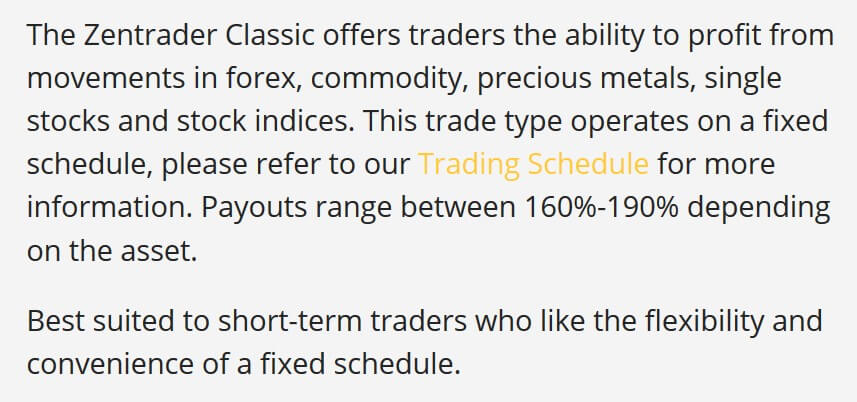 On the other hand, this makes this broker not appealing to traders looking for long-term trading. When using this account, clients can trade Forex, Commodity, precious metals, single stocks, and stock indices. The minimum trade size for Zentrader's account is just $5 and the maximum exposure per account is $25,000 or equivalent.
The Classic High/Low options run on a fixed time schedule (15min, 30min, 1hour and 1 day) traders may enter or exit at any time up until the no-trading point just before expiry. On the other hand, if clients go for the On-Demand option, the countdown of the selected time frame, whether 30sec, 60sec, 3min or 5min begins when the trade is entered into. If you need more information about these options, you can speak to their efficient and informed live chat which we will be discussing soon further on in the review.
Platforms
ZenTrader offers its own trading platform that can be used via a web browser, mobile web app, and Android. Potential clients can have a look at what the platform looks like by trying out the Platform Demo found on this broker's website. The design is very minimal and easy to follow, which is great for new traders. Through this demo, clients can also see what the percentage payouts are on all assets provided by this broker in the top left part of the page.
On the bottom right corner, clients also have an updated news feed regarding the trading industry. According to their live chat, the demo platform and all the data and conditions you see on it are identical to the live platform. Although this platform seems easy to trade with, some traders might still want the option of using a more popular platform such as MT4 or MT5 but unfortunately, this is not available when using this broker.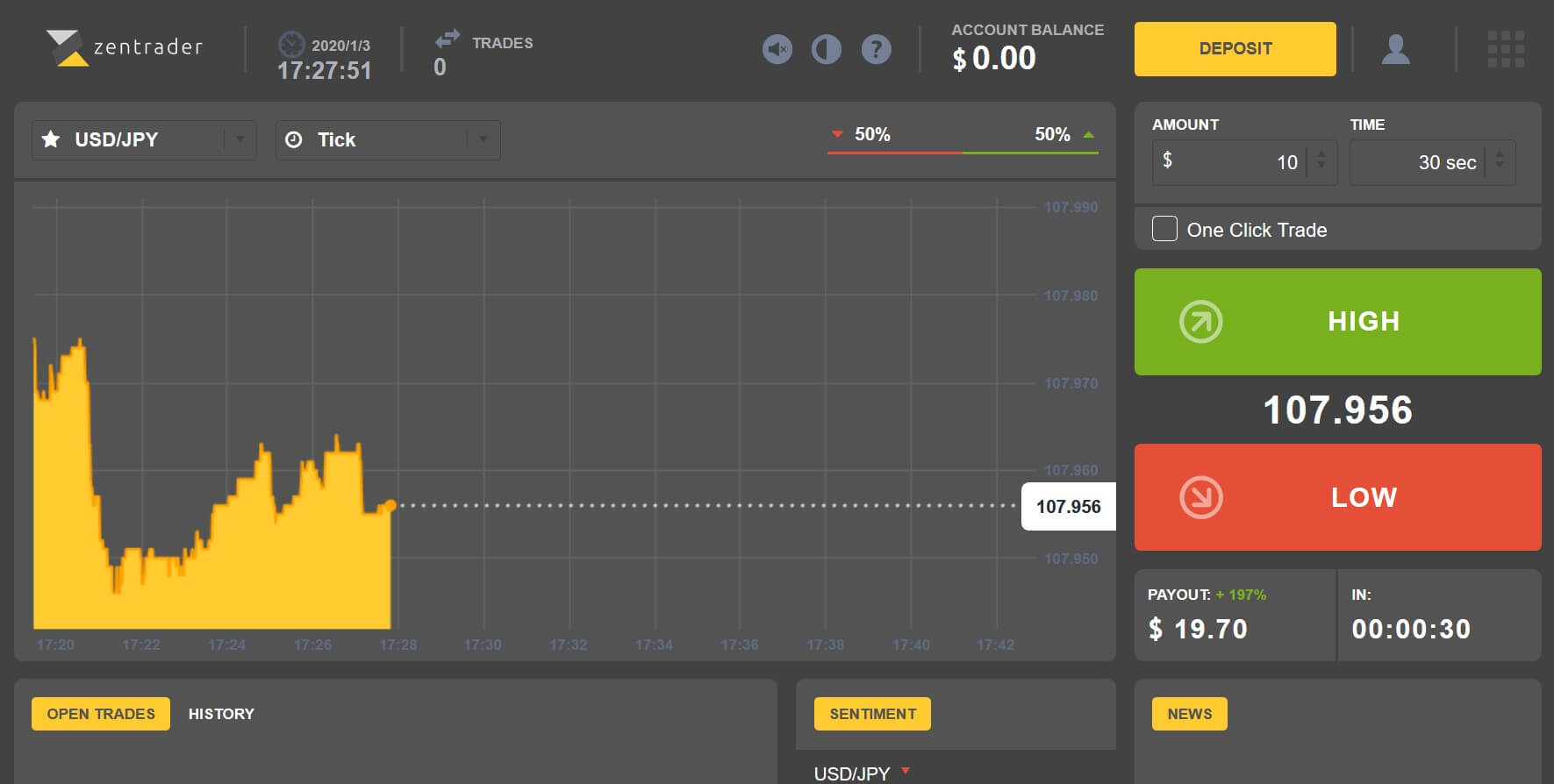 Leverage
This broker does not offer leverage but a payout percentage of up to 195% in 30 seconds. This refers to the total amount clients will receive back on any winning trade. For example, if a client placed 1 x ¥5000 trade on USD/JPY with a payout of 195% and win, they will receive back ¥9750. The ¥5000 investment + ¥4750 profit. Obviously, for losses, the same numbers are applied. The payout percentage is based upon the asset being traded as well as the timeframe. You can find out the payout percentages through their Demo platform. Investors should be wary of such high returns as this brings along with it great risks.
Trade Sizes
The minimum trade size with this broker is very affordable at $5 whilst the maximum trade size is $1000.
Trading Costs
There is no mention of commissions or fees applicable to clients on ZenTraders site. To make sure, we asked their live chat and they confirmed that no commissions are applied when trading with this broker.
Assets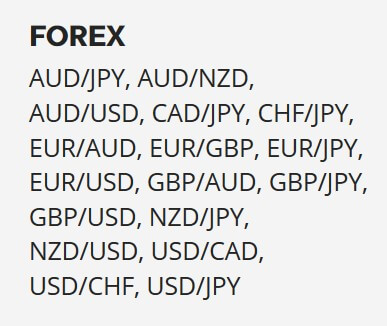 ZenTrader offers quite a large variety of assets to choose from including the currency pairs, commodities, indices, single stocks as well as cryptocurrencies. We've listed down some of the available assets below.
Forex: EUR/USD, AUD/JPY, AUD/NZD, USD/CHF, USD/JPY, EUR/JPY
Commodities: Gold, Silver, US OIL (WTI)
Stock Indices: Nikkei 225
Single Stocks: Softbank, Fast Retailing, Toyota Motor
Cryptocurrencies: Bitcoin, Ethereum, Litecoin
You can find a current list of all available assets on the Trading Schedule page on ZenTrader's website.
Spreads
We cannot comment on this as it seems Zentrader does not use spreads.
Minimum Deposit
The minimum deposit required to open up an account with this broker is $50 or equivalent. Although there are brokers who have a smaller minimum deposit, $50 is quite affordable to many traders, even those just starting out in the business.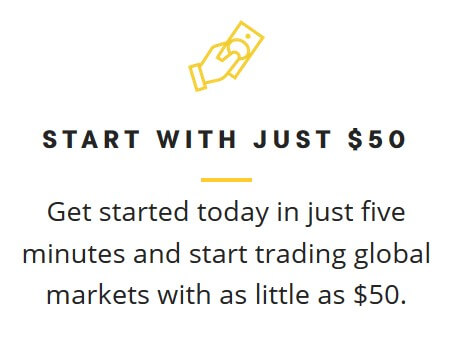 Deposit Methods & Costs
Clients wanting to deposit funds into their ZenTrader accounts can do so via a number of methods. Local bank transfers are probably the simplest way to do so and deposits through this method are typically credited to the client's account instantly, but this depends on the country the client is located in. This broker also accepts international bank transfers for those located in countries where local bank transfers are not available. Manual bank transfer deposits usually take between 1-3 business days.

This broker also accepts deposits through credit or debit cards in a range of currencies as well as multiple e-wallet payment systems which will enable you to fund your account instantly 24 hours a day. ZenTrader also allow clients to deposit funds through their preferred providers like ecoPayz, Paysafecard, iWallet and Jeton Wallet amongst others. The minimum deposits clients can make through ZenTrader is $50 and the max is $50,000 daily.
Withdrawal Methods & Costs
Clients can withdraw their funds through the same methods mentioned in the deposit methods segment of this review, namely; Bank transfers, credit & debit cards, bank transfers as well as e-wallets. There are no mentions of fees when it comes to withdrawing, but bank fees may be applied.
Withdrawal Processing & Wait Time
Clients can withdraw their funds by filling a withdrawal request on the withdraw page of the ZenTrader Dashboard. Withdrawal wait time depends on the method chosen by the client and clients can view the status of their withdrawal in the payment history page which is also found in their Dashboard. ZenTrader claims to be committed to processing their clients' withdrawals as fast as possible. Some methods are instant whilst others, such as international bank transfers may take up to 3 business days.
Bonuses & Promotions
This broker has a dedicated page to Rewards on their website. These rewards enable their clients to earn cashback through their online trading plus accessing a range of exclusive benefits. The reward points depend on how much the client trades each month, obviously the more clients trade, the higher their rewards. According to their Rewards page no coupons, codes or redemption forms are required and the cash that clients earn goes back into their personal trading account.
The ZenTrader rewards are divided into three different categories; Bronze, Silver and Gold.
Bronze: Bronze traders will earn a $50 cashback bonus when they trade between $10,000 to $24,999.99 in a calendar month.

Silver: Silver traders will earn a $250 cashback when they trade between $25,000 to $49,999.99 in a calendar month.

Gold: Gold traders will earn a $500 cashback bonus when they trade $50,000.00 or more a month.
In order for clients to withdraw their cashback bonus, they must redeem them first. To redeem, clients must trade the cashback bonus amount of times 1.
Customer Service
Clients wanting to reach ZenTrader can do so via Live Chat or telephone. Their Live Chat response is instant and, in our case, we were met with a knowledgeable support provider. We asked a number of questions and he answered them all with no hesitation. This broker also has a Help Centre that you can find on their Support page. In this section, you will find information on how to get started with ZenTrader. They also have a number of articles that clients may find useful. Here are ZenTrader's contact details:
Address: ZT Markets Limited
SVG IBC, First Floor, First St Vincent Bank Ltd Building
James Street,
Kingstown, St Vincent and the Grenadines
Telephone: UK +44 152 422 0083
Switzerland +41 43 505 12 88
Japan +81 503 196 4588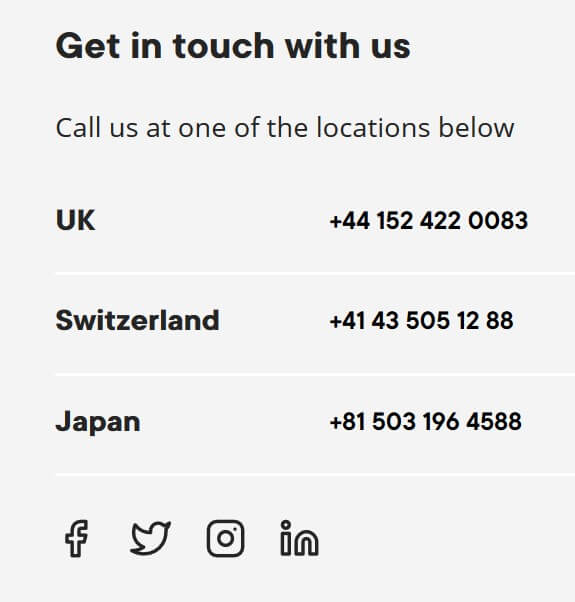 Demo Account
Unlike most brokers, ZenTrader has a Platform Demo available on its website rather than an Account demo. The demo that they offer serves as an introduction to their own platform. On their platform, you can see all the basic information that you would need whilst trading in a simple and organized way. Trading currency, time frame, payout percentage, and account balance are visible on the platform's main page.
Countries Accepted
Even though ZenTrader is a global broker, they do not accept clients from United States, Australia, China, Hong Kong, Estonia, Israel, Iran, North Korea, Palestine, Sudan, Syria or the Russian Federation. This list is subject to change due to increasing regulations. If you are interested in opening an account with ZenTrader you can see what current countries are accepted in the Country drop-down box found in the registration form.
Conclusion
ZenTrader is a new binary options broker that is registered offshore. They are different in the way they enable their clients to experience trading. Using their own platform, clients can experience a high payout of up to 195% which can be as rewarding as it is damaging, a quick and informative support team and no fees for deposits and withdrawals.
On the other hand, this broker only offers short-term options which make them quite limited for traders wanting more long term options. Potential clients may also find it difficult to gather important information regarding the single account that is being offered because most of the information is either missing or difficult to find.
Having said that, their support team is very quick and knowledgeable. ZenTrader also has an interesting Rewards scheme where clients can get cashback bonuses without actually doing anything else except trading. Keep in mind that this broker is unregulated and this might be a fact to consider when picking your broker of choice. If you'd like to know more visit ZenTrader's website and try out their Demo platform.