TurboForex is an offshore broker, based in St Vincent and the Grenadines. On first look at the website, the first thing that becomes obviously apparent about TurboForex website is that this is a broker that relies heavily on marketing to appeal to those seeking deposit bonuses, a bonus of 100% of the client deposit total. The website is a little outdated but simplistic nonetheless so navigation is straightforward. However there is no FAQ page for a quick reference guide, and this broker does not offer a live chat support service which also makes it's appeal less likely if clients can't reach out instantly for assistance.
Account Types
TurboForex offers a wide range of account types to choose from and all benefits to each are set out on the website so potential clients can easily decide which may be best suited for them and their trading style.
Mini – Min deposit: 250.00 USD. Most suited for those trading smaller volume
Standard – Min deposit: 1,000.00 USD. Suited for medium experienced traders
Premium – Min deposit: 10,000.00 USDTargeted at experienced traders, with lower      overall trading costs
Fixed- Min deposit: 1,000.00 USD. Offers the lowest fixed spread on the market for      long term traders
Interbank- Min deposit: 5,000.00 USD. More suited for higher deposit clients, with        direct access to interbank markets
All account types are compatible via the MT4 platform and allow the use of the leverage of up to 1:500.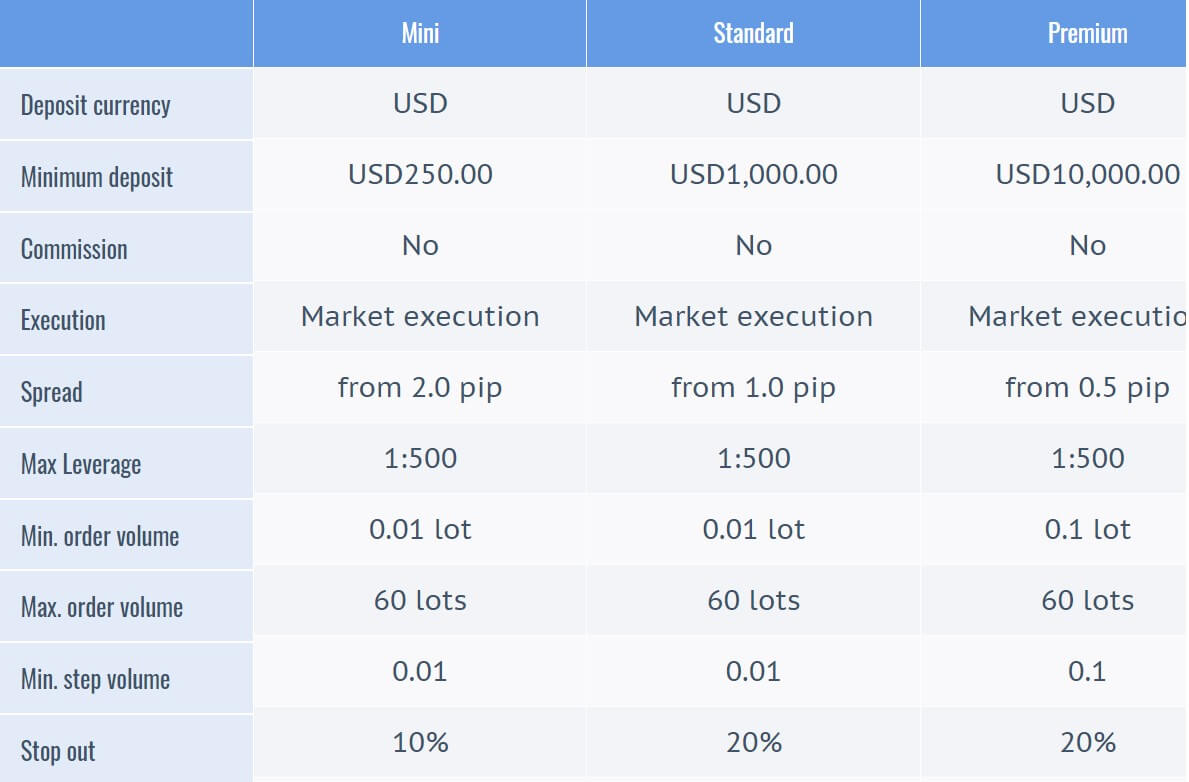 Platforms
TurboForex offers the trading platform we trust the most, which is MT4. Clients of TurboForex can trade via MetaTrader 4 Desktop, Webtrader, and Mobile/Tablet so you can trade both on the go or at home on a safe and trusted platform.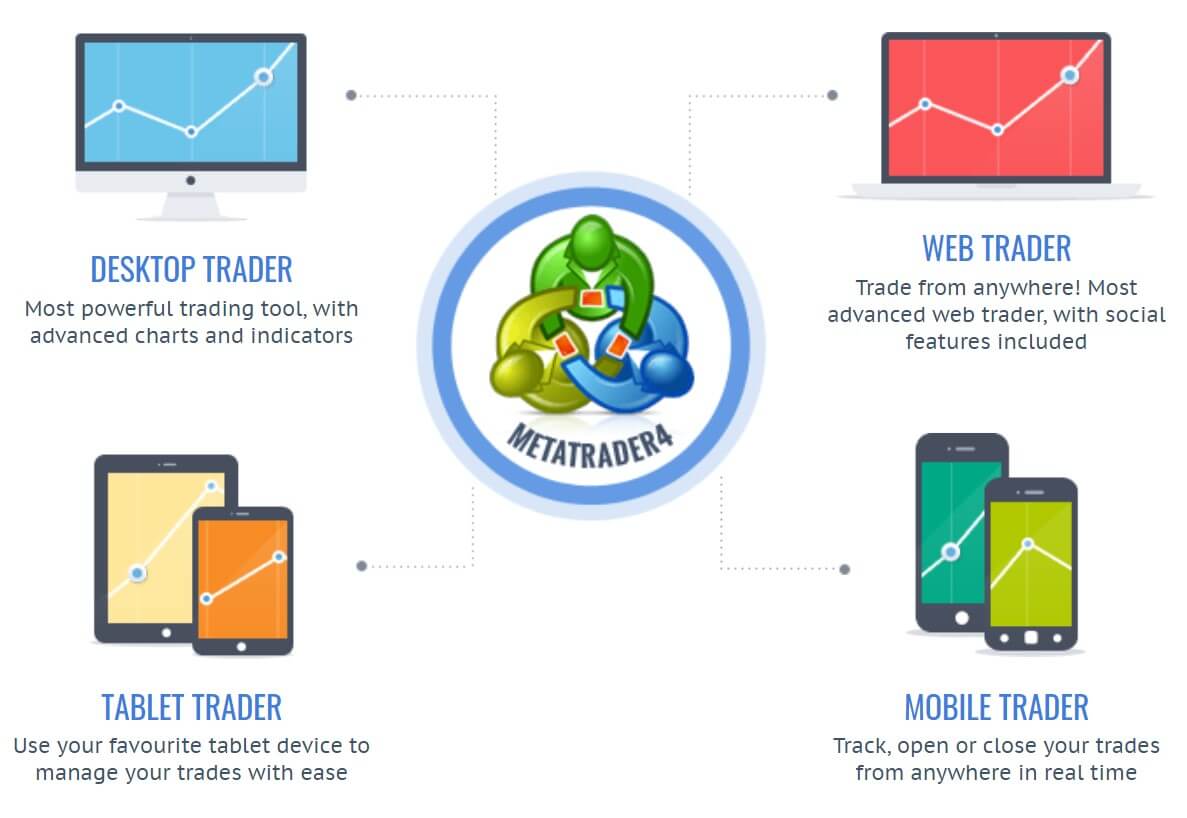 Leverage
The maximum leverage offered by TurboForex is 1:500 which in itself is highly appealing and generous, meaning clients can maximize profit by 500, on small capital and small trade sizes, on winning positions. If this leverage is a little too high for your trading style, of course, there is the option to lower it to your preferred amount.
The maximum leverage use limit does, however, vary between account types; Mini, Standard, Premium and Fixed account holders can make use of the full 1:500 while those who opt for the Interbank account may use the leverage of up to 1:200, which is still amicable and can be a handy tool to stretch profit gain in one's trading you are familiar with how use of high leverage works.
Trade Sizes
The minimum trade size allowed with TurboForex is set as most do, at the standard 0.01 lot, which gives flexibility and is highly ideal for those who want to trade small volume, or scalp trade. There appears not to be any maximum trade size requirement.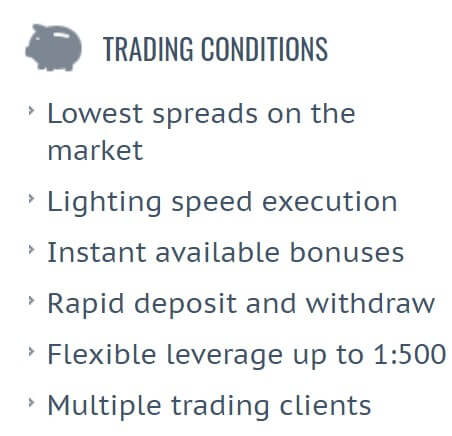 Trading Costs
For the Following accounts: Mini, Standard, Premium and Fixed, there is no commission fee applied when trading Forex and Commodities. You will, however, be charged commissions if you opt for the Interbank account, where commission fees are $5 per $100.000 traded.
Assets
With TurboForex, clients have a fair wide selection of assets to trade, including:
FOREX
COMMODITIES
STOCKS
INDICES
All tradable pairs are displayed on the website, where you can also see each pair's live floating spread.
Spreads
TurboForex offer spreads starting from 0.0, and you can see live floating spreads on the website. Each account type offers slightly different spreads on different assets, so be clear on checking which one offers what (on demo) before you go ahead and open the live account version. Both Indices and Forex pair spreads (floating) as displayed on the website are incredibly low and certainly ranked competitive to what other brokers offer.
Minimum Deposit
The minimum deposit requirements set by TurboForex are overall, high compared to requirements set by competitor brokers. Minimum deposits are set reasonably high across all the accounts types to choose from:
Mini – Min deposit: 250.00 USD
Standard – Min deposit: 1,000.00 USD
Premium – Min deposit: 10,000.00 USD
Fixed- Min deposit: 1,000.00 USD
Interbank- Min deposit: 5,000.00 USD
TurboForex offers deposit bonus schemes of up to 100%, so even on smaller deposit requirements, clients can essentially double their starting capital. We do recommend that you read carefully about how bonus schemes work (regardless of the FX broker you are considering using) before jumping to conclusions, thinking this will add margin that you can withdraw easily, or at all.
Deposit Methods & Costs
TurboForex FAQ page states that the following deposit methods are available:
Bank Transfer
Credit / Debit Card
Skrill
Webmoney
These choice of deposit methods given by TurboForex are diverse and should offer at least one amicable funding solution for all clients. There are no deposit fees associated with TurboForex according to the website.

Withdrawal Methods & Costs
To withdraw your profits from TurboForex, you may request a withdrawal via Bank Transfer, Credit / Debit Card, Skrill or WebMoney. Although deposit and withdrawal fees are not mentioned by TurboForex, it is always best to check with your banking provider prior to making a request for a withdrawal/deposit, to see if you personally will be liable for any fees from their side to avoid any surprises.
Withdrawal Processing & Wait Time
The TurboForex FAQ page is a little ambiguous when it comes to telling us the withdrawal timescales, which are said to take anywhere between 24 hours and to 'several days'. We could not gain any further clarification or pinpoint how on exactly 'several days' could be, but this uncertainty and lack of being to the point gives us an indication that this broker is not perhaps very consistent with the processing of their withdrawals, and do not want to give a timescale they cannot adhere to.

Bonuses & Promotions
If you were seeking a deposit bonus, TurboForex does offer these schemes, however, it is highly advisable to ensure you read and fully understand the terms and conditions of using such bonuses, or better still, avoid them entirely. Nevertheless, if you are interested to know what the bonus schemes are, there is information about all bonuses available, as below:
Deposit from $500 to $999 = 25% bonus
From $1,000 to $4.999 = 50% bonus
From $5,000 to $9.999 = 75% bonus
Over $10,000 = 100% bonus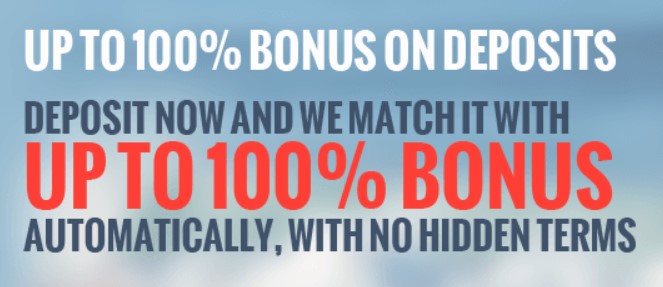 Educational & Trading Tools
TurboForex offers an impressive set of trading educational material, which sheds light on MT4 separately and how it works, as well as how to navigate it. There is ample information on Trading itself and what it's all about, in the form of webinars and free courses that you can take, while you learn to trade on the demo account.
Customer Service
TurboForex Customer service is less than satisfactory, with the agents being unresponsive and not easily reachable; the only method of contact that clients of this broker can rely on is via email. This means 0 instant contact, which is a little off-putting, especially in the case of a client panicking about a trade query and wanting to resolve it ASAP. It is furtherly concerning that we never received any response from the email customer support team, even over a full working week period.

Demo Account
A demo account is offered by TurboForex, which is especially useful if you are wanting to take the training courses offered, and learn to trade alongside trading in a practice, risk-free environment.
Countries Accepted
The website disclaimer does rightfully state that the provision of trading serviced by TurboForex will not be granted to those residing in the United States nor the European Union. This is, of course, vetted when all potential customers are required to submit a proof of Photographic Identification to prove you are over the age of 18 and then you are requested to submit a document proof of residency. If you are from the above jurisdictions, you will not be accepted to open a live account with TurboForex.
Conclusion
This broker, in reality, appeals to a specific type of trader; lacking trading experience and skill, and/or not entirely informed on how bonuses work and how detrimental they can be to one's trading. TurboForex clearly strives to appeal to those with low capital to spare, by offering up to 100% deposit bonus schemes to alleviate that doubt that one cannot make a profit unless there is a large initial capital. This vision that a bonus will increase margin (false) is highly deceptive and wrong to assume it almost guarantees a profit.
The trading conditions themselves in respect of leverage allowance and the tight spreads offered are not to complained abut, however, the service as a whole is not wholly transparent and trustworthy on the surface; the customer support team is totally unresponsive and deposit and withdrawal timescales are not clear. These factors alone should cause you to be concerned if considering to become a client of this broker.