Java is an offshore broker that is located in Indonesia and regulated by Indonesia's Commodity Futures Trading Regulatory. The key advantages of opening an account would be access to tight spreads, flexible leverage options, and 24/5 support, according to the broker's website. As a smaller forex broker, you won't fund much information or other user reviews about the company online. After noticing some discrepancies on the company's website, we decided to do the research needed to paint a real picture of what this broker's conditions look like.
Account Types
Java features one real account type, named Titan, in addition to demo accounts. If you take a look at the website in more detail, you'll notice the broker lists three main account types as an advantage. Unfortunately, the advertised Mini, Regular, and Pro account types do not seem to exist, meaning that potential clients will only have one option. The account grants access to currency pairs, metals, futures, and energies with a maximum leverage cap of up to 1:200. The broker is asking for a $2,000 deposit in order to open an account with starting spreads from 1.8 pips. We've provided a quick overview of the account below.
Titan Account
Minimum Deposit: $2,000
Leverage: Up to 1:200
Spread: From 1.8 pips
Commission: None
Available Instruments: 24 currency pairs, 2 metals, 1 energy, 7 futures
Minimum/Maximum Trade Sizes: 0.1/20 lots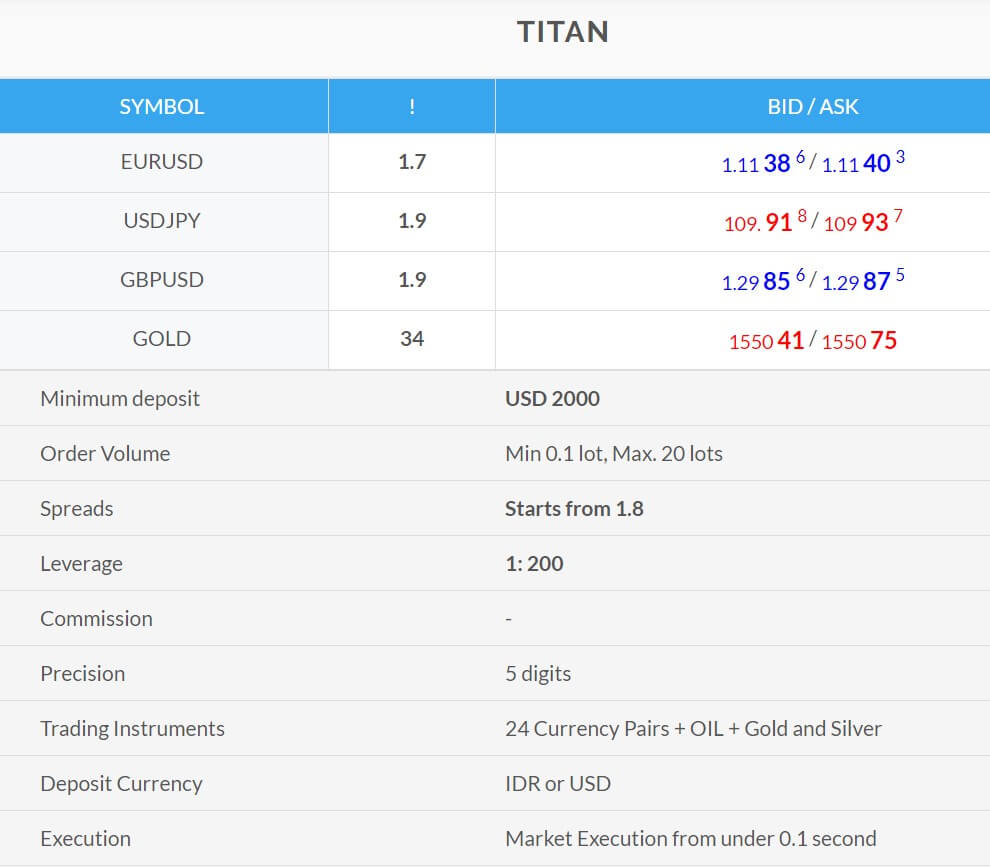 Platform
If you decide to open an account through Java, you'll be trading from the infamous MetaTrader 5 platform. Usually, brokers tend to offer the earlier version, MT4, and we don't always get the option to use the newest version, which has been designed to offer some more features and improvement in certain areas. Within MT5, traders will find a variety of trading tools, multiple timeframes, three different chart types, and more than 50 technical indicators. The platform is also easy to navigate and highly accessible – available for download on PC, Mac, iOS and Android devices, or accessible through the WebTrader.

Leverage
The broker is offering an average leverage limit of up to 1:200. Some regulators do set much lower limits, even as low as 1:30 on currency pairs, making Java's 1:200 cap seem significant. We'd also like to point out that many traders wouldn't even use leverage as high as the cap offered by this broker, as trading with higher leverages goes hand in hand with taking large risks. On the other side of things, some professionals may feel a bit restricted by the limit, and it is possible to find higher options, sometimes going into the thousands with other brokers if you take the time to look.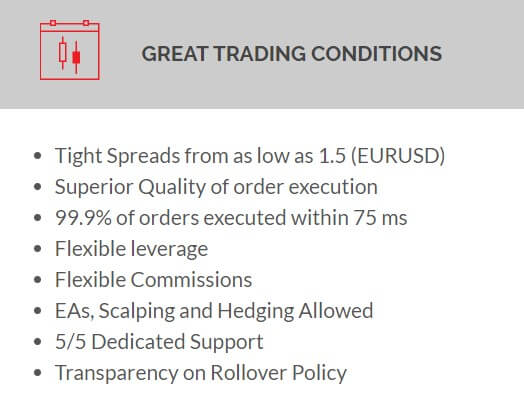 Trade Sizes
Java requires a minimum trade size of at least one mini lot, making it impossible to trade micro-lots through this broker. There is also a rather restrictive maximum trade size of 20 lots. Margin call/stop out would occur once when the account's margin level reaches 10%. Scalping, hedging, and Expert Advisors are all allowed.
Trading Costs
The broker's Titan account comes with basic trading costs, primarily charged through the spread, with no commissions taken. In addition, the broker would charge standard swap fees on certain positions that are held overnight. Details regarding the long and short swap fees can be viewed on the website under "Product" > "Save And Scroll Costs".
Assets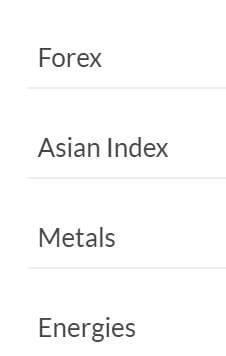 Java's investment portfolio is primarily made up of currency pairs, in addition to futures, spot metals, and spot energies. In total, the broker is offering 24 currency pairs, with a few exotic options. We also seem some cryptocurrency pairs on the list, including BTCUSD, DSHUSD, ETHUSD, LTCUSD, XMRUSD, and XRPUSD. The futures category is made up of 7 options, while the energies category only offers US Oil. As for the available spot metals, we only see the most basic options, Gold and Silver, with no option to trade extra metals like Pallidum or Copper. This brings the grand total of available instruments to just 34 options. Meanwhile, many other brokers offer more than 64 currency pairs and other CFDs.
Spreads
The broker's Titan account advertises floating spreads that start from 1.8 pips. On currency pairs, this is the minimum spread, while average spreads typically range from 2 to 2.6 pips. On indexes, average spreads are 10 pips, and spreads can be much higher on more volatile instruments like metals and oil. Considering that the broker is asking for a steep deposit, we would hope to see spreads that are lower than those advertised. The industry average tends to be approximately 1.5 pips. Note that the website does advertise starting spreads of 1.5 pips in another location. This advertisement is false.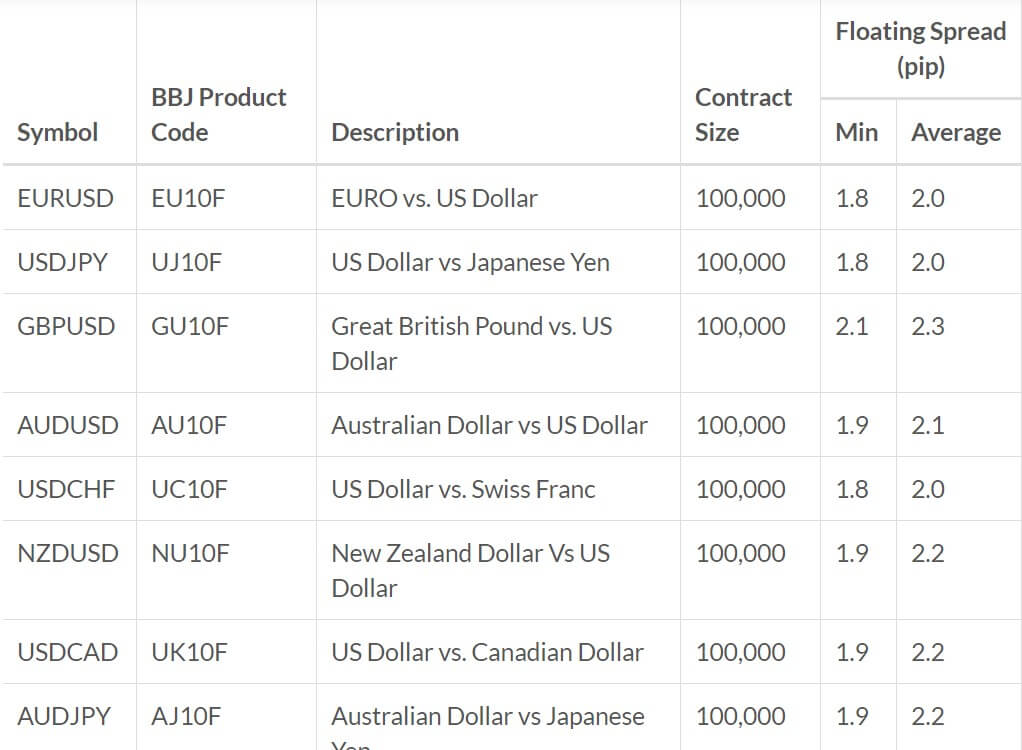 Minimum Deposit
Java is asking for a steep deposit in order to open their only account type, with the requirement being set at $2,000 USD. Elsewhere, traders would be able to find similar account types that only require deposits of $100 or less. The lack of affordability may force some traders to search for a better option, although those that were already planning to make a larger deposit won't feel as affected.
Deposit Methods & Costs
Java does not provide any information that revolves around available deposit methods or the costs associated with making a deposit. We would assume that the broker is at least offering bank wire, and hopefully cards as funding methods. Despite their lack of transparency, Java does make an effort to make clients feel safe by speaking about funds being held in segregated accounts and protected by the Investors Compensation Fund (IFC).
Withdrawal Methods & Costs
We would expect there to be fees associated with making withdrawals through the broker, otherwise, we would likely see fee-free withdrawals advertised somewhere on the website. The complete lack of information is enough to make one apprehensive about making a deposit. Normally, we would recommend making a small deposit in order to test conditions; however, Java's steep $2,000 deposit requirement makes it impossible to make one of these small test deposits.
Withdrawal Processing & Wait Time
Considering that Java is a smaller broker, we would expect to see processing times of at least a few business days. Once funds are sent, it can often take weeks to receive funds that are sent through wire transfer. If the broker does offer any e-wallets, then this would likely provide a faster way to withdraw funds.
Bonuses & Promotions
We couldn't find any information on the website pertaining to bonuses or current promotional opportunities. We did notice that the broker mentioned a welcome bonus where advantages are listed, but this is the main page of the website where we found inaccurate and conflicting information. If such a bonus was available, the broker would likely advertise it more clearly. This doesn't mean that the broker won't provide any offers in the future, so be on the lookout for any changes.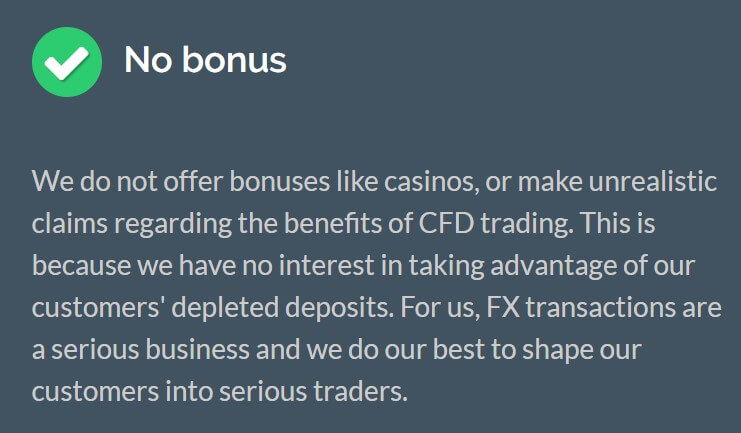 Educational & Trading Tools
Initially, it seemed as though the broker had nothing to offer in this category, aside from an economic calendar. However, we discovered a link to an education center at the bottom of the website and were directed to an entirely separate part of the website that contains video tutorials, articles, courses for beginners, advanced traders, and experts, and practice quizzes. Educational resources are something that many brokers overlook entirely, so we feel that there is a real advantage for traders in Java's education center. On another note, we will mention that the video tutorials are in Japanese, so some traders may not be able to benefit from this medium.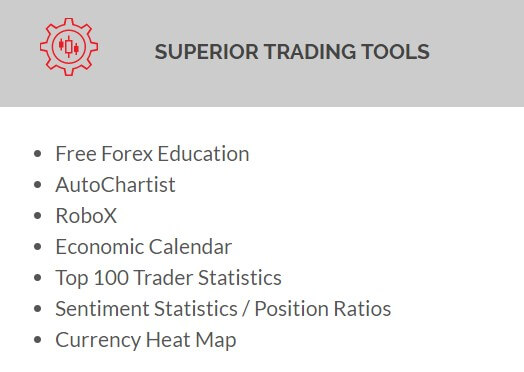 Demo Account
The broker does advertise demo accounts as being available, but clicking on the link to open a demo account only brings us the "Account Types" page. We were assured by the support team that demo accounts are in fact available, although the glitch in the website is rather frustrating and may cause some traders to abandon the notion to open a demo. Hopefully, the broker will work on the website's link in the near future so that traders can access these helpful practice accounts.
Customer Service
In addition to being active on Facebook, Twitter, Instagram, and YouTube, the broker also offers active support 24/5 on LiveChat, via phone or fax, and through email. We did test out the website's LiveChat feature, just to be certain that an agent would respond immediately. Fortunately, the broker's agents do seem to be active and on standby on chat, making it incredibly easy to get in touch with a member of support. Other contact information has been listed below.
Phone: +62 21 222 32 200
Fax: +62 21 222 32 255
Email: info@javafx.co.id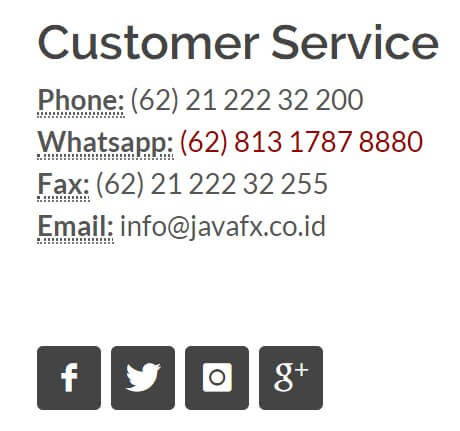 Countries Accepted
There aren't any restricted countries listed at the bottom of the broker's website. This is usually a good sign that everyone is accepted, although we do always try to check the registration page to be sure. Surprisingly, the broker doesn't even require the client's address upon registration. This makes it possible for traders from all locations to open an account with no hassle.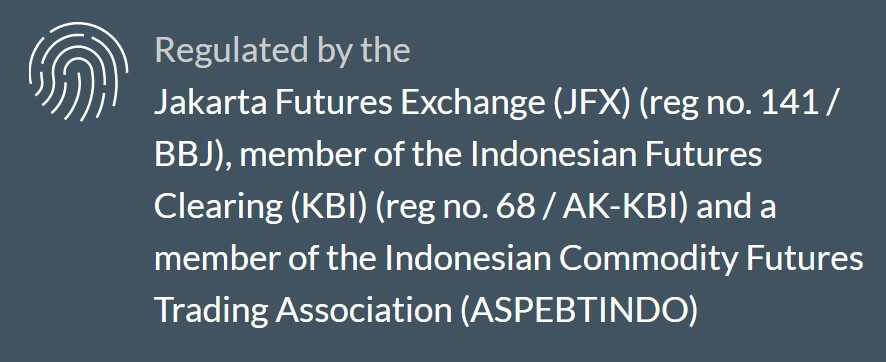 Conclusion
Java offers leveraged trading as high as 1:200 on 34 instruments, which are made up of currency pairs, metals, and oil. The broker is only offering one real account type, which comes with a large $2,000 deposit requirement and higher than average starting spreads. Taking a look at the website as a whole, we see some red flags where the broker provides conflicting information about account types and spreads.
Once we noticed that the broker provides absolutely zero information related to available funding methods and the costs associated with making withdrawals, we felt that the lack of transparency was intimidating. Considering other things, the broker is offering a vast education center that focuses on beginners, advanced traders, and experts with different learning mediums available. This is something that other brokers don't often make available. Demo accounts are also advertised, although a glitch on the website kept us from accessing the sign-up page.
At the time we checked, there weren't any special promotions for traders to take part in, despite some conflicting information on the website. If you're typically located in a restricted country, then you'll still be able to open an account through this broker. Taking everything into consideration, it's up to the individual trader to decide whether Java is offering enough benefits where it's worth looking past their lack of transparency.