FairMarkets Trading Pty Ltd. is an ASIC (Australian Securities and Investments Commission) licensed liquidity provider for over-the-counter derivatives. They aim to offer protection, a fair price, and innovation to their clients. In this review, we will be looking into the service being offered to see if they live up to this expectation.
Account Types
There are two different accounts on offer, the Pro and the Elite account. Both having their own requirement sand trading conditions, so let's see what they are.
Pro Account:
The Pro account requires a minimum deposit of $500, it has no added commissions and the average spread starts from 1 pip. Leverage can be up to 1:500 and it has access to forex pairs, CFDs, metals, and cryptocurrencies. The account is allowed to hedge trades and has access to FairMarkets 24/5 support team.
Elite Account:
The elite account has a minimum deposit requirement of $25,000. The account comes with a commission of $25 / million and due to the commission, there is an average spread starting from 0.1 pips. The account also has leverage up to 1:500 and has aces to forex pairs, CFDs, metals and cryptos. Hedging is allowed and there is access to FairMArkets 24/5 customer support team.
Platforms

There are three different ways to trade with FairMarkets, let's look at what they are.
MetaTrader 5 (MT5):
MetaTrader 5 offers the built-in Market of trading robots, the Freelance database of strategy developers, Copy Trading and the Virtual Hosting service (Forex VPS). Use all these services from one place, and access new trading opportunities. MetaTrader 5 is also highly accessible with it being available as a desktop download, application for iOS and Android devices and even as a WebTrader where you can trade from within your internet browser.
FairMarkets Trader:
This is FairMarkets own platform, unfortunately, there isn't a whole lot of information regarding it, instead, there is just a little information that states "Our own modern platform and client portal that runs on any device for efficient trading and account management on the go." No actual information about features or benefits.
Fix API:
This is a more advanced way of trading and requires some coding knowledge so it isn't really for the retail trader. You can connect directly to FairMarkets via the Financial Information Exchange (FIX) API protocol. Perfect for high-speed trading.
Leverage
The maximum leverage available is 1:500, you can select leverage when signing up for an account. Once an account is open if you wish to change the leverage on it you will need to get in contact with the customer support team with your request.
Trade Sizes
Trade sizes start from 0.01 lots (also known as a micro lot), they then go up in increments of 0.01 lots so the next trade would be 0.02 lots and then 0.03 lots. The maximum trade size is 695 lots which his an oddly specific number, at any rate, we would recommend not trading in sizes larger than 50 lots. As the bigger a trade becomes the harder it is for the markets or liquidity provider to execute the trade quickly and without any slippage.
Trading Costs
The Pro account uses a spread based system that we will look at later in this review so there is no added commission. The Elite account has a commission of $25 / million traded, which equates to around $2.5 per lot traded which is low when comparing it to the standard $6 per round lot traded.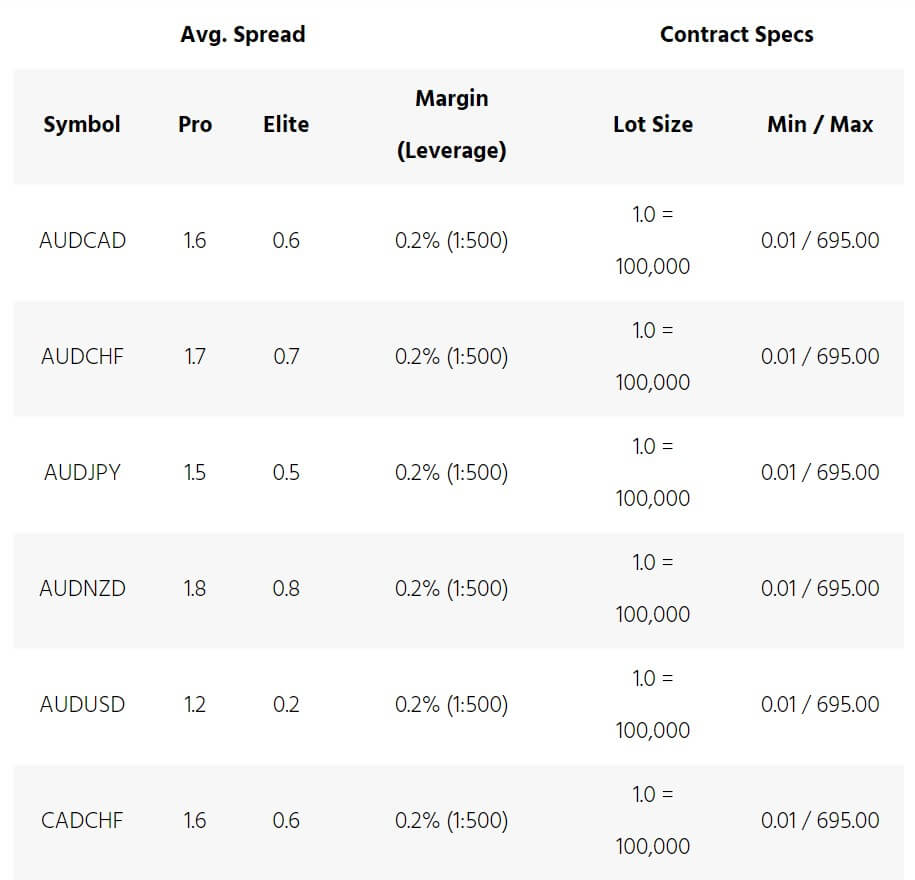 Swap charges also need to be noted, these are interest charges that are incurred for holding trades overnight, they can be both negative or positive and can usually be viewed from within the trading platform of choice.
Assets
FairMArkets have broken down their assets into a few different categories, we will outline some of the instruments available in each.

Forex Currency Pairs:
Plenty of different pairs are available for trading a few of them include AUDCAD, EURCHF, EURUSD, GBPJPY, EURZAR, GBPNZD, NZDUSD, USDMXN, USDTRY.
Crypto:
Just three on offer which are BTCUSD, ETHUSD, and LTCUSD.
Metals:
Just the usual suspects of Gold and Silver are available to trade against the Dollar.
Indices:
A number of different indices are also available, they include FRA 40, GER 30, NAS 100, SPX 500, UK 100, JPN 225 and, US 30.
Energy:
Finally, there are energies, or energy, as there is just one which is US Oil.
Spreads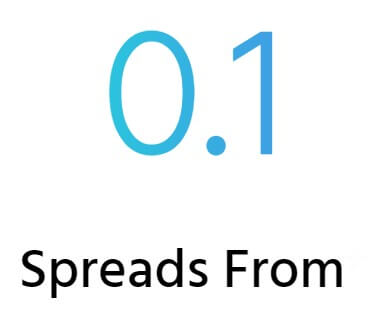 The spreads you receive depend on a few different factors, the first being the account you are using. The Pro account has spreads starting from 1 pip while the Elite account has spreads starting from 0.1 pips. The spreads are variable (also known as floating) so this means that when the markets are being volatile, the spreads will often be seen higher. It is also important to note that different instruments and assets have different starting spreads. So while EURUSD may start at 1.2 pips, other assets like GBPJPY may start slightly higher, in this case, 1.8 pips.
Minimum Deposit
The minimum amount required to open an account is $500, this gets you the Pro account. If you want the Elite account then you will need a deposit of at least $25,000. It is unknown if the minimum deposit reduces or not once an account is already open.
Deposit Methods & Costs
The methods stated on the site as being accepted are Bank Wire Transfer, Visa Credit / Debit, MasterCard Credit / Debit, and Alipay. There is no information surrounding any fees so we can not comment on that part however, we can say to check with your processor prior to making a deposit to see if they add any fees of their own.

Withdrawal Methods & Costs
The same methods are available to withdraw with, for clarification these are Bank Wire Transfer, Visa Credit / Debit, MasterCard Credit / Debit, and Alipay. Just like with the deposits there is no information surrounding any fees for withdrawing. So as usual, be sure to check with your bank or processor to see if they add any fees of their own.
Withdrawal Processing & Wait Time
Unfortunately, this information is not stated on the site. We would hope that withdrawal requests would be processed within 48 hours. We can say that once they are processed, using Bank Wire Transfer or card withdrawals, it can take an additional 1 to 5 working days for your funds to become available for use.
Bonuses & Promotions
We could not locate any information on the website in regards to bonuses or promotions so it does not appear that there are any active ones at the time of writing this review. If you are interested in bonuses then be sure to check back regularly or get in contact with the customer service team to see if there are any upcoming bonuses or promotions.
Educational & Trading Tools
There doesn't appear to be anything in regards to education or trading tools. This is a shame as a lot of brokers these days are looking to help their clients improve and become more profitable with educational courses or tools to help them trade or analyze. It would be nice to see FairMarkets do something similar for their clients.

Customer Service
Should you wish to get your questions or queries to FairMarkets, you can do so using an online submission form to fill in your query. You should then get a reply via email. They also have an email address to use or a phone number should you wish to speak to someone directly. The customer support team is open 24/5 and is closed over the weekend and on bank holidays just like the markets are.

Demo Account
Demo accounts are available, you need to sign up. Prior to signing up there is, unfortunately, no information surrounding the account available such as which account it mimics or if there is an expiry time on the account. This information would be nice to have before needing to sign up to find out.
Countries Accepted
The only statement on the site regarding this is as follows: "FairMarkets Trading Pty Ltd. is a company registered and regulated in Australia by ASIC (Australian Securities and Investment Commission) and holding AFS license number 424122 ACN 159166739. As a consequence of our financial services being provided outside of Australia, the AFS license and Australian regulation only apply to financial services provided to Australian residents."
So if you are interested in signing up for an account, we would recommend getting in contact with the customer service team to find out if you are eligible for an account or not.
Conclusion
FairMarkets started off very well, offering some good trading conditions and accounts. They are relatively cheap compared to the competitions when it comes to trading costs. The main downside is the lack of information surrounding the deposits and withdrawals. It is important for us and clients to know how they can send and receive their money as well as how much it will cost them. This information is vital and FairMArkets should look to include it on the website.