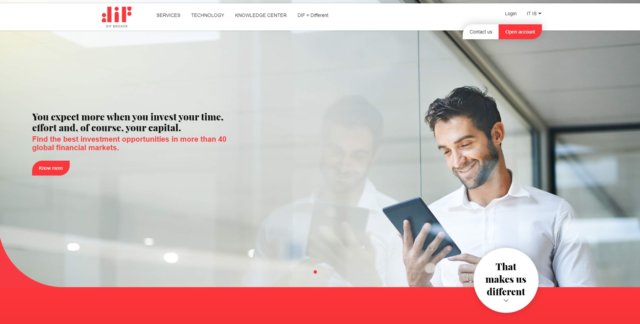 This is an old brand that is mostly focused on Spanish speaking clients and having a specific approach to investing and trading. DIF Broker wants to be different on how the business is handled, offering and promoting alternative solutions than what we usually see for the brokerage houses. DIF Broker started in Portugal in 1999 and slowly going up the ladder to try to differentiate at all costs.
The company is transparent on its beginnings, location, business practice, and the product range. This is also something normal for broker under the MiFID II and EEA, but the content with DIF broker is different in both ways, good and bad. The website is designed with a good balance between style and professionalism, but the usual visitor might get lost in all the atypical information. They seek information on trading conditions, bonuses, leverage, spreads, assets, and similar basics.
DIF Broker has products that will not directly answer these questions but instead, you will need to research what the offer is. There is no content towards the trading conditions description nor any account types to compare. DIF Broker services seem to be centered on Managed Investment solutions. As such, the broker found the need to have their platform to integrate their services.
As for the regulation, the broker has many allowances to do business in the UK (FCA registration), Germany (BaFin), Italy (Consob), Netherlands (AFM), Poland (KNF), Portugal (CMVM), France (Bank France), Spain (CNMV), and is a member of Indemnity System for Investors (SII), a kind of protection fund similar to CySEC ICF and FCA FSCS. Based on the website, promotion, and content, we can see that DIF Broker is oriented on mid to long term investments alternative to banks and other, lower gain institutions. This idea is supported by content that induces trust and safety in visitors.
This DIF Broker review will reveal what is beneath the services for traders by putting aside anything redundant and show the pure trading value.
Account Types
DIF broker does not have the usual accounts for trading. They are differentiated by the investment type, or whether you are going to trade (invest) by yourself, Invest with an Advisor, Invest with a Portfolio Manager or Invest with DIF Protect. If you want to know more about each, you will not find any trading conditions table or similar.
Investing in Yourself Account means you will trade on your own using their DIF platform. The page will present what assets categories you can trade and the range on each. furthermore, each category asset is explained with some promotional content, there is no more information and the action is directed in "Simulation Investment", or in other words, a Demo account. You will also have a private broker, or more likely a salesperson, alerts service, and their platform with all the integrated services.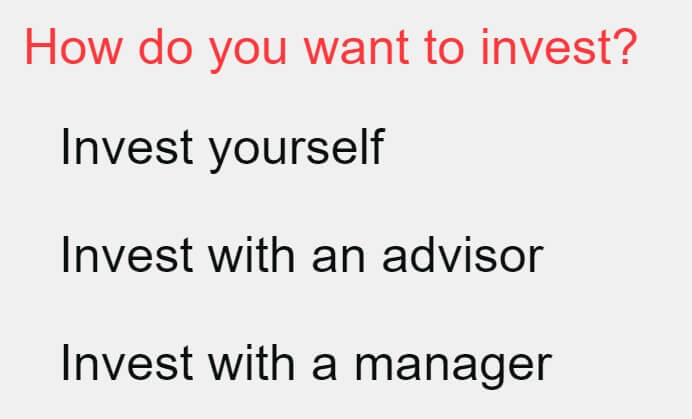 Invest with Advisor is a kind of managed investment service where the client receives a custom made portfolio by DIF Broker staff. The client is in full control of the investment using the DIF platform. This service is aimed at investors who do not want to develop their trading strategy or system and want to use broker made solutions but trade on his own decisions.
Invest with a Portfolio Manager is a customized portfolio creation based on the client's specifics and needs. The strategy portfolio is mainly composed of Stocks and ETFs. This is for investors with higher risk tolerance and who are aiming at least 5 years of investment. From the broker statements, this service is similar to the "Invest with Advisor" but seems to be better customized and for longer-term. Also, the client does not have to monitor the investment all the time.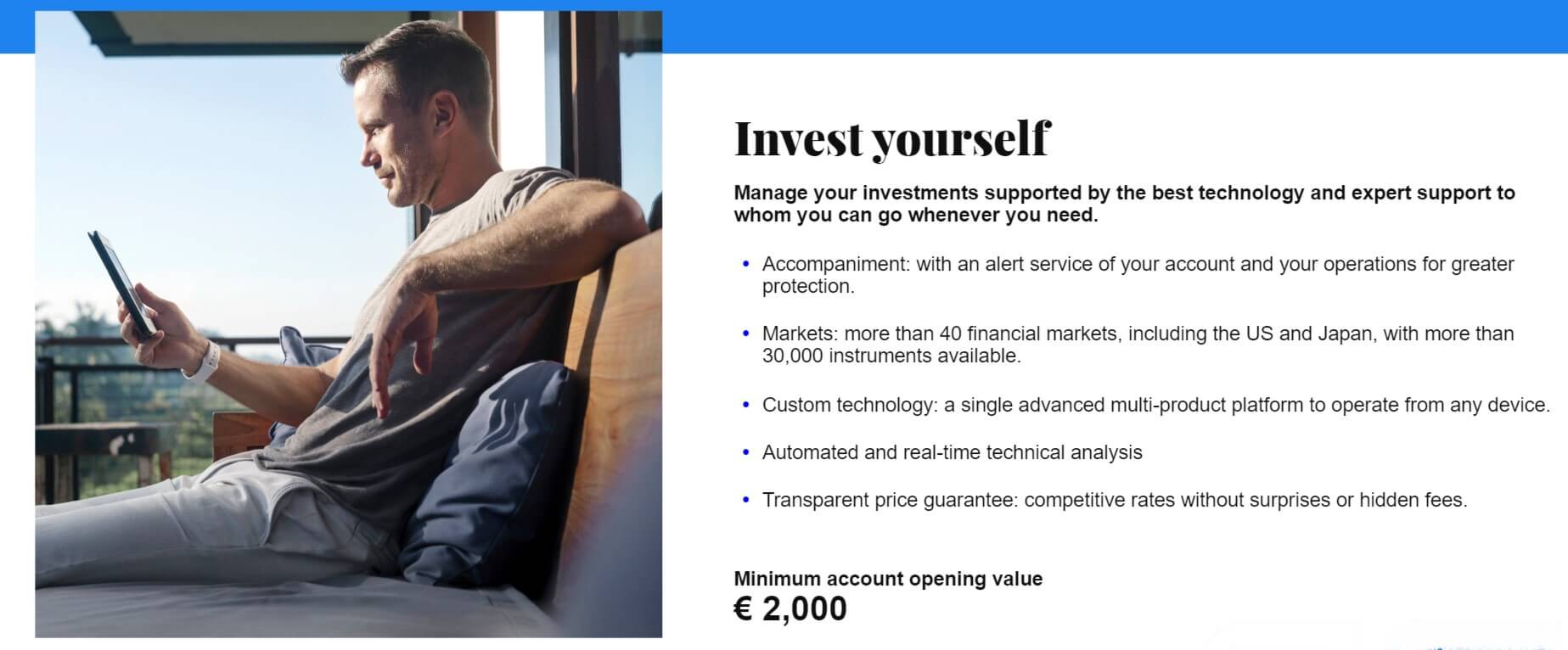 DIF Protect is a service that has the traits of an Option derivative. A trader can have a loss protection buffer if potential gains are capped at a certain level. This is a kind of automated Options structure creation where your losses can be negated if you set the upside limit, yet losses can exceed your buffer or loss protection area while your gains are capped. This service is unique but any details and the costs are not disclosed on the page.
Platforms
DIF Broker does not offer the classic MetaQuotes platforms and relies on its DIF platform available as a web-accessible and for desktop. We were unable to find a link for the downloadable desktop version since we were redirected directly to the Web version without giving the option to switch. Registering for the "simulation" is done via email where your Login details are sent. The platform will open once you set the language and some other parameters.
The platform is divided into 3 resizeable windows with a white theme by default, switchable to black on the top right button row. The right side window contains the chart with all the tools and modes. Product Overview mode has very good information on the asset movement. You will see the classic Bid, Ask prices, Spread, % change, Net change, Day range, and a price chart in the form of a histogram with switchable timeframes.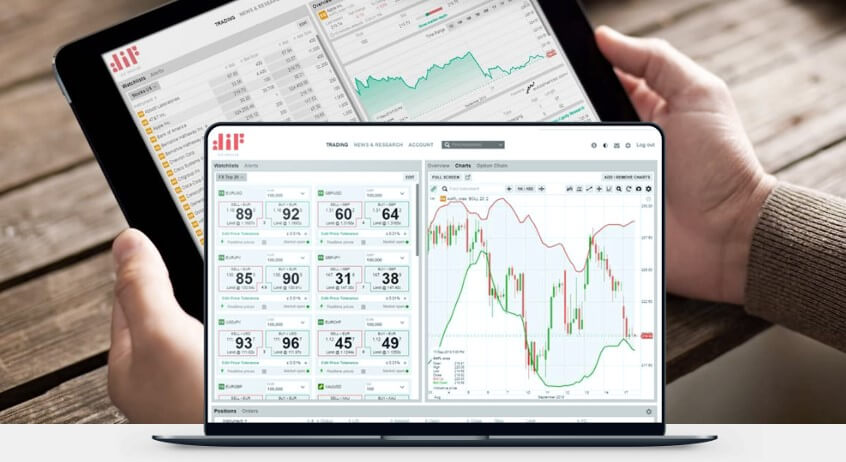 Charts mode presents the full feature chart which can be set to full screen or detached. Linking and instrument finder is available on the top left with advanced timeframes settings. The timeframe can be set to 1,2,3, 5, 10, 15, and 30 minutes, 1, 2, 4, 6, and 8 Hours, Daily, Weekly, and Monthly, with an additional setting for a range period to which the chart will be displayed. The top right side of the window has the indicators, chart type selection, drawing, snapshot, chart configuration, and other useful tools.
The chart can be configured in many ways, from colors to timezone and also has a context menu on right-mouse click with logical and useful features. Chart types available are Heikin Ashi, Candlestick, Bar, %Comparative, and a Line. There a total of 53 indicators you can insert with a good range of settings. Most of the indicators are popular and can also be found in the default installation of the MetaTrader platforms.
Options Chain mode is the selection of Options that can open a completely different way of trading and risk management. The left window contains the Watchlist with the Alerts tab. The watchlist has a lot of features and information feedback. The right-click context menu will give you options to open a new trade, add and remove the instrument to a watchlist, add price alert, and see Trading Conditions.
The alert tab features a filter box, sorting and alert add option. There are many conditions and settings you can set an alert, you can also set it to repeat, expire, on % price change and so on. At the bottom of the screen is the Positions and Orders window that holds all the information about open trades and how they affect your portfolio, balance, exposure, margin utilization and more. Even this window has a filter box and category column sorting. Ordering can be done in a few ways, the panel will open with more options than what you see in the MT4 or 5 platforms, see the cost of the trade, plus you can drag the pending orders on the chart.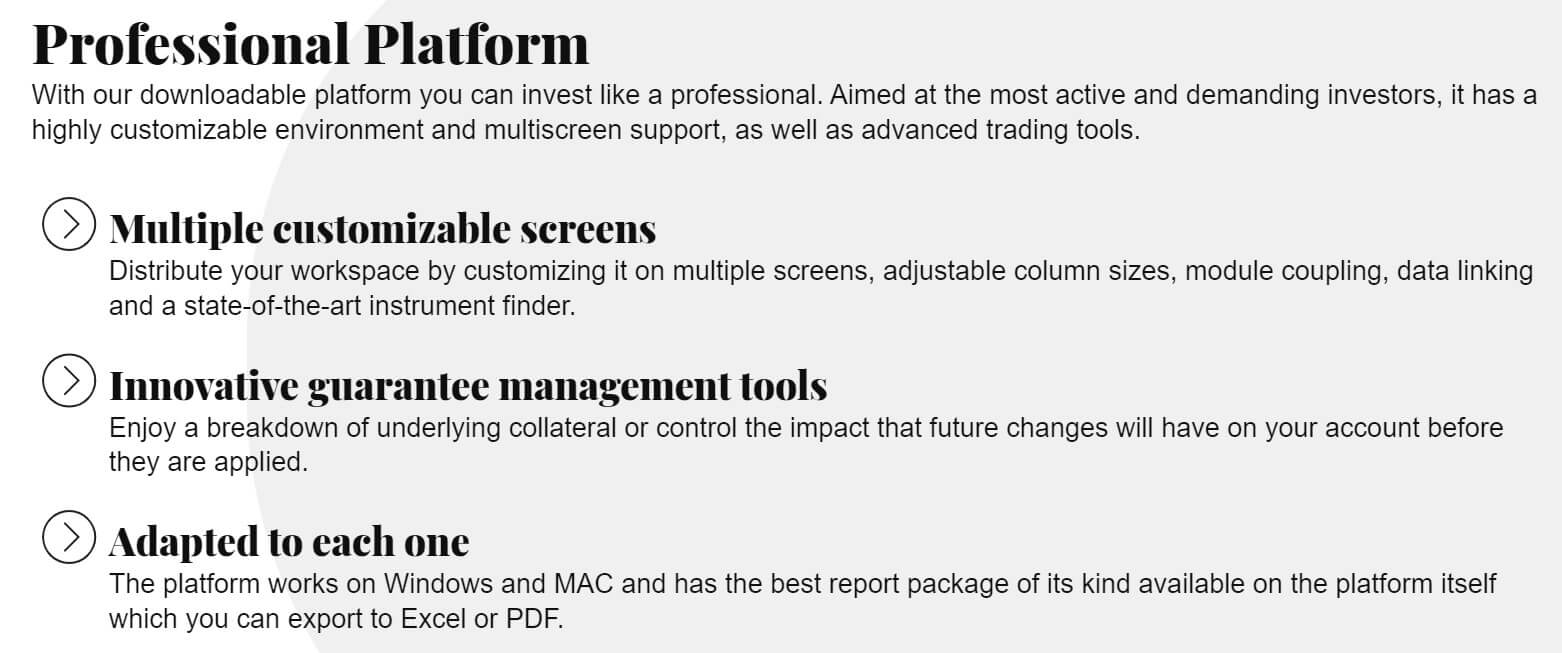 DIF platform is probably one of the most advanced web-based platforms in the industry, so the technology promotion by DIF Broker holds. As for the integrated services, the DIF platform has the Research section next to the Trading, where the platform is linked with the Autochartist signal service. This function is very well blended into the platform, you can select the instrument category to your left and see the analysis on many assets on different intervals, probabilities, pattern names, type, age, and length.
On the Performance Disclaimer, traders can see the success rate of the Autochartist patterns and Key levels forecasts. At traders, disposal is also a great filtering selection so they can pin down only assets of interest with the best probabilities. The final tab is about the trader's account. Statistics including exposure, gains, position values, P/L, and similar, Historical reports including dividends payments, CFD cahs adjustments, interest details, reports of various kinds and of course, trades executed.
Another tab contains all the setting for the Account such as Subscriptions, upcoming margin and Collateral changes, Demo account reset, etc. Chat is also integrated into the DIF platform but it is available only for Live accounts, thus limiting the ability to have contact with the broker in a non-phone way. As for the execution times, they do not have a time stamp so it cannot be measured precisely. Form our manual measures the execution times are under 200ms.
Leverage
DIF Broker has Key Information documents but they are available only once you register and see the platform. Since DIF Broker is under the ESMA directive the maximum leverage for Retail traders is capped to 1:30 leverage. Forex currency pairs have 1:30 leverage for major currencies but for exotics like the TRY the leverage can be reduced to less than 1:7. For Spot Gold against the USD, the leverage is 1:20 for buying and 1:30 for selling. Indices have 1:20 and Commodities have margin levels based in currencies such as the USD. It is possible to increase the leverage if a trader can classify as a Professional. To qualify a trader must pass certain conditions.

Trade Sizes
All the minimum volume trade sizes are in mini-lots or 10,000 units for Forex instruments. For Spot Gold, the minimum is 10 units or 10 Oz that is the equivalent of 0.1 lots. This minimum volume sizing is similar even for other assets and securities that have different margin calculations. The maximum trade volume is known in the ordering window but additional volume steps are also in mini-lots. The larger minimum trade sizes are not adequate for small values accounts and DIF Broker is aiming for bigger deposits this way. As for the Stops level, this parameter is not disclosed in the instrument specifications. Margin Call is set to 75% and Stop Out is at 50% margin level. In the DIF platform, the Margin Level is presented as a Margin Utilization meter, but the calculation is the same.
Trading Costs
DIF Broker is different when it comes to calculation the trading costs. The platform will present the trading costs once you order a trade, the structure will be more clear to you. The point is that smaller trades carry the highest trading costs. So, for example, trade ticket cost (commission) will be $10 for 40 units of spot Gold (0.4 lots) against the USD, meanwhile, 0.5 lots or 50 units will not have any ticket costs. This dynamic policy is applied to all instruments and therefore it is not possible to determine the exact commission or trade ticket.
This setup certainly favors large accounts, and the costs are very high for the rest of the traders, comparing with the industry average. As for other costs, the official Pricing document, which is not easy to find, (we found it using Google search, not navigating the website) they are very complex. So complex we had problems to collect what is the final cost that a trader can have.

Let's start with the Stock OTC trading commission of 4%. Other most important costs are regarding the portfolio management services, Success Fee is – 20 %, Annual Fixed Fee 3%. The inactivity fee is stated to be charged EUR 36, plus VAT. There is no information on when the account is considered inactive. All DIF Broker Fees charged are subject to VAT. Admin costs for the delay in sending the required legal documentation will be charged with a fee of 100 euros per quarter, plus VAT.
Assets
DIF Broker does not have only CFD instruments but also other securities and derivatives such as Forwards Futures and Options. Note that you will need to consult with all the instrument specifics so you can know your costs and benefits relevant to them. It can be said that the range in every category is phenomenal.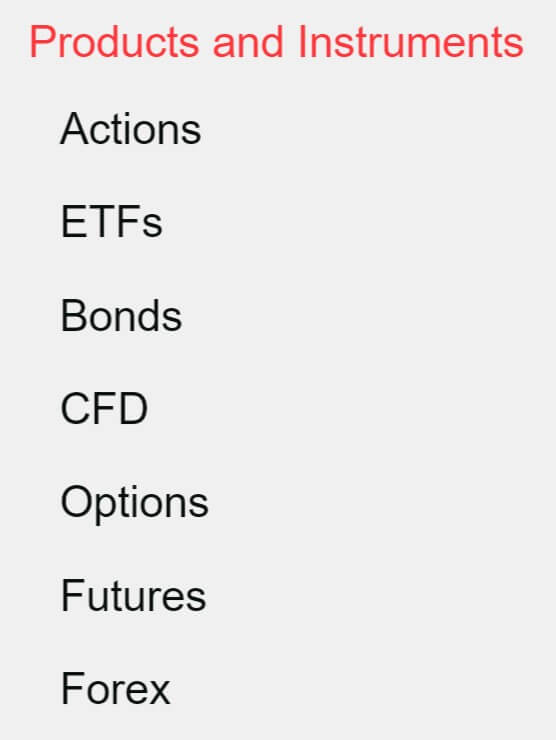 The drawback is there are no Cryptocurrencies. Starting with forex, there are 182 total assets, 140 of them are forwards contracts and 42 are on spot. This is almost the full Forex range one can find. Let's just say you can find exotics pairs such as CHF/TRY, AUD/ZAR, SGD/CNH, USD/AED, GBP/ILS, JPY/HKG, PLN/DKK, and many more extremes.
DIF Broker is on several Exchanges around the world. This enables this Saxo Group Broker to have over 19,000 stocks on 36 exchanges. These securities can be under the CFDs and Futures. There is enough range here employed traders could probably find their own public company.
Indexes are under CFDs and there is 21 total. The diversification is excellent and the choice of alternative Indexes is great. Notable, rare Indexes are Belgium 20, Denmark 20 and 25, Germany Tech 30, Germany Mid-cap 50, Germany 30, Norway 25, Portugal 20, Swiss 20, Spain 35, Sweden 30, and Wall Street 30. ETF range is one of the strongest categories of DIF Brokers, not only by the number of ETFs but their diversity and usability as alternatives and options on many holding or hedging strategies. There are over 1000 ETFs to choose from.
Bonds offer is also very extended with multiple countries around the world. The list is long enough to scroll a dozen times and still not reach the end. Classic Options are also offered, 1000 of them. Options on interest rates, stocks, energy, precious metals, and others open a new way of how you can trade and manage your risk.
Futures are contracts on many asset categories such as Currencies, Commodities, Indexes, and interest rates. There are more than 200 of them across 22 exchanges. Among these are commodity assets, many of them including Coffee, Corn, Cotton no2, Rice, metals and more.

Spreads
Spreads are dynamic but can behave like fixed as they do not move that often, but can be dynamic on the trade volume. Interestingly, the bigger the trade volume is the wider the spread for certain assets. For Forex, we can say the levels are no competitive as most are higher than what we usually see with other brokers. Yet, DIF Broker is a market maker with many integrated services targeted to the high ticket investors.
To have some insights, EUR/SUD has 3 pip spread, USD/JPY 2.5 pips, AUD/USD 3 pips, NZD/USD 4 pips, and USD/CHF 4 pips. Wider spreads are for the GBP/NZD 11 pips, AUD/NZD 7 pips, and similar for other cross pairs. Exotics spreads are very good. There are many of them but the spreads remain competitive. USD/MZX spread is 40 pips, USD/ZAR 65 pips, USD/RUB 292 pips, GBP/HKD 33, etc. Spot Gold against the USD has 45 pips spread which is a bit higher than with other brokers, similar to other assets. You can expect higher than average spreads for all other categories.
Minimum Deposit
The minimum deposit in 2020 is $500 for individual self-managed accounts. For a managed portfolio, you will need a minimum of EUR 25,000. These figures are not present on the website.
Deposit Methods & Costs
Deposit methods available are Wire transfer, Credit Cards, Neteller, and Skrill. Incoming transfer in Dollars for bank wires is 5 EUR plus stamp duty.
Withdrawal Methods & Costs
Same as with the deposits, the channels have to be the same per AML policies as deposits and under the investor name. For SEPA Transfers there are no withdrawal fees until EUR 100,000. SEPA Transfer above EUR 100.000 has a EUR 15 fee plus stamp duty. Also, US Tax Code Section 1441 points to Clients trading on the US markets, they are charged an annual fee of EUR 40 plus VAT according to the Pricing document from DIF Broker. Transfer outside SEPA area has a 0.20% fee, minimum of EUR 15 and a maximum of EUR 60 plus stamp duty. All transfers otherwise have a minimum of EUR 10 fee or 2% for transfers over the nominal portfolio with a maximum of EUR 200 per ISIN.
Withdrawal Processing & Wait Time
Withdrawals are done in 2 to 5 business days regardless of the withdrawal channel. This on par with other FX brokers within the industry.
Bonuses & Promotions
DIF Broker is not allowed to have any promotions or bonuses per EU directives. We certainly cannot fault them for following the rules, can we?
Educational & Trading Tools
DIF Broker has tools integrated into the DIf platform. Under the Research tab, there are 3 modes traders can utilize, Signal service from the mentioned Autochartist, News and Economic Calendar. Autochartist is a well-known service that incorporates automated pattern recognition and plotting on the chart. Traders can use the signal information and trade on the spot without going to the Trading mode. This is very convenient for those that like AUtochartist and can easily find, sort and filter their signals on many categories.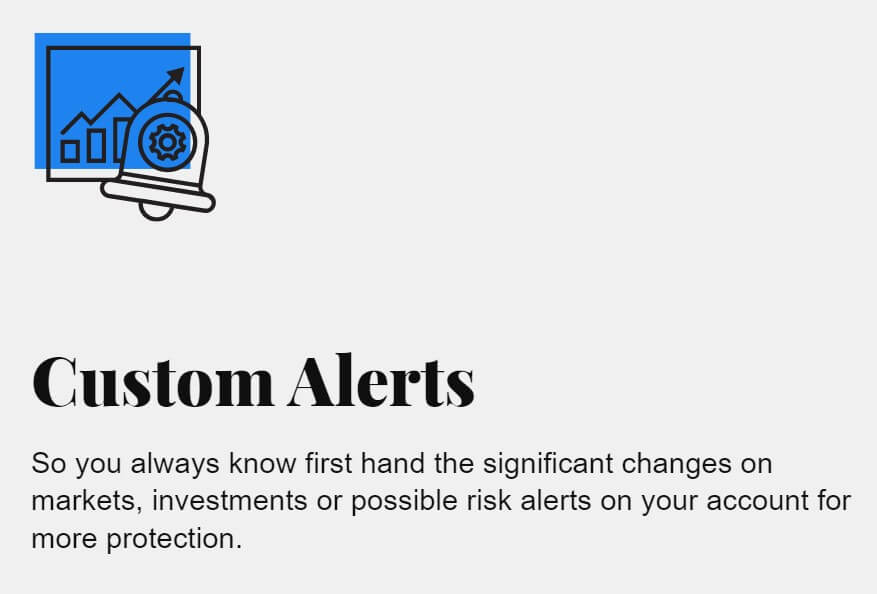 The Newsfeed is updated regularly and currently only comes from NewsEdge Spanish LATAM. They are only available in Spanish without any way to translate. If non-Spanish speaking traders what to use this, they can utilize any translating service as the articles are not longer than one page.
The integrated Economic Calendar is very basic not having any options for filtering, sorting or analyzing. It is designed as a stating non-interactive list without impact meters. What you will see are just the most recent event name, country relevant, and the figures for past, actual and estimated levels. Other educational content is mixed in on the website, intended for not-so-familiar investors.
Customer Service
DIF Broker can be contacted only by phone or email. Once you have a Live account, you will have access to the chat integrated with the DIF platform. The quality of service is very good but have in mind that DIF broker has a very good selection of non-aggressive salespersons.

Demo Account
The Demo is promoted on most of the pages of the DIF Broker's website. Yet the demo is time-limited to the next 15 days. This is not a good signal since this practice is common when brokers do not want you to spend too much time without any deposits.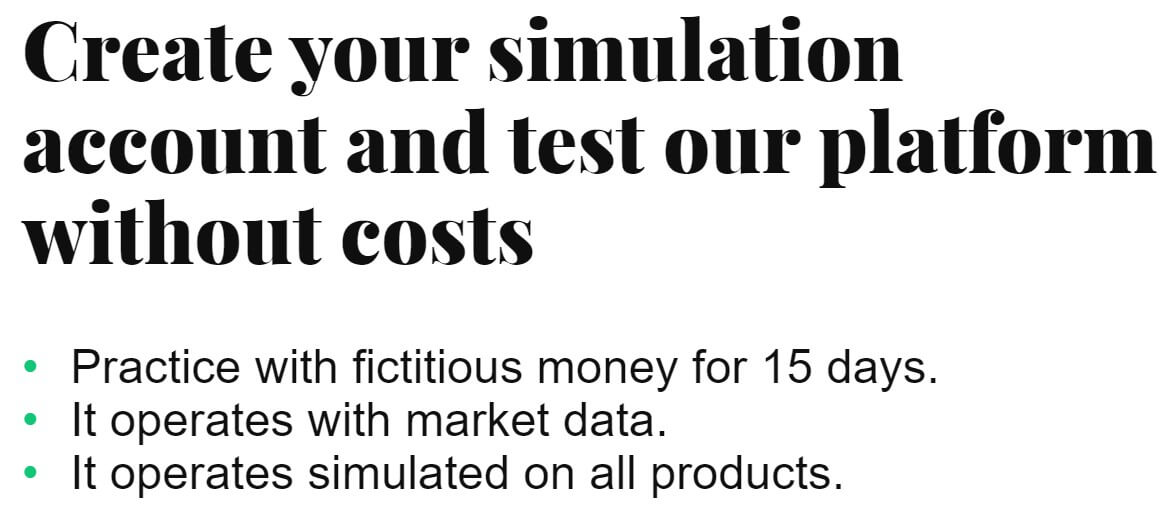 Countries Accepted
Being registered with multiple EU regulators and having the license to do business in them, DIF Broker focuses on the Spanish speaking countries such as Spain, and Latin America in their respective branch. Other clients come from Germany, the UK, Armenia, and Poland. According to the regulations, the DIF Broker will not do business outside the scope of its licenses. The official licenses to provide services are held in Bulgaria, Germany, Italy, Netherlands, Poland, Portugal, Romania, France, Spain, the U.K., and Uruguay.
Conclusion
This section of the DIF Broker review will conclude our impressions and solidify your decision on investment. 77% of retail investor accounts lose money when trading CFDs with DIF Broker, an average percentage in the industry. But note this is only counted for CFD trading and this broker has many more other types of trading products.
One thing is certain, trading conditions are not good enough for the nowadays traders who like fast trading, cryptocurrencies, and automation. DIF Broker knows this and does not present this so openly. On the other side, the DIF Broker wants to differentiate by offering other managed portfolio services aimed towards long term clients with higher financial capabilities. Even though the great range of products on the specialized platform is great, only a small number of traders are willing to stay just for the ETFs, Stocks or Bonds.
At the current state, ordinary retail traders of today will seek other brokers, we are not sure how sustainable is this different direction DIF Broker embarked on.