Trustworthy, transparent and fair, that is the motto from Trigold, a forex broker registered in Seychelles. TriGold's main goal is to provide clients with all the tools they need to develop their skills at every step of their journey while enjoying an unparalleled trading experience. In this review, we will be looking into the services being offered to see if they live up to their motto and expectations.
Account Types
It seems that there is only one live account on offer from Trigold. This account has a starting deposit of $11 and has no commission, leverage can be as high as 1:400 and trading starts at 0.01 lots. The account is eligible for a bonus and execution speed is around 0.1 seconds. We will be looking into the different trading conditions in more detail later in this review.
Platforms
Trigold uses MetaTrader 4 as its only trading platform, so let's see what the trading platform offers.
MetaTrader 4 (MT4) is one of the world's most popular trading platforms and for good reason. Released in 2005 by MetaQuotes Software, it has been around a while, it is stable customizable and full of features to help with your trading and analysis. MT4 is compatible with hundreds and thousands of different indicators, expert advisors, signal providers and more. Millions of people use MT4 for its interactive charts, multiple timeframes, one-click trading, trade copying and more. In terms of accessibility, MT4 is second to none, available as a desktop download, an app for Android and iOS devices and as a WebTrader where you can trade from within your internet browser. MetaTrader 4 is a great trading solution to have.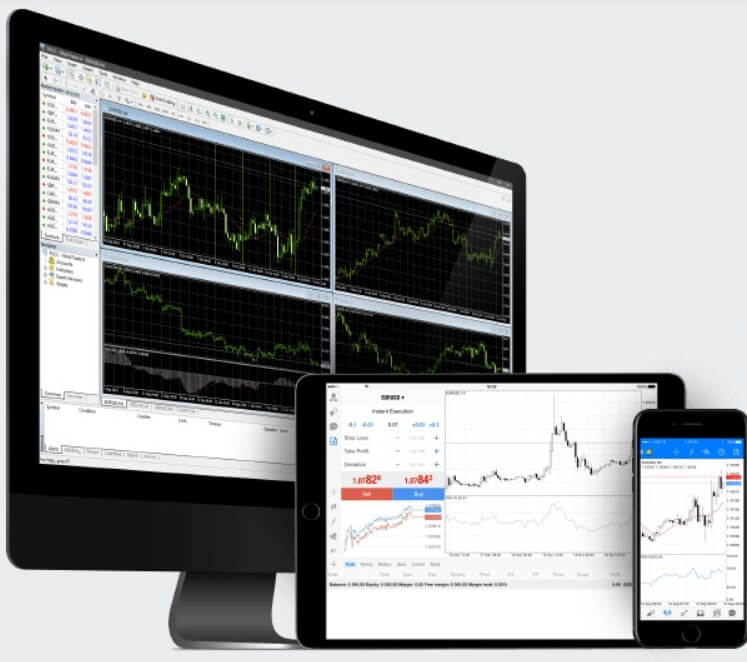 Leverage
Leverage can be as high as 1:400, this can be selected when opening up an account and once an account is already open, if you wish to change the leverage you will need to get in contact with the customer service team.
Trade Sizes
Trading sizes start at 0.01 lots which are also known as micro-lots, they then go up in increments of 0.01 lots so the next trade would be 0.02 lots and then 0.03 lots. We could not locate information regarding the maximum trade size, however, we would not recommend trading more than 50 lots as it can become harder for the markets and liquidity providers to execute trades quickly and without commission the bigger they are.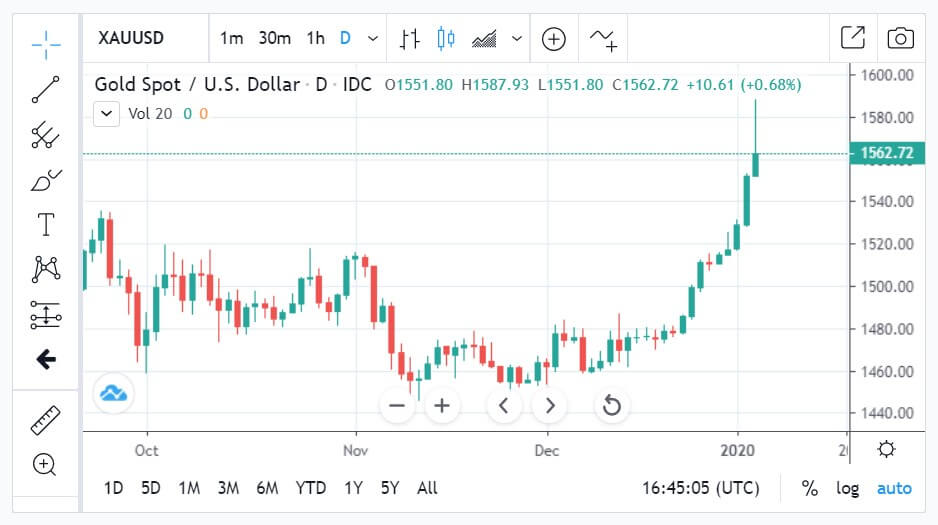 Trading Costs
The account with Trigold uses a spread based system that we will look at later in this review, there are no added commissions. Swap charges are present which are fees that you wither pay or receive for holding trades overnight, these can often be viewed within the trading platform you are using.

Assets
Trigold has broken down their assets into two different categories, forex, and precious metals. Looking at the forex page, there only appears to be forex majors, at least that is all that is mentioned, the only pairs mentioned are AUDUSD, EURUSD, GBPUSD, NZDUSD, USDCAD, USDCHF, and USDJPY, it is unknown if there are any other pairs available to trade. In terms of the precious metals, there is only Gold and Silver mentioned so we assume this is all that there is.
Spreads
The spreads are not stated on the website, and trying to use the demo account did not work so we are unable to tell what the spreads actually are apart from the usual marketing of "competitive spreads".
Minimum Deposit
The minimum deposit stated on the website is $100, this is also the amount for any top-up payments too.
Deposit Methods & Costs
You can only use Bank Wire Transfers to deposit into Trigold, there is no information regarding any fees so we can not comment on that, however, be sure to check with your own bank to see if they add any fees of their own.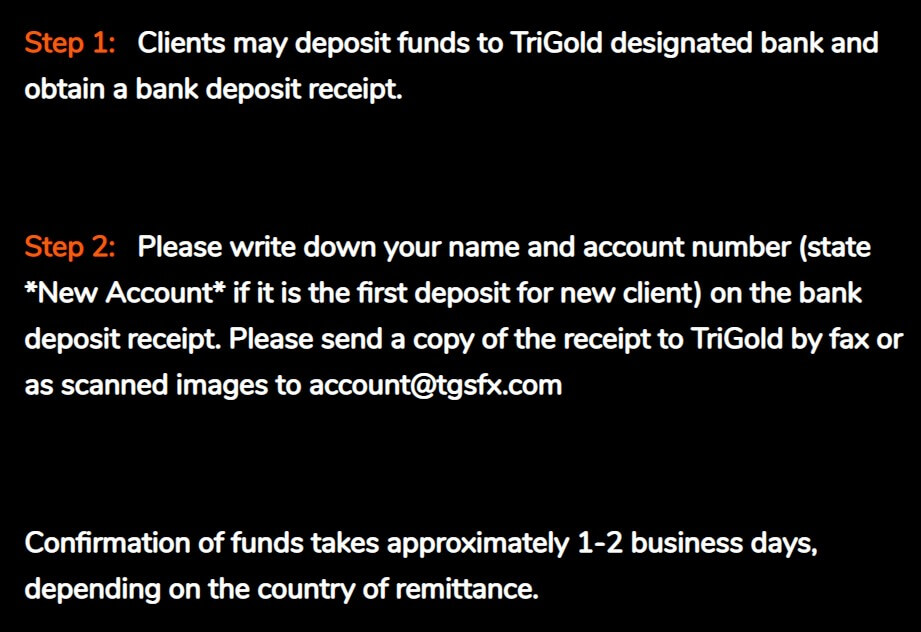 Withdrawal Methods & Costs
Just like depositing, you can only use Bank Wire Transfer, again there is no indication of any fees, however also no notice that there aren't any, as always, be sure to check with your own bank to see if they add any fees of their own.
Withdrawal Processing & Wait Time
Trigold states that it will take between one and two business days to process a request, after this, it will most likely take another two to five business days for the funds to become available in your bank account.

Bonuses & Promotions
You can receive up to a 35% bonus up to a total of $30,000. This is for new customers only and is deposited as bonus funds, you are required to trade the bonus amount / 8 in lots in order to convert it into real funds, there is also a 3-month time limit and all bonus funds will be removed if the rollover is not met in the three month period.
Educational & Trading Tools
There are a few little things when it comes to education and tools, there is the standard economic calendar that tells you of upcoming news events as well as which markets they may affect. There is a risk management page which gives some very basic information on risk management and there is a training academy which is actually just some very basic information on different aspects of trading, it isn't anything that will make you an expert but if you have no knowledge at all could be somewhat helpful.
Customer Service
The customer service team is available between 10:30 am and 6:00 pm from Monday to Friday and is closed at the same time the markets are. Strangely there is no phone number, no email and no online form to fill in. There are just physical addresses for Hong Kong, Seychelles, Taiwan, and Sri Lanka. So there isn't actually a way to get in contact which is very concerning.

Demo Account
A demo account is available, however, it is currently not functional so we could not actually test it, looking through the internet, it seems that others had the same issue so it appears that they are not functioning or if they are, they are not representing real trading conditions.

Countries Accepted
The following statement is present on the Trigold website: "Please note TriGold does not service US and entities or residents of any kind. While we welcome clients from all over the globe, governmental restrictions along with our company policies prohibit TriGold from opening accounts originated from the following restricted and/or OFAC sanctioned countries: Afghanistan, Botswana, Cote d'Ivoire (Ivory Coast), Cuba, Egypt, Gambia, Ghana, Guinea Bissau, Guinea Conakry, Iraq, Iran, Kyrgyzstan, Lesotho, Liberia, Libya Mali, Niger, North Korea, Russia, Senegal, Sierra Leone, Somalia, Syria, Tajikistan, Togo, Turkmenistan, The Democratic Republic of Congo The former Liberian Regime of Charles Taylor, Uzbekistan, Yemen, and Zimbabwe."
If you are unsure if you are eligible for an account we would recommend getting in touch with the customer service team (if you can work out how) prior to signing up.
Conclusion
Too much information is missing for us to seriously consider Trigold as a suitable broker to trade with, the assets are unknown, deposit ./ withdrawal fees are unknown, spreads are unknown and the demo account doesn't actually work. The worst part though is that there is no way to get in contact with the customer service team, for that fact alone we would recommend staying clear of Trigold.