EBH Forex's goal is to empower traders through knowledge and expertise. That is to say: Their team of market professionals doesn't just help account holders through developing valuable practical tools and signals, but they also ensure that their customers have conveniently comprehensive trading experience. This broker is based out of Bulgaria, but their staff members come from all over the world and combine their years' worth of market experiences.
Many traders who choose EBH Forex do so because of the firm's highly competitive spreads, their technologically-advanced resources, and how this broker permits them to deploy different market strategies (including hedging and scalping). Moreover, EBH Forex accepts 4 different default currencies and works with traders from around the world. Yet some regional restrictions may apply. To find out what they are, alongside all of the resources, coding tools, and other services that this broker offers, read this review and find out how EBH Forex can enhance your trading experience.
Account Types
The MetaTrader Pro Account, available on both MT4 and MT5, is the only type offered by EBH Forex. One of its unique features is that the quotes are down to points (a 10th of a pip).
Minimum Deposit: $100
Spreads: From 0 pips
Commission: $3.50 per lot on each opening/closing transaction or $7.00 per lot on fully closed (round-trip) trades.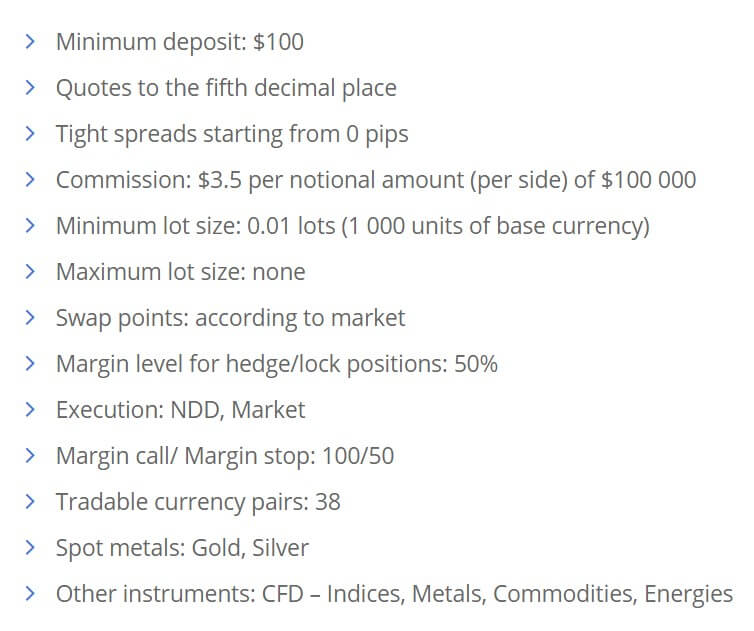 Opening an account with EBH Forex is a relatively long process. After filling out the application, providing a copy of a government-issued ID, and submitting proof of address documents, traders have to verify their information by way of video. They can do this by calling EBH Forex's customer service team via video chat or recording footage for them to review. Afterward, the process is concluded and you can start trading. You also have the option of opening an Islamic account.
Platforms
EBH Forex gives traders access to both MetaTrader 4 (MT4) and, its more advanced version, MetaTrader 5 (MT5). The two platforms can be used to trade a wide variety of forex pairs, CFDs, and other financial instruments. Through EBH Forex's website, traders can easily open a MetaTrader Pro account and download the two versions of the platform. However, there are differences between MT4 and MT5 that traders should be aware of. While both of them have industry-leading and state-of-the-art features, choosing the right one mainly revolves around your strategy and preferences.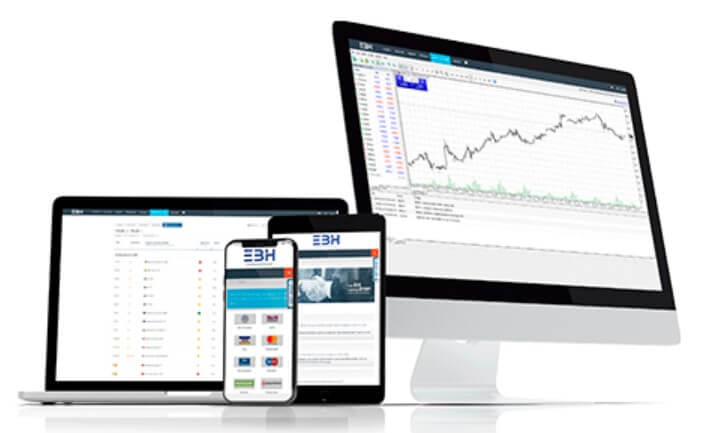 First, MT4 provides you with a daily economic calendar, but their news updates and fundamental analysis alerts aren't as expanded as MT5's. This makes the latter more desirable to those who focus on the fundamentals and/or are looking to have their news feeds, account dashboard, and trade management tools all in one place. Both of them, however, are accessible from almost any country in the world and their customer support is available in several languages. Moreover, each of the platforms can be downloaded and used on desktop and smartphone devices, alike. Keep in mind, though, that MT5 takes up more space than MT4.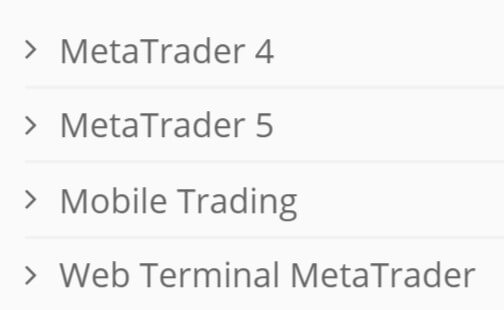 Traders whose strategy revolves around technical analysis might want to carefully do their research before choosing a platform. MT5 has more technical indicators (38), graphic tools (44), and timeframes (21). MT4, on the other hand, only offers 30, 31, and 9 of these tools, respectively. Yet, the Fibonacci charting and other analysis features work better on MT4. Technical analysts need to weigh in on how much they rely on Fibonacci and if it is more important to them than accessing a wider selection of indicators and timeframes.
You have the option of working with an expert advisor through MT4, but only MT5 will give you access to the community chat features. Apart from that, MT5 also has a more spacious dashboard and is known to be more user-friendly than MT4. The latter also allows you to engage in hedging, but this approach is not available on MT5. You can test your strategies on each of these platforms. On MT4, this is only possible through a single thread. Meanwhile, MT5 provides traders with multiple threads and several currencies that they can test their strategy simultaneously.
Leverage
Before August of 2018, EBH Forex's account holders could get up to 200:1 in buying power. However, due to new EU regulations on the financial sector, the broker started to limit traders' leverage to 30:1. Moreover, exotic forex pairs and some major ones, such as AUD.CAD (Australian Dollar/Canadian Dollar) and EUR.NZD (New Zealand Dollar), only have a buying power of 20:1. If you want EBH Forex to give you more leverage, you may have your account upgraded to 'Professional Client' status, which we will discuss in more detail in this review.
Trade Sizes
The minimum lot size is 1,000 units of the base currency, which is 0.01 lots. EBH Forex is flexible and has no maximum position requirements, giving the firm an advantage over many other brokers.

Margin Call: 100%
Stop-Out: 50%
When you enter a trade and it starts losing money, EBH Forex will notify you once it goes below the 100% margin requirement while your dashboard highlights it in red. At the 50% level, unless you close some trades or deposit additional funds, the broker automatically liquidates all your open positions.
Trading Costs
You incur the commissions every time you open or close a trade. When you first buy the forex pair, you are charged $3.50 on each $100,000 (or the equivalent) of the base-currency you purchased, which is EBH Forex's standard lot size. Another $3.50 is added when you sell or, altogether, $7.00 per fully closed lot. If you keep your trades open overnight, then you are charged swap fees. They are determined based on market conditions and the interest rates of the specific currency that you're trading.

The Islamic account, however, is unique because it doesn't incur any swap fees. Instead, traders are charged a flat fee on overnight positions. Lastly, traders have to cover spread costs. Even though this broker's spreads can be as low as 0 pips, the number varies from one currency pair to another. When markets are unstable or volatile, the spread is likely to be much larger. On EBH Forex's website, you can see the list of currencies and their spreads, down to one-tenth of a pip.
Assets
You can trade almost 40 different forex pairs, as well as commodities, namely spot gold and spot silver. Apart from the majors, there are certain exotics that EBH Forex gives traders access to, such as the Mexican Peso and South African Rand. Spot metals are tied to the US dollar, just as currencies are bundled in a pair. You can trade XAG.USD (silver) and XAU.USD (gold) through the MetaTrader platforms. Lastly, the broker gives traders access to certain market indices and stock CFDs.
Spreads
The EUR.USD has the lowest spread (0.5 pips) amongst all currencies listed on EBH Forex's website. Several others have a spread of less than 1 pip, but some forex pairs' bid/ask gap can be much higher. For example, USD.ZAR (South African Rand) has an almost 400-pip spread. This is because the bid and ask prices, alongside the value of 1 pip, can be lower for exotic pairs. Traders should always keep this mind in order to make fully-informed decisions.
Minimum Deposit
You only need $100 to open an account and start trading.
Deposit Methods & Costs
There are several ways to fund your account. You can set the US Dollar, British Pound, Bulgarian Lev, Euro, or Swiss Franc as the default currency. The deposit options are the following: Astro Pay, ePayments, MasterCard, Neteller, Paysafecard, Rapid, Skrill, SWIFT bank transfers, and Visa. Bank transfers are processed within 3 days, while the time it takes for other methods to go through is not listed on EBH Forex's website.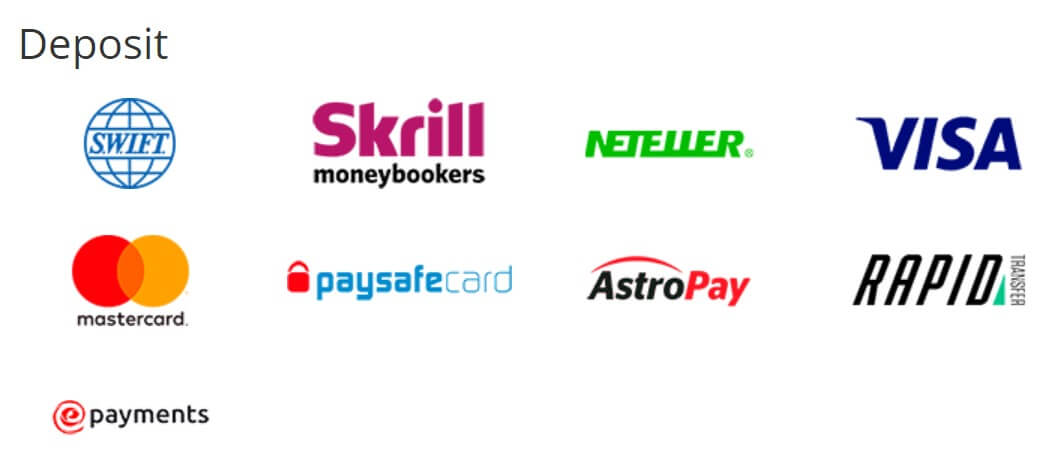 SWIFT bank transfers are free when you deposit funds. Paysafecard and ePayments will charge 10% and 1% the transaction amount, respectively. When it comes to other methods, the broker might charge a fee. You will find more information about these charges on your user account's dashboard.
Withdrawal Methods & Costs
You can only withdraw money via bank transfers, ePayments, Neteller, or Skrill. The fees are as follows: Bank transfers cost $25/15 EUR per transaction (based on your preferred currency). Skrill and Neteller payments come with a fee of 1% and 2% of the transferred amount, respectively. However, ePayments don't cost anything when you withdraw funds. It is important to note that the minimum withdrawal amount is 100 in your account's default currency per transfer.

Withdrawal Processing & Wait Time
Each method also has its own processing time, which is different from how long it takes to deposit money. Here are the withdrawal times: Bank transfers are processed within hours, but, at times, the wait can be 5 days. Skrill and Neteller withdrawals only take a few hours during weekdays. Processing times, nonetheless, can be up to 8.5 hours when transactions are made after the markets close and during weekends or holidays. Lastly, outbound transfers via ePayments go through on the same day. Otherwise, they are processed during the next business day when withdrawal requests are made on weekends and holidays.
Bonuses & Promotions
There are no cashback bonuses. However, you could get your account upgraded by getting classified as a 'Professional Client', which allows you to utilize more leverage and trade under fewer restrictions (more lax margin call policies, for instance). First, to become a 'Professional Client,' you must make an average of 10 trades per quarter for 1 full year. Additionally, traders have to show that they have 500,000 Euros ($550,000+) in assets, which can include external brokerage portfolios (with a firm other than EBH Forex) and saving/checking accounts with banks. Lastly, this offer is only available to those who have 1 year or more of experience in the financial industry.

The EBHRebate promotion allows you to get refunds on your commissions. It is unclear whether this offer is available to account holders that are not classified as "Professional," but the rebate mainly targets high-frequency traders. When you deposit less than $10,000 and your trade volume is lower than $10 million (or 100 lots), EBH Forex awards you with a $35 rebate on every 10 lots.
For example, an account holder has $8,000 in their portfolio and they opened/closed 30 lots. The broker will give them $105 (or $35 per 10 lots). The commission revenues go down to $30, $25, and $20 per 10 lots when you deposit over $10,000, $50,000, and $100,000, respectively. Accounts with over $250,000 in capital get a $15 commission on every 10 lots that they trade, as long as their volume exceeds $100 million (or 1,000 lots).
Educational & Trading Tools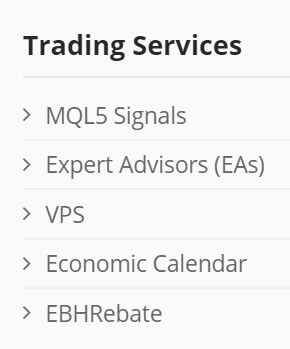 EBH Forex's trading services are incredibly expanded and competitive. Equally as important, they suit traders who follow all types of strategies and have different levels of experience. Expert Advisors (EA) is a program that collects and analyzes data on forex pairs, such as volume and price patterns. When EBH Forex's account holders subscribe to the EA service (and pay a fee), the broker will give them access to this data by giving buy/sell or 'do nothing' recommendations. Those who program their own high-frequency trading code can also integrate it into the algorithm, which means that the EA service will automatically open/close positions for them. This broker also provides you with MQL5 Signals, regardless of whether you trade through MT4 or MT5. The signals allow beginners to identify the positions of profitable traders and start emulating them as soon as they open an account.
Customer Service
You can contact EBH Forex via phone (one of the two numbers listed below) or email. Traders can also communicate with them through traditional mail or by visiting their office in Sofia, Bulgaria. Other options for contacting customer service include chatting online with a live representative, submitting a callback request, or filling out a 'contact us' form on the broker's website.

Phone: +359 32571827 (support for existing account holders); +359 24374073 (general questions)
Email: info@ebhforex.com
Demo Account
You can open a demo account through either MT4 or MT5. Both of them obtain the same features, spreads, leverage, margin calls, and access to instruments that live accounts have. Your demo will only be deleted if you stop using it for 60 days. However, you can also open up to 20 different demo accounts. If you lose all of the paper money on your demo, you can easily pick the amount of capital you want and it will be added to the account.

Countries Accepted
EBH Forex is licensed and registered in Bulgaria. Their services are also available to traders across the European Union and the greater European Economic Area (EEA). In terms of restrictions, EBH Forex isn't available in the United States and Canada, as well as any other country that regulates or prohibits trading certain instruments offered by this broker.
Conclusion
To summarize, here are the main positives and negatives to using EBH Forex. First, the leading advantages that this broker's account holders enjoy are the small minimum deposits, the ability to choose either MT4 or MT5, low spreads, multiple transfer options, automated trading signals, and the possibility of upgrading to the 'Professional Client' portfolio (which gives you more leverage and less restrictive conditions). Having said that, the disadvantages of opening an account with EBH Forex are the lengthy account opening process (which requires you to verify your identity via video), commissions on trades, and transfer fees. Equally as important, the firm's services are not offered to traders in the United States and Canada.

Those who have a lot of capital, especially scalpers, will certainly appreciate EBH Forex's low spreads and how they can pick between the MT4 and MT5 platforms, based on their preferences. While this broker's leverage is relatively limited, traders who have a year or more of market experience can qualify for the 'Professional Client' account and access a higher degree of buying power. Moreover, we found that the firm's offerings are very valuable to beginners, particularly because they can emulate other traders' successful positions and access crucial market signals.
In short, if you can tolerate the transfer fees and commissions, EBH Forex's services and technological toolsets will not disappoint you. For that matter, even the commissions can be scrapped or minimized when you participate in the broker's rebate promotion.