CDFX is an online FX broker that offers leveraged trading as high as 1:500 on FX and precious metals. The company was registered in 2015 in Dubai, with its main goal aimed towards creating an experience that will actually allow investors to come away with a profit. If you're considering opening an account, you'll want to read up on some of the facts surrounding the broker's trading conditions below.
Account Types
CDFX limits the available account types to Standard accounts and Islamic accounts. The Standard accounts offer leveraged trading as high as 1:300 on currency pairs and precious metals. Spreads start from 1.5 pips and the account is commission-free. Islamic accounts resemble the Standard account closely, aside from the fact that there are no overnight charges on positons and leverage options go up to 1:500. Note that the broker would require proof of Islamic religion before one would be allowed to open one of these account types. We've provided a quick overview of the two account types below.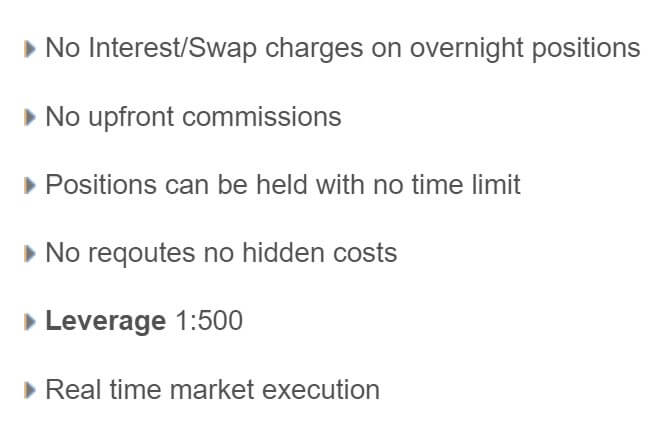 Standard Account
Minimum Deposit: $5,000
Leverage: Up to 1:300
Spread: From 1.5 pips
Commission: None
Islamic Account
Minimum Deposit: $5,000
Leverage: Up to 1:500
Spread: From 1.5 pips
Commission: None
Platform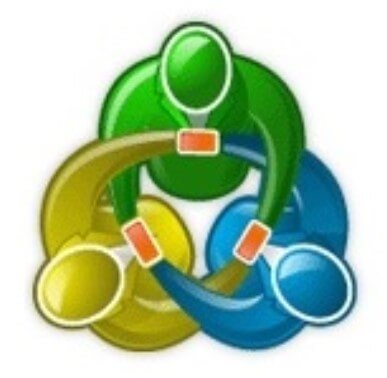 This broker exclusively supports the successor of the world's most popular trading platform MT4, MetaTrader 5. The newer version basically aims to provide more features, while keeping the older platform's convenient and navigable interface. MT5 also comes with more languages, timeframes, and a built-in economic calendar. The platform is available for download on PC, iOS, Android devices, or accessible through the online WebTrader.
Leverage
Those that have signed up for an Islamic account will be able to trade with the highest leverage option, which goes up to 1:500. Meanwhile, the broker has set a lower limit for their Standard account holders, with the maximum cap being 1:300. The 1:300 cap isn't the most impressive offer we've seen, but it certainly isn't the lowest either. The majority of traders should be satisfied with these options, as trading with higher leverage is a risky experience that may or may not pay off. On the other hand, those that do prefer the high-risk experience who are not of the Islamic faith may need to search for a higher option.

Trade Sizes
Both accounts support the trading of micro-lots. The broker doesn't place a limit on the maximum trade size and there isn't any mention of a limit on the maximum number of open positions. The margin call and stop out levels are as follows: Margin Call: 100% & Stop Out: 35%.
Trading Costs
Costs are fairly straightforward, with the only charges coming from spreads and swap fees, or transaction charges for Islamic account holders. We provided more information on the spreads below, but traders should know that they start from an average amount. Fortunately, the broker has done away with commission charges, so traders will be able to keep up with costs more easily. Swaps are charged on positions that are held open overnight on Standard accounts. Traders can view the long and short swap rates on the website by clicking on "Trading" > "Instruments". There do not seem to be any extra fees associated with inactive accounts or other various charges that we sometimes see with other brokers.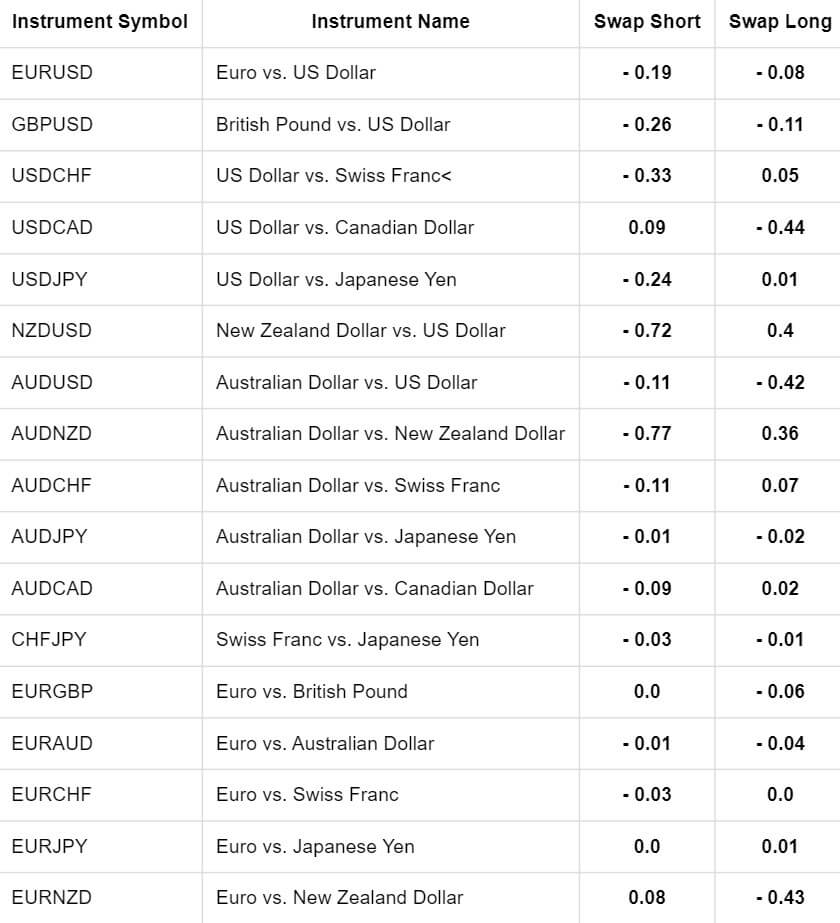 Assets
CDFX offers very basic investment options, with only 24 available currency pairs and spot metals that include Gold and Silver. If you're focused on trading with these instruments alone, then this shouldn't affect you. Others will feel more restricted by the fact that the broker isn't offering CFDs. On the bright side, we do see some exotic FX options, like the USDTRY and others.

Spreads
Spreads are variable and start from 1.5 pips on both account types. Sadly, the broker doesn't offer live spreads, or even list typical options on their website, so the only way to really examine the figures would be to open a real account since demo accounts aren't available. Considering that spreads already start from 1.5 pips and that the deposit requirement is so high, we would expect to see spreads starting from a lower amount.
Minimum Deposit
Regardless of which account type you've chosen, you'll be required to make a $5,000 deposit in order to open an account with this broker. This is extremely expensive considering that the broker only offers basic Standard and Islamic accounts. Traders would be able to find brokers offering similar account types for $100 or less without having to look very far. You'll also find accounts that offer more benefits for lower deposit amounts elsewhere, for example, some brokers offer Premium and Pro account for $1,000 to $5,000.

Deposit Methods & Costs
The CDFX website completely fails to provide us with any information related to funding accounts. This is a big red flag, especially when the broker requires such a large initial deposit. We would expect funding methods to be limited to bank wire and possibly cards and clients shouldn't expect to see any e-wallets or other payment providers. It's also unclear whether there are any charges on deposits. Most likely, banks would charge some type of fees for sending such a large amount.
Withdrawal Methods & Costs
As we mentioned, the website just doesn't give us any information related to this category. Typically, brokers would list fee-free withdrawals as an advantage. Considering that the broker doesn't mention this at all, we're assuming that fees will be charged on any available withdrawal method. There is no way to deposit a small amount of funds to test this since the minimum deposit is $5,000.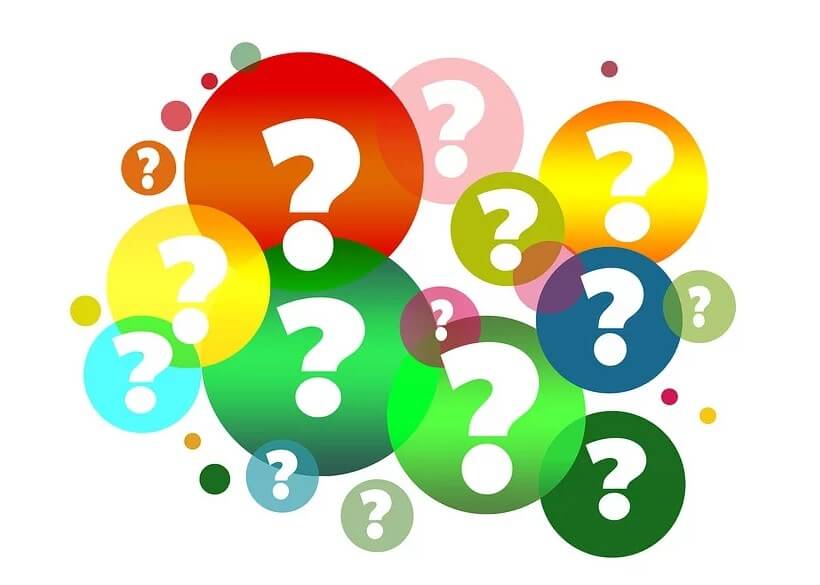 Withdrawal Processing & Wait Time
Based on the fact that CDFX seems to have a fairly limited support department, we would expect to see a bit of a wait time for withdrawals. Larger brokers usually process withdrawals within one or two business days, while smaller brokers can take much longer to finish processing those withdrawals. CDFX falls into the category of a smaller forex broker and may, therefore, take their time when handling withdrawals.
Bonuses & Promotions
On the Standard account's main website page, we see a brief comment that states that these account holders would be eligible for a promotional offer. However, there is no mention of such an offer anywhere else on the website, which leads us to believe that there isn't such an offer. Perhaps the broker used to offer a promotion, or it may be possible that the broker has promotional opportunities available from time to time.
Educational & Trading Tools
Traders will notice that CDFX has a fairly straightforward website, one that offers absolutely nothing in the category of education or trading tools. This isn't something that would really affect the trading experience, but it is something that brokers should offer in order to help educate any beginners that come their way. The lack of trading tools is also disappointing, although MT5 does come with some built-in features.
Demo Account
Sadly, demo accounts are also missing from the website. Even when other brokers fail to offer educational resources, we still see demo accounts offered on their website. If you're a beginner, you may want to try out a demo account on another broker's website. This doesn't mean that you shouldn't open a real account with CDFX, but you'll be missing out on some of the advantages that come with trading under the specific broker's conditions.
Customer Service
We don't see any instant contact options available on the broker's website, which leaves traders to contact the broker through email directly, or by filling out a contact form on the website. The form does ask for the client's mobile number, so we would hope that it is possible to schedule callbacks. On the bright side, support is active 24 hours a day on weekdays, so hopefully, the customer service team will manage to respond to emails the same business day.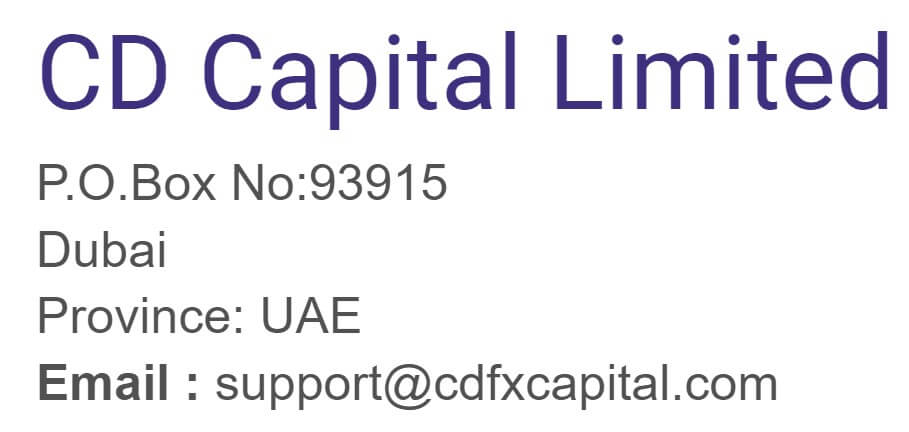 Countries Accepted
The broker doesn't list any restricted countries on the bottom of their website, but we did feel the need to check out the registration page for commonly restricted locations, just to be sure. To our surprise, the broker doesn't even require the client to input their country when registering, making it possible to register from anywhere.
Conclusion
CDFX is an online broker with an asset portfolio that includes currency pairs and metals. The broker requires a $5,000 deposit and only offers two main account types, Standard and Islamic. Considering that the deposit requirement is so high, we would expect to see spreads that start lower than the broker's 1.5 pip offer, even with a lack of commission fees. You'll find an average leverage cap of up to 1:300 on the broker's Standard account, while Islamic account holders are allowed a leverage option of up to 1:500.
One big red flag is that the website doesn't give us a single bit of information about funding. Making the $5,000 deposit with no clue about associated costs is extremely risky. Customer support is available 24 hours a day on weekdays, but traders will only be able to contact an agent through email. Aside from a brief mention of a promotion, we don't see any bonus opportunities, educational resources, demo accounts, or trading tools on the website. Traders could likely make a $5,000 deposit through another broker and manage to profit much more easily while having access to better account types and a larger instrument portfolio.