House of Borse is an online FX and CFD broker that is located in London. The broker is fully regulated by the Financial Conduct Authority (FCA), under regulation number 631382. Since its establishment in 2014, HoB has claimed to be focused on empowering its clients to trade with confidence – by providing superior services and upholding their core values. Read on to find out whether the company holds up to its mission statement.
Account Types
House of Borse offers three different account levels; Silver, Gold, and Platinum, with the assigned level depending on the amount of traded volume. Each account level rewards traders with lower commission costs, with options being 12.5% lower on the Gold account and 25% lower on the Platinum account. In order to qualify for better status, one would need to trade up to 1 yard for the Gold status, or more than 1 yard for the Platinum status. With other brokers, we often see higher deposit requirements traded in turn for better account status, so the difference is refreshing. Other than commission costs, each account shares the same conditions. All accounts are also offered as swap-free options. Conditions for each account can be viewed below.
Silver Account (traded volumes of less than 1 yard per month)
Minimum Deposit: NA
Leverage: Up to 1:100
Spread: Floating from 1.3 pips on FX
Commission: $4 per side per 100K traded on FX
Gold Account (traded volume up to 1 yard per month)
Minimum Deposit:
Leverage: Up to 1:100
Spread: Floating from 1.3 pips on FX
Commission: $3.5 per side per 100K traded on FX
Platinum Account (traded volume of more than 1 yard per month)
Minimum Deposit:
Leverage: Up to 1:100
Spread: Floating from 1.3 pips on FX
Commission: $3 per side per 100K traded on FX
Platform
At the moment, the broker exclusively supports the MetaTrader 4 platform, with claims that MetaTrader 5 will be added as an alternative in the near future. Some may want to hold out for MT5, but most will be more than happy to see the world's favorite MT4 available in the present. Speaking on some of the platform's highlights, MT4 offers complete customization tools, more than 30 pre-installed indicators, the ability to develop your own technical indicators, live streaming prices, one-click trading, support for Expert Advisors, and more. The platform is completely encrypted and designed with security in mind, so there's no need to worry when operating through MT4. The platform can be accessed on the Webtrader or downloaded on iOS, Google Play, PC, and MAC.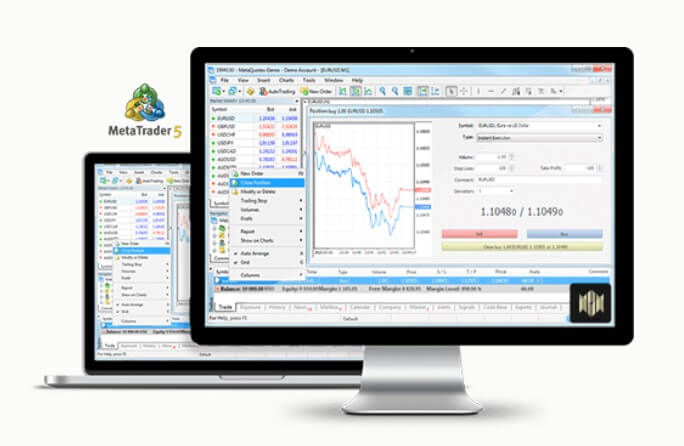 Leverage
This broker's leverage offer is capped at 1:100. This certainly isn't the lowest option we've seen and is much higher than the 1:30 cap set by some regulators. On the other hand, there are forex brokers out there offering leverage caps of 1:400 and even higher, so this offer may seem slim in comparison. It's really up to the individual trader to decide whether this leverage will be sufficient, although we predict that the cap will only affect professionals since trading with a higher option would be extremely risky.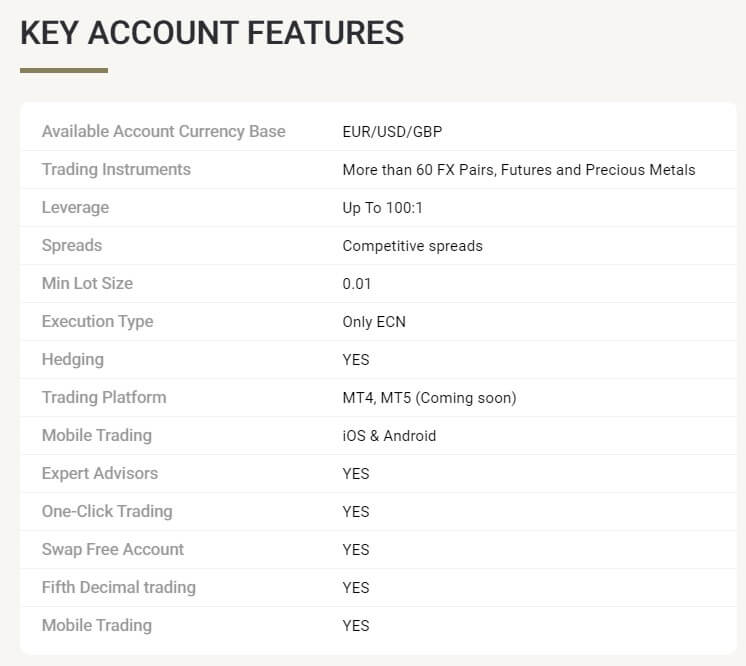 Trade Sizes
All accounts support the trading of micro-lots, with the exception of CFDs, where we see minimums of 1000 barrels of US and UK Oil, and so forth. The website does not give any information on maximum trade sizes. Hedging is allowed, but the broker does not mention whether scalping is supported. Margin call and stop-loss levels are not listed.
Trading Costs
HoB profits through spreads, commissions, and overnight interest fees, otherwise known as swaps. The broker offers one floating spread that is shared by all account types, with options starting as low as 1.6 pips. The broker tries to hide the fact that commissions are higher on CFDs. Commissions on currency pairs start at $4 per side per 100K traded on the Silver account. In order to access cheaper options, clients will need to trade higher volumes. For the Gold account status, the required amount is up to one yard, with commissions being $3.50 per side. The broker doesn't specify how much would qualify the upgrade from the basic Silver account to the Gold.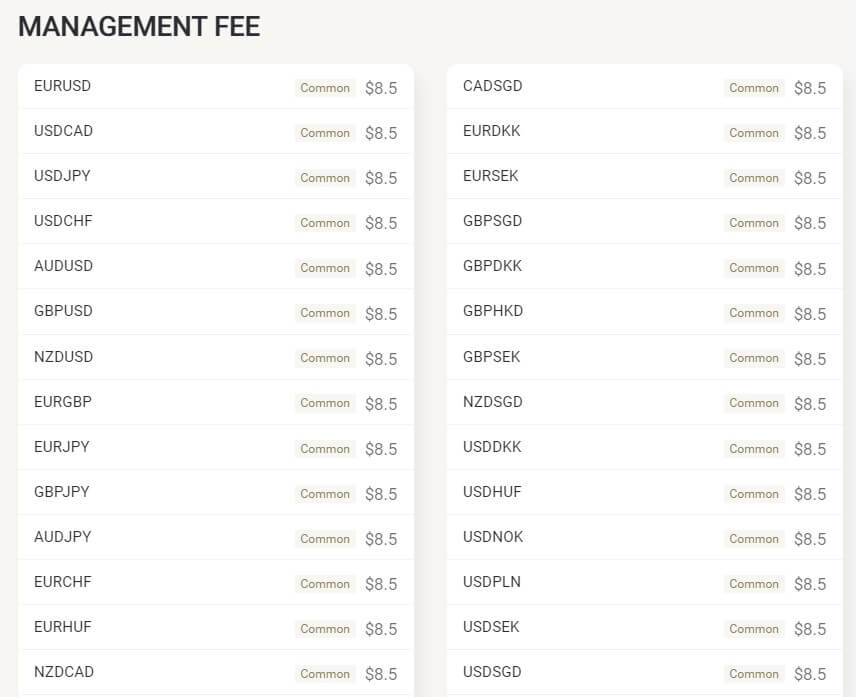 Traded amounts of more than 1 yard per month qualify for the Platinum status account, which has the cheapest commission charges of $3 per side per 100K traded. On CFDs, commissions are $9 on commodities and $7 + 1 tick on indices on the Silver account, $8 on commodities and $6 + 1 tick on indices (round turn) on the Gold account, and $7 on commodities and $5 + 1 tick on indices on the Platinum account. The website mentions that there are no extra fees, so clients shouldn't have to worry about paying inactivity fees or other hidden charges. Swaps are charged on positions that are left open past closing time, with triple charges occurring on Wednesdays.
Assets
HoB offers more than 60 currency pairs (63 to be exact), CFDs on futures, and precious metals. Taking a look at the available currency pairs, we see an assortment of majors, minors, and 8 exotic pairs. CFDs include US 30, US 100, US 500, UK100, UK Gas, UK Oil, and US Oil. Metal options include Gold, Silver, and Platinum. Overall, these options are a bit limited, and we don't see many different categories available. The grand total of available instruments comes out to 73 options.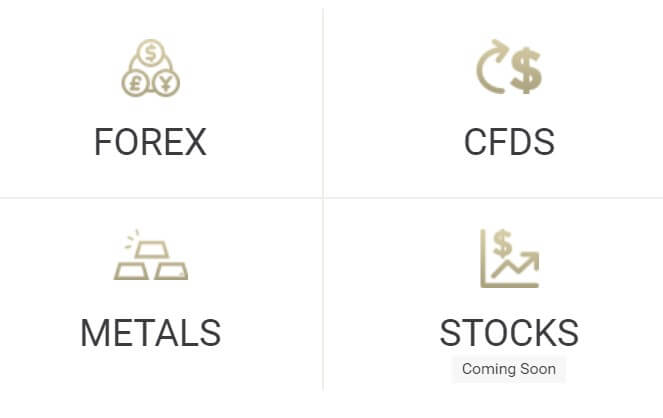 Spreads
This broker provides variable spreads that fluctuate with the market, meaning that exact examples we have provided may change at times. At the time we checked, the lowest spreads on FX options were at 1.3 pips on EURUSD, which is typically the currency pair that has the lowest spread. The second-best spread was available on the pair NZDUSD and was at 2.6 pips, well above the industry average. The spread on Silver was at just 1.6 pips, while the spread jumped to 2.3 pips on Gold and 81.1 pips on Platinum. This isn't too surprising, considering that metals are more volatile. The current live spreads for each instrument can be viewed by clicking on the "Trading Products" tab at the top of the website and then choosing a category.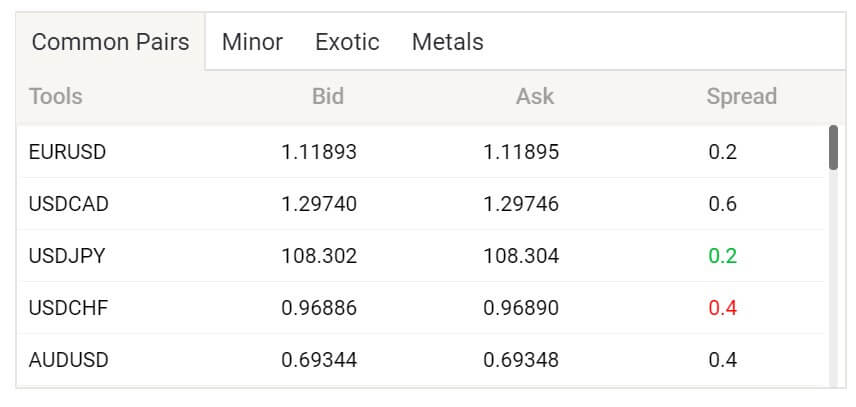 Minimum Deposit
It isn't possible to access any information about the minimum deposit requirement until one has completely finished the verification process. Some online information suggests a $5,000 minimum, although we couldn't get support to verify this. This is only the beginning of the vague information on the website related to funding.
Deposit Methods & Costs
Deposit methods are limited to Wire Transfer and credit cards, with fees depending on the card type or incoming bank. One thing we disliked was the fact that the website is only willing to provide terms on fees from within the member area, making it impossible to view associated fees from the main website page.


Withdrawal Methods & Costs
Once again, the broker is less than transparent about associated fees for withdrawals. This always makes us wonder whether conditions are hidden because they are less than advantageous. The wording on the website does make it sound as though fees will be incurred on both withdrawal methods, and we can assume that banks will charge some type of fee from their end (typically $25-$50). Be sure to check with your receiving bank to get a better idea of those costs.
Withdrawal Processing & Wait Time
Any withdrawal request that is received before 11 am UK time will be processed within two business days, with an additional one-business day wait time for requests received after 11 am. Note that this is only the processing time, and the website doesn't mention exactly how much longer the wait time could be once funds have been sent.

Bonuses & Promotions
As far as any extra opportunities go, HoB isn't currently offering anything. It's always nice to see welcome bonuses that can help out beginners, trading contests, demo contests, etc. However, many brokers don't offer these options. It seems to be more commonly available with larger brokerages, although the prescience of bonuses or promotions does not necessarily mean that one could profit more with another broker.
Educational & Trading Tools
Unfortunately, the HoB website is completely barren when it comes to educational opportunities. Beginners will probably feel less than enthused with the lack of resources and would need to look elsewhere in order to be prepared to open a live account. We do see demo accounts available, but would strongly recommend one become more acquainted with trading terms, chart patterns, etc. before opening a real account without other experience. As for trading tools, you'll find an economic calendar on the website, but not much else.
Demo Account
In order to open a demo account through the broker, one can simply click "Demo Account", located on the top right on the website. Signing up for a demo is risk-free since it requires a commitment to open a real account and no cash deposit is required. These accounts provide an excellent opportunity for traders of different skill levels to practice different trading strategies, trade under the broker's conditions, become acquainted with the supported trading platform, etc. HoB allows users to select the amount of virtual currency from a predetermined list, starting at $50,000.
Customer Service
Customer support is available 24 hours a day, Monday through Friday. In order to get in touch with an agent, traders can use LiveChat, call a direct phone number, send a fax, email, or fill out a contact form directly on the website. Having so many contact methods is an attractive quality and it shouldn't be too difficult to get in touch with an agent, although we do wish support was available on weekends. Listed contact information has been detailed below.
Phone: +44 (0) 203-327-7001
Fax: +44 (0) 203-327-7010
Email: [email protected]
Address: Berkeley Square House, 2nd Floor, Berkeley Square, Mayfair, London W1J 6BD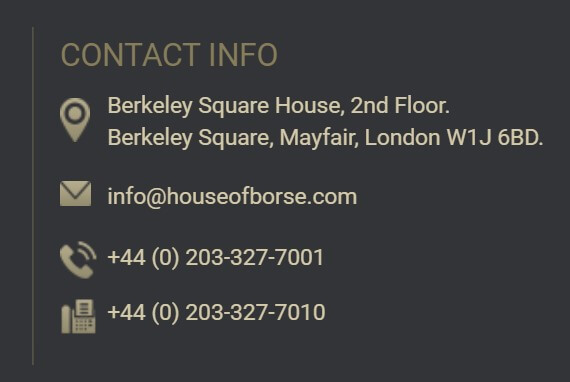 Countries Accepted
On their website, HoB claims that their services are not meant for clients in the United States or any other jurisdiction where it would be unlawful for residents to open an account. The wording used indicated that it still may be possible to open an account from the US, so we headed to the account registration page to test the process. While the US isn't listed specifically, we did find the US minor outlying islands on the list, which can be selected as an alternative.
Conclusion
House of Borse is a regulated broker that offers leveraged trading of up to 1:100 on FX, futures, and metals from the MT4 platform. The broker provides three different status level accounts, with better levels being earned by trading larger volumes. Rewards come in the form of cheaper commissions, with the cheapest option being $3 per side per 100K traded. All accounts share the same spreads, which tend to be higher than average on most currency pairs.
No deposit minimum is listed and accounts can only be funded through wire transfer and cards. The broker also refuses to provide any information about deposit and withdrawal fees until one has completely completed the verification process, which is typically a red flag that tells us those fees could be high. Another negative is the lack of information on any certain deposit minimum requirement.
Support isn't available on the weekend, but the broker does make it convenient to reach out to an agent and offers 24-hour support on weekdays. Currently, there aren't any extra opportunities to profit through bonuses or promotions. The broker has also failed to include any type of educational resources, aside from demo accounts. This broker may reward higher volume traders with regular commission charges but doesn't seem to bring much else to the table.