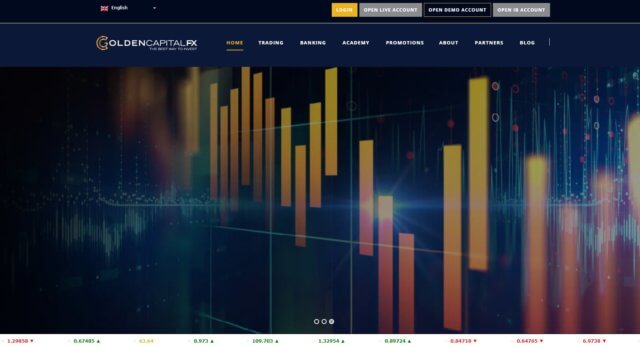 Golden Capital FX is a forex and CFD broker based in Saint Vincent and Grenadines as well as the United Kingdom. They aim for trading satisfaction through offering super-low spreads, 240+ trading instruments, the safety of funds, dedicated account managers, award-winning platforms, rapid execution, education, a variety of accounts and a professional team. This review will be looking into the services being offered to see if they achieve in providing al that they promise.
Account Types
There are three different accounts available to choose from should you decide to sign up with Golden Capital FX, they do not offer much information on the account comparison page so we will show what we know, throughout this review each section will outline any differences between the accounts.
Standard Account: Requires a deposit between $100 and $4,999, it comes with a variable (floating) spread.
Premium Account: Requires a deposit between $5,000 and $49,999, it comes with a variable (floating) spread.
VIP Account: Requires a deposit of $50,000 or more, it comes with a variable (floating) or STP spread.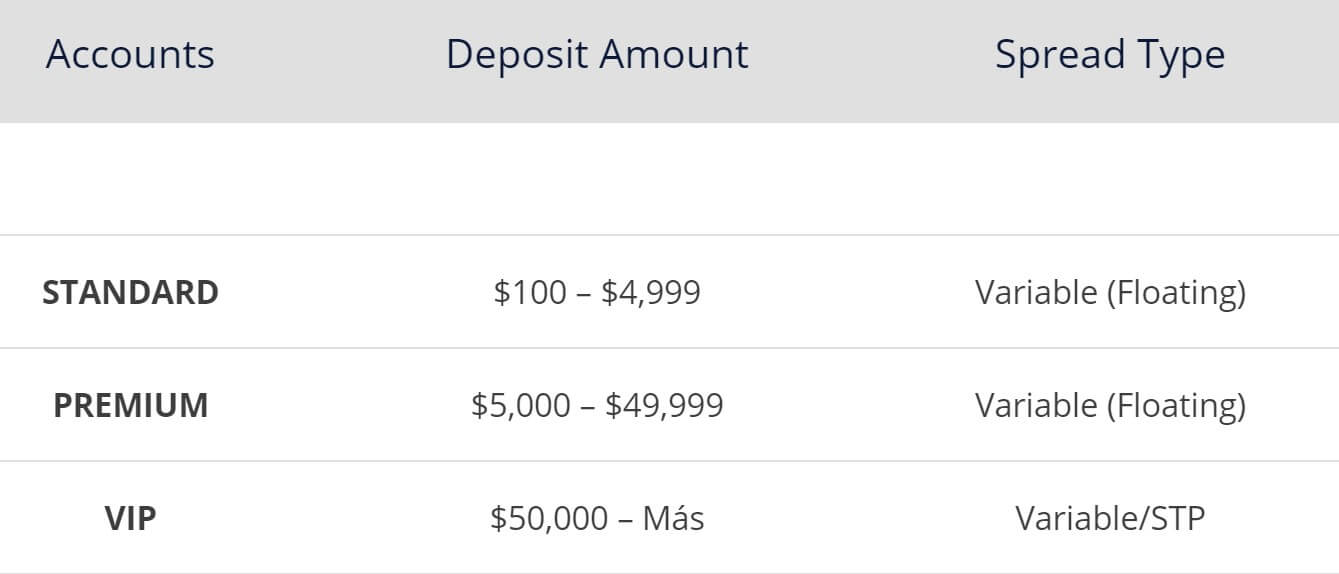 Platforms
Golden Capital FX is offering a single trading platform trading platforms, form the MetaQuotes company. Whether you are new to the world of Forex or a very experienced trader, the MetaTrader 4 (MT4) platform will provide you with a user-friendly and exciting trading experience. Using the MetaTrader 4 platform, traders can utilize a variety of advanced trading tools including automated algorithms, technical indicators, and fundamental analysis. Combined, these provide a streamlined, proficient trading experience.

Leverage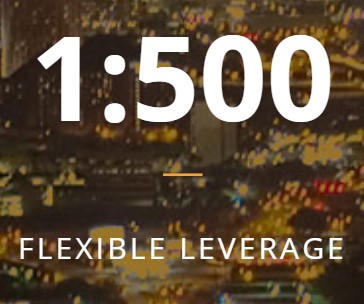 We could not locate information on the website in regards to leverage, we noticed out on the internet that certain places were listing 1:500 as a maximum leverage, but they also had different accounts, so we suspect things have changed and that info is now out of date, so we do not currently know what the maximum leverage is.
Trade Sizes
Trade sizes start from 0.01 lots which are known as micro-lots, they then go up in increments of 0.01 lots so the next trade would be 0.02 lots and then 0.03 lots. We do not know what the maximum trade size is, however, we would recommend not trading in sizes larger than 50 lots, as the bigger a trade becomes the harder it is for the markets or liquidity provider to execute the trade quickly and without any slippage.
Trading Costs
The trading costs are another unknown entity to us, there is mention of low commissions but nowhere on the site does it state commissions, considering the spreads are in line with non-commission accounts we suspect that there are none, if there are, this information should be made more prevalent on the website.
Swap charges are present though, these are interest charges that are incurred for holding trades overnight, they can be both negative or positive and can usually be viewed from within the trading platform of choice.
Assets
The assets have been broken down into a number of different categories, let's have a look at them and what sort of instruments are available.
Spreads
Spreads depend on a number of different factors, firstly is the account type that you are using, the Standard account has spread starting from 1.1 pips, the Premium account from 0.5 pips and the VIP account has spreads starting from 0.5 pips.

The spreads are variable (also known as floating) so this means that when the markets are being volatile, the spreads will often be seen higher. It is also important to note that different instruments and assets have different starting spreads, so while EURCHF may start at 1.1 pips, other assets like EURUSD may start slightly higher, in this case, 1.5 pips.
Minimum Deposit
The minimum amount required to open up an account is $100,m it is unknown if this minimum changes once an account is already open.
Deposit Methods & Costs
There is a little confusion about what methods are available, at the bottom of the page are a load of images of different processors such as Visa, MasterCard, Skrill, Neteller, Bitpay and Fasapay, however, when looking at the deposit section of the site, these are not present. We will be looking at the ones that are.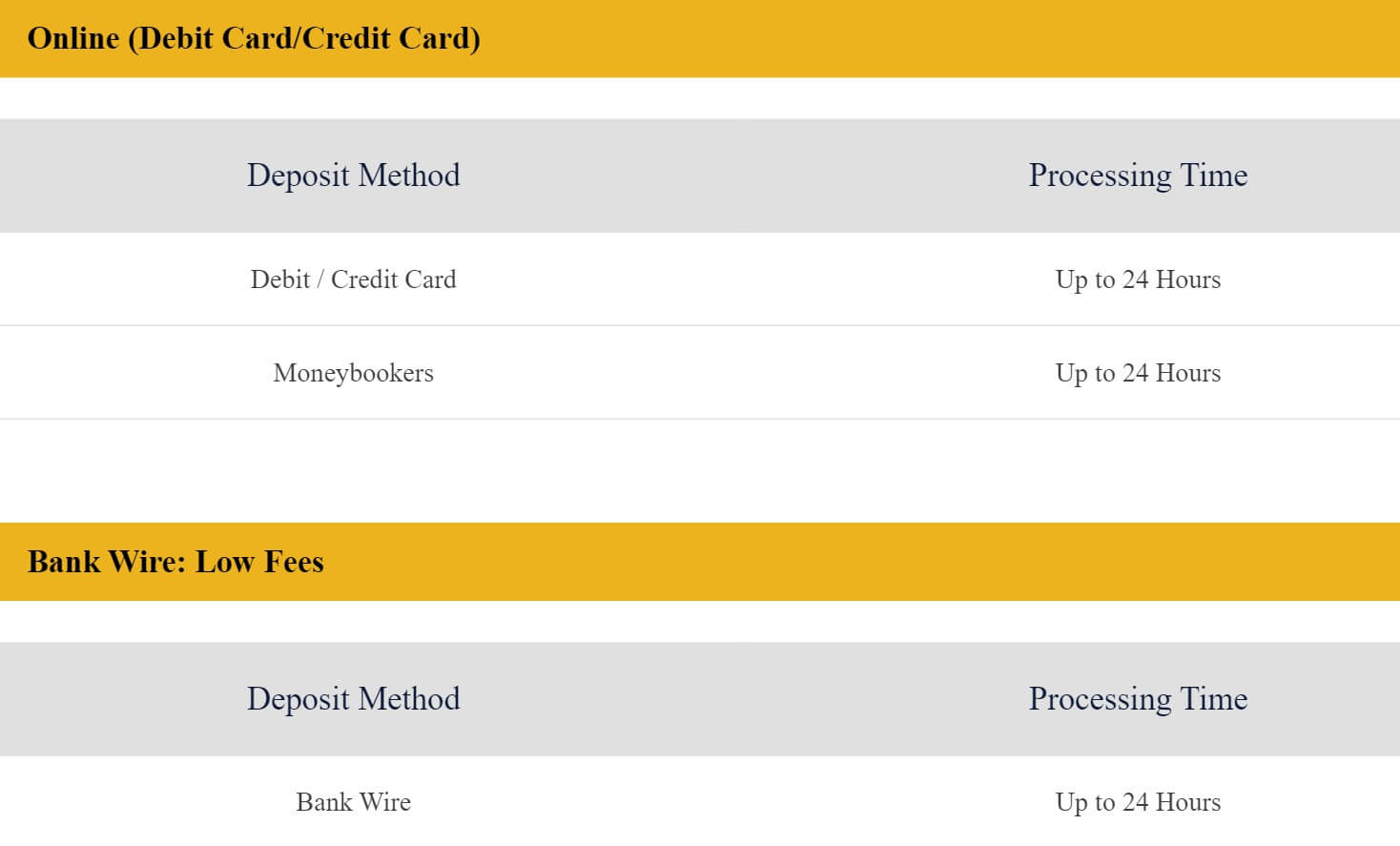 Credit/Debit Card, Moneybookers, and Bank Wire Transfer are the only methods currently stated on the deposit and withdrawal page. It seems that there are no added fees by Golden Capital FX, however, they state that you should check with your own bank or card issuer to see if they add any transfer fees of their own.
Withdrawal Methods & Costs
For withdrawals, the same three methods are mentioned which are Credit / Debit Card, Moneybookers, and Bank Wire Transfer. Just like with the deposits, it does not seem like there are any added withdrawal fees, however, be sure to check with your own bank or card issuer to see if they add any transfer fees of their own.
Withdrawal Processing & Wait Time
The processing times on the withdrawal page all state up to 24 hours, this would be the processing for Golden Capital FX, there will then be a waiting time of between 1 to 5 business days for your card issuer or bank to process in the incoming transaction and make the funds available to you.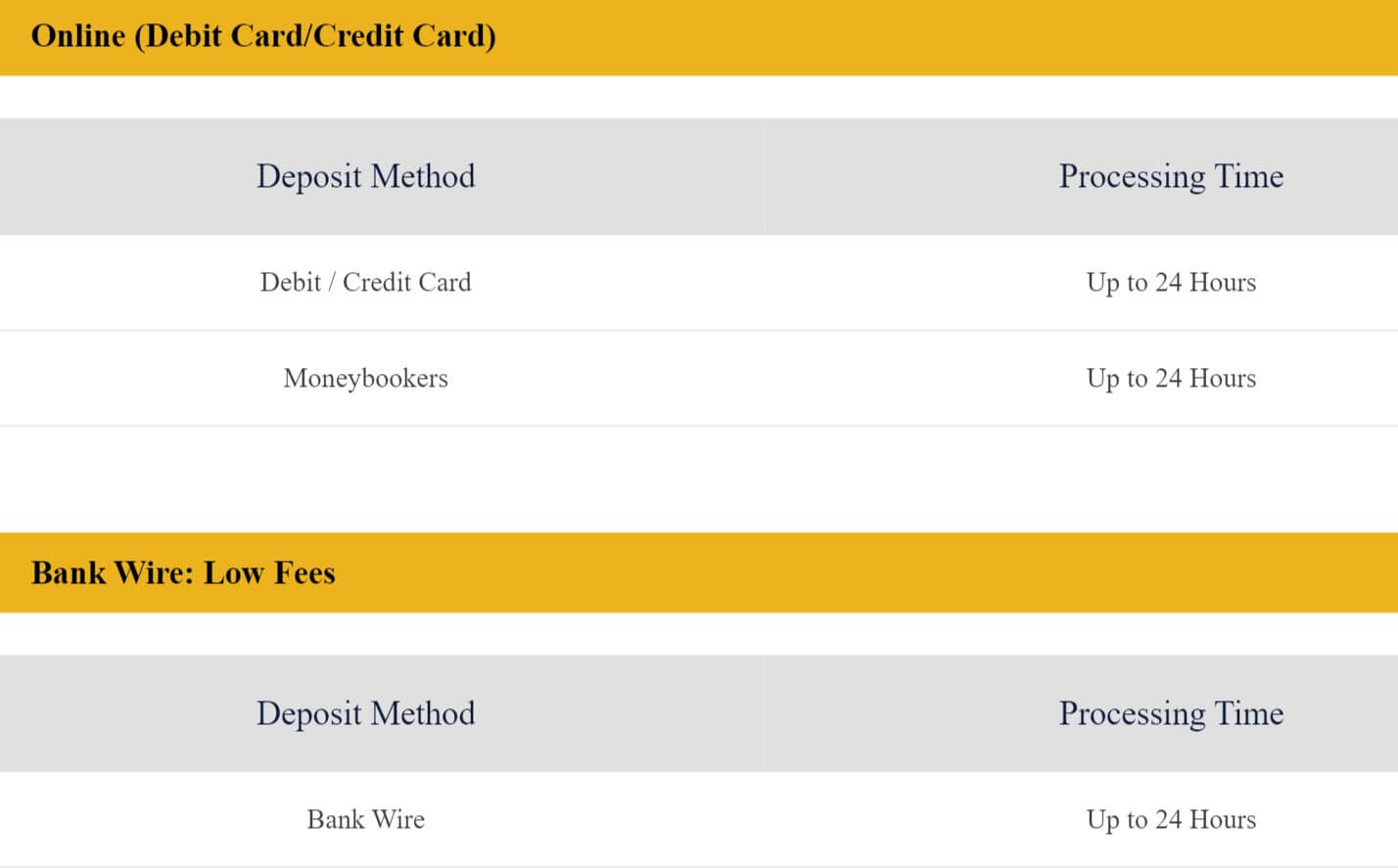 Bonuses & Promotions
The only bonus that seems to be available is a $2 rebate on each lot traded. The terms of this promotion are not known but it should be simple $2 back for every lot that you have traded. If you are interested in bonuses then be sure to check back regularly or get in contact with the customer service team to see if there are any upcoming bonuses or promotions.
Educational & Trading Tools
The academy section of the site is quite straight forward, it has information about Webinars and Seminars, however, no examples of them so we do not know how worthwhile they are. There is also a trading tools section which contains and economic calendar telling you of any upcoming news events and which markets they will affect, there is also some trading signals but you need to be registered and logged in to see them so we cannot comment on their accuracy or profitability.

Customer Service
The contact us page gives the usual online submission form to fill in, fill it in and you should get a reply via email. There is also an email address available to use along with a telephone number should you wish to speak to someone directly. We are not sure about the opening times of the support department but would assume they will be closed over the weekends and bank holidays at the same time as the markets are.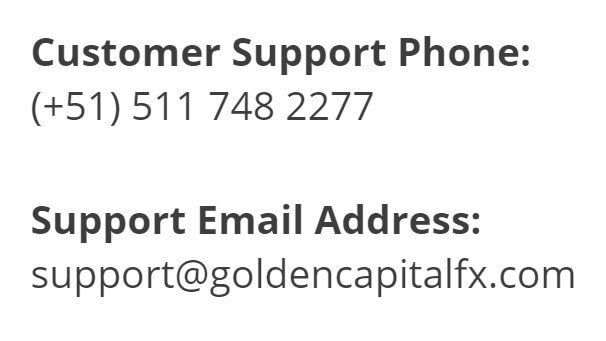 Demo Account
A demo account is available and can be opened by clicking the open demo account button, you then just need to fill in the simple form and off you go. Demo accounts are a way for potential new clients to test out the servers and trading conditions and for existing clients to test out new strategies without risking any of their own capital. The trading conditions of the demo accounts are not known, it is also not known if there is an expiration time no the demo accounts.
Countries Accepted
The information about which countries are accepted and which are not is not present on the website, so if you are interested in joining, be sure to get in contact with the customer service team to check if you are eligible for an account or not.
Conclusion
Golden Capital FX promises a lot, but did they live up to it? Sadly not quite, there is a lot of information missing, information that would be vital for potential new clients when deciding to sign up. The spreads are good, but the unknown of commissions and leverage make it hard to properly gauge the trading conditions. There is also confusion over the deposit and withdrawal methods with certain images being placed on the site, but no mention of them on the deposit and withdrawal information pages. This information needs to be sorted and provided in order for us to be able to recommend them as a broke to use, so while it is missing, unfortunately, we can not.