Trading Volatility
The forex market will typically ebb and flow in line with technical analysis, especially during the times of economic releases, or in the run-up to potential market-moving commentary from governing policymakers.
Depending on the nature of economic data releases, which are usually tiered between, low, medium and high risk, and where the latter would include gross domestic product or GDP, interest rate decisions, and employment statistics, the market can often be subdued just before high-risk announcements, and then extremely volatile afterwards.
During periods of extreme volatility, currency pairs can often spike 50 to 100 pips in a matter of minutes. This will occur because big institutions pull their bids and offers, and large orders begin to fill the vacuum, and where many of the big players and retail traders will be stopped out of their trades. Markets need time to analyze data and trade accordingly. This can be problematic for retail traders who are not properly equipped with professional analysts to help filter out components of the news, which might push a pair in either direction or to decipher if the data is already in the price.
As prices blip and spreads tend to widen during high-risk announcements, it becomes extremely difficult to gauge entry and exit points. In fact, it is almost impossible for the human mind to be able to know how to make informed trading decisions while under so much pressure during times of extreme volatility.
So how do traders trade high volatility events?
Example A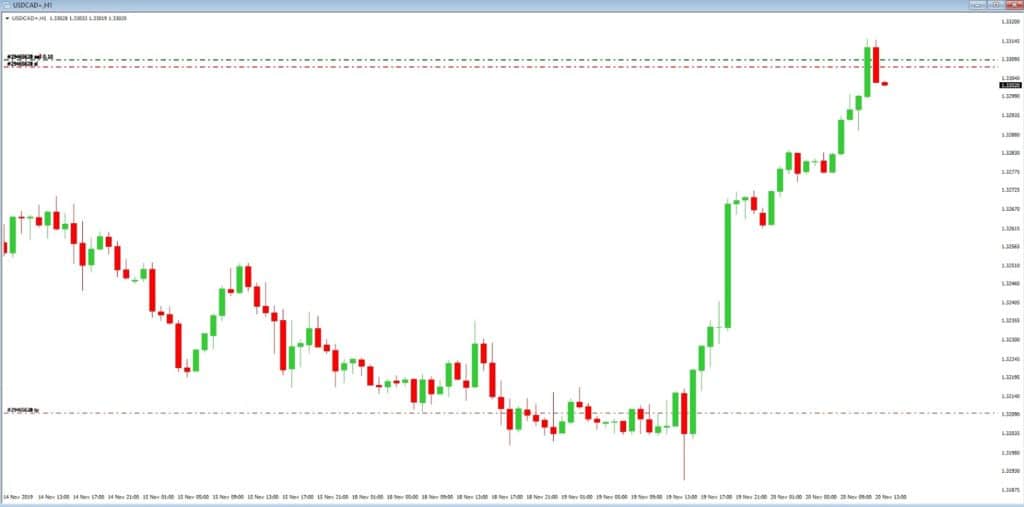 Well, in example 'A,' which is a 1-hour chart of the USDCAD pair, and where we have been following the pair from its low of 1.3187 to a recent high of 1.3314. There is a high-risk event later today in the form of Bank of Canada data releases, including consumer price index – year on year – and which will typically involve a great deal of volatility in price action upon its release. We have determined that the pair is overbought, and gone short at 1.3309 and where the pair came into profit almost immediately. We have also protected the trade by bringing our closeout order in front of our entry price at 1.3306 and which essentially gives us a free trade. We cannot lose on this one.
We have set our take profit at 1.3209, which is close to the bottom of the previous low and which would give us a profit of over 100 pips should it be executed. However, in the run-up to the data release, we now have the flexibility of managing this position by bringing our protective close out lower as we get closer to the data event, in case the figure is below market expectations and the Canadian dollar loses ground with the pair moving higher.
If the numbers are strong, we are in a position to follow – what should be a strengthening of the Canadian dollar, and hence the pair is moving lower and then drag our protective close out lower and bag as many pips as we can.
Example B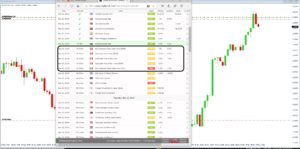 Example B is a calendar event highlighting the data release which will occur subsequent to our trade set up. And or trade platform is the Metatrader MT4.
Another way traders will set up a trade is via the use of limit orders. These orders can be placed above or below the market price and where they will automatically buy or sell a pair at a predetermined level, close to, or after data release events. These can be a great way of gaining access to high-risk events but should always be used with carefully thought out stop losses. Some traders will even place limit orders to both buy and sell a pair after a high-risk event on the basis that at least one trade will be executed. Again, this is an extremely risky strategy as it is possible to have both trades executed consecutively, and both trades stopped out as the market whipsaws post the event.
Here at Forex.Academy we recommend next new traders study their economic calendar closely and do not trade a couple of hours before, or after, big data release events. Try to observe other regular times of extra volatility, such as the opening of new time zones and during times of thin volume such as public holidays.