Trademax is a broker that is committed to providing a highly professional and independent platform with a team that offers optimal devotion and efficiency. This is what is stated on the Trademax website and so in this review, we will be diving deep into the service being offered to see if they live up to the expectations they have put upon themselves.
It is important to note that there are different versions of the TradeMax website, for the purpose of this review we will be looking at the global site, if any of the information is different, this would be due to your viewing a different version of the site as the one we are reviewing may not be available to you based on your country of residence.
Account Types
There are 4 accounts on offer from Trademax, each with their own requirements and trading conditions, we will take a little look at them to see what is on offer:
Standard Account: The standard account requires a minimum deposit of $1,000 in order to open the account, this account comes with a maximum leverage up to 1:400 and does not charge any commission. You get a dedicated account manager but no access to the VIP desk, no free VPS and no MAMM services.
Premium Account: The premium account ups the, minimum deposit to a much larger $50,000 which will price out a lot of regular retail clients. It would appear that all other aspects of the account remain the same, however, we do not believe this and so during this review, we will look at other aspects to see where the differences lie.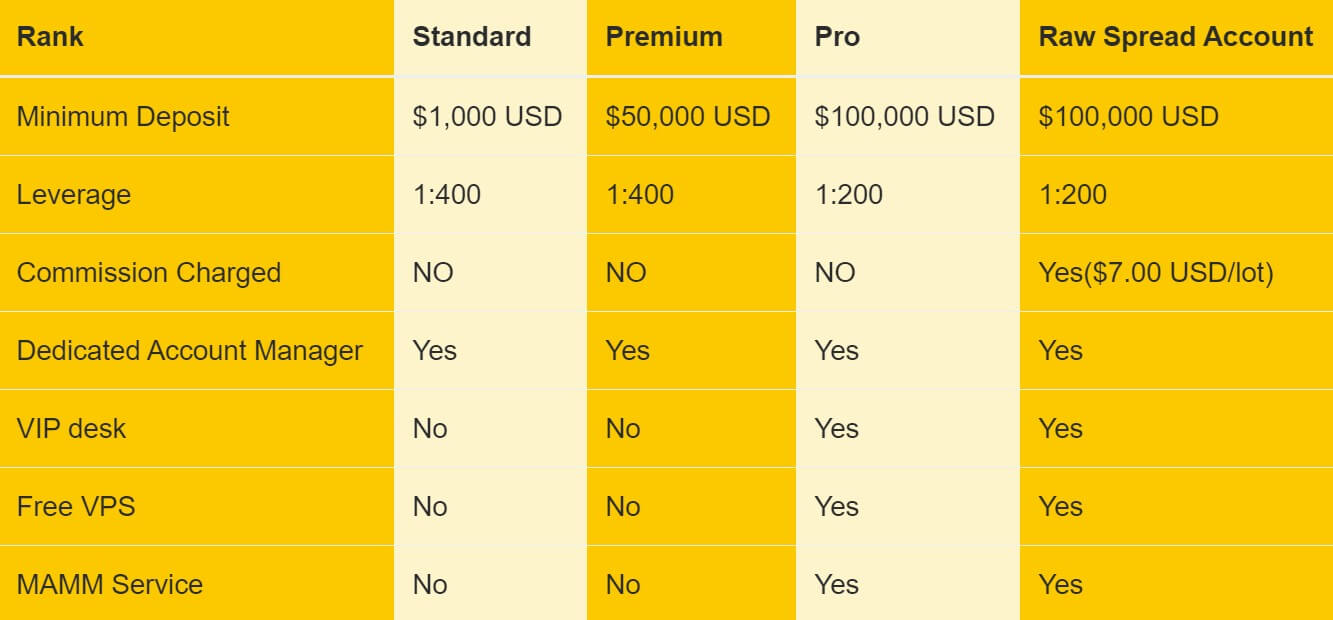 Pro Account: The pro account increases the minimum deposit further to $100,000 and due to this increased value, the maximum leverage reduces down to 1:200. This account comes with a dedicated account manager, access to the VIP desk, a free VPS and access to the MAMM services.
Raw Spread Account: The raw spread account works a little differently, it also has a minimum deposit of $100,000 and leverage of 1:200, however, this account now charges a commission of $7 per lot traded and so the spreads will be far lower than the other accounts. This account also comes with all the perks that the pro account does.
Platforms
Just one platform is available when trading with Trademax and that is MetaTrader 4 (MT4):
MetaTrader 4 (MT4) is one of the world's most popular trading platforms and for good reason. Released in 2005 by MetaQuotes Software, it has been around a while, it is stable customizable and full of features to help with your trading and analysis. MT4 is compatible with hundreds and thousands of different indicators, expert advisors, signal providers and more. Millions of people use MT4 for its interactive charts, multiple timeframes, one-click trading, trade copying and more. In terms of accessibility, MT4 is second to none, available as a desktop download, an app for Android and iOS devices and as a WebTrader where you can trade from within your internet browser. MetaTrader 4 is a great trading solution to have.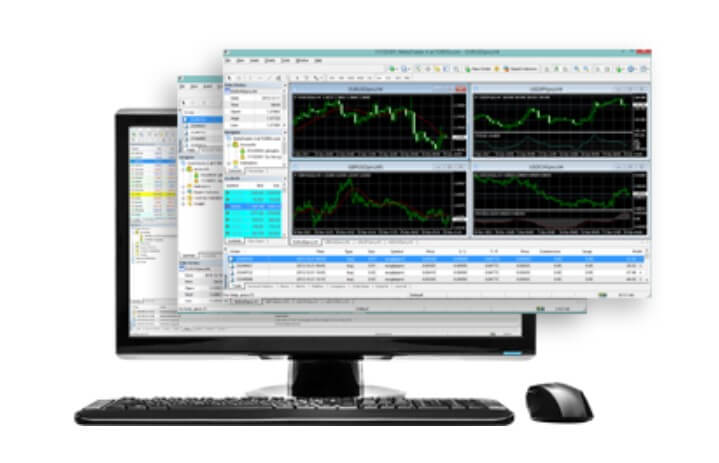 Leverage
The maximum leverage available depends on the type of account that you have, the standard and premium accounts come with a maximum leverage of 1:4090 while the pro and raw spread accounts come with a maximum leverage of 1:200. The minimum is usually 1:1 however this is not explicitly stated on the site, you can also change your leverage by selecting new leverage in your account section and then notifying your account manager.
Trade Sizes
Trade sizes start at 0.01 lots which are also known as micro-lots, trades then increase in increments of 0.0 lots so the next available trade is 0.02 lots and then 0.03 lots. The maximum trade size is currently set at 80 lots however, we do not recommend trading at more than 50 lots as it increasingly becomes harder for liquidity providers and the market to execute bigger trades instantly.
Trading Costs
The standard, premium and pro accounts work on a spread based structure so we will look at them later in this review. The raw spread account adds a commission to each trade, currently, the charge is $7 per lot traded which is around the standard ($6 per lot) for the industry at this point in time. There are also swap charges that are either paid or received for holding trades overnight, these charges can be viewed from directly within the trading platform being used.
Assets
There are 3 types of assets and instruments available with Trademax and combined they make up over 100 different tradable instruments. The assets are broke down into three categories, forex currency pairs including majors, minors and exotic pairs. There are also commodities that include popular ones such as Gold, Silver and natural gasses, as well as oil. Finally, there are indices, which include the likes of the FTSE 100 Index and the S&P 500. It is a shame not to see cryptocurrencies being available as these are quickly becoming a major trading asset for both new and experienced traders.
Spreads
While spreads are not specifically mentioned on the site, they can be seen from 1.6 pips, however these are floating spreads, so this means that they will regularly rise higher than this especially when the markets are volatile. It should also be noted that some pairs naturally have higher spreads and so will always be seen much higher than the 1.6 pip figure. The spreads on the raw spread account can be as low as 0 pips, but there is the added commission to make up for this.
Minimum Deposit
The minimum amount in order to open up an account is $1,000 which will get you the standard account, in order to have a lower spread account you will need a deposit of $100,000 which prices out 99.9% of all retail traders. Usually, when there is a high opening deposit needed, any subsequent top-ups are lower than the initial amount but there is not any information regarding such a scheme here.
Deposit Methods & Costs
There are a few methods that you can use to deposit with Trademax including bank wire transfers, credit and debit cards (both Visa and MasterCard) as well as some e-wallets such as PayPal, UnionPay, POLi, and FasaPay. The documentation states that there are no additional fees when depositing with Trademax.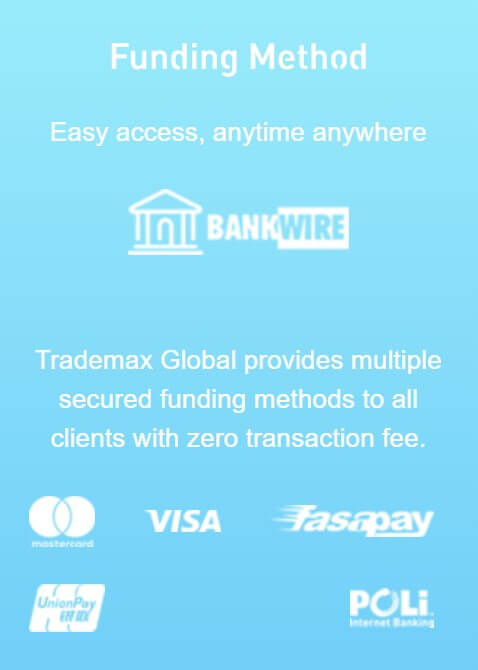 Withdrawal Methods & Costs
The same methods are available for withdrawing as they are for depositing, while Trademax will not add any fees, the individual processors may which can be small but they add up over time.
Withdrawal Processing & Wait Time
Processing times are not made obvious but it is stated that Trademax will process your withdrawals within 48 hours. Once the withdrawal is processed the amount of time that it will take depends on the method being used. E-wallets will generally take around 15 minutes to arrive after being processed which bank transfers and card withdrawals can take an additional 1 to 5 working days to arrive in your account.
Bonuses & Promotions
There is currently one promotion taking place which ends on 31/12/19 so there may be a different one at the time you are reading this. The current promotion offers you a 10% trading bonus up to $10,000 on new deposits (not internal transfers). It states that terms and conditions apply, but there are none posted on the site so we can not comment on what they may be.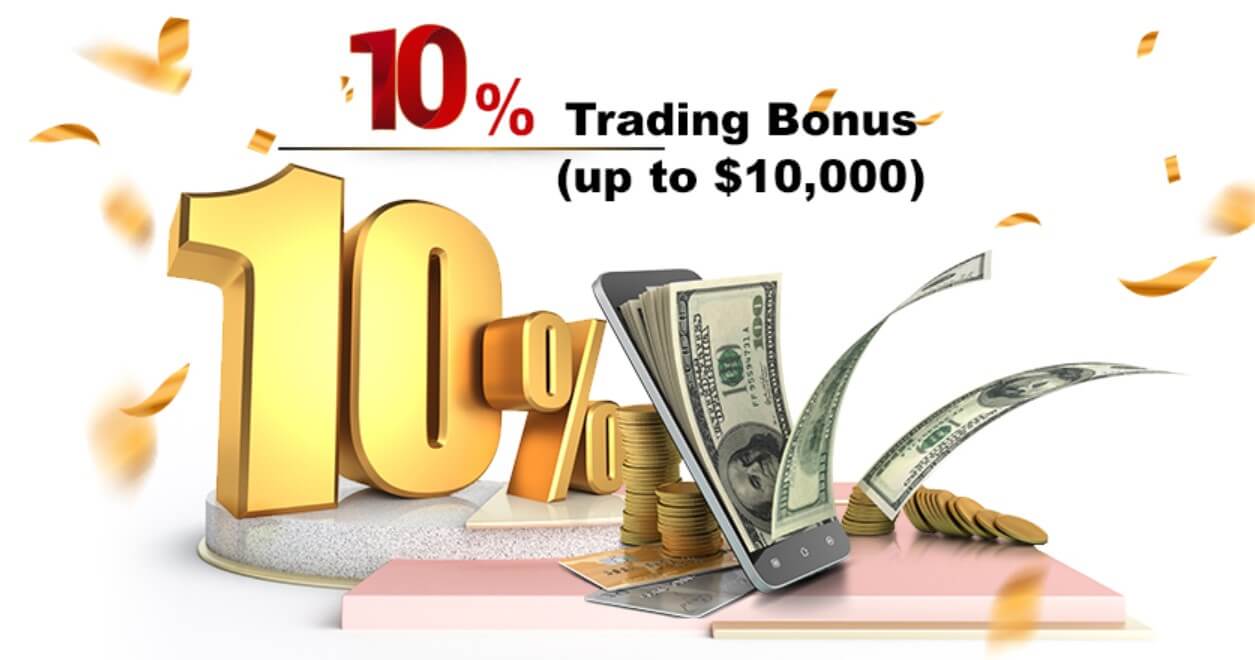 Educational & Trading Tools
There are a few small learning opportunities being offered by Trademax, these include in-house classes for beginners, intermediate and advanced traders. In order to access these, you must be a client of Trademax and then apply to take part. There are also 1 on 1 VIP classes where you can sit with an expert and learn more advanced techniques to help improve yourself as a trader. Finally, there are online tutorials that are more of a forex based FAQ.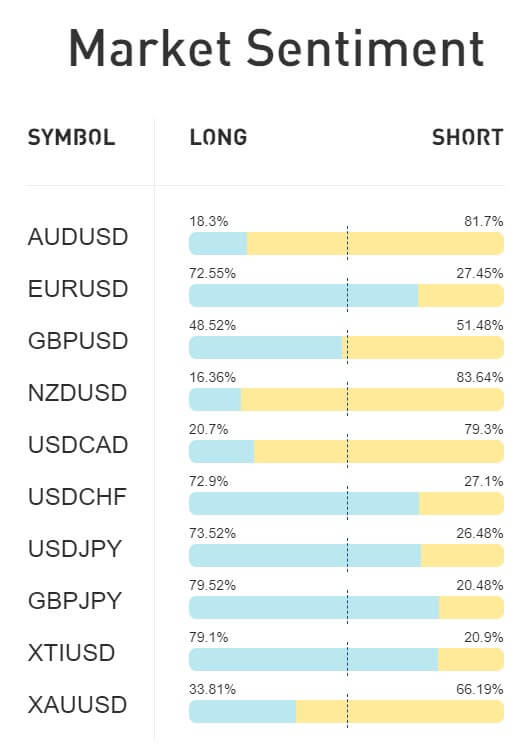 Finally, there is also an economic calendar which gives basic information about upcoming news events and which Paris they may effect, there is also a news section to get up to date in what is happening in the world, both of which can be found elsewhere on the internet in more detail.
Customer Service
There are a few ways to get in touch with Trademax however they are not the most appealing and not as direct as we would like. You can use the online contact form to send your query and get a response via email, there is also an email address to use.
Finally, there is an online chat system that we tested out, unfortunately, the person on the other end was not able to help with any of our basic queries around spreads or countries that are accepted so we gave up with no extra information being obtained.
Demo Account
Plenty of buttons to open a live account, however noting to open a demo account so we are unsure if they are available with Trademax, if they are, it may only be from the client area and not from directly on the website.
Countries Accepted
While the website only states "Products and Services offered on this website is not intended for residents of the United States." When signing up to an account a number of regularly excluded countries were not present such as Iran. So in order to be sure, if you are eligible or not, we would recommend getting in contact with the support team.
Conclusion
With so much information being missing or hard to find, along with the atrocious customer support team, it is hard for us to recommend using Trademax at all. Trademax really needs to up their game in regards to providing the right information for potential clients and do not instill much confidence at all.
We hope you like this TradeMax review. If you did, be sure to check out some of the other reviews to help find the broker that is right for you.