Swiss Markets is a trading name for BDS Markets Ltd, operating since the year 2016, based in Cyprus and is certainly a leading STP broker in the industry and is one of the most long-standing brokers to date. They exert a sense of reliability under their CySEC regulation status also, which is one of the reasons they have maintained consistent popularity over the years. In addition, they offer the popular MT4 platform and a very good set of trading conditions, suitable for many traders.
Account Types
Swiss Markets offer their clients 4 account types to choose from, and all of which have an Islamic account type option:
CLASSIC STP Account
RAW STP – Swiss11
RAW STP – Swiss8
RAW STP – Swiss5

All accounts listed have the same base currency options (EUR, USD, GBP, CHF, PLN), leverage allowance of up to 1:30, 200 maximum trade positions and all allow hedging. The only differences between the account types are the commission fees, starting spreads, minimum lot size and minimum deposit amount, which we will go into more detail shortly.
Platforms
Swiss Markets offers the trusted and reliable MT4 platform, compatible with Windows, Mac, iOS, Android and Web. This means that clients can trade on the go as well as the comfort of their own home.

Leverage
For all 4 account types, the maximum leverage allowance is 1:30. Although this is not particularly high, if you take into consideration the minimum deposit requirements (for all accounts), the leverage allowance can still maximize profits greatly.
Trade Sizes
The minimum trade size allowed for the CLASSIC STP Account and the RAW STP – Swiss11 is 0.01 lot, while the minimum trade size for the RAW STP – Swiss8 is 0.1lot and for the RAW STP – Swiss5 it is 1 lot. The maximum trade volume allowed (for all accounts) is 50 lots.
Trading Costs
As mentioned earlier, the trading commission fees vary upon the account type you choose but do bear in mind that since there is a variation in starting spreads across the accounts, the client cost essentially 'evens out' regardless of the account type you choose, if you are trading the same volume.
The commission fees for the account types are as follows, as per the website account comparison table:
CLASSIC STP Account: 0 Commission
RAW STP – Swiss11: $11
RAW STP – Swiss8: $8
RAW STP – Swiss5: $5
The commission charges above are applicable round turn (in total to open and close the trade).
Assets
With Swiss Markets, you can trade a wide range of assets including Forex, Metals, Energies, Indices, Equities, and Crypto. All tradable instruments are set out on the website, so you can average spreads for each pair as well as the swaps, tick values and the margin requirements applicable to each trading account type. Overall, the range of assets available is highly diverse and competitive to many brokers of the same caliber and establishment.
Spreads
As previously mentioned, the spreads do vary from account type, although all spreads are floating, and not fixed, they do vary from starting spread. An example pair, EURUSD is as follows, for the different account type options:
CLASSIC STP Account: As low as 0.9 Pips
RAW STP – Swiss11: As low as 0 Pips
RAW STP – Swiss8: As low as 0 Pips
RAW STP – Swiss5: As low as 0 Pips
All spreads on each tradable instrument are set out on the website according to each account type so you can be absolutely clear on what spreads to expect whichever account type you opt for, without needing to open a demo account to see this.
Minimum Deposit
The minimum deposit requirement varies according to account type, which is as follows:
CLASSIC STP Account: $200
RAW STP – Swiss11: $200
RAW STP – Swiss8: $2,000
RAW STP – Swiss5: $20,000
Bear in mind that the higher the deposit requirement, then the spreads and commission fees applied are smaller.
Deposit Methods & Costs
For the majority of traders (deposit methods apply according to your residency) Swiss Markets offer the following deposit methods: Credit/Debit Card by Wire Transfer, Skrill, Neteller, Credit Card by Wirecard, and Coinbase (Bitcash, Ethereum, Bitcoin). This is a dynamic option of funding methods, and it is nice to see a crypto deposit option available for those who wish to make use of their crypto, which typically speaking is usually the simplest and fastest method of transaction.
Swiss Markets do not charge any fees to their clients for funding their account via any of the above methods available.
Withdrawal Methods & Costs
The withdrawal methods available with Swiss Markets are of course the same as the deposit methods listed above, but note that according to their withdrawal procedures, the minimum withdrawal required:
via Bank (Wire) Transfer is 100 EUR/USD/GBP.
via Skrill, BTC, Credit/Debit Card or other is 21 EUR/USD/GBP
If this is not met, then the client would be subject to a fee of 10 EUR/USD/GBP on the withdrawal.
Other than that, no fees are mentioned but do always check with your banking provider if you are subject to any fees from their side, prior to making any deposit/withdrawal request.
Withdrawal Processing & Wait Time
As per the website, and confirmation from a live chat agent, all withdrawals are processed within 24 business hours, but of course, all withdrawal completion times can vary in the timescale depending on your provider. On the whole, however, Swiss Markets do offer a good selection of typically fast withdrawal methods, so clients should not have to wait around too long for their fund to be returned to them.

Bonuses & Promotions
Swiss Markets do not offer any deposit bonus scheme or similar promotional offers meaning that whatever clients deposit, are responsible for, without any confusing bonus schemes getting in the way and adding a false sense of hope and prospects of making greater profits than what the client chooses to allow in respect of the initial deposit requirement being met.
Educational & Trading Tools
Swiss Markets offer a few trading tools (direct from the website) which are handy for new and experienced traders alike, which include Margin, Pip value, and Swap calculators as well as a currency converter. This is incredibly handy to have all such tools in one place and adds to the efficiency of smooth trading experience for all clients of this broker.
Customer Service
Swiss Markets quality of customer service is impeccable and very impressive; a professional and friendly manner is always delivered to their clients on a 24/5 basis, in line with when the markets are open. Clients of Swiss Markets can reach out to a representative via Live Chat, email, and telephone. As a client of this broker, you can expect a consistent high-level quality of customer service which is not all that common to find in a forex broker.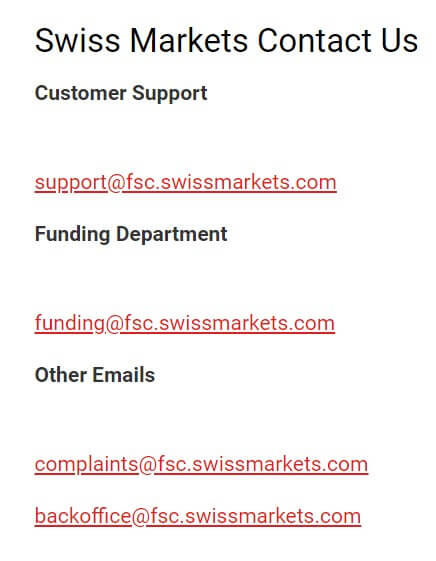 Demo Account
Swiss Markets do offer a demo account for you to test out their trading service overall, however, this may not be entirely necessary as the website provides intricate detail on spreads individual to the account types and pairs offered, as well as swap fees, commission fees, and margin requirement, etc. However, if you are still a relatively new trader, it may be advisable to try the demo first to see if your strategies and trading style are suitable and complement the trading conditions offered by this broker. Of course, remember that slippage is one thing a demo cannot take into account, so bear that in mind when moving from the demo to the live account.
Countries Accepted
In respect of the regulation policies that Swiss Markets comply with, the following countries would be restricted from the provision of Swiss Markets trading services:
Cyprus
Democratic Republic of Congo
Eritrea
Libyan Arab Jamahiriya
North Korea
Somalia
Sudan
United States
Belgium
Conclusion
Swiss Markets are an exemplary broker with impressive trading conditions and impeccable customer service. They must be commended for their intricate consideration for the client trader experience when it comes to the provision of service overall from customer support quality to tools available to help their clients maintain a smooth trading experience. The range of deposit and withdrawal methods available should suffice for all traders also.
This broker is highly dynamic and definitely keeps up with the times which is demonstrated with the fact they offer Crypto not only to the trade on margin but also as a funding/withdrawal method, which is increasing in popularity among traders for its sheer speed and ease of access. If you choose to become a client of this broker, it is essentially guaranteed that you will not be disappointed, and will receive a consistently high-level quality of service.