Registered in the country of Saint Vincent and the Grenadines, Quineex is a forex brokerage firm that partners with liquidity providers, news aggregators, and price/quote processors from all around the world. The company's mission is to provide account holders with a reliable, user-friendly, and competent trading experience.
Many market participants go through Quineex because of its comprehensive account type, which gives traders direct access to bank prices (as opposed to those of third-party intermediaries) and a 24-hour customer support team. These advantageous offerings are further enhanced by the industry-leading platform that this broker's account holders trade through.
Regardless of which strategies or approaches you prefer, Quineex has plenty to provide you with, including an expanded list of both major and exotic forex pairs. Read this article to learn about the broker's leverage rates, asset selection, margin call policy, and much more, including the unique fact that Quineex offers two demo accounts, as opposed to one.
Account Types
Quineex offers one account type, but some of its features (namely the spreads and accessible forex pairs) are highly advantageous. This broker also has a demo/paper account that traders can use to practice their strategy and familiarize themselves with the platform's tools.
Minimum Deposit: None
Spreads: From 0 pips
Commission: $6 per lot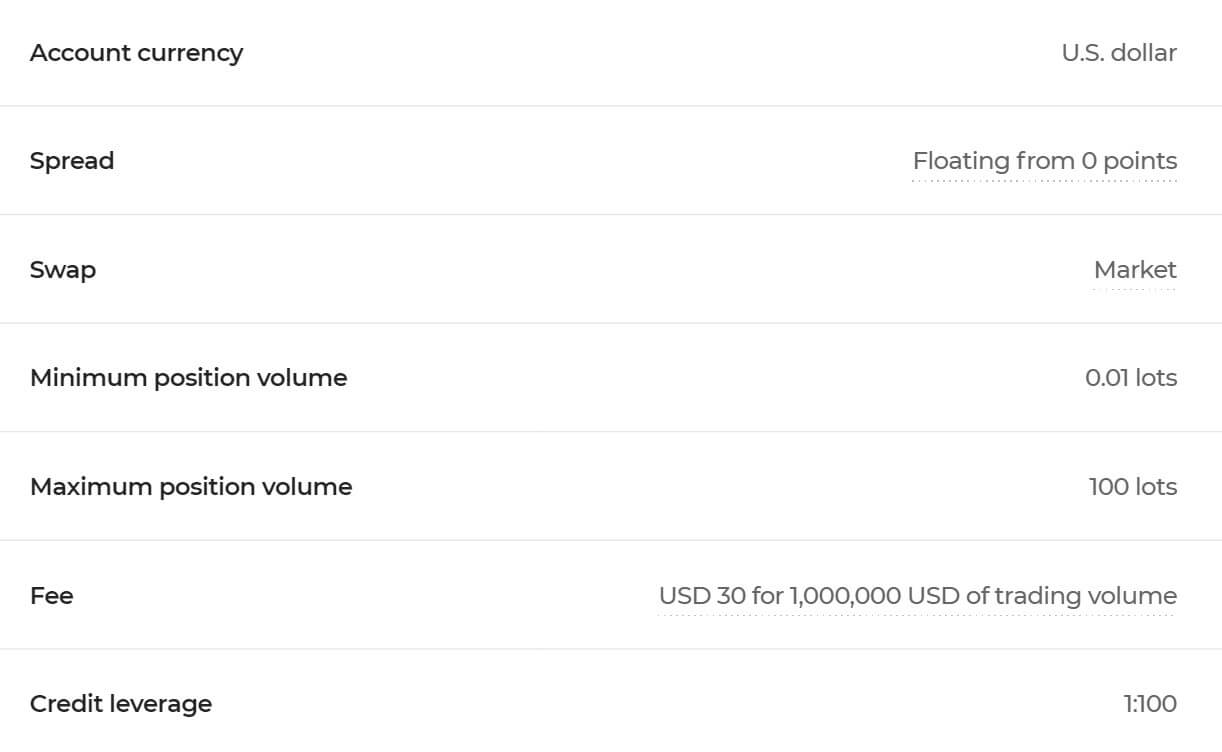 On their website, Quineex boasts that their single account type combines all of the best trading conditions and fee structures that the firm can provide you with. Opening an account is also easy. For a start, there are no minimum deposit requirements. You can start trading as long as you have the needed amount to buy/sell the smallest permissible lot size.
Platforms
The broker utilizes MetaTrader 4 (MT4), which is arguably the most popular forex trading platform in the world. In fact, MT4's comprehensive toolsets and user-friendly characteristics make the platform even more desirable. Technical analysts will certainly appreciate the ability to integrate a variety of indicators with their charts and view prices in different timeframes.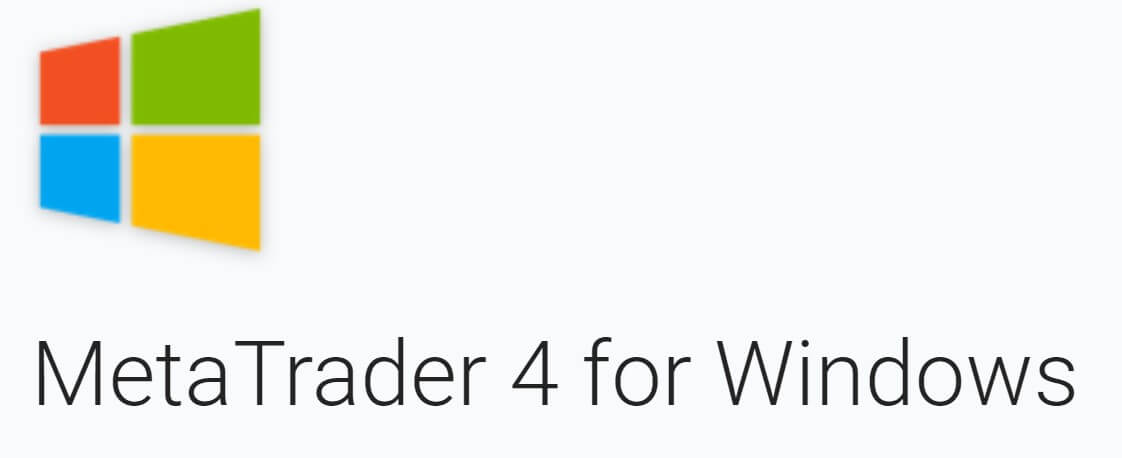 Additionally, fundamental analysts can create customizable newsfeeds and read detailed reports. If they download the MT4 app on their smartphone, they may also receive alerts and notifications. In fact, the platform's mobile version allows you to manage your account, place orders, and execute trades directly from your phone. On Quineex's website, you may download the Windows and Mac software, but you might have to install the phone app through the Apple/Google Store. Another option is to download it from MT4's website.
Leverage
Quineex's leverage is one of its downsides. Account-holders only get 100:1 in buying power, without the option of increasing it in the future. To put that into perspective, many brokers may give you up to 500:1, although 200:1 or 300:1 is a more common leverage rate in the industry. Nonetheless, fixed, non-changing leverage still has some advantages. First, it makes your trading experience more predictable.
Second, account holders don't have to worry about seeing their buying power diminish after they deposit additional capital (this practice is common amongst brokerage firms that want to limit their risks when a trader uses a lot of buying power and incurs losses). Third, the fixed leverage makes the margin requirements similar across the board. A changing/floating leverage, on the other hand, may vary based on how many lots you want to buy/sell and the size of your currently open positions.
Trade Sizes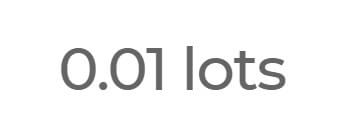 Since there is no minimum deposit, funding your account with enough money to buy 0.01 lots or 1,000 in the base currency (the smallest trade size that Quineex permits) would suffice. This includes leverage. For example, if you deposit $10, your 100:1 buying power enables you to buy or short-sell $1,000 worth of forex pairs, which meets Quineex's minimum trade size requirements. As far as the maximum is concerned, account holders can't open a position that's larger than 100 lots (or 10,000,000 in the base currency). Keep in mind that the standard size of 1 lot equals 100,000 in the base currency.
Margin Call: 200%
Stop-Out: NA
Quineex's stop-out level is unclear. However, when an account's balance falls below the margin call point, the broker may not allow the traders to open new positions unless they deposit additional funds or close existing trades, up until their portfolio has enough money to satisfy the margin requirement.
Trading Costs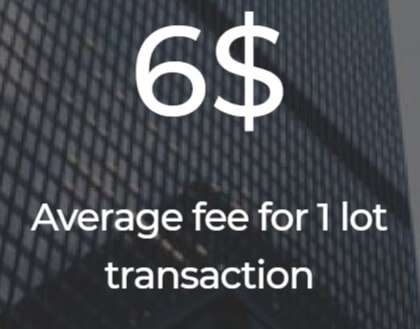 Commissions are $3 on each lot that you trade. You incur this fee when you open a position. It is also charged upon closing it. In other words, a fully closed round-trip trade would cost $6 per lot. When taking a step back, we can notice that Quineex's commissions are about average, particularly in comparison to other brokerage firms.
Other than that, the spread is another trading cost that account holders incur. However, Quineex's spreads start at 0 pips, making this expense insignificant. Most firms in the industry have a spread that ranges between 1 and 3 pips. Lastly, you will incur an interest (swap) fee if you keep a position open overnight. The interest might be positive (i.e. you profit from it) or negative (you pay it). This depends on the currencies that you are trading and what their home countries' central banking policies are.

Whether you are long or short also determines if you earn or pay the interest. It is important to remember that, since central banks from around the world decide on the swap/interest rate, this fee is out of the broker's control.
Assets
Quineex account holders can access over 50 forex pairs. Their exotic list is very comprehensive and includes currencies like the Offshore Chinese Renminbi (CNH), Russian Ruble (RUB), and the Thai Baht (THB). This is alongside other more commonly available exotics, such as the Norwegian Krone (NOK), Singapore Dollar (SGD), and South African Rand (ZAR). There are also indexes that track the American, British, and German stock markets. Lastly, Quineex's asset selection encompasses commodities from different categories. Amongst them are precious metals (copper, gold, palladium, platinum, and silver), energies (oil and natural gas), and agricultural commodities (soybeans).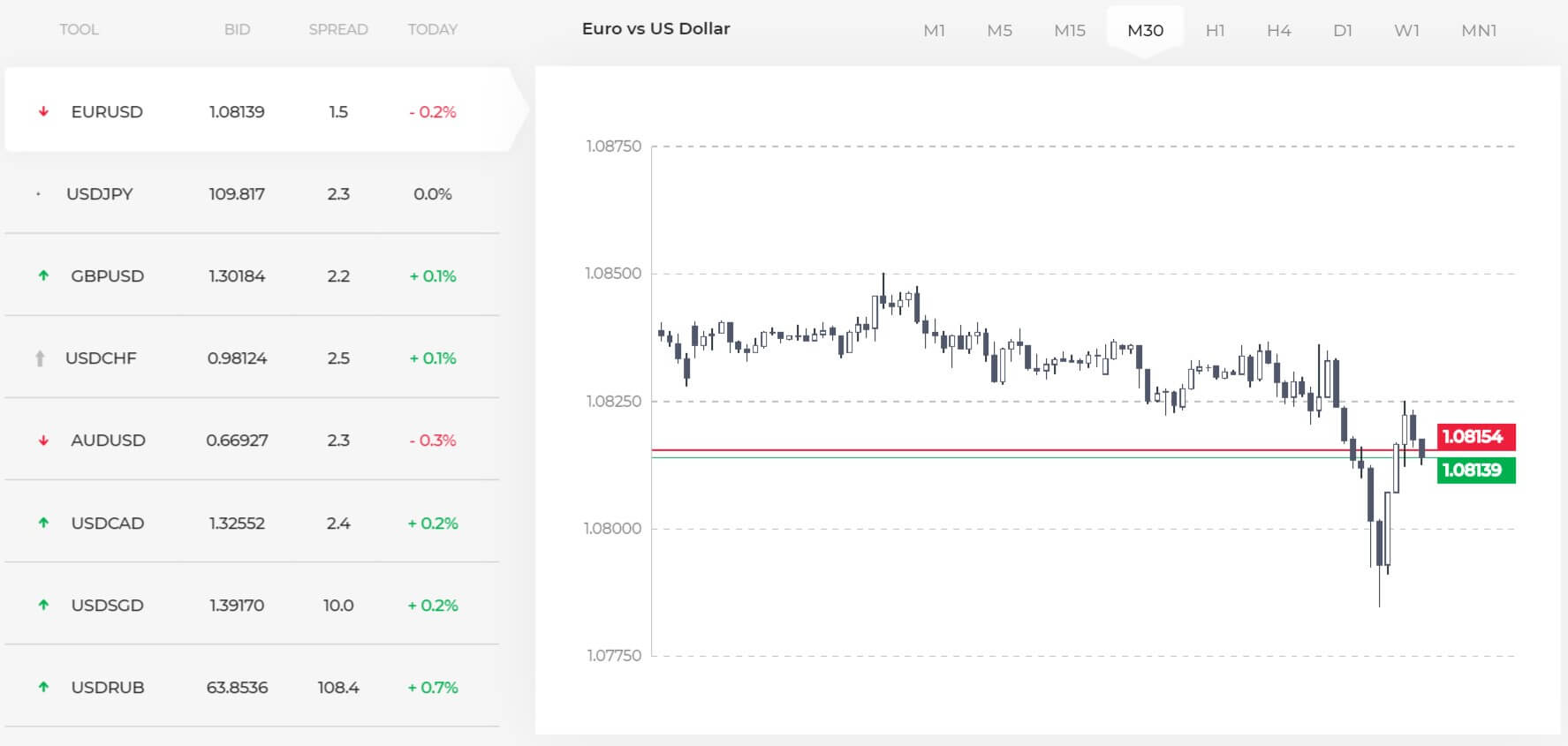 Spreads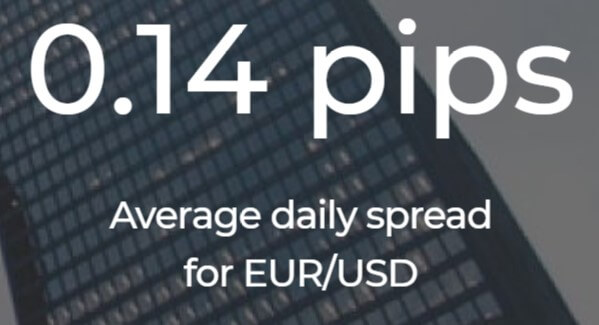 If a trader chooses to open an account with Quineex, the average spread on the EUR.USD (which is the most liquid forex pair in the world) is only 0.14 pips. You can view the live spreads of the available forex pairs on the broker's website homepage. Apart from that, there are two things to keep in mind: First, the bid/ask prices are floating, which means that the spread could get larger when prices are volatile and during periods of market uncertainty. Second, exotics have a wider spread than their major counterparts, especially the currencies of countries that deal with political turmoil and civil unrest.
Minimum Deposit
Not only is there no deposit required to open an account, but most funding methods also don't have a minimum funding amount per transaction. However, if you make a deposit through certain Russian banks, each transfer must be worth $1,000 or more. Visa/MasterCard deposits, meanwhile, only have a minimum of $10 per transaction, which is just enough to buy 0.01 lots if you use your leverage.
Deposit Methods & Costs
Another advantageous Quineex offering has to do with its various deposit methods. Account-holders can fund their account via debit/credit card, Qiwi, WebMoney, and wire/SWIFT transfers. Additionally, you may go through one of the Russia-based banks that Quineex works with, namely Alfa Bank, Promsvyazbank, and Russian Standard. There are no fees on deposits, regardless of which method you choose. The only differences between the funding sources are the processing times and minimum deposits (which were previously outlined).
Once you initiate a transaction, the money becomes instantly available on your Quineex account. The exceptions to this are bank wire/SWIFT transfers, which may take up to 5 days until they are fully processed. All deposits must be made in the US Dollar, but the Russian Ruble is the default currency for transfers done through Qiwi, WebMoney, and Yandex Money.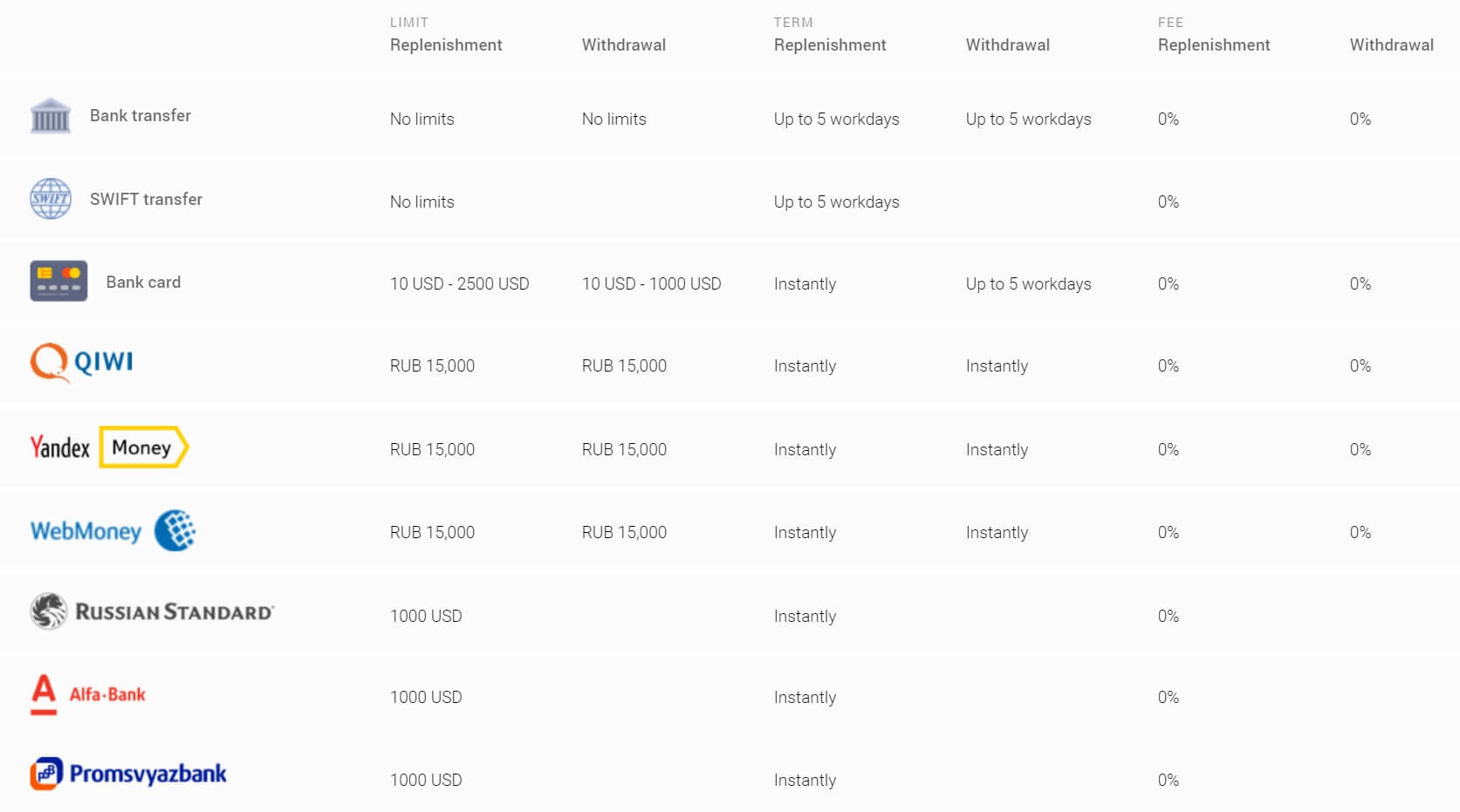 Withdrawal Methods & Costs
You may withdraw money through any of the methods above. Quineex also doesn't charge you fees for withdrawals, which puts the firm ahead of many competitors. Most brokers will require you to pay for each outbound transaction. Some may even have a fee on deposits. Quineex doesn't set any maximum or minimum withdrawal amount per transfer, apart from those made via debit/credit cards, which must be no less than $10 and no more than $1,000 in a single transaction.
Similarly, Qiwi, WebMoney, and Yandex Money have a minimum withdrawal amount of 15,000 Russian rubles. However, unlike MasterCard and Visa, there is no maximum threshold through these 3 methods.
Withdrawal Processing & Wait Time
All withdrawals are processed instantly, but a bank wire/SWIFT transfer could take up to 5 days. Although deposits via a credit or debit card are immediately available, withdrawals may also take 5 days until they are fully processed.
Bonuses & Promotions
Quineex has 3 promotions: The Partner Program, White Label, and bonuses for business entities. Through the Partner Program, traders would have to refer others to the broker and incentivize them to create an account through a unique URL/website link. After that, the partner receives 20% of the commissions from their referrals' trades. Even though many brokers offer a similar program, Quineex's promotion takes a further step forward by allowing partners to view the trading volume and other statistics about their referrals' activities.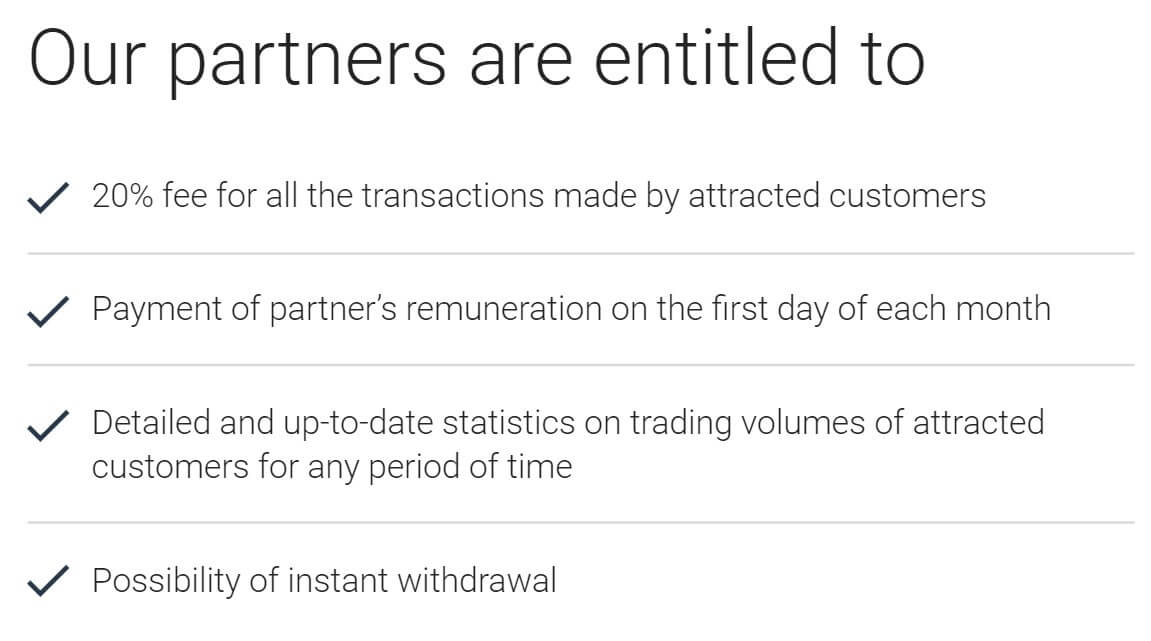 The White Label offering, on the other hand, is designed for professionals who make a career out of trading on their clients' behalf and managing other people's funds. Once they register an official business or brand name, White Label traders can offer Quineex's tools, platform, and other features to potential clients. In other words, they would market the broker's account but under their own business or brand name (as opposed to Quineex's). Lastly, this firm has a business partnership program that revolves around working with other financial companies towards common goals and exchanging expertise with other professionals or entities in the industry.
Educational & Trading Tools
While this broker doesn't have a lot of educational content, its trading tools are certainly useful for day-to-day activities. Firstly, their newsfeed includes summaries and reports on major events that are impacting the market. A new article is posted every 2 to 3 days. The economic calendar, which lists major data releases and announcements (such as GDP and interest rate decisions), is customizable. You can pick the date range, country(ies), and the priority of the displayed economic events.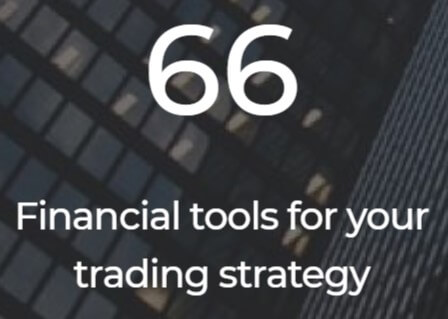 To clarify, 'High' priority announcements tend to be followed by strong market reactions; 'Low' priority ones are less relevant and don't have a very noticeable impact on prices; and 'Medium' events are in between the former two. Quineex also has a currency conversion calculator, which allows you to view the live/current price based on your selected lot size and the exchanged forex pair.
If you are new to the market, these tools can certainly help you keep track of events and better understand what to expect during a given day or week. As far as educational materials are concerned, Quineex doesn't have much to offer, but you can access incredibly reliable tutorials and resources on MT4, including free one-on-one sessions with experts.
Customer Service
This broker makes it very easy to get in touch with customer service. Alongside calling or emailing them, account holders have the option to chat with a live representative (their website even tells you when a support agent was last active) and request a callback online.
Phone: +442038087378
Email: info@quineex.com

Demo Account
Unlike almost any other broker, Quineex has 2 demo account types: The Demo Account and the Trial Account. The former expires within 10 days, while Trial has an unlimited lifetime. To open the (temporary) Demo Account, traders don't need to go through the registration process. Instead, they can start trading as soon as they download the MT4 platform. Quineex recommends this type of demo to users who never worked on MT4 before and aren't familiar with its toolsets, such as how profits/losses are calculated.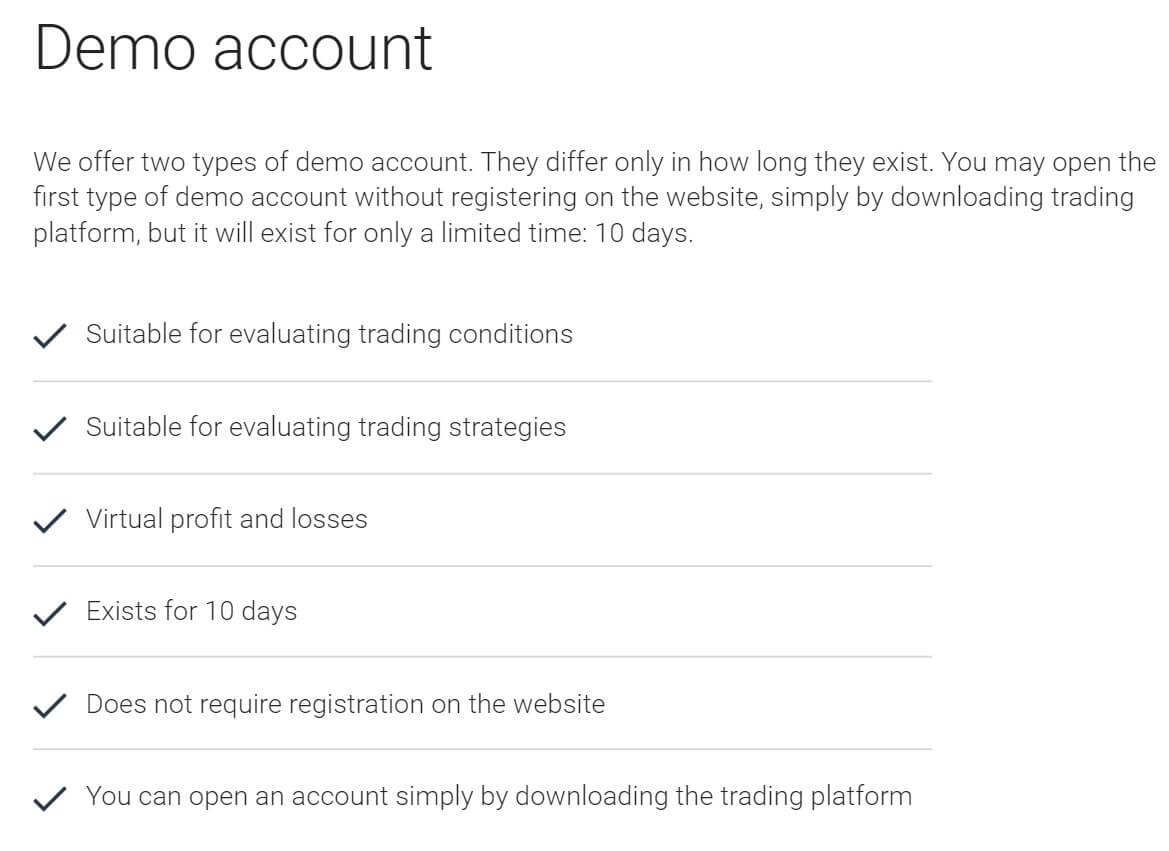 Traders who want to practice implementing a new strategy or determine how volatile the market/a specific forex pair is could take advantage of the temporary demo.
The Trial Account, on the other hand, can be used by inexperienced traders during the initial part of their learning process and afterward. Before accessing the account, you must first register and create a profile, which (according to Quineex) is only a five-minute-long process.
As time goes by, you can monitor your profit/loss statements on the Trial Account and add more paper (fake) money to its balance. Perhaps most importantly, both (temporary) Demo and Trail allow you to trade in real-time (live) markets and access the same price quotes that are on the exchanges.
Countries Accepted
Quineex is incorporated in Kingstown, St. Vincent and the Grenadines, a country located in the Caribbean Sea region. Russian and English are the available languages on their website. Other than that, nothing is noted about geographical restrictions. The broker's services might be available in the United States since it is an option on the registration form. Quineex also works with a liquidity provider that's in the American state of North Carolina. However, interested traders should always check with customer service about whether or not the broker is available in their country, regardless of where they live.
Conclusion
At first glance, Quineex's leverage rates could be a major downside to many forex traders, especially since the broker's 100:1 buying power puts them behind many competitors. However, this is offset by the fact that Quineex has fixed leverage, which ensures that your trading experience is predictable. The firm also doesn't lower your buying power after you deposit additional funds, a practice that is common in the industry.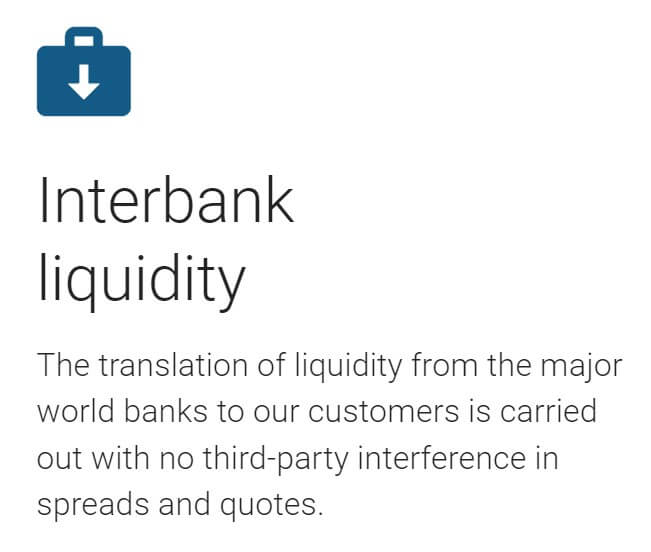 Moreover, this broker will not charge you any fees when you transfer money (both in and out of your account) through one of their various transaction methods. Not only that, but both deposits and withdrawals are instantly processed. Quineex also offers two demo accounts that cater to different traders' needs. The temporary one serves those who want to learn about the MT4 platform, while the permanent demo (the Trial Account) is especially suitable for beginners.
Meanwhile, when it comes to the live portfolio, this broker's single account type is comprehensive and includes all of the advantageous toolsets that Quineex offers under one package. Another important thing to note is that the firm's spreads are incredibly tight and, at times, nonexistent. This is a great feature if you are willing to overlook the broker's commission, which is also reasonably-priced, to begin with. Quineex also has plenty of promotions that could benefit professional traders, but they don't have any bonus programs for retail accounts.
Nonetheless, this broker's services are available across the world, so is the MT4 platform that allows you to manage your account from any device and location. Lastly, their practical trading tools, including the economic calendar, position calculator, and newsfeed, can be very valuable during day-to-day market activities. Although Quineex doesn't provide you with educational materials, MT4 has more than enough tutorials and one-on-one advisors.
Are you a fan of exotic currencies? Does a low spread justify higher commissions? Will you be able to accept the 100:1 leverage if it provides you with a predictable and consistent trading experience? Your answer to these questions, and a few other ones, can help you decide if Quineex is the right choice.