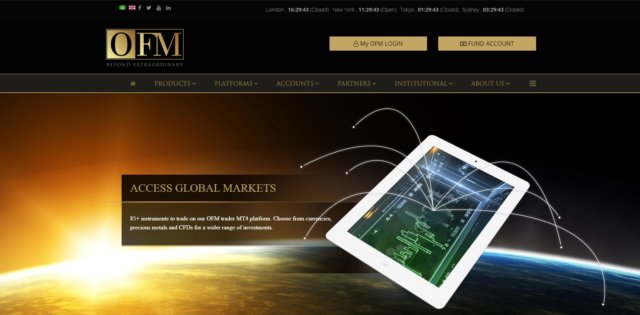 OFMFX is a forex broker that claims that it is an industry leader in the Forex & CFD markets. It is their promise to deliver a powerful, user-friendly, and fair trading platform. On their platform, clients can trade the most popular assets – currencies, commodities, and indices. OFMFX clients benefit from intensive training, dedicated service, and 24/7 professional customer support and assistance. This review is designed to look into the services that are being offered to see if they live up to the promises made and so you can decide if they are the right broker for you.
Account Types
Apart from demo accounts (that we will look at later in the review), there are three different accounts available from OFM, we will be taking a small look at what the features and benefits of each account are.
Lite Account: The lite account requires a minimum deposit of $1,000, it has fixed spreads which start from 1 pip and has a commission of $8 per round lot traded. The minimum trade size of 0.01 lots and offers market execution. There are no swap or hidden fees for this account and it has 24/5 customer service support.
Classic Account: The classic account requires a minimum deposit of $10,000, this account has a variable spread which starts from 0.8 pips, it also has an added commission of $7 per round lot traded. The minimum trade size is also 0.01 lots and this account uses DMA execution, there are no swap or hidden fees and the account comes with a dedicated account manager.
Elite Account: This is the top tier account as so has a massive $150,000 as a minimum deposit requirement. It has a commission of $6 per round lot traded and spreads are simply stated as competitive ECN spreads. It has DMA as an execution method and receives the services of a premium account manager as well as access to daily market updates.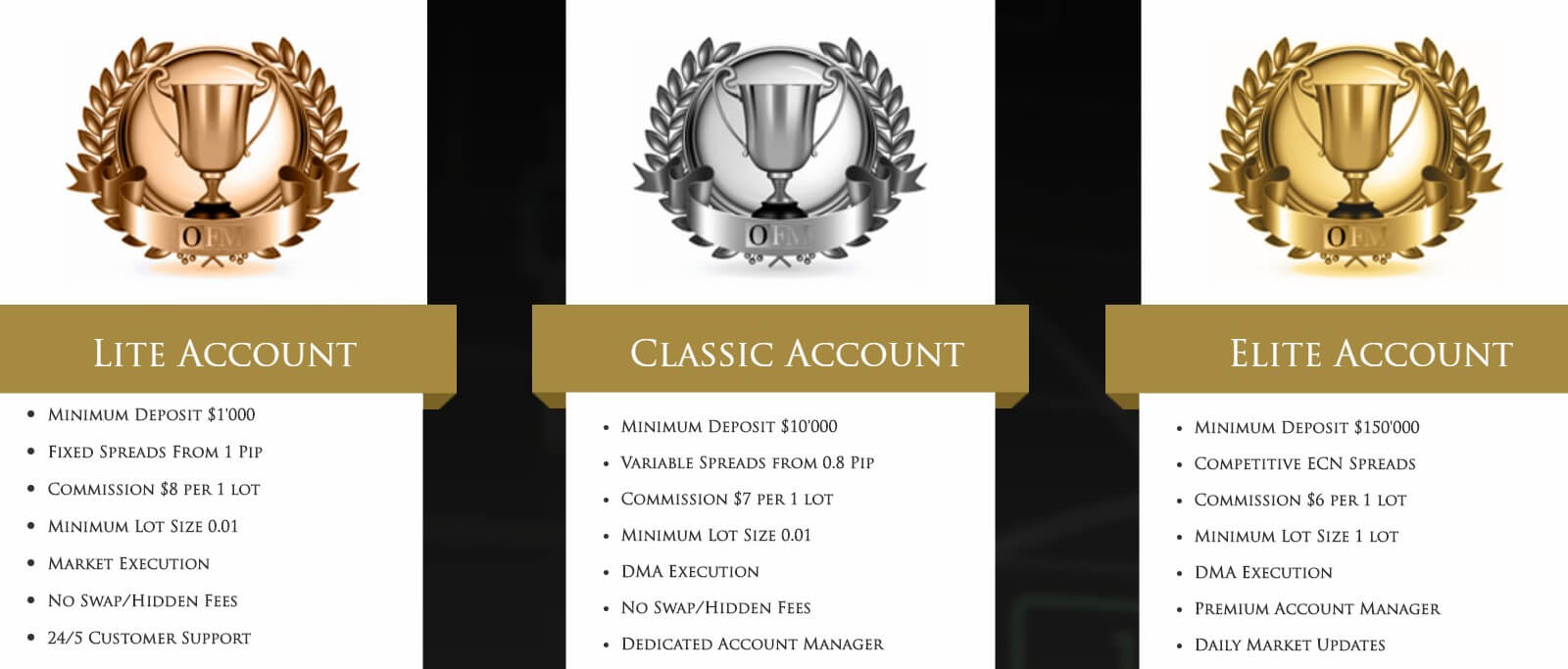 Platforms
OFM FX offers MetaTrader 4 as their only trading platform, so let's take a look at what it brings to the table.
MetaTrader 4 (MT4): MetaTrader 4 (MT4) is one of the world's most popular trading platforms and for good reason. Released in 2005 by MetaQuotes Software, it has been around a while, it is stable customizable and full of features to help with your trading and analysis. MT4 is compatible with hundreds and thousands of different indicators, expert advisors, signal providers and more. Millions of people use MT4 for its interactive charts, multiple timeframes, one-click trading, trade copying and more. In terms of accessibility, MT4 is second to none, available as a desktop download, an app for Android and iOS devices and as a WebTrader where you can trade from within your internet browser. MetaTrader 4 is a great trading solution to have.
Leverage
The maximum leverage on all accounts is 1:100, this can be selected when opening up ana account, once an account is open you can change the leverage by getting in contact with eh customer service team. 1:100 is ok, but a little low when comparing to a lot of other brokers.
Trade Sizes
Trade sizes for all accounts start at 0.01 lots which are also known as micro-lots. Trades then go up in increments of 0.01 lots so the next trade will be 0.02 lots and then 0.03 lots. We could not locate information on the maximum trade size, however, no matter what it is we would not suggest trading over 50 lots in a single trade as it becomes increasingly harder for the markets and liquidity providers to execute trades quickly and without any slippage the bigger they get.
Trading Costs
Each account type comes with a different commission structure, the Lite account has an added commission of $8 per round lot traded, the Classic account has $7 per round lot traded and the Elite account has a commission of $6 per round lot traded. The industry standard seems to be around $6 per round lot traded so OFM is not far off this figure.
Spreads are another cost, however, we will be looking at them separately later in this review. There are no swap fees on these accounts which is nice to see so you do not need to worry about those.
Assets
The tradable instruments on OFM are broken down into 4 different categories.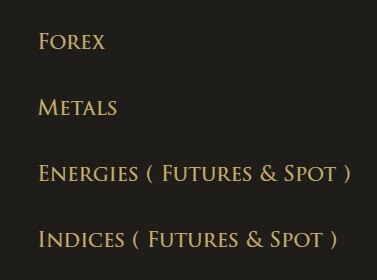 Forex: There isn't an actual breakdown of each currency pair, there is just a simple overview, majors, minors, and exotics are available including pairs like EUR/USD, GBP/AUD and AUD/NZD. Spreads on currency pairs go up to 1:100 and trades start at 0.01 lots.,
Metals: Again there is not a full break down, the only metals that we know are available are Gold and Silver, we can not comment if any others are available though.
Energies: There isn't a breakdown of which energies or any information at all, it just states that they are there and that there is a lot of volatility, not the most helpful information we could have on them.
Indices: Dow, Dax, FTSE, Nikkei and many more is what the website states, there are 11+ in total, again not really helpful as it would be nice to know which 11+ they were instead of just naming a few different ones at random.
There isn't a huge range of assets, what is even more worrying is the fact that the ones we know are there, are missing a lot of information and a full breakdown.
Spreads
The spread that you get depends on the instrument that you are trading and also the account that you use.
If you use the Lite account then you get a fixed spread starting from 1 pip, a fixed spread means that it doesn't move no matter what happens in the markets, it will always be 1 pip. The classic and elite accounts have variable (floating) spreads which means they can change, when there is a lot of movement and volatility in the markets then they will often be seen much higher.
Starting Spreads:
Lite: 1 pip Fixed
Classic: 0.8 pip Variable
Elite: Raw Spreads Variable
It should also be noted that different instruments have different starting spreads, so while EUR/USD may have a fixed spread of 1 pip, another pair such as AUD/NZD will have a higher fixed spread.
Minimum Deposit
The minimum deposit required to open up a new account is $1,000 which will get you a Lite account. If you want one of the other accounts you will need to make a larger deposit. Normally when initial deposits are higher the brokers allow for any subsequent top-up deposits to be lower, but there is no indication of such a scheme with OGM.
Deposit Methods & Costs
It took a while but we found some information on deposit methods. You can currently deposit using Credit or Debit cards, both Visa and MasterCard are accepted, you can also use Bank Wire Transfer along with Skrill and Neteller. There are no added fees by OFM FX, however, be sure to check with your own processor just in case they add any fees of their own.

Withdrawal Methods & Costs
There isn't much information on withdrawals except for the fact that you must withdraw to the same method you have deposited with, this would indicate that the name methods are available to withdraw as they are to deposit. There is no mention of fees for withdrawals, however, there is also no mention that there aren't any either.
Withdrawal Processing & Wait Time
OFM FX will try to process any withdrawal requests on the day that they were submitted, however, if not they will process them on the next working day. It will then take between 1 – 5 working days for you to receive your funds depending on the method used.

Bonuses & Promotions
There is no information on the website in regard to any bonuses and promotions so it does not appear that there are any active ones the time of writing this review. There may be promotions un the future so if you are looking for them be sure to check back intermittently to see if any have come up.
Educational & Trading Tools
There wasn't anything available on the OFM website in regards to trading tools or anything in the form of education which is a shame as a lot of brokers are now looking to help their clients become better traders so it is always nice when you see something and disappointing when you don't.
Customer Service
You can contact OFM FX in a number of ways. You can use the online submission to send your query and can then expect to get a reply back via email. There are also 2 different phone numbers but we are unsure of what the differences are, there are also 2 emails available to use, one for MT4 (trading platform) support and the other for general support.
We filled in the submission form to ask for some more info however after a couple of days we are yet to receive a reply. The support is open 25/5 and closes at the same time as the markets do over the weekend.
Demo Account
Demo accounts are available by simply signing up via the demo account section, there are no details about the demo account though, such as trading conditions or how long they last, as some brokers give accounts indefinitely while others put a time limit such as 30 days so it would be handy top know this information.
Countries Accepted
There is no specific information surrounding which countries are allowed and which are not, so if you are unsure we would always recommend getting in contact with eh customer service team to find out if you are eligible for ana account or not.

Conclusion
It is a shame that the promising-looking OFM is let down by the complete lack of information in regards to assets, this information is important to potential clients, this along with the total lack of information about depositing and withdrawals is enough for us to pass. Not having information surrounding deposits and withdrawals is a big let down, this information is vital as they will be dealing with our money, so not knowing how or when funds are transferable is criminal. The other aspects such as trading conditions look good, but due to the shortcomings, we can not currently recommend OFM FX.