The NZDUSD pair continues consolidating in the extreme bullish sentiment zone, as is revealed on its 8-hour chart. The chart comprises its 90-day high and low range. Currently, the cross remains testing the psychological barrier at 0.6900.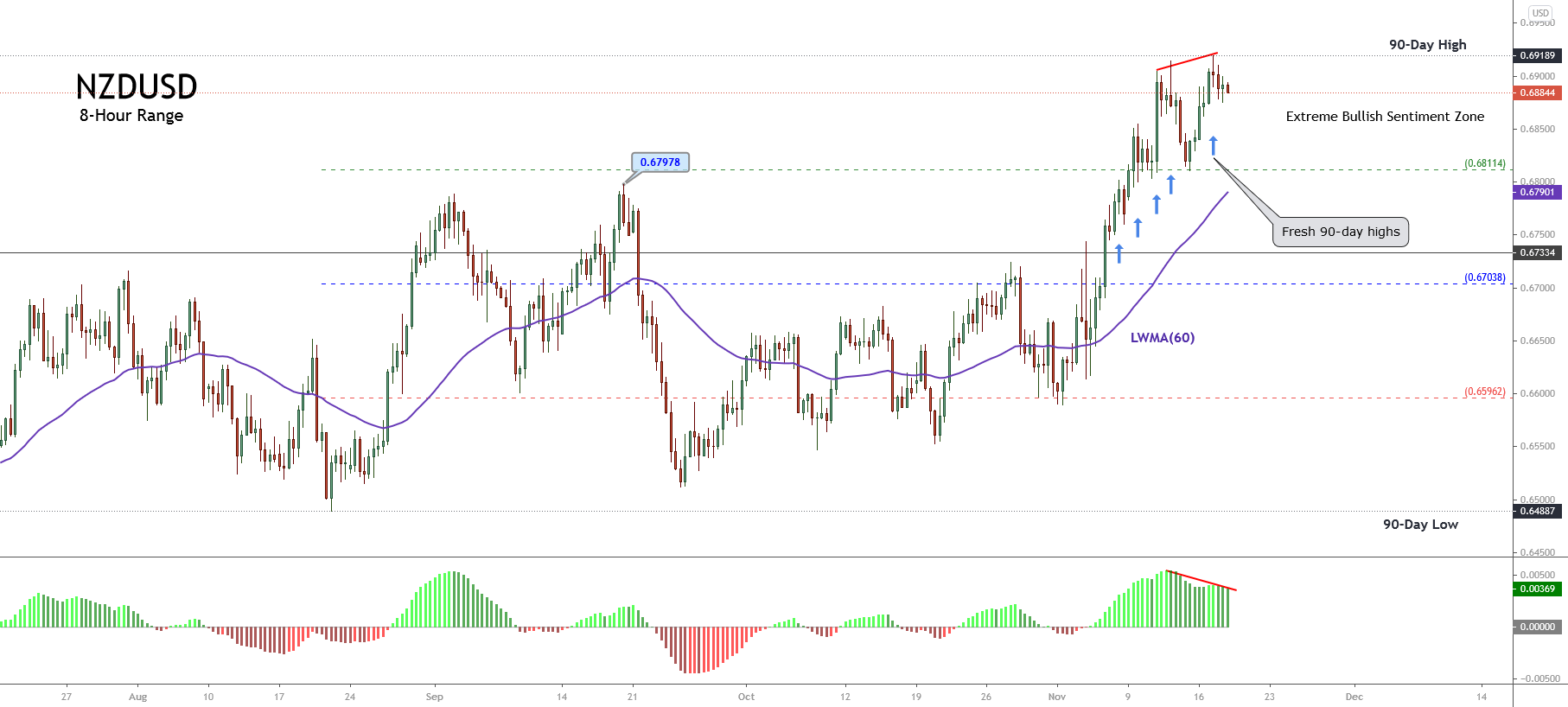 In the previous chart, we can observe the five new highs in the 90-day range reached by the NZDUSD each trading day after the last range maximum, which stood at level 0.67978. This market context leads us to expect a euphoric bullish movement followed by an imminent retracement.
On the other hand, the bearish divergence in the MACD oscillator moves us to recognize the current uptrend's exhaustion, although it remains in progress.
The next 4-hour chart shows the upward incomplete impulsive sequence, which corresponds to the fifth wave of Minute degree identified in blue that began on October 20th at 0.65555.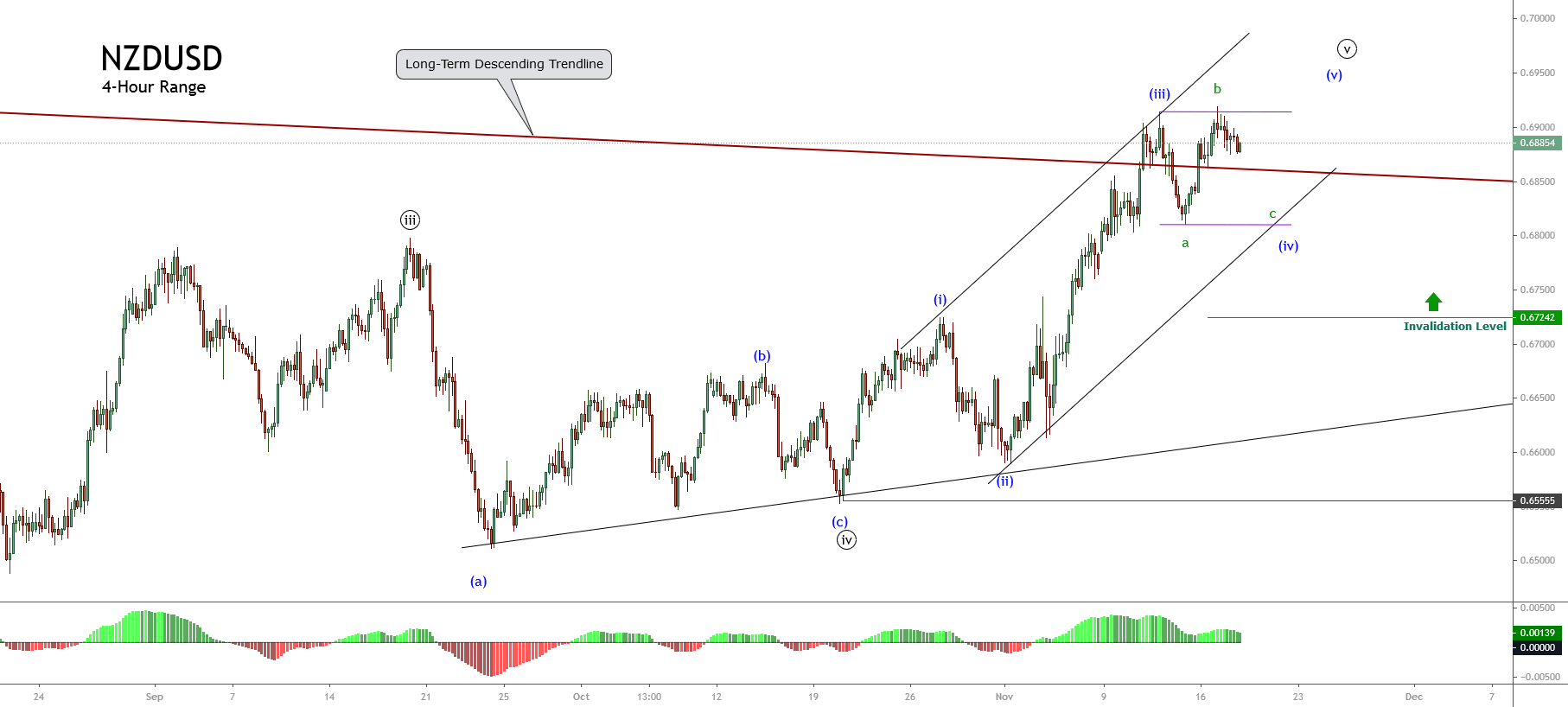 Currently, the price action reveals the advance in its fourth wave of Minuette degree labeled in blue. At the same time, we can distinguish the NZDUSD pair's price running in the wave c of Subminuette degree identified in green. In this context, the intraday decline could lead the price to develop a new short-term rally subdivided into a five-wave sequence.
Short-term Technical Outlook
The short-term Elliott wave view for the NZDUSD pair unfolded in its 4-hour chart foresees further upsides, which could advance to the area between 0.6926 and extend its gains until 0.6972. This upward movement could complete its fifth wave of Minuette degree labeled in blue.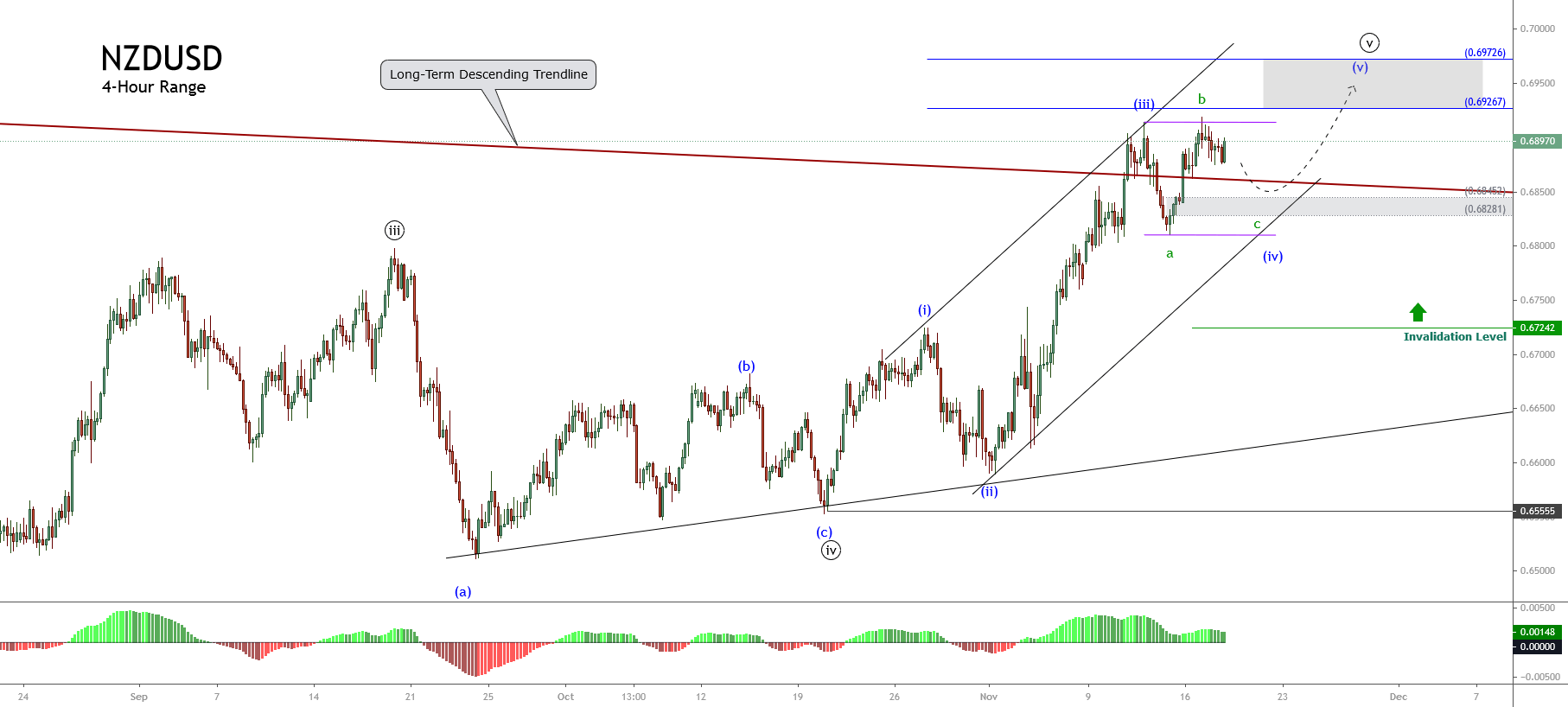 An alternative scenario considers the possibility that the NZDUSD pair could achieve a limited decline to the demand zone between 0.68452 and 0.68281, where the pair could find fresh buyers and complete its fourth wave of Minuette degree identified in blue.
On the other hand, the limited correction corresponding to wave (iv) in blue could advance toward the ascending channel's base-line, where the cross could find its dynamic support. Once the price finds fresh buyers, the pair may advance on its fifth wave of Minuette degree into five internal segments.
Lastly, the bullish scenario's invalidation level is at 0.67242, which corresponds to the end of wave (i) of Minuette degree.