The Night Walter EA can be found within the Experts section of the MQL5 marketplace, we have provided a link to it below. The expert advisor was first uploaded to the marketplace on the 5th of March 2020 by Roman Lengert, it has had a number of updates, the most recent update was posted on the 16th of March 2020 and it is currently on version 4.1.
Overview
The NightWalker EA was created for the MetaTrader 4 platform, it is a multi-symbol mean reversal system. It does not use the martingale or grid systems and uses fixed stop losses for each position. The expert advisor will only trade during the second half of the New York session and the start of the Asian session.
The main requirements needed for the expert advisor to function well:
Symbols:
AUD/CAD
AUD/NZD
CHF/JPY
EUR/AUD
EUR/CAD
EUR/CHF
EUR/NZD
GBP/AUD
GBP/CAD
GBP/CHF
GBP/USD
NZD/CAD
USD/CAD
USD/CHF
USD/JPY
Time frames: M1
Min Deposit: $300 to $1,000 (smaller deposits mean more risk).
Historical Drawdown: $83 per 0.01 lots.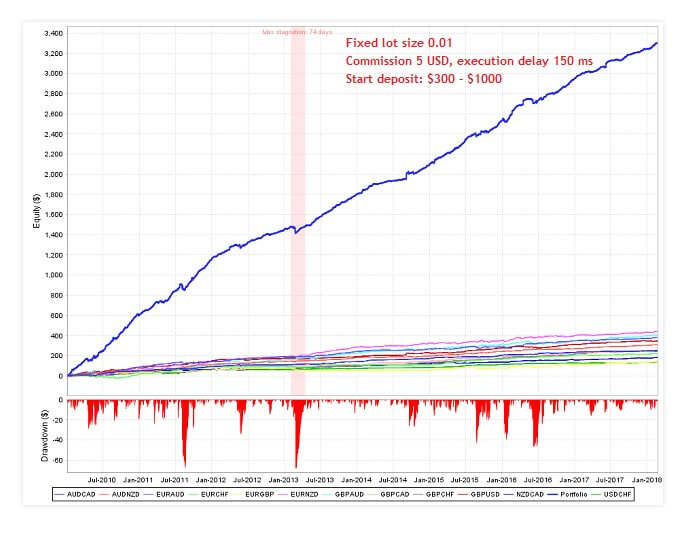 There are a number of different parameters and settings available, some of them include the symbol suffixes, lot types, lot sizes, fixed lots, max spreads, max number of positions, equity per step, lot er step, weekdays to trade, currencies to not allow on Friday, and many other options are available too.
Service Cost
The expert advisor can be purchased outright for $600, this will give you unlimited access to the EA without any limitations. If you do not wish to purchase it outright, you can also rent it, you can do this on a monthly basis for $50 per month, or $120 for three months or $220 or6 months. There is a free demo version available, but we do not know wha the current limitations of the free version are.
Conclusion
At the time of writing, there are currently 13 reviews available, these are giving the expert advisor an overall rating of 4.5 out of 5.
"I waited a long before the review trades 90% not profitable in aaafx. The developer although it is excellent, very helpful. The problem is that the first hour of Asian session has now very high spreads something that didn't happen some years before." – A 3-star review.
"Since more than 2 months now this EA is running on my live accounts and it's durable profitable with a very good risk management. The support of Roman is great and he is very helpful. So I give a 5-star recommendation as I'm convinced it's a great EA not just for now but for a long time." – A 5 – star review.
"I think this is the best EA in mql5, I used it for more than one year and got a good result. and the author is very helpful. One more I use NY Close Scalper together just like the author in his signal. Very good job!" – A 5-star review.
So the majority of the reviews are very positive, there are also 200 comments, Roman (the creator) is replying tot eh comments in a very prompt manner which is a good sign for the possible support that you will receive. Due to the high price of the EA, we would highly recommend that you download the demo to test out and also ask the developer any questions that you may have, this was you can be sure that it is right for you before making a purchase or rental.
This Forex Indicator is currently available in the MQL5 marketplace: https://www.mql5.com/en/market/product/24708