The Crystal EA can be found within the Experts section of the MQL5 marketplace, there may be others with similar names so we have provided you with a link below. The expert advisor was first uploaded on the 20th of February 2020 by its creator Dmitry Lukyanov. It has had a few small updates, the most recent was on the 16th of March 2020 and this brought the expert advisor up to version 1.21.
Overview
The Crystal EA is an expert advisor designed for the MetaTrader 4 trading platform, the expert advisor has been created to work with 6 currency pairs (see below), it claims to use advanced and new technology in the field of artificial technology. The expert advisor does not use certain strategies such as martingale, grid, and averaging.
The information provided does not really say what the expert advisor actually does, all that it says is that it will use a neural network to select optimal settings such as stop loss, take profits and lot sizes, it does this by weighing each currency pair, again, we do not fully understand how it works or selects its trades.
The recommendations for using the expert advisor:
The recommended time frame is M30.
Recommended pairs are EURUSD, USDCAD, GBPUSD, AUDUSD, NZDUSD, USDCHF.
The recommended account type will have 5-digit quotes.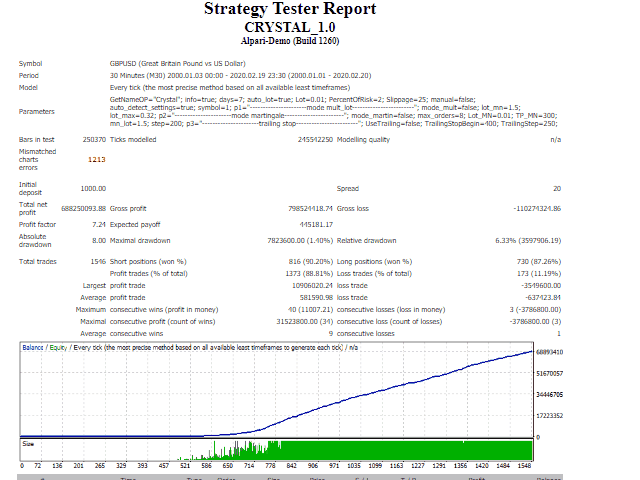 It terms of settings, there is a long list of settings that can be changed to help alter the way the expert advisor works to suit your own needs, some of the settings include auto lot calculations, lot sizes, percentage of risk, slippage, symbols, minimum lots, maximum lots, trade steps, whether to use trailing stops, the trailing stop steps, and more.
Service Cost
The Crystal EA expert advisor can be purchased for $215, this will give you unlimited access to the expert advisor and has no restrictions. If you do not wish to purchase it for that amount, you are also able to rent it, you can rent on a monthly basis which will cost you $50 per month. There is a free demo version available, the limitations of this free version are not known but we believe that it may only be usable on a demo account and not a live one.
Conclusion
There are only two reviews available for the Crystal EA, they are giving it an overall rating of 3 out of 5, so there is a positive and a negative one.
"Take your time to buy. A lot of beautiful words, a huge price. And all the feet … After the update, it again trades at a loss. Apparently, history is simply sewn into the adviser… Do you want to repeat my experience? Buy an adviser! The author generally stopped responding to messages – that's great support." – A 1-star review. (Translated from Russian).
"Super EA and support!"
With there being both a positive and a negative review it is hard to gauge how effective the expert advisor is, there are also18 comments, the author or the expert advisor seems to be responding to the comments quickly, this is contrary to what the first review we looked at said. Due to the differing opinions from the reviews, we would highly recommend that you download the free version, this will give you an opportunity to try it out and test it, ensuring that it will be working for you and that it does, in fact, do what it claims to, you should do this before making a purchase.
This Forex service can be found at the following web address: https://www.mql5.com/en/market/product/46529