Gridprofit EA is a robot that was created in March 2020 by developer Algelino Hafis Mohamed Yacine. Hafis Mohamed Yacine is a prolific creator of automated trading systems and many of them are available on the MQL market.
Overview
Grid Profit EA is a robot capable of working with all currency pairs. The best-performing time frames in backtests are 5-15-30 and 1H. The recommended minimum deposit to start working with Gridprofit EA is 1000 USD, and the appropriate lot size will be 0.01 lots. Grid Profit EA will not work as well if the volatility of your merchandise begins to decrease. The best results in this EA have been in periods of high price volatility.
The author comments that Gridprofit EA users are very happy with the performance and are giving very positive ratings to their product. The reality is that we have not found any valuation on this EA and at least in the MQL market there are no users who have expressed their opinion regarding Gridprofit EA. This EA initiates a cycle of buying or selling depending on the signage, begins with the base, much and increase the size at each step by its factor and set an overall profit take. If the daily target benefit is achieved then it will close all commands, also have a filtering time. You can enable coverage after specifying the number of loss orders.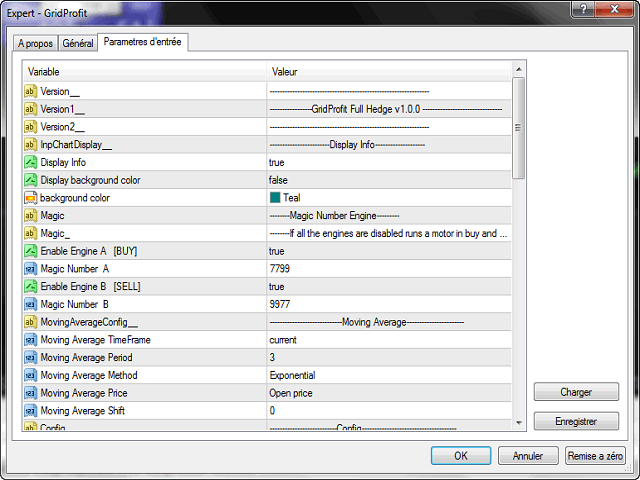 We have ended up a little confused after reading the author's specifications, which although he is an experienced developer, we have not been clear about the basis of operation of this EA. As in any EA, we always recommend the use of a dedicated virtual server (VPS) not to miss any of the transactions that the robot makes, otherwise, we must leave our computer on 24/7. It is also advisable to have an ECN account in a reliable broker and have low latency so that our transactions run in the shortest time possible.
Conclusion
We recommend downloading the free demo version of this EA, as this way we may be able to investigate a little more about how this EA works and find out if it is cost-effective and we can adapt it to our trading style. Gridprofit EA is for sale on the MQL market at a price of 200 USD, although If you prefer there is the possibility of renting it for a price of 40 USD for a month, or 120 USD for 3 months of use.
This Forex service can be found at the following web address: https://www.mql5.com/en/market/product/31958