Thunder Bolt can be found on the MQL5 marketplace under the Experts section. There may be others with similar names, to avoid any confusion we have added a link to the exact expert advisor that we are looking at below. The expert advisor was first uploaded on the 13th of June 2019 by its creator Hefajatur Rahman. There have been some updates, the most recent was on the 9th of March 2020 and is currently at version 2.2.
Overview
Thunder Bolt is an expert advisor for the MetaTrader 4 trading platform, it was created to use Price Action scalping, it combines well with some other indicators. It should only be used on the M5 timeframe and not any others.
The main features of the expert advisor:
Spreads protection, using pending orders (stop order) without any market orders
A small Stoploss for every trade
Combines with RSI and Bollinger Bands indicators
Special Price Action, Special Artificial Intelligence (AI)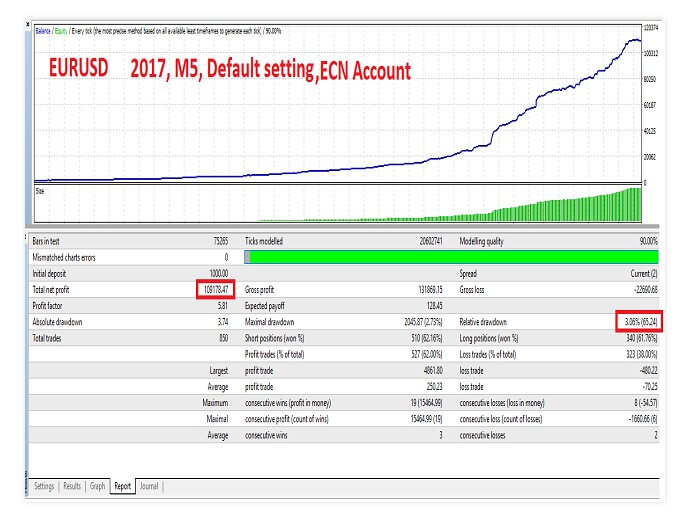 In terms of settings, there are a few available, these include whether to use fixed lots or not, to use stop losses or not and how much, and various other options are available too.
Service Cost
The expert advisor is quite an expensive one, in order to purchase it outright it will cost you $5,000, this version has no limitations and allows for unlimited use. There is also the option to rent the software, you can do this on a monthly basis which will cost you $200 per month, you can also rent it for three months which will cost you $500 and for a one-year rental it will cost you $1,500.
There is a free demo version, this will have some limitations which we, unfortunately, do not know what they are, due to the price, we would strongly recommend trying out the free version to make sure that it will do what you need it to before you make a purchase or rental.
Conclusion
Two user reviews are present on the site, neither of them is very positive giving the expert advisor an overall rating of 1 out of 5.
"Completely disappointed in this EA. In a Demo account it works very well, but in a real account you only lose money. The author made an update to the EA that did not improve the operation at all. He continued to lose money. I spoke with the author suggesting improvements, he said he would try to resolve it, but he simply stopped responding and gave no further satisfaction. Totally disappointed." – A 1-star review.
"BIG SCAM- JUST LOSING MONEY!!! 40% LOSING MONEY in 3 days!!! PLEASE FAR FROM THIS EA AND AUTHOR AND DON'T BE A FOOL TO RENT THIS EXPENSIVE EA BASED ON the FAKE COMMENTS here!!! I rented this EA for a month ! from Starting I faced many problems with this EA with huge bugs to control SL and trailing stop! The author seemed very supportive in the very beginning BUT when I rented it then he was almost disappeared! First he brought some excuses regarding the broker's slippage but when I tried it in 6 different famous brokers including Tickmill based on his recommendation then he stopped answering when he found me very insisted to find the faulty party!!!" – A 1-star review.
So the reviews are not very positive, the developer has replied to some of the comments but not the most recent ones, with the price of the expert advisor you would expect better support, with the negative reviews, it can be clear that the indicator does not do exactly what it is meant to and does not appear to be worth the high asking price.
This Forex service is currently available in the MQL5 marketplace: https://www.mql5.com/en/market/product/39464