Gold Rush Aggressive is an EA that was created in April 2016 by developer Aibek Mugiynov, a robot creator known for developing low-cost tools for MQL market users.
Overview
Aggressive Gold Rush Expert Advisor is based on identifying support and endurance levels. It works autonomously, and it is advisable to use a VPS server. The EA has passed all the tests in real ticks. The author advises to use a Pro broker and ECN – Market Execution, such accounts are necessary for the correct functioning of the EA.
The trading robot works with all symbols. However, the most advisable assets to trade will be, XAUUSD and EURUSD, as they have shown the best results in the tests. Unlike its predecessor, the simple EA Gold Rush, this EA makes market entries more frequently as it analyzes seven and more days compared to 1-2 days analyzed by the simple Gold Rush.
The main parameters used by this EA are:
Lotproc – deposit lot percentage.
lot – fixed lot. sl – stop loss.
tp – take advantage.
Final stop – final stop. Final step – final step.
Timevol – time speed (number of points, after which a stop is activated by time).
Equilibrium point – equilibrium point.
VSL – virtual loss stop.
Dtime – Time to remove commands not activated (in current time bars).
Magicb – buy identifier offers.
Magics – Sale Offer Identifier.
Symbolsuffix – symbol suffix. Showaccinfo – information panel.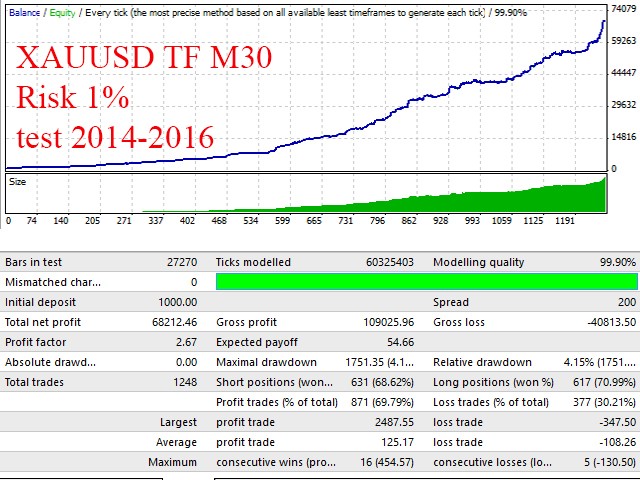 Recommendations:
-Before using a real account, check the EA for minimal risk.
-It is advisable to use a VPS or hosting server with minimal network latency on the broker server.
-For best results, use leverage of 1:100 or more.
-Maximum margin – 0-20 points.
-Minimum deposit: 100 USD.
As always, low spreads, low commission, and high-quality execution are important when choosing a broker to trade with any EA.
Conclusion
In short, we are talking about an EA that detects levels of support and resistance and executes orders at those points while waiting for those levels to be respected. It is a fairly basic EA, suitable for all types of traders because of its ease of use and easy understanding. However, we believe that this tool has to be debugged because in the comments of users who have already tested this EA we find conflicting positions, positive comments but also negative comments, so we advise caution with the use of this tool. The truth is that its price in the MQL market is affordable, 30 USD, but still, we advise to try the demo version to know the system and decide if we want to add it or not to our trading.
This Forex service can be found at the following web address: https://www.mql5.com/en/market/product/15804