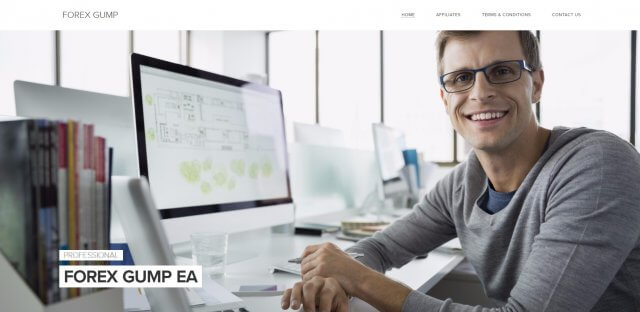 Forex Gump is an automated Forex advisor with a good reputation. This advisor was created in 2017. During this period, many mentions of the robot with automatic execution of transactions have been published, and almost all are positive. This trading system is paid for. And the developer has been offering, for a long time, two versions, at a price of 199 or 399 euros, depending on whether you want to use the advisor in a live account or in three.
The advisor works in one-minute time frames. As a result, this is a classic scalping. During installation, we see that the graph does not use technical indicators, nor any other technical analysis tool. The list of currency pairs for trading consists of 9 units. That is, almost all currency pairs volatile with the euro and the US dollar. These tactics are often applicable to trading systems that are not based on the algorithms prescribed by the advisers. Transactions are probably opened randomly in simple indicators or patterns.
This EA is installed on the Metatrader 4 trading platform. In the file, you download when you purchase the EA, it will be immediately available. You can change some parameters manually, but developers do not recommend doing this on the pretext that risks are increased. Theoretically, a team of programmers and traders takes into consideration all possible factors that may affect the markets. Therefore, it is not recommended, according to the developers, to modify the parameters that are already predefined in the EA.
General information about EA:
The recommended minimum starting balance is USD 4,000 or 4,000 cents (USD 40)
Minimum initial batch: 0.01 lot
Ability to use a demo account: Yes
Restrictions on the choice of the broker: No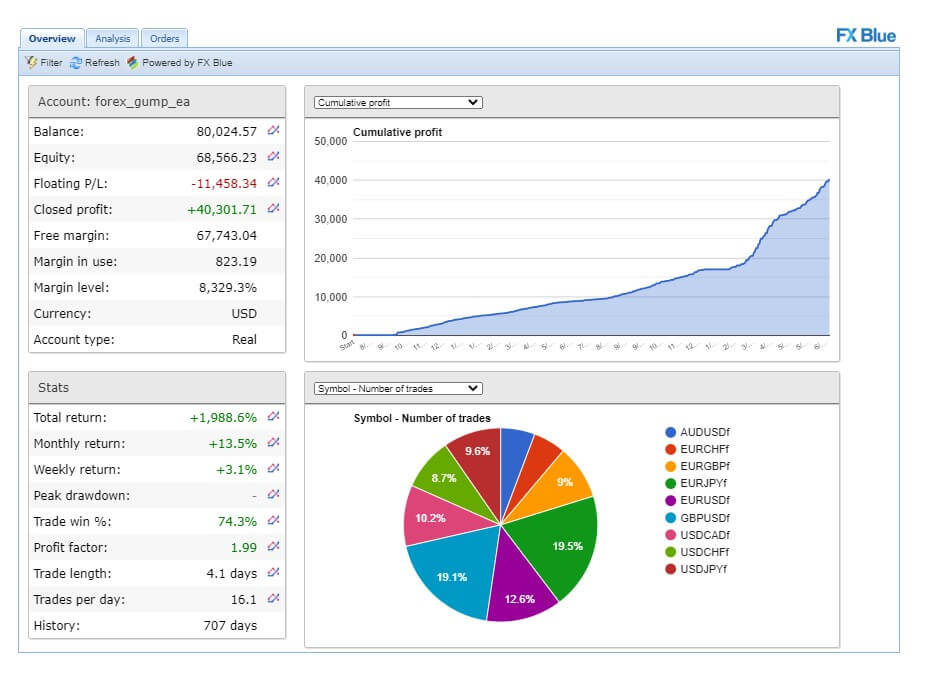 Another interesting thing about this robot is the team formed by its creators, which is managed by the famous Ukrainian trader and developer Andrew Kozak. There is a lot of information about this trader on the Internet. For example, Andrew also deals with the publication of some trading systems on the MQL5 portal.
It must be said that some automatic robots, which are considered universal, are already available free of charge. But these free EA's are potentially based on a number of indicators, including BSS Scalping EA. Developer Andrew Kozak claims that the high profitability indicator is also included in the algorithms of this robot, but obviously does not reveal its algorithms. As assumed above, Forex Gump EA can be a classic EA, which opens operations quite randomly, trying to get at least a minimal profit of a few pips in each order.
Forex Gump EA Disadvantages
The minimum deposit is too high if you do not want to trade with cents. Unfortunately, many traders do not have that amount. It's too big to risk with a trading bot. There is no clear understanding of the operating principles of the robot algorithm. The developer has not implemented any of his own development, trying to make money in the simplest trading systems. Scalping may not be cost-effective without the use of appropriate technical tools. There are no results of this EA that are published in independent portals. The only Forex Gump EA trading indicators are screenshots posted on the developer's official website.
Conclusion
This robot is standard and has no outstanding auto-running advisor. Acquiring this EA can be a consistent option for traders who have a high budget, but who don't want to worry about spending time doing their own trading. But, there are always alternatives to choose from. Note that to start using it you must have an impressive amount of $4,000 or $40 in a penny account. The developer likely added these requirements to avoid many small accounts in the initial phase of the consultant's launch. Scalping, which is the basis here, means opening several transactions in different currency pairs during the day.
We recommend using Gump EA Forex on multiple assets. And always follow the news on an economic calendar, to be in time to turn off the robot when there are important fundamental factors. In fact, the absence of indicators is an indicator that the program is not able to fully analyze the market.
This Forex service can be found at the following web address: https://www.forexgump.eu