Candle Pattern is currently found on the MQL5 marketplace under the Experts category. It was first uploaded on the 8th of July 2015 buy its creator Atthias De Polis, it has not had any updates so the EA is still at version 1.0.
Overview
Candle Pattern is an expert advisor that can be sued with the MetaTrader 4 trading platform. It is based on Japanese candlestick patters and is able to detect a large number of patterns within the markets. The EA works with three different trend indicators and each one has its own parameters and settings. The indicators help the EA to work out whether the trend will move up or down.
It can trade on any currency pair, metals and stocks, all timeframes are also supported.
The indicator has a whole host of patterns that it can detect:
Bullish Pattern:
Bullish Engulfing, Piercing Pattern, Morning Star. Dragonfly Doji, Three Line Strike (bullish), Hammer, Harami Cross (bullish), Harami (bullish), Three Star In The South, Three Outside Up, Three Inside Up, Inverted Hammer, Three White Soldier, Own Pattern (bullish).
Bearish Pattern:
Bearish Engulfing, Dark Cloud, Evening Star, Gravestone Doji, Three Line Strike (bearish), Shooting Star, Harami Cross (bearish), Harami (bearish), Deliberation, Three Outside Down, Three Inside Down, Three Black Crows. Hanging Man. Own Pattern (bearish).
There are also some parameters that can be altered, these include magic numbers, slippage, money management, fixed lot sizes, whether to sue moving averages, to use RSI, downtrends, uptrends, stop losses, take profits, trailing stops, and more.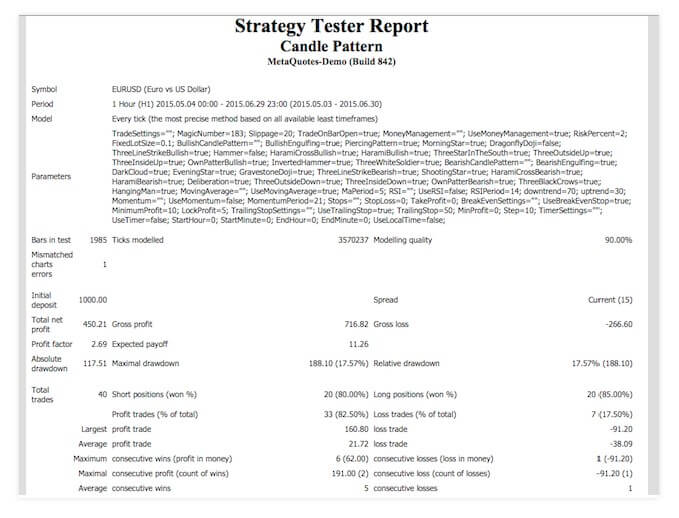 Service Cost
The Candle Pattern EA will cost you $709 to purchase it as a one-off payment, there is also the option to rent it, this can be done on a monthly basis and will cost you $30 per month, whichever option you choose, you will get up to 5 activations of the EA. A free demo version is also available but this can only be used with the strategy tester within the MetaTrader 4 platform.
Conclusion
Unfortunately, the Candle Pattern EA does not have any user reviews so we do not know whether people are finding it useful. There are two comments, the developer has not replied to either of them which is not a great sign of the sort of customer support that you may receive. We would suggest trying to get in touch with the developer, so you can be sure that the EA will do what you nee dit to do and also that they are available to offer support should you need it.
This Forex service is currently available in the MQL5 marketplace: https://www.mql5.com/en/market/product/10356