How to reduce risk while counter trading a trend
Thank you for joining this Forex Academy educational video.
In this session, we will be looking at how to reduce your risk in a counter-trend set up.
Trading against the trend is inherently risky.  However, as your experience grows as a trader, you will likely start seeing opportunities where trends run out of steam and look right for a reversal.  These kinds of trades can often be extremely profitable if the timing is right. 
Of course, trading any financial asset, but specifically foreign exchange, is almost impossible to correctly find entries and exits which are down to the pip perfect, i.e., identifying an entry or exit of a particular move within a single pip.
This is where it is important to adopt a variable approach to leverage.  Quite often, new traders will simply execute the same amount of leverage per trade, no matter what the circumstances.  So any particular trade, they might open with half a standard lot, or even a full lot, no matter whether they are trading after an economic data release, which might be low impact or a high-impact release such as non-farm payrolls, they keep their trade size the same no matter what, and this can be particularly dangerous and it is a poor aspect of money management.  A variable approach is another string to the bow of becoming a more rounded trader.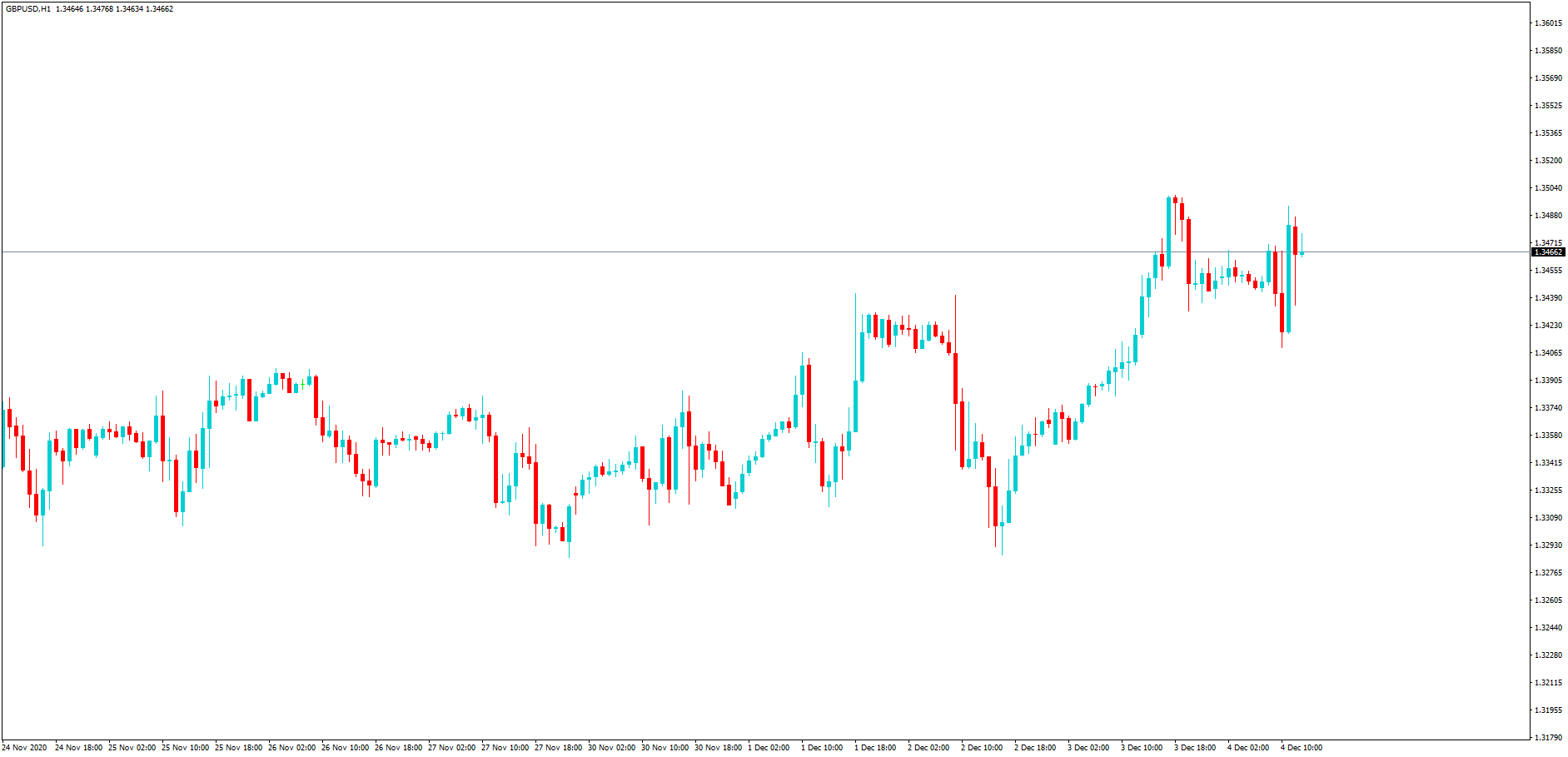 This is a 4-hour chart of GBP USD
The majority of the price action as shown during position A in this section from the 24th of November to the 3rd of December has largely been a sideways move while traders wait for the outcome of the Brexit future trade negotiations with the EU. 
Although there was a spike outside of the range at position B, price action reverted back within the original range on the 2nd of December.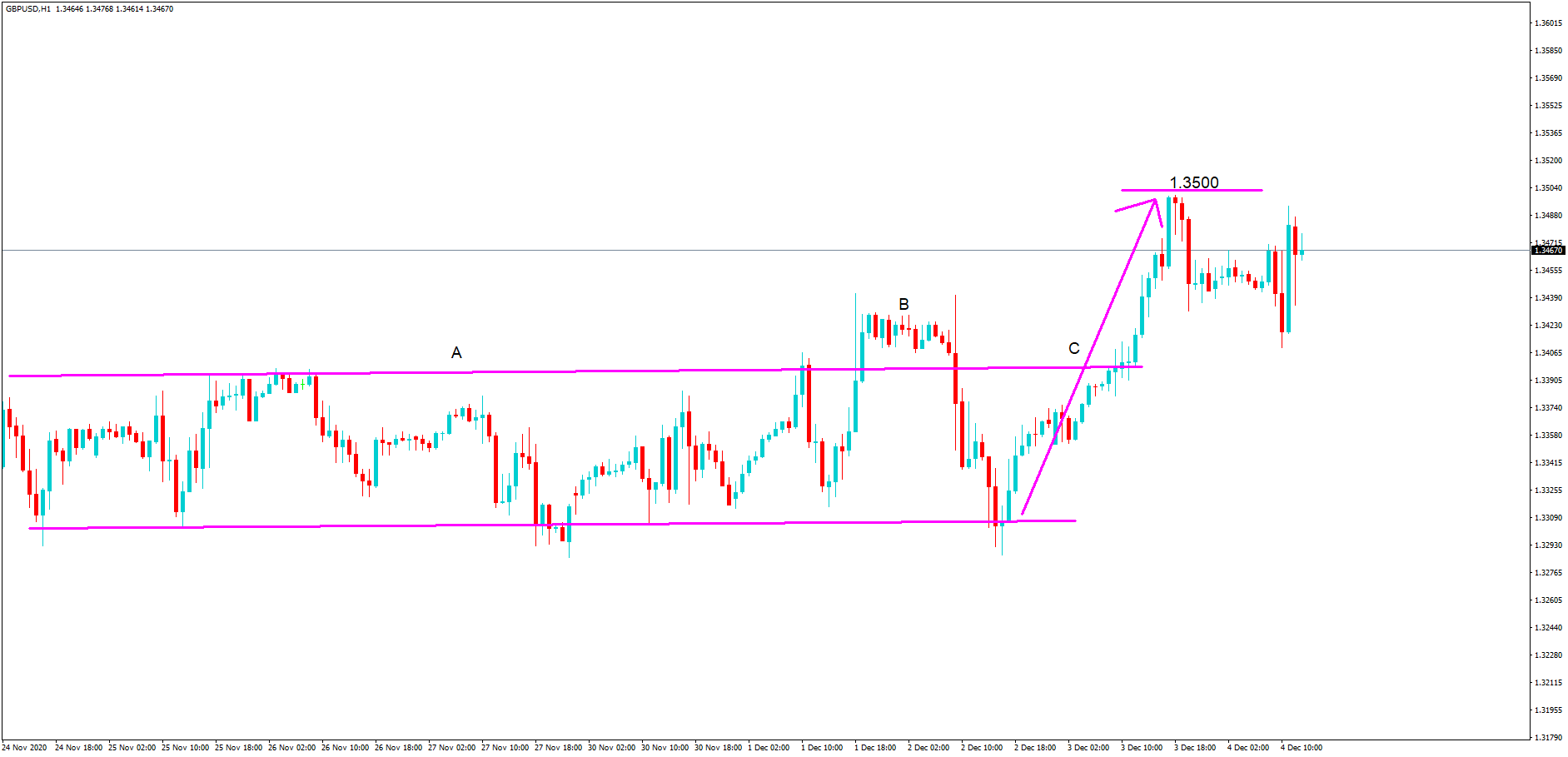 There is then a bounce off of the support line and a 200 pip bull run, which breaches the resistance line, and takes price action all the way up to within a pip of the key 1.3500 level.
This is a good opportunity for profit-taking for many traders and a potential double top reversal …….
…from this daily chart of the pair with which was a multi-month as shown during August 2020.
Under these circumstances, we believe there may be a reversal in price action, and we had decided to trade against the trend, believing that it will reverse at this point.  And we initiate a short trade, with reduced leverage than perhaps we might normally use because we are trading against the trend, and then we will layer the trade with market executions or sell limit orders just above our first trade, dependant on risk, and because we cannot predict where the reversal will happen, if at all.
Had this been a real trade, at least two of the orders would have been filled, including the at market order and where there was a reversal of 89 pips, which is a healthy profit.
In this particular instance, we have taken advantage of uncertainty in the market with regard to Brexit, a multi month high, double top scenario, and a key round number 1.3500.  We have reduced our leverage because of uncertainty and the fact that it was a counter-trend reversal trade, which can be inherently risky.  But we have diluted that risk by lowering our leverage and layering the trades over varying exchange rates in close proximity to the key level of 1.3500. Stop losses should be implemented as per your personal risk appetite.    
This style can also be implemented for long trades with similar principles, and the reduced leverage and layering style can be adopted in any trade scenario.