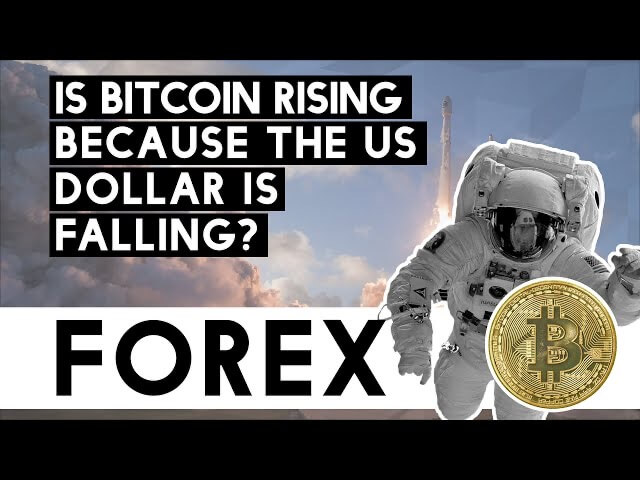 .
Is Bitcoin rising because the US Dollar is falling?
Thank you for joining this educational video by forex.academy. In this video, we will be looking at the rising bitcoin and the falling US dollar.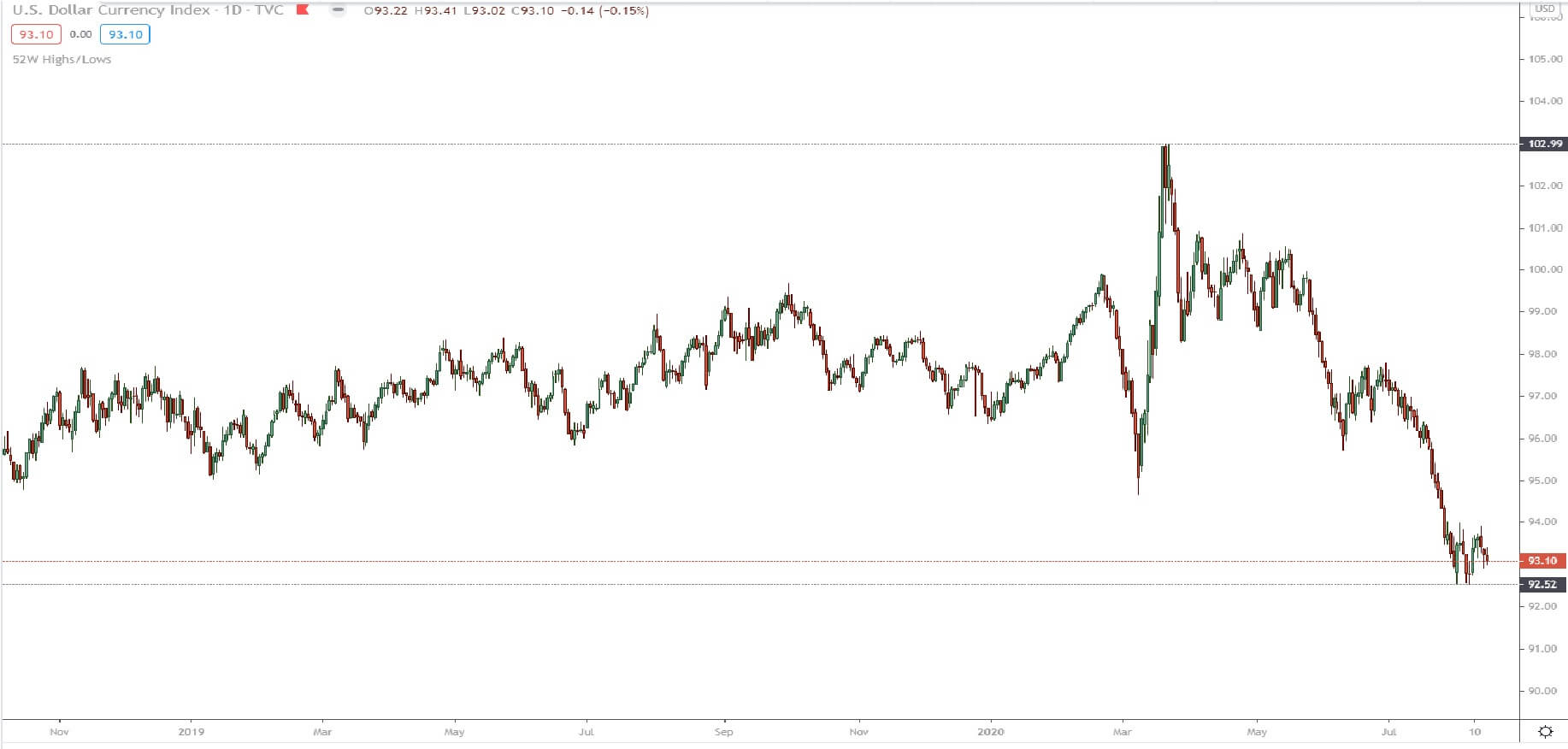 Let's take a look at the US dollar currency index, also known as DXY, on this daily chart where we can see that at the beginning of March, there was a high of 103.00 when measured against other currencies which make up the major pairs, including the Euro, GB Pound, Swiss Franc, Japanese Yen, Australian dollar, and the New Zealand Dollar, and the Canadian Dollar, and where since then the DXY has fallen to its current level of around 93.00. this is entirely due to the American economy suffering at the hands of the covered virus.
And although the recent economic data from the United States, including upbeat retail sales and non-farm productivity for July, were better than expected, and where the initial jobless claims for August was also lower than expected, all depicting a slightly healthier economy then was forecast by market economists, the dollar remains very much on the back foot. This will likely continue until such time as the democrats and republicans agree to a relief stimulus package to aid those unemployed Americans and struggling companies.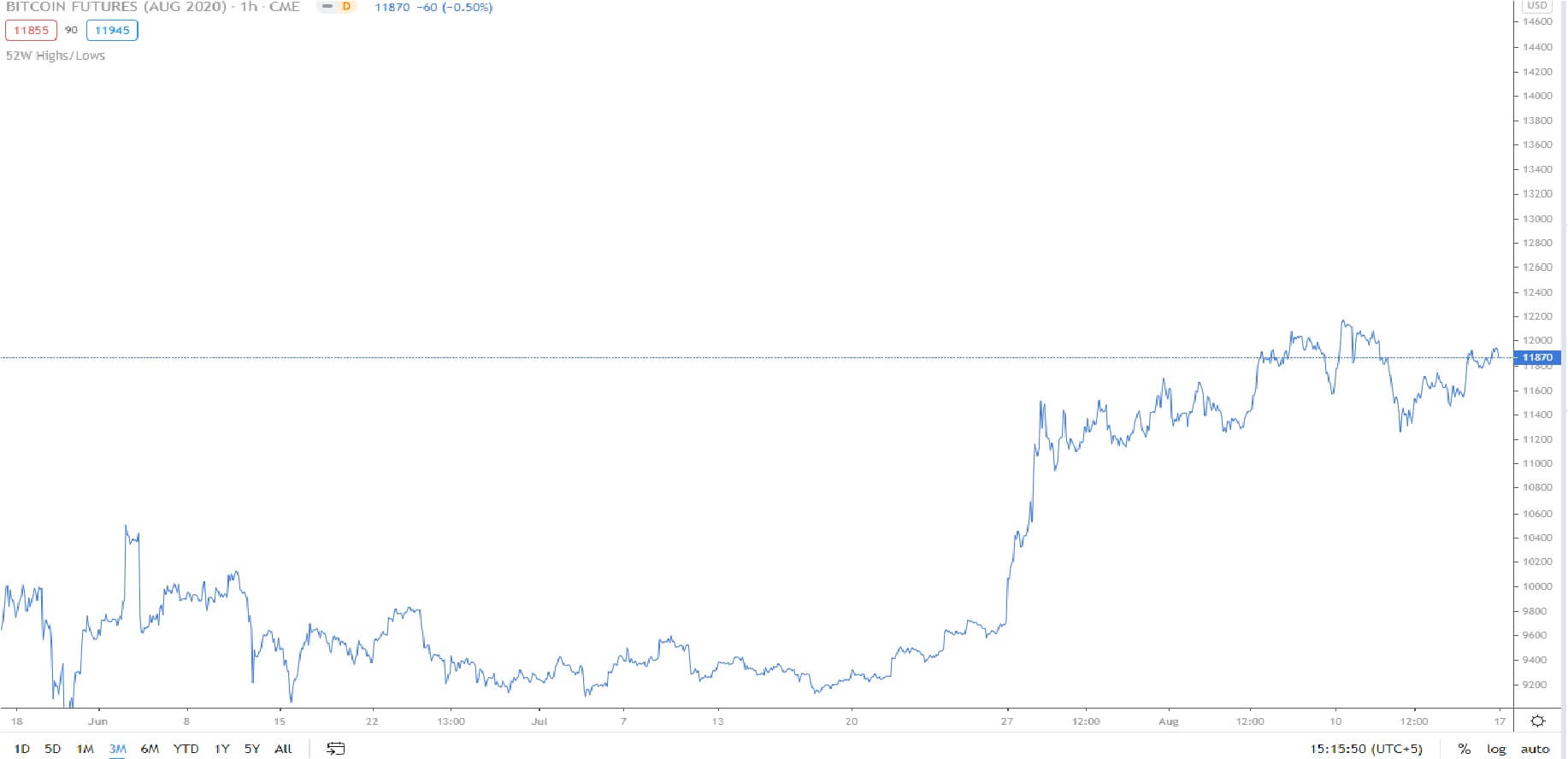 Now let's look at this bitcoin futures chart on the Chicago mercantile exchange, or CME, going back to June of this year and where we can see that prices failed to fall below the key 9,000 to the US Dollar support area and since the latter part of July, prices have increased almost exponentially up to its current level of 11,870.
And so we can clearly see that in this extra time of market turbulence and volatility, the dollar is clearly falling, and bitcoin futures are clearly rising. Historically the markets typically do not use a correlation mechanism – in this case, a negative correlation – in order to trade one against the other. However, is that about to change?
It is a widely held belief that the highest ever spike in bitcoin to around 20,000 was driven by the fear of missing out or the FOMO effect.
However, some institutions and market analysts are fearful that the biggest single currency in the world, the United States dollar, will continue to take a battering, and that holding just one currency at such times of market turbulence and uncertainty may have inflationary pressures within the United States, and therefore there is a trail of thought is that some long-term speculators are moving out of the US dollar, even in these risky times, preferring to diversify into bitcoin, where market upside potential is possible on the basis that bitcoin has seen a previous high of 20,000 and whereby a floor seems to be established of around 9,000. This will give investors some comfort in believing that the coins will not go down to a few dollars, for example, and this will likely fuel the FOMO effect and thus the continued trend for both assets.